How Long Does It Take to Buy a House and Move In?
You're moving to a new place, and things are busy. Whether you're getting ready to own your first home after years of renting, or you're relocating to a new home because of work or school, there's a lot that needs to be completed before moving day.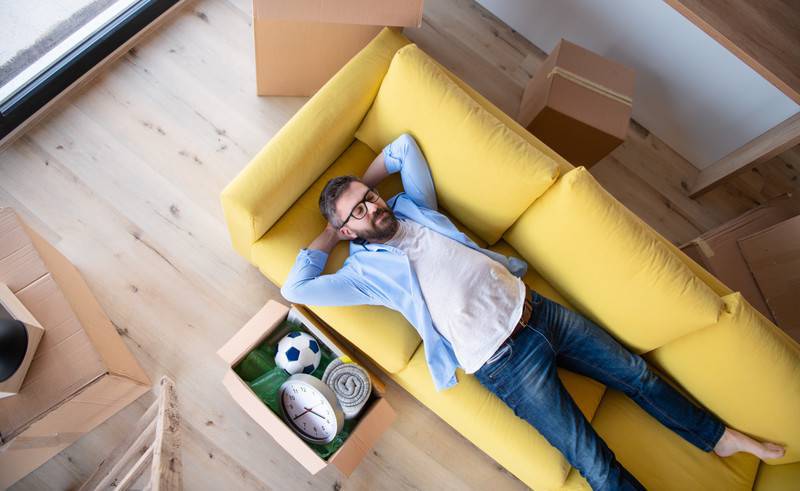 You're moving to a new place, and things are busy. Whether you're getting ready to own your first home after years of renting, or you're relocating to a new home because of work or school, there's a lot that needs to be completed before moving day.
Putting together your to-do list may seem overwhelming. You have to shop around for homes, secure a mortgage, and do research on different areas where you may want to reside. And, on top of that, you need to start packing, figure out the cost to hire movers or rent a moving van and determine how you'll get everything done.
So, how long does this whole process take? In this article, we're going to answer some common questions associated with the amount of time it may take for you to find a new home and move into it.
What's the Average Amount of Time it Takes to Find a House?
For the majority of people, they're looking for a house for a period of time from 3 to 6 weeks. This gives them plenty of time in which they can search the area and it allows for more homes to get on the market, as well.
In cases where you're moving further away (50 miles or more from your current location), you may need some additional time to try and figure out which home will be best for your family. You will also need to take some time to really research the area so that you can determine which neighborhoods, schools, and other local entities may be best for you to live in or near.
Obviously, not everyone falls into that time frame – and with good reason. In some cases, individuals may need to move a lot more quickly, and they may be able to find the right home within a shorter time frame if necessary.
But, if you have the time to do so, be sure that you really look around and find a home that you like. Don't settle on something just because you're tired of looking around for a home. If you just settle on something, you're likely going to be in a position where you want to move out within a couple of years. Why put yourself through that?
How Long Does it Take to Complete the Purchase of a Home?
You should have been pre-approved for a mortgage as soon as possible, even if you didn't have a specific home in mind when you did it. You can get approved for a dollar amount and have that amount adjusted when it comes time to actually purchase the home that you want to move into. It saves time when you actually know where it is that you want to move.
When you find the home that you want, you will work with your real estate professional in order to determine what sort of offer that you want to put on the home. This will be based somewhat on what the home was listed at, but also based on your own research and information from your real estate agent.
The seller will have the option to determine whether or not to take your offer. They may take it, or they may decide to go ahead and make a counteroffer based on their own knowledge and the information they have about the home. If you eventually come to a compromise, you'll have an offer set up in the form of a contract called a purchase agreement. But, that offer may not be your final home cost – it all depends on the next step.
After the seller accepts your offer, a home inspection will be completed within a week or so of the purchase agreement. This home inspection will let you both know if there are any issues that need to be dealt with before you are able to complete the sale. Then, you will have the opportunity to adjust your offer based on information from the inspection.
For example, maybe the chimney liner needs to be replaced. On average, the cost of replacing a chimney liner is between $2,500 and $3,500. So, the seller may say that they'll replace it for a $1,000 increase; or you may offer to replace it if they knock the price down $2,000. You will also have the opportunity to back out of the agreement at this point, if the repairs are too extensive.
Then, after all of that is completed, it's time to wait for your closing date, which is typically 4 to 6 weeks later. Closing is when you sit down and sign all of the paperwork from the bank and other entities, completing the final sale of the house and officially signing it over to you. The purchase is completed, but you typically can't move in the same day.
How Much Time Will I Need to Wait Between Closing on a Home and Moving In?
It depends on the seller of the home. In some instances, you may be able to move into your home within a week of closing on it. This is especially true if you're considering a home that has been on the market for a while, or a home that has been "flipped" (bought, repaired, sold for a higher price). But, this is the exception and not the rule.
In the majority of cases, you will have to wait at least 15 days before moving in, because it allows the current owner to complete moving out and take care of anything that they want done before you move in. In some cases, you could wait 30 to 90 days.
When you decide on the day in which you're going to start the process of closing on your home, your realtor will also ask you about an occupancy date. They will, then, provide your request to the seller and their realtor. You may have to compromise a little bit in order to ensure that you can get in when you wish to do so, but you should be able to come to a resolution rather quickly.
If the seller wants to live in the home after the closing date, you may also need to work out something called a "lease back," where the seller pays rent (or reduces the cost of your home by a certain amount) based on how long they continue to reside there.
What Do I Want from a Moving Company?
Now that you've got everything settled with your home, it's time to determine who your moving company will be. Here are some of the big things that you're going to want to be sure that you look out for as you're trying to pick the right local movers for your job.
Availability
Are they available on your moving dates and do they move to the area that you're headed to? Some companies only offer local moving services, or only offer long-distance options. Either way, you want to be sure that they're actually going to be able to complete your move in the way that you wish for them to do so.
Affordability
How much will they cost? And how do they come to their price point? Many movers will give you some sort of range to work with so that you can determine if it's even worth your time to get a quote from them.
Professionalism
How do they address you? Do they answer emails or phone calls promptly, or are you waiting days to hear from them? You want to work with a local moving company that focuses on their customers and provides them with the best information and service while the moving process is being dealt with.
Additional services
What other services do they have? Do they rent storage units so that you can store items? Do they have white glove services available? How do they take care of large or fragile items? Are they able to take care of packing and unpacking? Many of these will come with additional fees, but not all movers offer these services.
With online searches and other tools, it's a lot easier to get this information quickly. Do a little bit of legwork and you're more likely to find the moving company that can help you the best.
How Much Time Off from Work Should I Schedule in Order to Move Into My New Home?
Many people, they feel a lot better if they take a few days off around the time in which they are planning on moving. There are always last-minute things that need to be completed before moving day comes around, and you definitely don't want to work on moving day itself.
Moving day is exhausting, as well, so you probably want to try and get it accomplished a couple of days before starting your new job or going back to work. Many people suggest that you move on a Wednesday or Thursday, take the day before off, and then go back to work the following Monday or Tuesday.
As you can see, there are a lot of details that you'll want to go ahead and work out. Explore your options, see what's out there, and ensure that you are doing things in a manner that is beneficial and that reduces your stress about the process. If you start the process early enough, you'll find it much easier to take care of the details.