What is the Cost of Moving From San Diego to Seattle?
Don't worry about unexpected moving costs. Our informative guide gives you insight into all the fees & costs to expect when moving from San Diego to Seattle.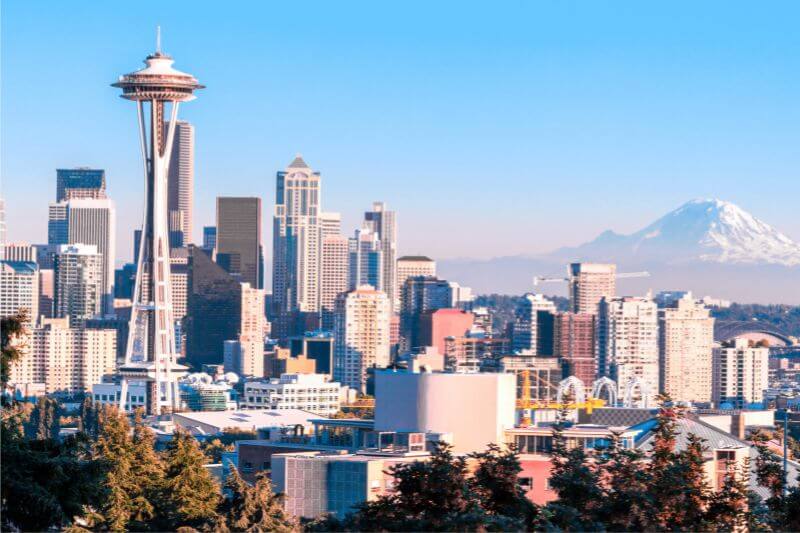 The cost of moving from San Diego to Seattle averages from $1,100 to $8,500+, depending on your move date, how much you are moving, and whether you DIY or hire professional movers. Other factors may also affect moving costs. Don't pack your bags until you're aware of all the different fees.
Every move is unique. The different circumstances of each move can greatly affect its cost. But what are the things you need to know before it makes sense to start using a moving cost calculator to get a better idea of the exact costs of your move?
Different Factors Affect Moving Rates
Moving costs sometimes increase because of "specialty items" that you need to be moved. These items require special handling and equipment so moving companies charge extra money to move them. Talk to the moving company of your choice to learn more about specialty item moving fees if your move includes goods like:
Pianos
Pool tables
Hot tubs
Fine artwork
Moving companies may add access fees to certain moves based on its circumstances. You cannot avoid the fees if the situation applies to your move.
A few examples of access fees island typical rates include:
Long carry fees - $100 - $200
Elevator fees - $50 - $200
Stair fees – Up to $1 per step, typically applied on 3rd story or higher apartments
Storage unit lock cutting fees - $50 - $250
Appliance disconnect/reconnect service - $75 - $200
Access fees can add up and contribute to a larger than expected moving cost. If your move includes special circumstances, talk to moving professionals about their access fees so there are no surprises on moving day.
DIY Moves
Relocating from San Diego to Seattle without help from local movers or long-distance movers is possible, although it takes more time and energy than if you hired professional movers. Renting a truck is just that: you have the truck and access to it for the allotted rental period (rented in 24-hour blocks).
No one helps load the truck, and you drive the truck to Seattle yourself. Although no special driver's license is needed to drive a moving truck, doing so may be difficult for people who have never before driven a larger vehicle.
Initial costs to rent a truck are lower than partial move and full-service move costs, but you need to include the cost of your time. Also, don't forget to add the per-mile fuel charge added to the total cost of your moving bill. Most moving companies charge a flat-rate fee to rent a moving truck.
Moving containers offer another DIY option. You load the container; movers take it from Seattle to San Diego and drop it off at your home (or preferred location.) This budget-friendly option is popular, but again – don't forget to factor your time into the overall cost.
Partial Moves
Choose partial moves if driving the rental truck is out of the question or if you need a hand loading boxes and furniture onto the truck. You can hire local movers for labor help to load and unload the truck on either end of the move, or sometimes hire professionals to transport your belongings to Seattle as well.
Partial move costs are more than costs to rent a truck. The time and energy saved with help from moving pros is worth the added costs by most standards. If you can afford the extra money, it may be worth hiring movers for a partial move package.
Full-Service Moves
A full-service move takes all the hard work out of your move. Professional movers handle every aspect of the move, from loading/unloading to transportation, and furniture assembly/disassembly. You can add packing/unpacking services to complete your move.
Full-service moving is more expensive than the costs of renting a truck but most people happily pay the extra dollars and enjoy a stress-free moving experience from San Diego to Seattle.
Moving Supplies & Self-Storage
Boxes, packing peanuts, and corrugated wrap are a few moving supplies needed to protect and pack your belongings for the ride in the truck unless you choose a full-service moving package that includes packing/unpacking services. If you rent a truck, moving container, or hire local movers for partial help, moving supplies are your responsibility.
Movers may also charge for supplies if you do not purchase packing services. Most moving supplies like boxes are cheaper when purchased from home improvement stores.
Self-storage units provide space for your belongings during the move. There are many reasons why people utilize self-storage. It is safe, affordable, and with units in several sizes, caters to every need.
Self-storage units rent by the month. Some units feature amenities like climate-controlled rooms. Many moving companies offer self-storage units. Don't hesitate to ask if you need somewhere safe and convenient to put your belongings.
Frequently Asked Questions
Should I move during the winter?
Winter weather discourages many people from relocating during the cold season, but moving companies offer great discounts to people willing to pack their bags during the winter. If your moving dates are flexible, find out how much you can save to decide if the trouble of a winter move is worth the savings.
How rainy is it in Seattle?
Buy an umbrella, raincoat, and rain boots before your move to Seattle! Rain is pretty common in the city. On average, it rains 150 days out of the year, compared to an average of just 38 days of rain during the year in San Diego. Typically, Seattle sees over 37 inches of rain each year, compared to just 11 inches in San Diego. 
What can I do for fun in Seattle?
Surrounded by water, mountains, and lush forests, Seattle provides residents with plentiful nature-related activities like hiking, biking, swimming, and camping. The coffee shops are among the best in the United States and there are equally amazing restaurants serving your choice of culinary delights. Seattleites always have a diverse palette of things to choose from to occupy their time.
How can I save money on moving costs?
A moving checklist helps you stay on track and can be an excellent tool that helps cut moving costs. Create this important checklist at least two months before the big moving date -the same time when planning and preparation should start. Advance planning dramatically cuts back on stress and costs for a move from San Diego to Seattle.
Is the cost of living cheaper in Seattle or San Diego?
Seattle housing prices are nearly half the price of properties in San Diego. Rent cost averages close to $1,900 in Seattle while the same unit costs over $2,300 in San Diego. The overall cost of living, however, is slightly more in Seattle than in San Diego. Seattle's overall cost of living is around 17% higher (based on rates for a single person) compared to San Diego.
Get to Know the Costs of Moving
Moving costs fluctuate based on many factors and circumstances. Some of the most important is the type of move selected, the size of the move, and the time of the move. Learn more about moving costs from San Diego to Seattle to eliminate surprises on moving day.