How Much Does Two Men And a Truck Cost?
Moving can be equal parts exciting, while seeming like quite the daunting task at the same time. You'll have a lot of things on your plate, and a lot of questions going through your mind. You might be trying to come up with a good plan to pack up all of your things and get stuff ready for your big moving day.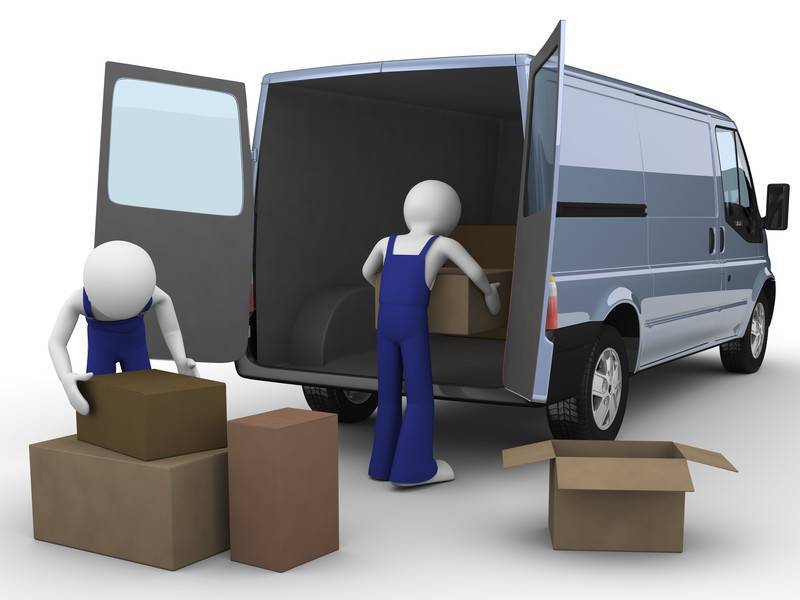 Moving can be equal parts exciting while seeming like quite a daunting task at the same time. You'll have a lot of things on your plate, and a lot of questions going through your mind. You might be trying to come up with a good plan to pack up all of your things and get stuff ready for your big moving day.
You might be trying to decide if you want to hire professional movers, or maybe you want to handle the move yourself with the help of some friends or a labor crew. While you may be tempted to go with moving services, you can save a lot of money by simply renting a truck and hiring a moving labor crew for the big day.
When you're getting ready to start your moving process and want to start figuring out costs, there are handy online tools such as using a moving cost calculator to get a good idea of what you're going to be looking at spending.
So, how does all of this work? Whether you're looking at local moving or long-distance moving, you really can save money by planning things out wisely.
Moving Things Yourself: It Doesn't Have to Be Difficult
Planning everything out by yourself can seem like a huge task, but it doesn't have to be that hard. If you've never moved or planned a move before, you might feel like you're in over your head. The good news is, it's simpler than it might seem.
You can pack everything up yourself or with the help of some friends if you want, but if you're unable to deal with some of the heavier things involved, such as furniture, then you're going to want to hire moving labor to help you load and unload your things.
Before you worry about finding moving help, however, the first thing you're going to need to do is to figure out how you're going to transport all of your things.
Renting a Moving Truck: How Much Does it Cost?
If you're not utilizing a moving company for your big move, then the first thing you will want to figure out is a moving truck to move all your things. There are several truck franchise options available that you can take advantage of.
If you rent a moving truck and handle things with the help of a labor crew, you will be able to save yourself a lot of cash, as opposed to paying for full-service moves. The price of the moving truck will vary depending on how far you're going. For example, if you're packing up a two or three-bedroom house and moving across the nation, you might be looking at spending around $2000.
On average, you can expect to spend around $20 to $100 a day for your truck, and a few factors will go into the total. These factors can include:
The size of the truck you're renting: Moving the contents of a small apartment is going to require a much smaller moving truck than if you are moving the contents of two or three-bedroom house. For a smaller truck, you might be looking at spending $20 to $30 per day, while you may be facing prices of around $80 to even $100 per day for a larger truck.
How far away your new home is: If you're moving locally or in the same state, you can expect to pay less than if your new location is across the country, for example. Local moves will probably cost you somewhere in the range of $100 to $300, while a longer move can cost anywhere in the range of $150 to even $2000.
Once you've got your transportation lined up, the next thing you need to be thinking about is lining up your labor help, if you're not wanting to load everything up yourself.
Pro Tips: Making sure your packing and other moving preparation has been concluded before the arrival of your moving labor if you don't want them to pack for you is one of the useful professional tips. This will help you save money and make the move more convenient. This will also ensure the movers are on schedule for the entire day, as you may not be their only client for the day.
Moving Labor Help: Everything You Need to Know
If you don't want to, or can't handle the loading and unloading of your stuff alone, then you're going to want to hire a great moving labor crew to give you a hand.
To get started identifying a great labor crew for your big move, start by researching your options online. Here are three tips to get started.
Rave reviews from previous customers
Look at the reviews of potential moving crews from previous customers. You can find reviews of moving services by looking at their business profiles on sites such as Facebook, Yelp, Glassdoor, and more. If the moving labor crew has a dedicated website, you may be able to find reviews there, as well. Great reviews from previous customers can tell you that you're dealing with a reputable and respectable company that cares about its customer service.
Ask around!
Word of mouth can be a powerful way to learn about a company or service. If you have any friends or family members who have recently moved, ask them if they used a moving labor service, and if so, which one did they use? If your friend or family member has a lot of good things to say about the service, it's a safe bet that you're dealing with good company.
How long have they been in business?
This can say a lot about a company as well, whether they are fresh out of high school or if they've been in the moving industry for 30 years, the amount of time a company has been in business can say a lot about them. The longevity of a company suggests that they are reputable and trustworthy.
Once you've found a labor service you're happy with, give them a call! They will be able to give you moving quotes based on how much stuff you have to pack and load, set you up with delivery dates, and decide on a time to come out and get started on helping you pack up and move out. They'll handle all of the hard work so you can sit back and handle other aspects of your move.
Additional Fees that may come up when moving
The majority of homeowners are concerned about hidden fees coming right at them at the end of their move. It would help if you found out what exactly the moving company may add to your bill when you decide not to DIY through moving truck. You may be charged some of the following common fees when you hire a professional moving company:  
Long carry fee: This fee may apply if your movers are to go a certain distance to your front door from the moving truck.
Elevator fee: This fee is charged when members of your moving crew must move up or down the stairs in the absence of an elevator in the building or if the elevator is not functioning on a moving day. 
Extra stop fee: If you have to make some stops for your belongings while moving to your new home, this fee may apply. 
Storage fee: This applies when there are delays in your move, and you need to keep your belongings on the moving truck for a longer period. 
The following fees may also be charged on your bill when you rent a moving truck: 
Truck damage: This fee could apply if any part of the moving truck gets damaged while in your care. You may be liable for the cost of repairing the moving truck.
Gas: This fee can be avoided when you make sure the fuel level in the moving truck when returning it is the same amount or more as it was during a pickup.
Late returns: You may be charged late return fees when you failed to return the moving truck within the agreed date. This fee may be between $20 and $100.
Moving supplies: Although moving supplies do come with some moving vehicles, their costs are added to your bill before you can use the tools.
Young driver: An additional fee will be charged on young vehicle operators so they can gain access to rent a moving truck.
Extra drivers: You have to state any additional people to drive the truck, which could cost you daily extra fees. 
Excess mileage: During rental of a moving truck for a 1-way trip, exceeding your allotted mileage could lead to extra fee that varies from one company to another.
Cancellation fees: Each moving company has its policies for cancellation fees, but generally, we suggest you cancel your reservations at least two days before your service date.
Insurance Options offered by Two Men and a Truck
Moving insurance options are often included in the moving estimate you receive for a long-distance move. When we speak with an agent over the phone, the agent could not provide us an exact value but promised to contact us after they've calculated everything. The agent couldn't run the cost estimate with us on the phone but instead sent us an email that contains the estimated insurance coverage.
The original long-distance moving estimate issued by Two Men and a Truck usually contains the minimum liability coverage, and it covers about $0.60 per pound per item. The original cost, which is at $10,413.80, would be $413 higher than the exactly estimated cost, together with the lowest liability coverage. Full coverage is the second insurance option offered by Two Men and a Truck. 
This implies that the company will cover the full value of any of your damaged or lost household items. The company will either repair the damaged item or get it repaired by another company while they foot the bill or reimburse you with the exact value of the possession. Full-service moving companies must give a moving estimate that contains the cost associated with this coverage option. 
If you indicated when filling the online form that you are low on budget for the move, the moving agent may skip coverage cost in the moving estimate and does not discuss it when we had a phone conversation. The company points you to your homeowner's insurance to discover if you have coverage or include a rider to save some money on the move.  
Frequently Asked Questions
If this is your first time planning and executing a move by yourself, or hiring moving labor crews, it is only natural to have some questions! Here are some of the most frequently asked questions about moving things yourself.
Can the same crew help me load and unload my stuff?
The answer to this question depends on how far you're going. If you're dealing with a local move, the same crew can even help you unload your stuff, if you'd like, when you arrive at your new location. If you're moving long-distance, however, you may have to find another labor crew in your new area to help you unload your things when you arrive.
What are some of the advantages of hiring moving labor as opposed to full-service movers?
There are several advantages to hiring a moving labor crew as opposed to full-service movers.
When you hire a labor crew, you're the one in charge. You can delegate tasks to your helpers as needed, and you or a friend can even supervise if you feel that it's necessary.
When you hire a moving labor crew, you will be able to take a lot of stress and potentially unsafe work off of your shoulders. Moving laborers are trained and know how to handle heavy things safely. They have the right equipment and skills to handle the job responsibly, and you won't have to worry about breaking your back lifting up on your heavy furniture, televisions, and other belongings.
You're going to be paying your laborers hourly, and only when the job is completely done. You won't need to deal with hidden fees, and will know the cost of the job upfront after getting your quote.
How can I save the most money when hiring labor crews for my move?
To save the most money, try to get quotes from several different labor crews. Whether it's your local two men or a few men and a truck, you're going to want to compare prices from several different companies before you settle on one. After all, why spend more than you need to when you could have obtained quotes from several different laborers and found one that could have been cheaper?
Get in touch with three or four different companies and have them quote you prices, and go with the one you're happiest with. Don't just settle for the lowest price just because it's the lowest price, however. Make sure the company you are dealing with is reputable and trusted by verifying them with online reviews or asking around with other people you know who may have utilized their services in the past.
Why are Two Men and a Truck more expensive than budget moving companies?
Two Men and a Truck is a bit costly as they are a full-service mover, offering various moving services purposely to take over all of the hard work from you. They provide a lot of moving services for customers' convenience, such as packing of your household stuff and special handling of certain items such as antique furniture.
If you don't plan to add any additional services, you can save a lot of money with Two Men and a Truck, since they will handle the loading of your moving truck, haul it to your new home, and then unload your goods. 
How long will I wait to obtain an estimate from Two Men and a Truck?
You can simply and easily understand the online estimate process, but how long will you wait to get an in-home estimate? Once you fill the estimate form on the company's website, you should be sent an email within a few minutes or longer, depending on their server's availability.
Generally, in a few days, you should receive an update about the in-home moving estimate. This will be when you can have a one-on-one conversation with an agent of Two Men and a Truck and ask them as many questions as you have about your next move.  
What are the sizes of the trucks used by Two Men and a Truck?
During your move, you need to find out if your preferred moving company has the perfect size of moving trucks to transport your household goods to your new home safely. Most moving companies use different sizes of moving trucks for different sizes of homes.
However, Two Men and a Truck is a bit different in that wise. You will discover that their only option is the one that is perfect for any kind of move, and it is the 26-ft box trailer. The country you live will determine if you can get a Two Men and a Truck branch that also offers a 16-ft portable storage container.
Is a veteran discount available with Two Men and a Truck?
Two Men and a Truck is a company that greatly supports great men in our country. They are members and partners with the Vet Fran Association to give franchising access and chances to our company's veterans. As members of Vet Fran, we provide the United States veteran armed forces and their spouses a ten percent discount on the franchise fee of $50,000. 
A Truly Moving Experience
Moving doesn't have to be something you have to do and plan entirely alone. If you plan it right, you can find a moving truck rental company and a great moving labor crew to give you a hand, enabling you to sit back, relax, and focus on the bigger aspects of your move. Moving doesn't have to be a painful experience, and you don't have to go through the whole thing alone.
Line up your transportation, find some great help, and you'll be on your way to your new home in no time at all.