There are a whole lot of things to do in Chicago, IL, as Chicago is one of the most visited parts of the United States for tourists because of its many fun and interesting places to visit such as awe-inspiring skyscrapers, lakefronts, beaches, bars, and clubs among others. Chicago is one of the top Midwest cities that several people are moving to from cities like Houston, New York, Boston, Atlanta, Cleveland, Detroit, and St. Louis among others. If you plan to move to Chicago, you can also find movers in Chicago who can get the job done for you the best way possible.
Best Neighborhoods in Chicago, IL
Before we look at the unique things and fun places to be when you move or visit Chicago, let us take a look at the best neighborhoods in Chicago. Although, the choices of the best places one can reside in Chicago can vary depending on a matter of preference as this is subjective and there are over 200 neighborhoods you can live in Chicago. But nevertheless, we will still take a look at some of the top cities you can live or visit in Chicago.
Lincoln Park: Lincoln Park is one safe place you can live in Chicago and it is often regarded as "Chicago's first neighborhood to move to" because there are a whole lot of things to do in Lincoln Park. There are lots of sports bars, free zoo, lakes, and easy transportation for newcomers. Due to the high influx of people into this part of Chicago, rent apartment costs are on the high side when compared to what is obtainable in other cities in Chicago.
Wicker Park: Wicker Park is one of the best neighborhoods for young adults and fast becoming a "hipster mecca" around Chicago. It is home to lots of great restaurants, luxury grocery stores, and the means of transportation across town is excellent. It offers a unique flavor that you might not get elsewhere because of its "Brooklyn" feel.
Gold Coast/Old Town: Both Gold Coast and Old Town are popular cities in Chicago and they are an ideal location as it is near downtown and also close to the lake. In addition to this, it is home to plenty of nifty restaurants, shops, it is close to the freeway, with plenty of breathtaking high-rise buildings, and also has a good transportation system.
Unique Things and Places to Visit in Chicago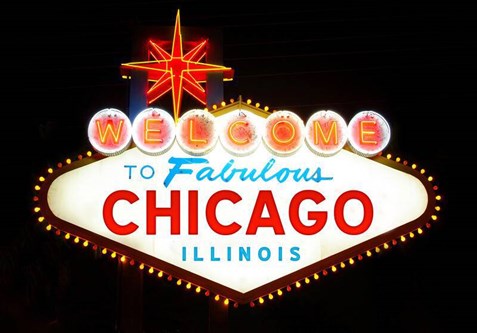 There are lots of exciting things and places to visit when you move or visit Chicago. We will take a look at some of these unique things.
1. Art Institute of Chicago: Aside from Paris, the Art Institute of Chicago boasts of the largest collection of impressionist and post-impressionist paintings with over 30 paintings by Monet, van Gogh, Cezanne, and Toulouse-Lautrec. For those who love modern arts, there are modern design and architecture design collections from artists such as Frank Lloyd Wright, Le Corbusier with several models and drawings. The Art Institute also houses other ancient Greek, Roman and Etruscan artifacts, from pottery to coins, glass, jewelry, and mosaics among others.
2. Skydeck: The Skydeck is a 442-meter Willis Tower that was the world's tallest building for 25 years, and it still ranks among the top 25 tallest buildings in the world. With your Skydeck experience ticket, you can enjoy skipping the line and speeding up to the Skydeck as far as above 412.4 meters on the west side of the loop. On the route to the elevator, there's a moving showcasing the 45-year history of the Willis Tower and Chicago's other architectural wonders. The scene is a real delight to behold and you will never have a dull moment navigating through the Skydeck.
3. Millennium Park: The Millennium Park was created to usher in the new millennium, it is located in Grant Park and has since emerged as the most popular tourist attraction in the Midwest. The Millennium Park has spellbinding architecture, bold public art, and other wonderful sceneries such as the world's largest green roof, McDonald's Cycle Center, and 11,000 capacity band-shell as conceived by Frank Gehry. The Millennium Park is an exciting place to be as it features several concerts by top recording artists and Chicago Symphony Orchestra from spring to autumn.
4. Chicago Cultural Center: The Chicago Cultural Center used to be the Chicago Public Library. However, in 1991 this Neoclassical building in the loop became the first free municipal cultural center in The United States of America. There are over 1,000 programs and exhibitions that take place here every year and a lot of people come from different places across the globe to come and have fun and interact with people with diverse cultures. At the Chicago Cultural Center, you can enjoy theatre, music, dance, film screening, lectures, and other family-oriented events.
5. Buckingham Fountain: The Buckingham Fountain is located at the center of Grant Park, between the South rose Gardens and ornament North. The Buckingham Fountain is one of the largest fountains in the world, with close to 200 jets, standing almost eight meters tall, and with a pool measuring up to 85 meters across. It is an allegory for Lake Michigan and has four pairs of sea horses which represent the states of Wisconsin, Illinois, Indiana, and Michigan. At every point in time, there are 5,700,000 liters of water in the Buckingham Fountain, the scene is a great deal that will surely be worth your time.
Aside from the places listed above, there are other places you must visit if you live in Chicago or if you go on holiday to Chicago, these places include Lakefront Trail, Museum of Science and Industry, Garfield Park Conservatory, Magnificent Mile, and Shedd Aquarium among other places.
Whether you plan to move permanently move to Chicago or just visit on holiday, there are lots of things you can do and places you can go for sight-seeing and you will be amazed at the scenes. If you plan to move permanently, you can browse online to get movers in Chicago who can help you with the entire relocation process.
Frequently Asked Questions 
Is the cost of living affordable in Chicago?
It used to be much more expensive to live in Chicago than almost any other city. But, nowadays, an individual can live comfortably on a salary of around $60,000 or so. Families will, of course, need more than that, but it's still reasonable when compared with other cities of similar size.
What is considered "Chicagoland?"
It all depends on who you ask. Most people will tell you that it's Chicago and all of the suburbs around it in Northeastern Illinois. There are some people who will be really generous with their definition of Chicagoland, however; they may also include the Southeast corner of Wisconsin and the Northwest corner of Indiana, as well.
Why is Chicago "The City of the Big Shoulders?"
Chicago has a ton of nicknames. Many people still call it the Windy City, due to the storms that blow through the metropolitan area throughout the year.
In the past, it was called The City of the Big Shoulders because it used to have immense significance during the Industrial Revolution and the age of manufacturing in the United States. While it's still an important city, its significance has decreased and not many people call it that anymore.
Conclusion
Chicago is a fantastic city, and there are all sorts of things that you can do and enjoy whether you're just visiting or you're moving there for good. Look around online or just take a trip around the city and you're sure to find all sorts of things to have fun with!