How Do You Estimate Moving Costs?
If you're planning on moving into a new home, you know there's a lot to consider before you even choose a moving company. In many cases, working with professionals is recommended instead of handling your move on your own, as movers come with several perks.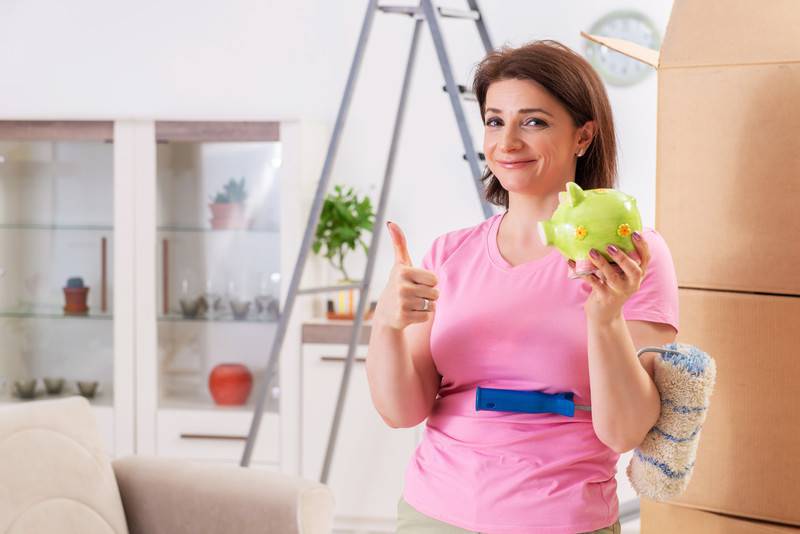 If you're planning on moving into a new home, you know there's a lot to consider before you even choose a moving company. In many cases, working with professionals is recommended instead of handling your move on your own, as movers come with several perks.
However, many take the time to move their items on their own due to the perceived costs of hiring professional local moving companies. Oftentimes, moving with professionals can save you money, time, and frustration when it comes to getting your belongings to their intended destination.
One of the most common inquiries moving companies receives involves the average cost of transporting belongings from one place to another. If you're moving locally, you can expect to see lower costs per hour than you would if you were moving across the country. However, the price will vary greatly depending on which moving company you choose so there is really no average cost.
Costs to Consider When Moving
Moving involves a lot of details that need to be sorted and arranged before the day your movers arrive. There are several different factors that go into the costs of your move, which makes it a bit difficult to figure out how much you'll be spending.
Many websites have a moving cost calculator available that homeowners can use to calculate their costs and get an estimate of their move. Another way you could find the price you expect to pay is by getting an in-home estimate from the moving company of your choice. A professional will take a look at your home, inventory items, and come up with an estimate for your move.
Yet another way you can come up with a rough estimate is by assessing different aspects of your move, including whether you're moving locally or long-distance as well as when you plan on moving and what services you'll need during your move.
Local Moves
Moving companies often charge residents per hour to move within the state, so your costs will be much lower than they would if you were to move out of the state. This means the price of your move will depend heavily on how long it takes to get your move completed instead of on what items you need to be moved.
Typically, a moving team is made up of 3 to 5 workers that will be doing their best to get your items packed and ready to go. If you're packing items yourself, the team won't take as long to get your items loaded onto the truck. However, if your movers will be packing the home and providing additional services your costs may increase.
Long-Distance Moves
Moving out of the state is a slightly different process than moving within the state. Long-distance moves are often priced based on the weight of the items being transported as well as how long of a trip your movers are in store for. Depending on the items you have in the home, your moving costs could add up to more than $2,000. While you won't have to worry about how long it takes to get everything loaded, you will need to budget your move carefully.
Price differences can also be due to additional fees for packing services, moving bulky items, going up and downstairs, and more. Your location can also add or detract from your costs, as moving to or from areas that are less populated will typically cost more due to the lack of traffic in these areas.
The Date of Your Move
You may not realize it, but the time of your move will be a factor in figuring out how much you should budget for the price of transporting your belongings to your new home. Depending on the time of year, you may pay more or less to get your items to their destination using the services of moving professionals.
The day of the week and the time of year makes a difference, as moving on the weekend is more expensive than moving on a weekday. The summertime is also expensive, as more people are moving during these months than in the winter, fall, or spring months. If you want to get the lowest price possible, plan your move ahead of time and aim to move during the winter or on a weekday.
Moving Supplies
While some moving companies include the price of supplies in their estimate, you may end up paying for these supplies separately and adding to the cost of your move. Packing supplies include many different items, such as plastic bins, boxes, tape, packing peanuts, and more.
You can take initiative and lower costs by either providing your own supplies or finding free supplies, such as moving boxes. By looking around and visiting the stores in your local neighborhood, you can find plenty of free boxes for your move and keep your costs low.
Moving Services
Any additional services your movers provide will be added to the cost of your move. Services may vary depending on who you work with, but common moving services can include:
Packing & unpacking: Movers can pack all of your belongings and unpack them once you've reached your new home.
Auto transport: If driving your vehicle across the state isn't part of your plans, moving companies offer automotive transport services.
Disassembly & reassembly: Heavy or difficult to move items may need to be disassembled and reassembled once they've reached their destination.
Every moving company is different, so some may offer services that other do not. You can speak with the moving company you're working with to learn more about the specific services they offer as well as what additional fees you may accrue during your move.
Specialty Items
When you have belongings in the home that don't fit into the moving items, like pianos or large sculptures, your movers will need to exercise caution when transporting them. This means extra fees that cover the protection of your item and any special equipment needed to get them packed and loaded safely.
When it comes to fragile items, it's a good idea to speak with your movers and ask about how they handle special items that need extra care as well as if there are any items they will not move. There are federal regulations barring moving companies from handling certain items, such as plants or propane tanks, so ask your movers about what they will and won't move.
Moving Insurance
Insurance is important when your items will be moved from one home to another, as anything can happen while you're on the road. Moving companies provide insurance to customers which is known as valuation. The type of coverage depends on the moving company as well as what you require for your move.
Homeowner's insurance may also be applied to your move, providing you with additional safety and coverage of your items. To get to know more about your policy, speak with a representative about the coverage you have. Most policies cover items while they're being transported, giving you limited coverage.
Another option for insurance is to get supplementary insurance through a third-party provider. These companies are not affiliated with your moving company and provide coverage for the duration of your move. Prices vary depending on your specific needs, but you may be able to receive full coverage and get your items transported without any worries.
Tipping Movers
Tips should also be included in your moving budget, as it is customary to tip workers. However, you don't have to feel obligated to tip if you aren't satisfied with the services you receive. It is recommended that homeowners tip members of a moving team individually, as this allows you to give as much or as little as you desire.
Tips should be based on the level of care and quality the moving company puts in when handling your items. If movers have done an exceptionally good job, feel free to tip them more based on their performance. If movers haven't done as good of a job as you expected, you can tip these team members less. The average tip amount is around $5 per hour for each worker, so you have some room to make adjustments.
With this information in mind, you can make the right decision regarding moving your household's belongings to your new home. Considering everything that goes into your move is the best way to figure out how much you're likely to spend. The internet has come a long way in the past few years, allowing homeowners to use handy moving cost calculators to quickly run the numbers and help you budget accordingly.
Costs depend on how far you'll be moving when you plan on moving, the supplies you'll need, any additional services you require, special items that need to be moved, insurance for your move, and tips for moving professionals. If you're having trouble pinning down any details or calculating the costs of your move, speak with a moving professional to get more information on how you should plan your budget.