How to Choose Mobile Home Movers Near Me?
Moving a mobile or manufactured home is a big undertaking. However, finding and hiring the best movers allows you to relax. Read this guide to learn how to find and hire mobile home movers.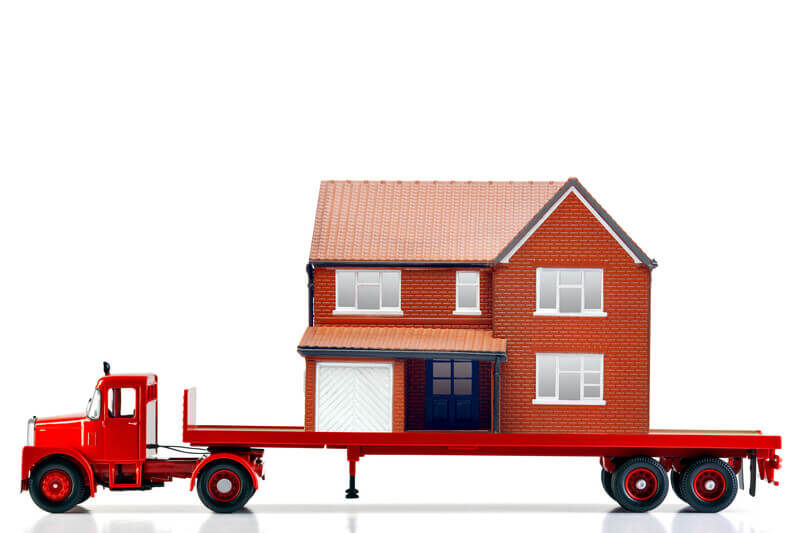 Finding professional mobile home moving companies is as easy as searching for "mobile home movers near me" on the internet. You can also get recommendations by calling mobile home dealers. But to choose a mobile home mover, you'll want to know about a company's experience, moving costs, insurance, licensing, and more to find the right movers for your needs.
Moving a mobile home isn't a DIY project. In fact, most states have laws against homeowners undertaking the task of moving mobile homes themselves. But not all local movers will have the right qualifications needed to move such a large structure.
What Qualifications are Necessary to Move Mobile Homes?
The laws governing the relocation of mobile homes require that moving companies have licenses, are bonded, and carry insurance. The company moving the home needs interstate credentials if you're moving out of state and a license to operate 18-wheelers.
Since mobile homes need plumbing and electricity, the moving company needs licenses to detach and reattach the plumbing and electrical hookups at the beginning and end of the move. Make sure to ask the mobile home movers on your candidate's list if they have the proper licensing.
Moving Permits are a Requirement
Most states require moving permits to relocate this type of housing. The homeowner can acquire the permit, or the company they hire to move their home can get one. When it comes to the legal aspects of moving manufactured housing, the moving company can help you with many of them.
Is Your Mobile Home Movable?
Although you own a mobile type of housing, its age, condition, and where you're moving to can be roadblocks. Many communities don't allow for moving older mobile homes because they may have damage you cannot see from the water, termites, or structural issues because the mobile home is old.
Along with the condition of the mobile home, where you're moving to is another consideration.
The federal government, through the Housing and Urban Development department, oversees the regulations for moving mobile homes. They have divided the country into sections for weather-related issues. Called wind zones, they require mobile homes to be able to pass stress tests involving wind velocity in each state. States with hurricanes and tornadoes have higher safety standards than states without those weather phenomena.
For example, if you wanted to move a mobile home from Florida, which is a Wind Zone 1 state, to Kansas, Wind Zone 2, it would be permissible. However, if you want to move a mobile home from Kansas to Florida, it isn't permitted due to the differences in wind zones.
How Much is Moving a Mobile Home?
As you might have guessed, moving a mobile home is not cheap. The size of a mobile home influences the moving costs. A double or triple-wide mobile home will be more expensive to move than a single-wide.
Moving a single-wide mobile home can range in price from around $1,000 to $8,000, depending on the service options chosen for the move. A double-wide home may cost between $10,000 to $13,000, and a triple-wide home $15,000 to $20,000.
When moving a mobile home, you need to factor in the costs of the service options you've chosen. These options can include:
Permits
Set-up costs
Material costs
Insurance
Using a moving cost calculator can help you crunch the numbers to determine what your budget needs to be for moving a mobile home.
Frequently Asked Questions
What are the requirements to move mobile homes?
Companies that move mobile homes will need licenses to move them. Liability insurance is necessary in case of a vehicle accident during the move or damage to the home or belongings. The company will need bonded employees working for them.
What are the costs associated with moving mobile homes?
Along with paying the moving costs, homeowners will also need to consider paying for permits to move the home, the price of a piece of property or lot rent at a new mobile home park, and the costs of detaching and reattaching the hookups for water, electricity, and the sewer.
How much will it cost to move a mobile home?
The costs for moving your home will vary depending on the size, weight, and length of a mobile home. A triple-wide will cost more than a double-wide, which costs more than a single-wide. The moving distance needs adding into the cost too. It can cost anywhere from $1,000 to $20,000 to move your home.
What are the options for moving a mobile home?
Homeowners can select from several options to make moving their mobile home more convenient for them. Some of the services offered by moving companies are packing your belongings, obtaining the moving permits, removing the home's skirting, and unhooking and then reconnecting the electrical and plumbing fixtures.
Why is hiring professional mobile movers so important?
Without the help of professional movers, your mobile home won't get far due to local, state, and federal regulations. Most states prohibit moving a mobile home yourself. The task of moving one is difficult due to the size of some homes, but you can make it simple by hiring the right company for the job.
Remember, some factors can work against you, such as the age of your mobile home, its condition, and where you are moving. However, if you plan far enough in advance, you can decide whether to move the home you have or buy another one where you're moving.
Let the Professionals Handle the Job
If you need to move a mobile home, find local mobile home moving services to take care of the job for you. They know the laws, and will be licensed, insured, and bonded. They can also easily handle moving heavy, awkward loads like mobile homes.
However, you will need to find a place to move it. Ask about the regulations within the town you're moving to or ensure the property where you want to move your mobile home. Working with the mobile home moving company will make moving your home less frustrating and it will be faster than you thought possible.