How To Choose The Best Pet Shipping Companies of 2023
Getting your pet to your new home is going to come with all sorts of challenges. Some pets are easier than others to work with, but it's definitely possible to work out if you're willing to do so. In some cases, you may be looking at bringing them with you; in others, you may want to ship them.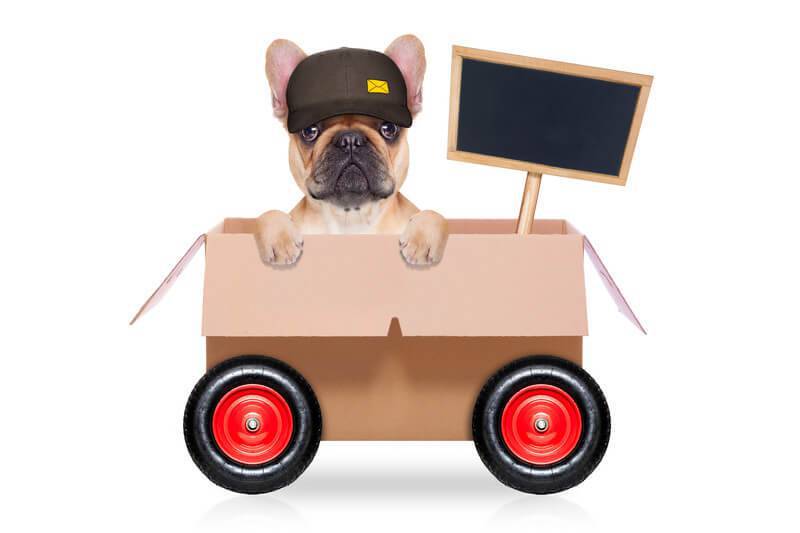 Getting your pet to your new home is going to come with all sorts of challenges. Some pets are easier than others to work with, but it's definitely possible to work out if you're willing to do so. In some cases, you may be looking at bringing them with you; in others, you may want to ship them.
As you start looking at long-distance movers and local moving companies that you're considering for your move, you want to be sure that you start working out the necessary details for your pets, as well. In this guide, we're going to help you explore the options available if you're looking to get your pet to your new place.
Boarders and Pet-Sitters
So, you have a local move and you want to be certain that your pet isn't underfoot or that they don't get lost while you're trying to take care of everything on moving day. In that case, it may be a good idea to take them to a border, a daycare, or a pet-sitter for the designated time.
Not only does this make it so that your pet is safe and you don't need to worry about where they are, but it allows them to have a little bit of fun as well. You don't have to be concerned that they're going to get out of the door while the movers are going in and out, and you can just go get them when the move is completed.
Friends and Family
If you have friends and family that want to help you with your move, see if you can enlist them to give you a hand with your pets. Family members and friends that may not have the physical ability to help with the heavy lifting may be able to keep Sparky entertained while you're trying to accomplish things.
Or, if your pet is familiar with them, they may be able to do the same thing that a border or doggy daycare would do. Your friend or family member could keep them at their house for the day, and then you can go get them when you've completely finished what needs to be done with your local move.
How to Take Your Pet With You on a Long-Distance Move
If you're taking your pet with you on a long-distance move, then you want to be sure that you're doing all that you can in order to stay ahead of issues. Make sure that they have a designated area and that you do everything possible to ensure that they are going to be comfortable.
Schedule time for you and your family to stop when you're on your trip. Take your pet outside (if they are the type of pet that would do so) and be sure to feed them and keep them on a pretty consistent schedule. You don't want to try and drive all of the way through with a pet, unless it's something like a fish or reptile that is self-contained. Follow state and local laws when you stop places, too.
Air Shipping
Several major airlines have a number of options available when it comes to getting your pet from point A to point B. While there is, often, a lot of paperwork involved in the process, it typically costs only a little bit more than going through with the shipping process in any other fashion.
There are also a number of pet shipping companies that use the air to be able to get your pets where they need to go. These can be costly, but if you want to guarantee that your pet is being taken care of as they should and you want them to get to you ASAP, then a direct flight may be the best way to ensure that it happens.
Ground Shipping
There are a number of shipping companies that will actually ship your pet via using a ground service like UPS or FedEx. Now, granted, these ground shipping services are best for reptiles and other animals that are easy to contain for extended periods of time.
There are also a handful of companies that focus on getting animals transported to their new homes inhumane ways. These organizations have all sorts of resources for doing so, and you can typically ensure that things are done properly because of who's involved. Research what's out there and see which is best for you.
Each pet is unique. If you have many, you want to find the best way possible to accommodate all of them. Each move is also different. Destinations can vary significantly as regards the pet import rules as well as other details that need to be put together appropriately, at the right time.
It can be daunting, but selecting the ideal pet moving company can change your worries into confidence that everything is well since your pet is in safer hands.
But how do you identify the company to hire?
Below is a checklist to choose the best pet moving companies:
1. Find membership in the International Pet and Animal Transport Association (IPATA)
Members are professional pet shipping specialists who show determination to staying updated with the latest best practices and operations standards of the industry so they can be the perfect resources for clients (human and animal). Staying up to date with the overall changes is a continuous process, but it provides you peace of mind that the company is indeed professional in each detail.
2. Search for USDA approval
USDA is the country's leading animal-related agency, and their job is to make sure pets are healthy for their journey and their journey is safe. You also can check for BBB accreditation, which formally lists companies that offer special services that improve customer satisfaction and total experience.
3. Service offer confirmation
Confirm the actual services range they offer, to be certain they can take care of your pet shipping from start to finish. 
4. Consider their experience
The time they've spent in business as well as continuous efforts to remain on the top spot improves up to the highest ability to help you in every way they can. Experience transporting pets to and from is important. Experience brings familiarity, and sometimes, it is the amount of who you know and what you know that ensures the smooth running of pet shipping plans. That can be more important when your pet shipping is complicated (which can always be).
5. Experience
Find out about the training and experience of their workers who would indeed be involved with your pet at every aspect.
6. Read online reviews and testimonials
Customers are fast to identify problems, so when you see positive reviews repeatedly, it reveals a lot about the pet shipper that deliver the best work for their animal clients and their families.
7. Speak with them
Are they polite? Do they attend to your questions and do all they can to offer advice, and so on, without the need to be specifically asked?
8. You should request about the costs
But don't forget your gut as well as your feeling of confidence. The only price should not be the deciding factor. Also don't forget your pet costs may be qualified for moving-related tax deductions if you are moving due to a job change.
Best way to calculate your moving cost is by using an online moving cost calculator.
How to get your Pet Ready for Shipping
Begin the process early: Similar to everything, pet shipping also requires time. There are some important things you must do to assist your pet to combat moving anxiety. And that is some regular visits to your new residence. That will improve their familiarity with the environments, and at the same time, make it easy for them to adjust to them. Also, come with them to the local pet-friendly spots so they can play with other pets. You might be fortunate to meet someone who just moved in as a pet. They could share their experience with you as well.
It takes time to get your pets ready for shipping: What may be strange to you is that your pets know much about you than you probably can imagine. They can notice or sense it quickly if you are stressed out and having some difficulties. For instance, if you have some challenges when packing and begin to throw a tantrum, they can get scared so easily. So, you need to tackle the moving process conveniently and with no show of stress. Ensure you take your time and get ready like it was your daily task.
Health & feeding: We recommend that you walk your dog regularly in the days before shipping, including instantly before we come to pick them up. You will want to reduce the quantity of their food and enough water the day leading to transport; however, avoid feeding them within 8-hour of travel, even though you can treat them to ensure they are calm. We are strictly against sedation because airlines don't take sedated animals
Prepare pet paperwork: Your pet will need to have some important documents that authorize iit'ssafe to travel. These documents are:
A certificate of veterinary inspection (CIVs) is issued by a licensed and certified veterinarian within 10-days of the shipping date
A duly signed certificate of rabies vaccination is provided within one month of the shipping date or a year for foreign shipping.
If you are moving to another country, there is extra paperwork you will need:
Signed certificate for several yearly vaccinations
Quarantine kennel bookings
Import permits
And based on the destination country for your pet, there may be a need for country-specific documents that will be gotten for you by your pet moving company. Remember some of these documents may take about 6 weeks to process, so don't procrastinate obtaining foreign documents and permits. If you reach out to your pet moving company early, they can assist you to get all the important documentation. Based on where you are heading, a pet moving company will need 1 – 6 weeks to schedule for safe shipping of your pets.
Help your dog familiar with a kennel: While there are dogs that have adapted to being kenneled, others are not. You will want to pick the right kennel (IATA-approved kennel) for your dog, and also, you will want your pet to be familiar with the environment of a kennel. Since they will be held in a kennel during their move, we recommend that you introduce them to the kennel in the weeks or months before they relocate. This will help lower the stress that is usually linked with pet shipping distances. Rather, making sure they are used to a kennel confine will ensure they feel comfortable on their move.
Get crate ready for pet travel: There are pet transport companies that prefer to make use of their crates to make sure your pets are safe during shipping. Consult with the company before you get your crate ready. If you would like to use your crate or they ask you to bring a crate for your dog, below are some guidelines to be followed by your crates:
Must be big enough for the animal to comfortably sit, stand, and lie down.
The floor must be solid in case your dog urinates during the move
The crate's top must-have enough ventilation
Kennel opening must be a minimum of 14 percent of the overall wall space
Slats must be small enough to prevent the animal from escaping
The door must be closed securely
Must meet specifications of airline
Has an arrow to describe which side up
Signage showing there is an animal inside as well as the address of the pet owner
Handles and grips on the exterior of the carrier for easy loading
Tranquilizers: Introducing tranquilizers and sedation to your pet before shipping is strongly not recommended by the International Pet and Animal Transportation Association (IPATA). It can have serious side effects, such as the death of your pet.
Know the Basic Requirements of Transporting Your Dog
Being a responsible dog owner means you will want to know the basic requirements of shipping your furry friend. Below are the requirements: 
IATA Approved Kennel: You can get IATA-approved kennels from Animals Away for any size of the dog, or you may also make use of your kennel but must be plastic (excluding wire or folding kennels), has a metal door, and contain bowls. For more comfort and safety, the kennel must be spacious enough for the dog to stand up and easily turn around in it without slouching. Accessories like bones, chew toys, and so on can be fixed to the kennel's top, but cannot be shipped inside it.
Health certificate: You will need to get a health certificate from your vet with a date not exceeding 10 days of your pet's shipping, clearing your furry friend for travel. This certificate should provide proof of your animal's current rabies vaccination, or our team can get this for you. international moves over, you will want to determine unique pet shipping requirements, because some countries have certain pet guidelines, while some even ask for blood work for your animal, which can take up to 6 months.
Frequently Asked Questions
Why can't I put my pet in the moving van?
It's both for the safety of your pet and the safety of your movers. Typically, moving companies will not allow anything live to be in the moving van, even if it's a plant. This prevents them from dealing with any sort of liability issues that would otherwise occur and it makes you a lot less worried on the trip, too.
Should I rehome my pet if I'm doing a long-distance move?
It depends on your situation. In some cases, it may be in the best interest of you and your pet if the pet gets rehomed. If you're moving to a place (municipality or rental property) that doesn't allow your type of pet, that may also be a consideration. But, if you can help it, it's in your best interest (and the best interest of your pet) that they are not rehomed unless absolutely necessary.
Can all pets travel safely?
If you're willing to put the time and effort into the process of loading them up, most pets can travel relatively safely. You just need to be sure that you have things sorted out in the way that they should be and that you have any and all paperwork that may be necessary.
Loading Up Your Pets
Taking care of your pet is essential, and you want to be certain that you take your time and work out the details as soon as you know where you're headed. It can be a bit of work to figure out what is necessary for them and you, but with some planning, it's sure to go smoothly.