How To Hire An Interstate Moving Company?
When you want to hire an interstate moving company, the hardest part is figuring out how. With planning and organization, it's easy to get the best company for the job.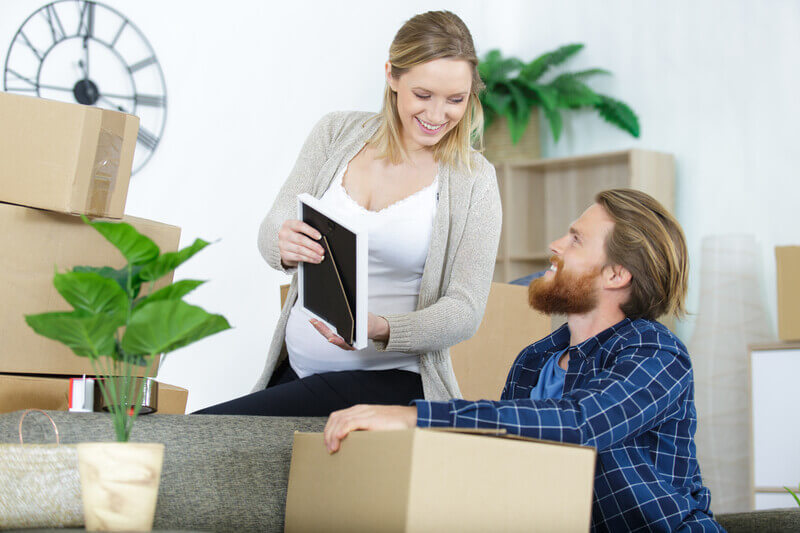 Hiring an interstate moving company can be done by searching for reputable companies online and getting recommendations from friends or family. Before hiring a reputable interstate moving company, be sure to compare the rates and services offered. In addition, be sure to read reviews from past customers.
Use interstate moving companies to relocate yourself or your family to another state with fully licensed movers. With their expertise, permits, insurance, and equipment, these companies can guarantee that your belongings get from point A to B safely and efficiently.
If you are planning an interstate move but aren't sure how to go about hiring the right company for the job, check out this step-by-step guide detailing everything there is to know about how to hire an interstate moving company.
Step One: Get Quotes
Learn the average cost to move interstate by getting quotes from multiple moving companies. Depending on the particulars of the move, some companies may offer a more all-inclusive service than others.
When requesting quotes, be sure to provide as much information about the move as possible. This will include the size of the move, the date of the move, specialized services needed, and the destination. This information will help companies give an accurate estimate of the cost.
On average, an interstate move can cost anywhere between 4-9 thousand dollars. If you are trying to stick within a certain budget, getting quotes in advance will ensure that you find the best deal possible.
Step Two: Compare Services
After getting quotes from various companies, it's necessary to compare their services. Doing so will ensure that you get the most bang for your buck. Some things to compare include:
The cost of packing services
The cost of shipping services
The amount of insurance coverage offered
The type of transport offered
Specialized disassembly or reassembly services
It is important to have a clear understanding of the services being offered to make an informed decision about which company to choose. By taking the time to compare, you can ensure that you are getting the best possible deal for your move.
PRO TIP: Cross things off your moving checklist fast by opting for full-service moving packages. These packages will offer the most comprehensive coverage and services, so you have time to focus on other moving tasks.
Step Three: Read Reviews
Once you have organized quotes and compared services, the next step to hiring an interstate moving company is to read reviews. This will give you a good indication of how past customers felt about the services they received. Were they happy with the cost? The quality of service? The timeline of the move?
Reading reviews can help you avoid any potential headaches or problems that may arise during your own interstate move. To ensure a stress-free interstate move, use cross-country moving companies with a good reputation and happy customers.
Step Four: Finalize Details and Make a Payment
Once you have received your quotes, compared moving services, and vetted moving companies for their quality of service, it's time to finalize the details and make a payment. This will include signing a contract with the moving company and paying a deposit.
The contract should outline all of the services that are being provided as well as the cost. It is important to read this document carefully before signing in order to avoid any surprises down the road.
The deposit should be around 20-30% of the total cost of the move and is typically nonrefundable. This covers the initial costs of hiring the moving company and helps ensure that they will show up for the move on the scheduled day.
To protect your payment and ensure quality services, hire long-distance moving companies from third-party websites. These websites work with moving companies and only disburse payment when all of the work has been completed to complete satisfaction. This is an excellent way to ensure that the company doesn't take advantage of you and that the move goes smoothly.
Frequently Asked Questions
Do I tip interstate movers?
Yes. Any moving labor that helps with the process of moving should be tipped. This includes loading and unloading labor, transport labor, and supervisors who keep the move on track. Typically tips for movers range between 20-40 dollars per person depending on the number of hours worked.
What should I do with my pet for an interstate move?
Long-distance moving companies won't transport pets in every circumstance, so it's a good idea to bring them with you if you are driving to the new location. If you are flying to your new residence, you might consider using a pet transportation service to safely get your furry friend to the new location with little stress to their wellbeing.
Can I hire movers for part of the process?
Yes, you can hire interstate movers to help with parts of the moving process as is needed. However, it is usually recommended to hire full-service movers as they do all the work so you can focus on other essential moving tasks.
Where can I get packing supplies?
Packing supplies can be purchased new at many shipping and moving stores. Alternatively, you can browse community forums and shops for second-hand packing materials that are usually free or at little cost.
When should I start planning an interstate move?
It is recommended to start planning an interstate move at least eight weeks before the moving date, more if possible. During peak moving season (May-Oct), the availability of interstate movers, trucks, and storage space may be limited. So the sooner you can reserve what you need, the more likely it is that your ideal arrangements will be available.
Hire Interstate Movers For Hassle-Free Moving
Hiring an interstate moving company can take a lot of the stress out of moving. By following this step-by-step guide, you can ensure that you are working with a reputable and qualified interstate moving company that will help make your move go as smoothly as possible.