How to Request a Moving Labor Quote
Moving is never easy, and staying within budget can be challenging. Avoid surprises with moving labor assistance with these insider secrets to getting an accurate moving labor quote fast.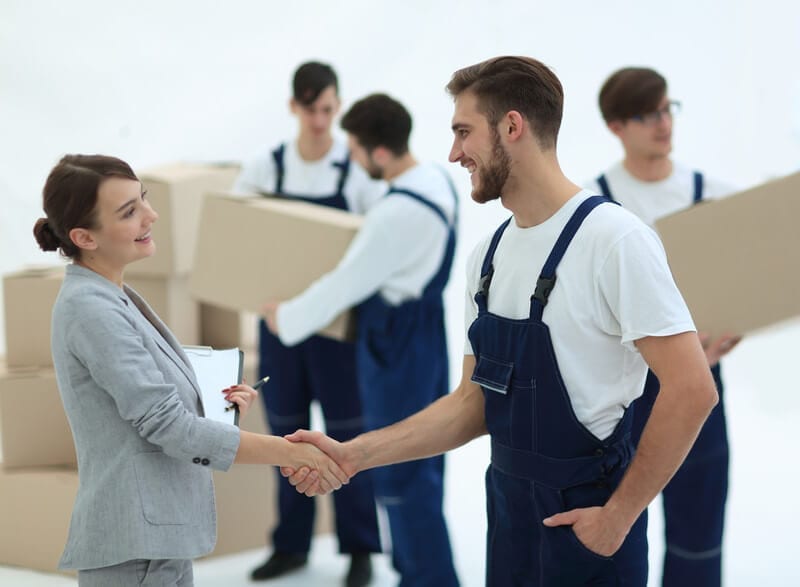 Planning any move starts with getting an accurate quote to ensure that the budget meets the requirements of a successful relocation.
Even by saving money renting your own truck or moving pod and carrying out the transportation yourself, additional costs from moving labor services can quickly increase the overall costs to move, adding unnecessary stress to your financial situation.
To ensure that you stay within budget and avoid cost overages, find out how to get an accurate moving labor quote so that you can be fully prepared to cover the costs of your move.
What is the difference between moving labor and a moving service?
The primary difference between moving labor companies and full-service movers is the type of help they provide. If you are looking to avoid doing any work related to loading, transporting, and unloading, then a full-service local mover is what you need.
However, if you already have your own transportation and just need help with the heavy lifting, maybe some packing or other physical aspects of the move, then a moving labor company will be a better fit.
How do I get a quote for moving labor?
Getting a quote for moving labor can be done in various ways, depending on your preference. For example, you can call a moving labor company, go online, or even visit their local office in person.
Calling or visiting an office in person is best if you have been recommended to use a specific moving labor company by a friend or family member.
If you aren't sure which moving labor company to use or no recommendation has been given to you, then searching for a quote online is the next best bet. There are many moving cost calculators provided by labor companies online that aggregate quotes from various moving labor companies in your area.
How soon should I get a quote?
Getting quotes for moving labor is best done as early as possible. This way, you can consider each cost-efficient option available to you throughout your moving process so you can budget accordingly.
Peak moving times tend to be during the summer months, so it is best to start looking for quotes a few months in advance if you plan on moving during this time.  And even with an off-peak move, it's still recommended to request a quote at least 8-12 weeks in advance.
How do I get the most accurate moving labor quote?
Whether calling to request a quote or using an online moving cost calculator, you'll need to provide moving labor services with all of the essential information related to your move.
1. Services
The type of help you need moving will dictate the overall cost of using moving labor services. Labor companies usually charge by the hour and need to know what kind of help you need so that they can provide you with an accurate price.
For instance, the cost of assembling and disassembling furniture is usually higher than just packing or unpacking boxes. Additionally, if you need help unloading or loading, the moving labor service will need to know the size, weight, and dimensions of the items you are transporting.
2. Move schedule
Be sure to inform the moving service of the time and day that you want them to assist with your move. As stated earlier, the summer months tend to be the most popular time of the year to move, which also happens to coincide with peak labor hours.
If you are looking for a more cost-efficient option, moving during the week when fewer people are moving is usually more beneficial. Additionally, since transportation can take up a significant portion of your total expenses, choosing a time and day when your move can be made in one trip will also help keep the overall cost down.
3. Size of the property being moved
Moving labor services for small apartments or studios can be done more quickly, so a lower quote than for larger homes should be expected. Larger spaces require more movers, so the labor costs will reflect additional workmen and longer hours, increasing the overall price.
4. Specialty Items
If you are moving specialty items such as a hot tub, pool table, trampoline, or any other large, awkward, or heavy objects, then the moving labor company will need to know this in advance so that they can provide you with an accurate quote.
To get the most accurate quote for moving labor, be sure to provide all of the necessary information when requesting a quote. This way, you won't be surprised by any hidden fees or additional costs that may come up when the movers arrive on moving day.
5. Equipment, Tools, & Packing Materials
If you have a piano, pool table, or any type of large piece of furniture that will require more than two people to move it safely, then you should factor in the cost of renting equipment such as a hand truck.
In addition, if you request assistance with packing, be sure to notify the customer service agent at the moving service whether you will be needing packing materials or supplying them yourself, as this may affect the overall price of the quote.
Frequently Asked Questions
Can I get a discount on moving labor services?
Discounts are often available for those who are students or military veterans at many moving companies. To determine if you qualify for a discount, it's best to contact the moving labor service you want to use directly.
What happens if the move takes longer than expected?
If the move takes longer than expected, a moving company will adjust its price accordingly to match the additional hours needed to help you complete the process. This is why it's essential to provide as much detail before moving to get the most accurate quote.
How long does it take to get a moving labor quote?
A reputable moving company should be able to provide an accurate quote within 24 hours of your request. Though times may vary depending on the company and the availability of staff, most companies try to give a quote as soon as possible so that there are no surprises on moving day.
Save Money and Reduce Costs with a Moving Labor Quote
Getting a moving labor quote in advance can help to save you money and reduce stress on moving day. By providing all of the necessary information, you can ensure that the movers have an accurate understanding of the scope of your move and what is needed to complete it safely and efficiently.