Cheap Local Movers: Pros and Cons of Various Moving Options
While there are various methods of moving from town to another, hiring a cheap local moving company has been found to be the best and less-stressful option amongst others.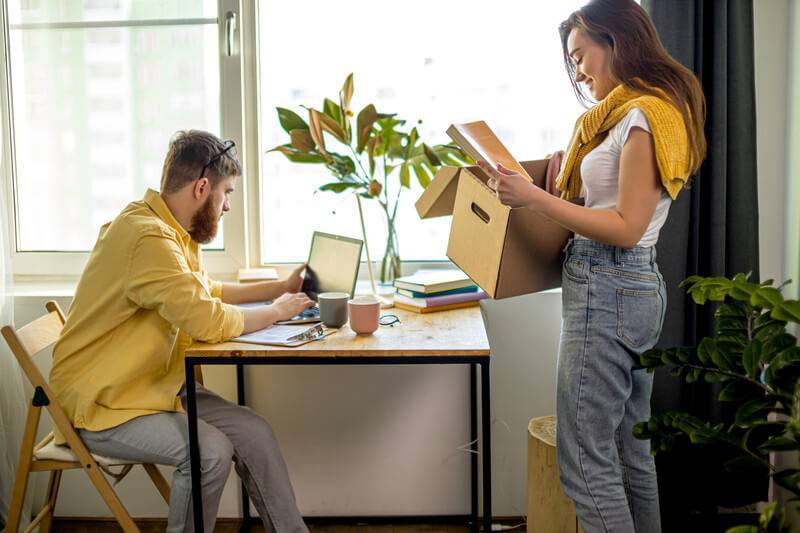 While there are various methods of moving from one town to another, hiring a cheap local moving company has been found to be the best and less stressful option amongst others.
Two of the most common ways to relocate include do-it-yourself moving using a moving container or moving truck rental and hiring professional local moving companies.
While both methods have attracted numerous arguments, your final decision will be based on convenience, practicality, and costs.
If you are standing in between a DIY move and hiring a moving company, read our pros and cons for the two cases before you select a moving method.
Pros and Cons of Various Moving Options
If you are moving to cross country or locally, you have various options for moving all your possessions from where you are now to your new home. Below, we will discuss the movers for cross country and local budget moving options, reviewing the benefits and downsides of each.
Renting A Moving Truck
Industry data projected that more than 1 million Americans get a cheap rental truck to move to another state and even more of them rent moving trucks for local moves. If this is an option you are considering, here are the pros and cons:
Pros:
Highly cheaper than movers: In certain situations, renting a moving truck is the cheaper option than hiring professional movers. For instance, to perform a local move in Las Vegas, prepare just $19.95 with $0.79 per mile to rent a small 10-ft moving truck from U-Haul. So, generally, your move could cost below $50. A local mover in the area charges around $100 to $130 per hour, and most of them have a minimum of 2 to 3 hours.
That implies that you could later spend almost $400 on just a move across town. In this case, renting a moving truck might be cheaper. However, ensure you have a comprehensive break-out of the entire costs and extra fees before leaving the rental parking lot.
No need to buy a plane ticket: Regardless of where your DIY move is taking you to, once you rent a moving truck, you won't be required to spend money purchasing plane tickets for the entire family. Most trucks allow two to three passengers, based on whether they have a bench seat or bucket seat. The rest of your household can ride behind inside the family vehicle. Or, if you choose to go solo, you can hook a trailer to the back of the moving truck and hail it.
Explore the country: For your interstate move, you may have the chance to explore along the roads you've never seen as you drive a rental truck. Transform the move into an adventure as you catch sight of beautiful byways like Route 66 and pit stops, such as Grand Canyon at Arizona, the aquamarine Buffalo National River in Arkansas, or the Blue Ridge Mountains in North Carolina.
Available in different sizes: Rental trucks are available in different sizes, offered by different vendors. You can rent from a 10-ft moving truck for a studio apartment to a 26-ft moving truck that can accommodate five to seven rooms' worth of contents. With this variety of choices, you will surely find a perfect rental truck that matches your needs.
You move in your time: Using a rental truck, you have just enough flexibility to perform your move on your schedule. Instead of expecting movers to arrive, you can decide the date to rent your moving truck, and then pack all your goods at your convenience. Ensure you return the truck based on the deadline on the contract to avoid fees for late returns.
Great for local and cross-country moves: For your local move, rental trucks are a cheaper way to avoid renting a car from a friend. You can get some family and friends to assist you to load and unload the rental truck, completing your relocation in just a few hours. Rentals are also a great option for long-distance moves if you are ready to handle this type of vehicle.
Cons:
Driving is tricky: If you often move around in your Toyota Camry, then driving a moving truck will require some adjustment. Get ready for the difficulties of shortened overhead clearances, wind resistance, and a wide body.
Poor gas mileage: Due to the wind resistance and heavy belongings in the truck, some rental trucks get a smaller amount of mileage on the highway, as less than 10 miles per gallon. Be sure to consider the cost of frequent fuel refills if you are renting a truck to drive long distances.
Slow speeds: Many moving truck rental companies do advise customers to remain under 55 mph for improved handling as well as safety. This lowered speed could make you feel the moving is going slower, especially if you are in a rush to get across the country on a weekend to begin a job the next Monday.
Assistance with loading and unloading: Unless you have huge muscles like The Rock, you will need extra hands moving your couch, refrigerators, and other heavy household goods onto the rental truck. Plan on gathering the helpers with some free pizza and beer.
Add-on fees: Ensure you clearly understand the entire charges before signing the contract. A renter is sometimes surprised to discover how much tax, environmental fees, insurance, and other hidden charge up costing. Also, you might need equipment rental, such as moving blankets and appliance dolly. All these expenses become huge.
Liability: When your things are transported by professional movers, they take liability on their moving truck as well as any damage or loss to your possession. As regards a DIY move, you are responsible for everything. That implies that if you drop any item or drive the rental truck into a super-low clearance, you are responsible for the cost.
Renting A Moving Container
This is the greatest revolution to occur in the moving industry ever since U-Haul begin a business, and it combines the best of rental moving trucks and professional movers. While you must perform the strenuous work of packing your unit, you can leave the driving for someone else.
Below are some other benefits and drawbacks of this discount relocation option:  
Pros:
No need to drive: Instead of maneuvering a huge truck on low clearance bridges and getting disturbed about blind spots, a portable storage unit enables you to hand off the driving. After you load your storage unit, just contact the company to schedule pick-up. They deliver your unit to your new home
Pack at your own pace: One of the topmost benefits of using a moving container is being able to get ready for your move at your schedule. Most companies like U-Pack and PODS drop off your storage unit and provide you unending time to pack it, whether that means a few days or even weeks
Makes storage simple: If there is a need for you to not move your belongings into your new home for weeks or months, you might need to get a storage facility for your belongings closer to the next home. Load the container and the storage provider will haul it to a safe warehouse until you ask for a delivery. Also, the majority of pod companies enable customers to make use of containers for on-site storage, a perfect option for people performing a home renovation.
Different sizes and options: There is a minimum of twelve national and regional moving container companies that offer storage units. A wide selection simplifies comparison and shopping for the best price, and also implies that you can choose the perfect storage container size that's perfect for your needs.
Affordability: There are cases where moving containers are considerably cheaper than hiring a professional moving company.
Cons:
Loading and unloading: Unless you're the modern-day Arnold, you will need moving labor for loading and unloading your storage container. This implies that you must either bring in the help of a few friends or hire local movers that charge hourly to help.
Parking permits and HOA restrictions: Some cities may ask you to apply for a certain permit to park a storage pod on the street. There are neighborhoods where you might have to comply with Homeowners Association regulations that are against these units from consuming space in your driveway. If you reside in an apartment, the property manager may not allow you to consume the small parking spaces with a container, too. Before you rent a moving container, ensure you check the rules and regulations of your location.
Restricted access to storage: If you schedule temporary storage for your container, you may discover that it is not convenient or not possible to access your items. Unlike when you use a self-storage unit that offers unlimited access, you will have to schedule a visiting time with the pod provider to access your container.
Not enough control over arrival: While you can select the drop-off and pick-up dates, the date you get your belongings at your new home may not be within your power. Make sure you ask your container provider about the specifics related to the delivery timeline.
Hire Professional Movers To Perform The Job
Whether you are moving to another part of the town or a new state, hiring cheap movers to perform the job get rid of most works involved in moving.
Below are some benefits and drawbacks to using movers for your move:
Pros:
Assistance with different services: Professional movers often offer various moving and storage services, such as warehouse storage, appliance delivery, packing & unpacking, assembly and disassembly, furniture moving, office and household moves, last-minute moves, apartment moves, and so on. Being the customer, you are allowed to pick services or go for a full-service move.
Take responsibility for your belongings: When the moving company takes your goods into their custody, they take the liability for any damaged, lost, or stolen items. Long-distance movers are required to have insurance to take care of your items. Instead of leaving your expensive piano to your clumsy friends, you can let the movers who will assume total responsibility move it.
Door-to-door and full-service assistance: A lot of moving companies offer full-service assistance that includes packing your belongings carefully and unloading all your shipments at your new home. This point-to-point assistance greatly lowers moving stress, especially if you are in the rush to DIY.
They take care of loading and unloading: Instead of embarking on a back-breaking adventure of lifting heavy belongings and carrying heavy furniture, you can allow the movers to face the stress while you supervise. Professionals take care of the whole loading and unloading process, so you don't have to lift a finger.
Save time: If you've moved before, you know packing up your kitchen can take a lot of hours. Professional movers can get the work down half the time it would take you to handle it.
Completely equipped with supplies, truck, and equipment: Movers arrive completely ready with all that they needed to facilitate a smooth relocation. Together with a full-sized moving truck, a moving company arrives with moving supplies, blankets to protect your appliances and furniture, and dollies to transport your belongings safely to and from the moving truck.
You don't have to gather people to help: Only a few out of the multitude would prefer helping you move out to sleeping on a Saturday morning. Instead of stressing yourself to beat last-minute cancellations, hire professionals that will arrive on time and complete your move.
Trained and knowledgeable: Moving and storage companies have a team of well-trained workers that know almost every move. If overcoming tough logistics, such as moving a treadmill down a flight of stairs to the moving truck or boxing up your super-thin (and costly) wine glasses, you need professional movers.
Cons:
Might be costly than some of the other options: Hiring a moving company is often expensive than making use of a DIY moving option like a rental moving truck or borrowing a moving vehicle from a friend or family. However, immediately you consider the time and extra expenses like rentals of moving equipment or gas, you might get surprised at how much hiring a mover can be affordable.
Scams are possible: Scammer is one of the highest worries in the moving industry. Known as 'rogue' movers, these fake moving companies run illegitimate operations and usually defraud customers out of several thousands of dollars with fraudulent tricks. When finding movers, ensure you stick with our guide to hiring local movers.
Long-distance moves could take some time: Even though local moving companies can perform most household moves in less than 24-hours, for your long-distance move, plan for extra time. Many affordable moving companies combine shipments to allow customers to move efficiently and affordably. This implies that after your shipment is picked up, they might make some tops of the way to pick up extra shipments on the way to your new location. It can sometimes take up to 3 – 4 weeks for your load to arrive.
Conclusion
We can assist with your move. iMoving has a local moving company community to obtain moving quotes from affordable local movers. You just need to type in your current location, the address of your new home, the number of bedrooms in your home, and the date you wish to complete your move. iMoving.com will provide you the best quote for your specific move.