The Cheapest Ways to Move a 1 Bedroom Apartment Cross-Country
Learn about the best ways to save money, while not compromising on great service and reliability, when moving cross-country. Use the tips below to ensure a smooth, seamless, and affordable relocation.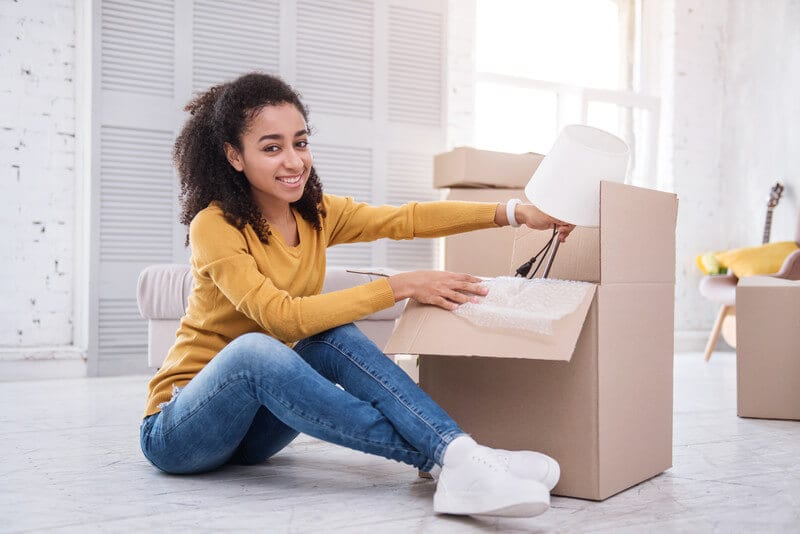 Surprisingly, the cheapest ways to move your one-bedroom across the country may include using professional movers. You might think that the cheapest way to move any amount of possessions from one side of the country to the other would be renting a truck and doing all the work yourself. But when it comes to DIY moves, small moves often don't translate to smaller rental trucks and less cost.
There are ways to use the expertise of professional cross-country movers while saving money as well. Below is a guide that explains the cheapest ways to move cross-country in the United States.
Hiring Movers for Lower Rates
The most relevant cross-country moving tips are usually the ones that help people save money. If you are looking to move across the country with minimal hassle, but you also have a modest budget, you may have to put in some work yourself during this process.
An effective way to lower the rates of hiring movers is to only request a loading, unloading, and relocation service. That means you are responsible for packing your belongings into moving boxes and wrapping any valuables that may experience damage if they collide with other objects in the moving truck.
Packing and unpacking is a labor-intensive, time-consuming process, but it can save you a lot of money. You can lower the cost of moving from anywhere from 20 to 40 percent, depending on the movers you hire, if you pack and unpack yourself.
You can save even more money if you find packing supplies for extremely low prices. By talking to local businesses, churches, or charity organizations, you may find large, empty boxes that no one is using. Rather than spending money on an order of moving boxes, you can get them for free.
Only Hire Loaders and Unloaders
The cost of moving with the same company for the duration of a cross-country move is often higher than hiring different local movers.
An example would be a move that involves relocating from New York City to Jacksonville, Florida. Hiring a single, nationwide mover is the most convenient and stress-free way to handle the moving process.
If your priority, however, is to save money, you could rent a moving truck that you will drive across the country yourself. Since you likely have a lot of heavy objects and furniture to get into that truck, you can hire movers in New York City, and then in Jacksonville, to help you with loading and unloading the vehicle.
Such a move is likely the cheapest way to relocate interstate, or across the country, but it does involve a lot of work. Driving a moving truck for a thousand miles is tiring and could take you more than one day.
Keep in mind that renting a moving truck and driving it across state lines is possible if the driving distance is 500 to 1000 miles, but not much more. If you are moving from New York to Houston, Texas, you would have to drive a moving truck for 24 hours. Such a journey would involve staying at a motel overnight, which means hiring movers is likely more affordable for moves from one end of the country to another.
Minimize Your Stress With a Checklist
When you choose the most cost-effective and seamless strategy for moving cross-country, you want to make a moving checklist. Having a checklist allows you to maintain a clear understanding of every step you must undertake before you can leave your present city and relocate to a new home.
Examples of items that could go on your checklist include hiring movers, securing a moving truck, buying packing supplies, closing utility accounts in your present city, opening utility accounts in your new city, cancelling your gym membership, having your mail forwarded, and more.
Use a Moving Calculator to Estimate Costs
Using online tools such as a moving cost calculator, you can estimate the costs of various moving options. You can compare how much it would cost to hire a full-service mover, hiring a mover but packing and unpacking yourself, and renting a moving truck and only hiring loaders and unloaders.
Frequently Asked Questions
Can movers relocate my plants for me?
Most moving companies have a lengthy list of items they will not take in their moving trucks. Make sure you assess that list before you hire any mover. If you have any questions about a specific plant, ask the movers about this item before your move day.
Do I need separate professionals to relocate my car?
Yes, moving companies do not relocate your vehicle as part of a residential move. You will need to hire car transportation professionals if you wish to have your vehicle relocated across the country.
Are moving quotes binding?
Moving companies always indicate whether a quote is binding or non-binding. Most movers only offer binding quotes if they can send someone to your location to assess your belongings, or if you provide detailed photographs of the items that need packing, unpacking, loading, and/or unloading.
Should I hire cheaper, unlicensed movers?
No. Even if these moving companies have cheaper rates, they do not have the appropriate license to operate in one or multiple states. You cannot rely on such companies to deliver your belongings safely.
Do moving companies offer a delivery date?
If your move involves a driving distance that can be completed in one or two days, you are likely to get a definitive delivery date of your belongings to your new address. If a move involves great distances, such as relocating from New York to Texas or California, movers may offer you a range of dates for delivery, rather than a specific date.
Final Thoughts
Moving across the country in the United States involves great distances, which means that you may need help from professional movers at some stage of the process.
If you are moving anywhere from 100 to 1000 miles, you could rent a moving truck to drastically reduce the relocation expenses. Then you may only need loaders and unloaders to help you get all your belongings onto and off the truck.
Those who are moving further than 1000 miles from where they live should hire movers to help them with loading, unloading, and transport. In such a situation, you can still save money by packing and unpacking your belongings.