How Much Does It Cost To Hire Cross-Country Movers?
On average, Americans spend between 4-9 thousand dollars on cross-country moves. The overall costs are determined by various factors including distance, weight, and the extent of moving services required.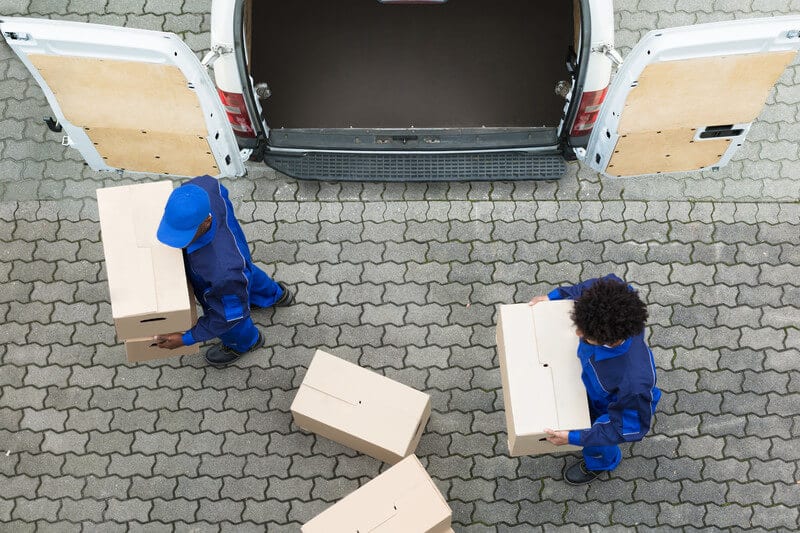 Hiring cross-country movers will vary depending on the weight of your items, additional services required, and the distance being traveled. On average, you can expect to pay between $4,000 to $9,000 for full-service movers to relocate you to a new cross-country location.
The total fee that cross-country moving companies will charge can also fluctuate based on a variety of other factors. So whether you are looking to find the most affordable movers or ones that can handle all of your specialized cross-country moving needs, this guide will help you figure out the cost to hire cross-country movers so you can budget accordingly.
Cross-Country Mover Services
When looking for reputable cross-country movers to get you from Point A to B, it is essential to understand what services you need to find the right company for the job. There are generally three types of services offered by movers: full-service, self-service, and hybrid.
Full-Service Movers
If you want the entire process of moving your belongings handled for you, then you need to hire a full-service moving company. These companies will send a team of movers to your home to pack up your belongings and load them into a truck. They will then drive the truck to your new location and unload everything for you.
This type of service usually costs more than the other two options, but it can be helpful if you have many belongings or don't have the time to pack and move everything yourself.
Full-service movers charge by the weight of the items and the driving distance. Those who hire full-service movers can expect to pay anywhere from .50 cents to $2 per pound. For driving distance, movers could charge anywhere from .50 to .75 cents per mile. Full-service movers may also charge for labor costs hourly or per job.
Self-Service Movers
If you want to save money on your cross-country move, then you can hire a self-service moving company. These companies allow you to pack and load your belongings into a truck yourself, which will save you on labor costs. They will drive the truck to the new location for you so that you can do the unloading and unpacking yourself.
While this may save you money on labor costs, it can also be the most expensive when it comes to time and energy. Cross-country moving tips always advise that if you choose this option, to only do so if you have friends, family, and the right moving equipment to help you out. Otherwise, you could be facing a lot of extra work and stress in the weeks leading up to your move.
Self-service rates for moving companies will charge per mile for the distance traveled (between .50-.75 cents), the cost of gas, accommodation for the driver if multiple driving days are required, and possible fees for insurance and tolls.
Hybrid Movers
If you want the convenience of full-service movers but don't want to break the bank, then hybrid moving companies may be a good option for you. These companies offer a blend of self-service and full-service options so that you can get the best of both worlds. You can choose to hire movers to help you with the loading or unloading and the driving.
This type of service usually costs more than self-service but less than full-service. Rates for hybrid movers will vary depending on what combination of services you choose but expect to pay fees for the labor costs in loading or unloading, a per-mile cost for driving, and any additional fees such as gas, tolls, and insurance.
Additional Cross-Country Moving Costs To Consider
In addition to the fees charged for labor, driving distance, and weight of your items, there are other fees to consider when moving cross-country.
For example, cross-country movers may charge additional fees for dismantling and reassembling bulky furniture and appliances such as hot tubs, pianos, and exercise equipment. 
Additional fees may also be charged for multiple stops along the route to drop items off at storage until your new home is ready to move into.
How to Choose a Cross-Country Mover
Now that you understand the different services that cross-country movers offer, how do you choose the right one for your move? There are a few things to consider when making your decision.
1. The Size of Your Move
The size of your move will play a role in your decision. If you have a lot of belongings or heavy, bulky items, then full-service movers are the best option because they can take care of everything for you so that you can cross other things off of your moving checklist.
2. Your Budget
Your budget is always a major consideration when choosing anything, including a cross-country mover. Using a moving cost calculator before hiring a cross-country moving service will give you a better idea of what you can expect to pay for the move.
Frequently Asked Questions
When should I start planning for a cross-country move?
It is recommended to start planning a cross-country move at least eight weeks in advance - more if possible. This will give you time to research different companies, get quotes, and make a decision on who to use for your move.
How long does it take to complete a cross-country move?
It can take anywhere from 2-5 days to complete a cross-country move depending on the distance. This amount of time can be longer if moving during the winter when weather conditions slow down large moving vehicles.
What are some things I should do before my move?
Some things you should do before your move include getting rid of unwanted items, scheduling the cancellation of utilities, and changing your address with the post office.
Do you tip cross country movers?
Tipping may or may not already be included in the services fees. If it isn't, the recommended tip is between 20-40 dollars per person on each end of the move – moving out and moving in. The moving labor supervisor should also be tipped accordingly.
Should I start packing before the movers arrive?
Yes. To make moving easy and hassle-free for yourself and the movers, completing the packing process before they arrive is better than waiting to finish the day of the move. Be sure all items you want to take with you are boxed up, labeled, and ready to go. The only exception may be large furniture or appliances that need to be dismantled. In the case of full-service movers, they should take care of this for you on moving day.
Do Research to Get the Best Price for Cross-Country Movers
The overall cost of a long-distance move will depend on a variety of factors, such as the type of movers you hire, the weight of your items, and the distance being traveled. By using a moving cost calculator and doing your research, you can get a better idea of what to expect and make the best decision for your budget.