Do Local Movers and Packers Disassemble ACs?
Learn about the best way to prepare appliances such as air conditioners for a local mover or packer to ensure they can be transported with your other belongings.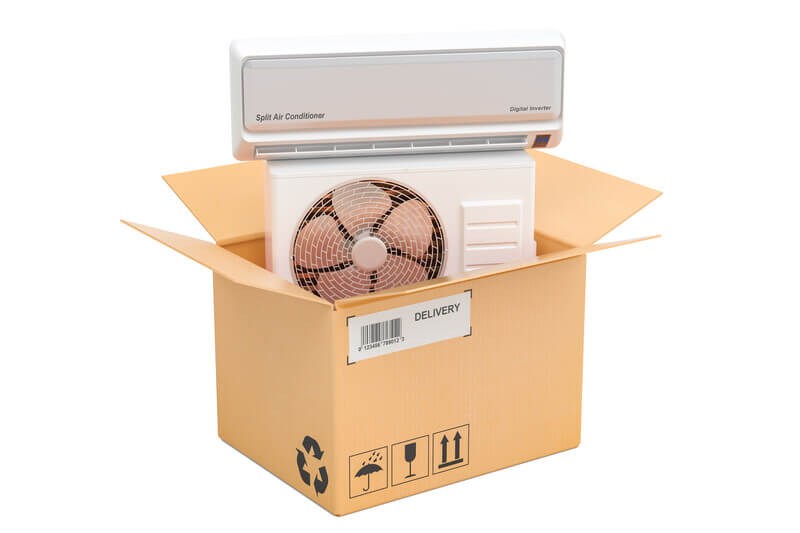 Local movers and packers are very unlikely to disassemble your air conditioner if the appliance is in its regular state. People who are moving locally, and wish to include their air conditioners in that move, may have to take on the responsibility of disassembling and packing up the appliances themselves.
If you have window air conditioners, you may be able to disassemble them without any professional help. Do be careful, as such units are heavy and may cause damage to your home or apartment if they fall onto the floor from a significant height.
Relocating a central air conditioning system is a lot more complex, and will most probably require you to hire professionals to disassemble and pack your HVAC system.
Will Movers Disassemble My Air Conditioners?
Local movers will probably not disassemble your air conditioners, as they are not trained electricians or AC experts. They may not know the appropriate way to remove a window or split AC system from the wall where it is attached.
Many AC units in homes are fixed at a high point on the wall, meaning someone would have to access a ladder to even begin to remove the air conditioner so that it can be readied for transportation.
When you hire local movers, you are hiring professionals who handle the packing, unpacking, loading, and unloading of your belongings. Most professional moving services will disassemble and reassemble oversized pieces of furniture, particularly bed frames and shelving units that often won't fit through doorways unless they are taken apart.
They will not, however, attempt to work out the best way to unplug and remove a window or split AC system from the wall where it is set up.
If you are planning to transport your AC units, whether it is a window AC, split AC system, or a portable air conditioner, you must ensure the item is ready for packing and transport when the movers arrive.
How to Disassemble and Pack AC Units
If you have an AC unit that is portable, movers can transport the item even if you were using it a few minutes ago. These units typically come with exhaust vents that you set up through a window to move hot air out of the room.
All you would have to do is remove the exhaust vent from the window, unplug and disassemble the various components of the portable unit, and then ask the movers to pack them up, so the parts do not suffer damage in transit.
Split air conditioners and window AC units require a lot more work. If you have an understanding of how these units work, or you set them up on your own, you should unplug and safely disassemble the units the night before your movers are scheduled to arrive at your house or apartment.
Such air conditioners have both interior and exterior components, which are often very heavy. They require great care while moving, which means you may need a friend or family member to help you with this process.
People who have limited experience in disassembling air conditioners may even want to call in a local electrician. They can get the job done for you in less than an hour while ensuring no damage is done to the AC or your current living space.
Transporting an HVAC Unit
If you live in a larger house, you may rely on an HVAC unit for both heating and cooling. Central air conditioning has a lot of advantages for cooling an entire living space, especially when compared to running multiple windows or split AC units.
When you spend a lot of money on an HVAC unit, but then decide to move houses in a few years, you may not want to give up on that unit. The problem is that HVAC equipment is not designed for portability or easy transportation. You may not even understand the best way to disassemble some components.
Anyone attempting to relocate an HVAC unit must hire a seasoned HVAC professional to assist them with this process. Only the professionals can safely disassemble the different parts that make up these units, which ensures they are ready for packing and transportation.
Preparing Other Appliances for a Local Move
Moving houses or apartments often means taking your appliances with you to the new residence. Smaller electronics and appliances may not require much preparation, as unplugging them is often enough. The movers can use bubble wrap or use blankets to protect the items before loading them onto a moving van.
Larger appliances, such as stove tops, fridges, deep freezers, washing machines, dryers, and dishwashers require a lot more work. They often have different water, electric, and gas components that you must properly disconnect, while certain parts may require disassembly before transportation.
If you do plan to move one or more heavy appliances, inform your movers ahead of time. Many local moving companies send two professionals with basic moving equipment, which means they may not be able to transport such heavy items from living spaces on higher floors, especially if there is no elevator access.
When movers have a clear idea about the items they must load onto the van, they can bring an extra person or moving accessories to easily transport heavier appliances.
Three Tips to Save Money on a Local Relocation
Downsize: One of the most effective ways to save money during any move is by limiting the number of items you are relocating. Having a smaller moving footprint results in the movers using a smaller van, which brings down the overall cost. Packing, loading, and unloading also takes less time, which is very helpful, as most local movers charge by the hour for their services.
Limit the Movers' Involvement: Hiring professional local movers for a local relocation is important, but you do not have to ask them to do all the work. One way to save money on your local move is by doing a lot of the packing by yourself. You can buy moving boxes, tape, and bubble wrap, pack up all your belongings, and have them ready for the movers to load onto the moving truck. They can take care of safely loading and unloading your heavier belongings, such as furniture and appliances.
Move Off-Season: Avoid moving during the late spring and summer if you want to pay a lower rate to hire movers. Another advantage of moving during the off-season, when movers are less busy, is that you can get the ideal moving date and time slot even if you are booking one or two weeks before the move date.
Frequently Asked Questions
Is it a good idea to ask an AC expert to help me disassemble and assemble my air conditioners?
If you do not have a lot of experience in disconnecting, disassembling, and packing up ACs, then you should ask an electrician or air conditioning expert to assist you with the process. They can safely disconnect all your AC units and disassemble the various parts to get them ready for packing. The best professionals will talk you through the process, explain what they are doing, and ensure that you have enough information to do it yourself in the future.
How can I trust the movers I hire to safely load and unload my belongings?
One of the most important processes in completing a local move is finding the ideal moving company. Depending on the city where you live, there may be a lot of businesses that offer local relocation services.
Choose movers that have extensive experience, a legitimate website that includes information about their licenses, verifiable positive reviews from previous customers, and competitive rates. When you hire trustworthy and reliable movers, you do not have to worry about them damaging your belongings. Even if an item does suffer damage, movers offer insurance that protects you financially.
Are there any other appliances I need to disassemble before the movers arrive?
Yes, local movers are unlikely to disassemble appliances such as washing machines, dryers, dishwashers, fridges, stove tops, and more.
If you have such appliances, you should either hire the relevant professional or complete the disassembly before the movers arrive. When your appliances are entirely disconnected from any power or gas lines, disassembled, and ready for packing, you can leave the rest of the work to the movers.
Safely Disassemble Your Air Conditioner
If you are moving and want to take your air conditioner(s) to your new place, disassembling them yourself is a wise option. Most local movers and packers will not disassemble electronics and appliances, as they do not want to take on the liability for causing any damage.
Window air conditioners can be packed up in their boxes, while portable units are even easier to relocate as they require next to no disassembly.
People who are relocating houses and want to take their HVAC system to the new place should call on a local professional HVAC maintenance service for help as those units have many components that require a lot of care to turn off, disassemble, and pack.