Do Local Movers Disassemble Beds?
Learn the ins and outs of disassembly services of local movers, including what items they can't disassemble, costs of services, and tips to prepare for local moves.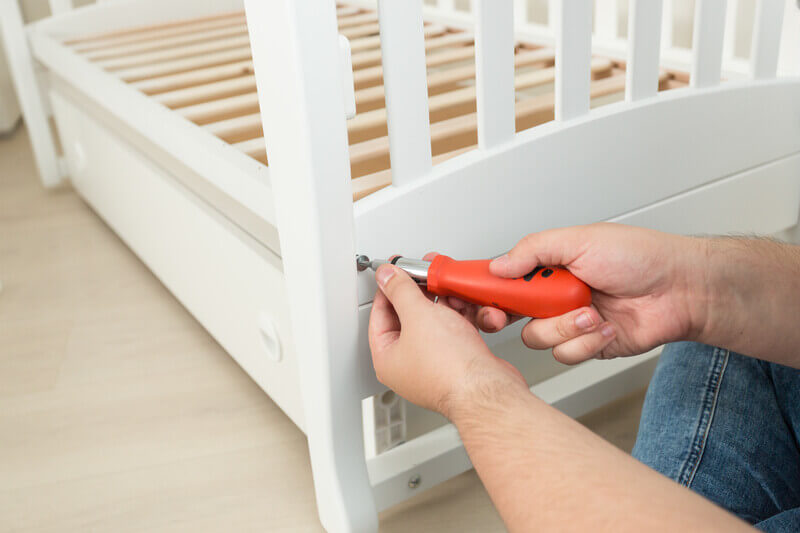 Local movers offer disassembly and reassembly services, so they can disassemble beds and other oversized pieces of furniture that need to be moved. Moving company professionals are careful with the furniture, ensuring that nothing is broken and everything is put back together in one piece.
Whether you plan on remodeling your home, storing items, or are moving into a brand new home, local moving companies can help make your project easier and more efficient. Small things may be easy to move in and out yourself, but what about larger items like beds, couches, or desks? Those will need to be taken care of as well.
What Furniture Items Need Disassembly?
Most pieces of furniture can be moved without completely disassembling them, but there are plenty of things that are much easier - and safer - to transport if they have been broken down. You can do this yourself and save money, but large pieces of furniture can be unwieldy and difficult to handle and professional movers are used to doing the job.
Most commonly local movers will need to disassemble furniture pieces that are RTA (ready to reassemble), such as items bought from stores like IKEA. Beds, as well as bed frames, are also better to transport when disassembled as well as bookshelves, dining room tables, vanities, entertainment centers, dressers, and mirrors.
Should Movers Disassemble Furniture Or Should I?
Disassembling your own furniture requires effort and there are many parts that need to be kept track of, such as small screws and bolts. If you're doing things yourself, you will be responsible if anything goes wrong and a piece of furniture cannot be put together again.
Having local movers disassemble your furniture can add more to your moving expenses but if you aren't handy or organized then it may be a task better left to professionals. This ensures that your couch doesn't end up leaning to one side due to a missing left leg and your bookshelf retains all of its original shelving.
How Much Does Disassembly Cost for Local Moves?
The costs you pay for disassembly services will be different because they are based on the complexity of the disassembly and the standard rates of the moving company you are working with. Local movers typically charge by the hour, so any additional services can be requested without any additional fees in most cases.
Keep in mind, however, that additional services also mean more time spent by movers performing the tasks and services you have requested. You may not pay a fee for a specific service but you'll end up paying for the extra time movers spend facilitating your move.
How Are Items Disassembled?
Movers use different methods to disassemble furniture and keep it safe while it is being transported to its target destination. Some items take longer while other furniture pieces may be easier to accomplish, taking less time.
Bed frames can often be disassembled before movers arrive, but if not then movers will simply disassemble beds when they arrive on the day of your move.
Mirrors on vanities or dressers will be removed and wrapped in protective layering. China cabinets and glass coffee tables may be wrapped as they are, but this is determined by movers.
Typical dining room tables will be wrapped and transported as they are but oversized or heavy tables may have the legs removed so that they do not break during transport.
Bookcases and shelving are disassembled depending on the design. Shelves that can be lifted up and removed will be wrapped and transported while other designs may require alternative methods.
Movers are not able to disconnect appliances but they can disassemble dishwasher racks, shelves in refrigerators, racks inside ovens, and other components that are easily removed from appliances.
What Movers Will and Will Not Do
Movers are extremely helpful and can do things like rearrange the furniture in your home, move items into and out of garages, and disassemble and reassemble furniture - they may even possibly dismount televisions hung on walls.
There are things that local movers will not do as well, such as removing doors from properties that are being rented (as may be required for oversized objects). Movers are also not able to hoist any items or belongings using balconies, whether they are pulling them up or lowering them down.
Local movers are also not permitted to reconnect or disconnect washing machines, dryers, or refrigerators and are not permitted to park moving trucks in restricted areas. Additionally, most moving companies may reject disassembly requests for pool tables, furniture that is nailed or glued together, or antiques.
Movers have several restrictions that are put in place to keep moving companies and the people they will be moving safe and limit the risks of moving jobs. Keep these items in mind when working with local movers so that you know exactly what you can and cannot request of your movers.
Tips for Preparing for Movers
Since local moving companies usually charge by the hour, time is money and you want to make sure you spend as little of it as you can on your move. To do this, you need to adequately prepare for movers ahead of time. If you're getting disassembly services, you're already adding onto the time movers will be at your home.
Let's see some tips for how to be as prepared as you can for the day of your local move.
Label your belongings carefully and clearly. You'd be surprised by how much things can get mixed up during a move, so have some sort of organization system handy. Label boxes according to the room they go in, the items they have, and you can even use a color system to keep track of everything.
Items that are a bit difficult to get into a box? Transport them yourself if possible! Fragile items, TVs, plants, and other items - including items movers cannot transport - can be easily transported to your home if you're moving locally. You'll also have less for movers to load and unload, shortening your moving time.
Group your items together before movers arrive so that everything is in one place and ready to get moved. This keeps moving professionals from having to go into different rooms of the home looking for moving boxes. Be sure that any items with fragile items are separate so that they can be handled with care and don't wind up at the bottom.
Keep any pets you have, as well as young children, out of the way when movers arrive. Moving can be a hazardous venture, so it is safest for everyone involved if pets and children are kept in a secluded area away from the hustle and bustle of movers.
Pack clothes in suitcases so that you don't have to use as many moving boxes. This can also keep you from having to remove the hangers from items, as some large suitcases can hold clothing with the hanger still on, making for easy placement in your new closet. Suitcases should still have some sort of label so that you know what clothing items they hold and can easily find them when they are needed.
Be ready to leave! This may not sound like much of a tip, but being ready to leave can save you a lot of time. When you're ready to leave before movers even arrive, all of your items are sealed, packed, labeled, and just waiting to be loaded. If you're still packing and organizing when movers arrive, you're going to spend a lot more time and money on your move.
Frequently Asked Questions
What other things can I ask my mover to do?
Moving professionals can help with other parts of the moving process such as packing and unpacking boxes and handling fragile items. They may also hook up televisions or electronic devices, but this is only if the task is not dangerous. Some movers may also provide cleaning and concierge services if you need them. Speak with the local moving company you choose to gain insight into what services they offer.
What's the average cost to move locally?
Local moves do not require as much travel as long-distance moves and are typically much less expensive, averaging about $1,300 in the United States. Your move may cost more or less than this figure due to several factors, such as the size of the home and the items being moved. Getting several quotes from different moving companies can help you determine your potential costs.
Can I leave things in my drawers during my move?
It may seem like a good idea to use your drawers as boxes but this only makes things more difficult for movers, adding weight to furniture that is already undoubtedly heavy. Items may also shift when they're kept in drawers, so items may be more likely to break. If you have too many clothes and not enough storage, you may consider purging some items.
Disassemble Beds and Oversized Furniture for Efficient Moves
There's a good chance you don't want to leave your bed and every other furniture piece that's too heavy for you to load in your old home, so work with local movers to make sure all of your stuff gets to your new home in one piece. Well, maybe not in one piece but movers can reassemble them once they've been unpacked!