How To Get Friends To Help You Move
Getting affordable assistance with your move might sound impossible, but not when these practical tips are there for you. Below is how to get free assistance from friends for your moving.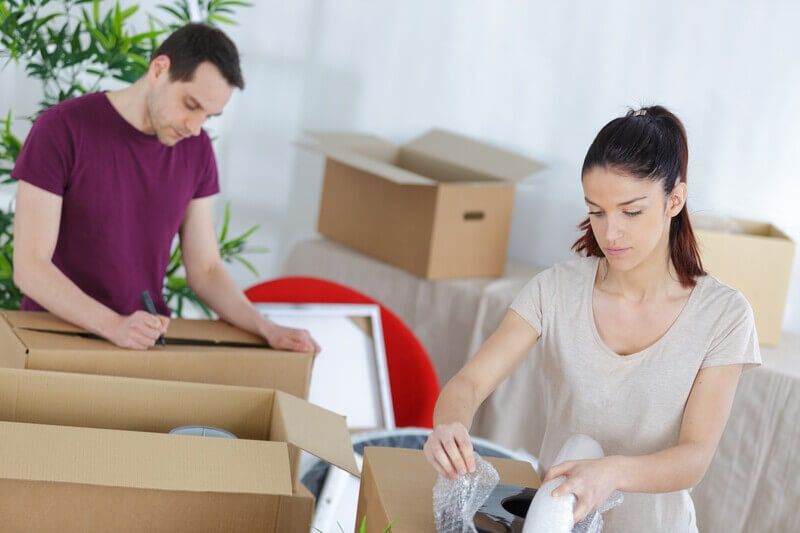 If you choose to move out of where you currently live without hiring professional movers, then you must certainly know that moving by yourself doesn't imply that you will have to handle everything on your own. Fortunately, you have a way out.
If you are moving on a slim budget and are confused about where to get help when it comes to packing and loading heavy boxes, we are here to help.
Below are our best tips for getting help on moving day, even when you don't have money to pay.
Tips to ask Friends to help you move
We understand that asking someone to do tough work for free is hard. But as long as you consider their time and appreciate their effort, most people won't hesitate to help their friends. We think the best thing to do is to talk in person or over the phone, but a direct message or text with actual details can also be effective.
If you are looking to friends to help you and be successful at it, here is how:
1. Ask for moving help from your friends as early as possible
The first thing you should know when you are trying to get help from your friend for your move is that they must all be busy with their schedules and time their time is so much valuable. Therefore, you importantly need to show consideration towards your prospective helpers by reaching out to them as soon as you have a plan of action. Don't wait till the final minute and expect them to rule out their schedules to rush to help you – that would be inconsiderate.
Instead, reach out to them and ask them for help as soon as you know the date for your move with the hope that they will be willing to add you to each of their schedules.
2. Ask from the people you have done favors
No one appreciates a 1-way street, but a good turn deserves another. You possibly have lots of people in your life who truly depend on you more often, so those are the set of people to ask.
Consider a set of people:   
Parents
Siblings
Besties
Sympathetic coworkers
Service organizations can also be a useful source to find help. AA, religious or spiritual communities, or other support groups, and federal, state, or local charities are all great resources if you don't know how to get this done on your own.
3. Be serious about why you need the assistance of your friends
Getting the assistance of friends to help you move may become harder than you expected as you might be tempted to downplay their impacts on the house relocation process. Why would you keep important information from your friends? The fear of being turned down, right? Being dishonest with your friends about the things you need their help with is a bad idea.
They will eventually find out that you didn't tell them the whole truth and it will be an awkward situation for you. So, be straight with your friends so that they know exactly what they will be facing when they arrive. If you have lots of heavy furniture for a move, then it is reasonable that they know about it so they are mentally prepared for the challenge.
4. Assure your friends the work won't be hard
Your friends in their mind know that your request for moving assistance means a lot of work. They understand there will
be hours of packing, lots of bulky furniture pieces to be moved around, and an unending supply of moving boxes to be led up onto the moving truck safely. So, your job is to assure them that while there will surely be some tough work; there are still some easier parts.
Normally, you will want them to know that there will also be delicious food, music, and refreshing drinks while the moving tasks are being handled one by one. After all, no one would be eager to help a friend if they knew it would only be hard work for several hours till the end. Be considerate enough to formulate and present your moving help request in a better way.
5. Get the appropriate packing supplies
If you need your friends to assist with packing (often the case when you are running late on your moving deadline), then you must be ready for your friendly helpers. Scheduling a packing party is often a good idea just because the named party will provide additional incentive for your friends to be eager for your fun event.
However, preparing for your friendly packers mostly involves ensuring that you've got the appropriate packing materials to complete the o quicker and with no delays. Moving boxes should be your major concern here – boxes of various sizes that will contain and protect your goods on the journey. The most convenient way is to buy all your packing boxes anew, but that will be more expensive. So, try all other options to get free moving boxes.       
6. Gather the proper moving equipment
To simplify and make things sager for you and your helpers, one of your main important tasks is to make available the needed moving equipment to carry and move heavy belongings without any risk of property damage or bodily injury to your DIY move helpers. To know the proper moving equipment, create a list of moving supplies for your move.
Check Tips to Create a List of Moving Supplies for a Cheap Move
7. Provide an incentive for your crew
Convincing your friends to help out is not as simple as purchasing pizza and offering some soft drinks. They will help you if they love you and if you assist them at other times. That means you are expected to appreciate your friends, family, or other helpers on your moving day, regardless of how frequently you help them too.
Some incentives you can consider include:
Movie tickets
Happy hour after moving
First pick of the belongings you're donating such as books, decor, or kitchen supplies
Irrespective of what you decide to do, the most essential factor is whether or not your crew feels appreciated. Whether you moved down the street or the next city over, ensure you appreciate your friends with thank-you notes after you are settled.
8. Be prepared to return the favor
One other way to appreciate friends who assist you with your move is to reassure them that you are open to returning the favor at the right time. Offering your moving assistance in the future carries more importance than you think – it will allow your friends to know that you surely appreciate their efforts and sacrifice.
Additional Ways to Save Money for your Move
Getting free assistance is not the only way to ensure a cheap move. Before starting your move, you importantly need to determine the cost, which is where you need a moving budget. After you determine the way to get free moving assistance, you can then save, or even make some money.
Get free or cheap packing supplies
Packing supplies might seem cheap, but they can cost you a lot quicker. When you have a budget, you will not be able to pay for dozens or – if your home is bigger, hundreds on new moving boxes, tape, paper, and bubble wrap. Visit the thrift store. Our helpful ideas for saving on packing materials include:
Gather cardboard boxes in the month before the move, including small moving boxes that can enter bigger ones for cushioning and protection
Request for extra boxes from grocery stores and local stores (but don't enter their dumpsters without taking permission), though you may want to be cautious here since these boxes may attract pests.
Ask family, friends, and service providers for boxes they are disposing
Check Freecycle, a group of people who give out goods rather than disposing of them.
For delicate goods, buy moving boxes of top quality from your local Life Storage center. As regards padding, use sheets, old newspapers, clothing, towels, and other linens to wrap goods, and don't use bubble wrap unless necessary.
FAQ about how to get Friends to help you move
How do you find a furniture mover for me?
Visit any of our top moving labor companies anytime you need help moving a furniture piece to hire a helper. You will get varieties of taskers with their trucks, moving vans, and moving equipment. This saves you from extra rental costs and optimizes the move.
How much per hour should a mover be paid?
Movers charge around $25 - $50/mover/hour averagely for local moves. So, a 2-person crew working for four hours will be charged at $200 to $400, for ordinary labor. But note that transportation fees, gas, materials, and other expenses will be incurred.   
Need DIY Moving Help?
If you are making effort to save time and money on a budget, moving labor around you can be your best fit. It is a DIY moving service where you pack and load (with assistance from friends) and then we handle the entire driving. We can also recommend experienced moving crews to provide the moving day team.