How Much Does a Local Move Cost?
Although moving within local distance may not be as expensive as moving cross country, there are different types of expenses involved regardless of the type of move. The final price you get on your moving quote is determined by the number of your belongings, the type of service you need, and the distance of your move. A move is considered local if it is less than 100 miles.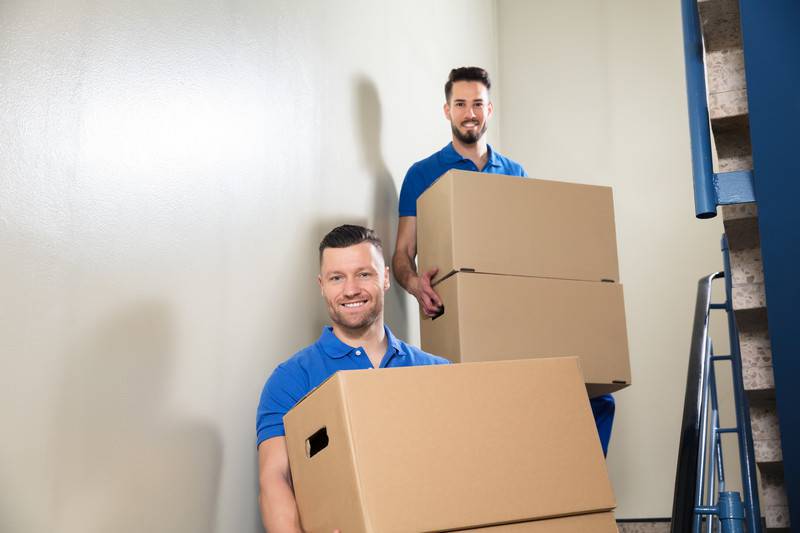 A local move is charged based on a certain dollar amount per hour. This hourly rate is influenced by labor cost which is the total number of movers needed for the relocation, services which include packing or climbing many stairs, disassembling of furniture, and other additional services such as the provision of moving supplies including mattress bag, stretch wrap, and felt pads. Ensure you ask the moving company which additional services are required for the move and whether they are added to the price given to you. 
Flat Rate Moving Option
A flat-rate option may be offered to customers by local movers along with an hourly rate option. This is most common in the state of Florida. A flat rate is calculated by the total number of hours estimated by the movers, multiplied by the mover's hourly rate. This fixed amount does include the cost of additional services in most cases.
Note: The recommended option is the hourly rate, as it mostly ended up at a reduced cost compared to the flat rate. Also, note that the moving company must conduct an in-house inspection and inventory of your household possessions. so you can receive a fair and accurate hourly rate. Avoid accepting a moving quote through a phone call or internet.  
An Exception to the Rule
Intrastate moves are different from one to another. A moving cost may be determined by the weight of the belongings in some states instead of it being determined by hourly rate, even though it is being done within or beyond 50 miles. The state will determine the distance requirements for a particular weight-based move.
For instance, the requirements for an intrastate and hourly rate move in Pennsylvania are different from that of a move in Los Angeles. Your moving company should answer any questions about these distance requirements.  
Travel Fees
Always remember the travel fees. Those moving between cities should be ready to pay a travel fee along with the actual moving cost. The costs for fuel and labor, which will enable the mover to transport you from your current location to your destination, are included in the travel fee. A moving company must be paid for the time spent on the trip. Be prepared to pay a travel fee that covers an hour worth of work for a local move.
Moving Insurance
There is different kind of reasons that could cause you anxiety over leaving your entire possessions to strangers to handle. There will be questions like what if your highly prized items break along the way? What if they arrive damaged? Or what if they do not get delivered to you at all? There is a possibility of damage when moving from one place to another, even though it is not common. This is why you should carefully observe the kind of coverage your mover possesses.
Customers are allowed to purchase their third-party coverage along with the valuation coverage. To get specifics, kindly check your homeowner's insurance provider. It is also a wise step to take photos of your possessions before the move should any of your items go missing or broken. 
Liability And Valuation Coverage
The liability options of a moving company must be outlined in a written explanation sent to you through email. Although many movers provide a different level of coverage to customers, however, these insurance options vary from one state to another.
A $.60 per pound cargo liability is included in local movers' hourly rate price. This implies that you will not be paying extra charges for this coverage. This means that movers are responsible for $.60 per pound per item when you have this type of protection.
Only little protection to your possessions are offered by this coverage only is it likely the cheapest protection. For instance, if a 20-pound item arrives broken or damaged, the company will weigh the item and then multiply the weight by $.60 ($.60 x 20). The moving company will only be liable for $12 irrespective of how valuable the item is. However, it is a common practice for a local moving company to offer the option of purchasing more coverage to customers.
Full Value Protection is usually suggested by many of these local moving companies, as it provides you with a wide range of protections. This protection will have the moving company pay or replace your damaged/missing item. Moving companies provide different kinds of coverage options to customers. However, it is very important to have a full idea of the liability options provided by your mover before you sign any form of agreement.
Extra Services
The moving services you ordered may incur additional fees along with your hourly rate. The services are:
Stair carries
Disassembly and reassembly of furniture
Shuttle service (breaking of belongings into parts because there is not enough parking space for the truck in your old/new home)
Disconnection or reconnection of home appliances
Elevator carries
Moving specialty items (like artwork, a piano, pool table, grandfather clock, or antiques)
Packing supplies, (including shrink-wrap, furniture blankets, tape bubble wrap, and boxes)
Long carries
Do not hesitate to ask the moving company for the services you may need and also ask if there will be any additional costs when receiving an on-site moving estimate from them. Your quote will be more accurate when you give more information about the move to the mover.
Packing Supplies
Essential supplies will be required to pack your possessions. If you decide to purchase from a moving supply retailer, it can be more expensive. It will cost many hundreds of dollars to get packing supplies for a regular 3-bedroom home. The supply doesn't include specialty cartons such as wardrobe boxes, furniture blankets, mirror boxes, or even bubble wrap.
The majority of these supplies may come with some of the services you requested from your mover. Make sure you ask your mover about what they will supply and also what additional costs you should expect on your quote.
Packing Services
You should consider packing services if you are bothered by the stress of wrapping, organizing, and boxing up your stuff. It will cost you between hundreds and thousands of dollars (other costs for moving services included) to get help from your moving labor company on packing.
Duration of packing, the number of goods, and partially, the cost of moving supplies which may be included with labor costs by some moving companies are all factors that determine your packing costs. You will find packing prices for different home sizes in the following table.
Note that an online calculator was used to generate these numbers and the numbers do not point to a particular mover's prices. 
| | | | |
| --- | --- | --- | --- |
| Home size | Packing | Labor | Packing material |
| Studio Apartment | (3,500lb) | $218 | $105 |
| 1-bedroom Apartment | (5,000lb) | $320 | $150 |
| 2-bedroom Apartment | (7,500lb) | $468 | $225 |
| 3-bedroom Apartment | (10,000lb) | $625 | $300 |
| 4-bedroom apartment | (15,000lb) | $937 | $450 |
Truck rentals
You may have to focus on renting a moving truck if you are planning a do-it-yourself move. This option is typically cheaper and will save you some money; however, it requires a lot of energy, strength, and time to run to completion.
Because there could be heavy lifting, it is important to enlist the help of a close friend or family member when moving without professional movers. Your home size will determine the costs of a rental moving truck; however, below are some prices gotten from the website of a big moving truck rental company.
10-ft: For an apartment move at $19.95
17-ft: For 2-3 bedroom home at $29.95
20-ft: For a 4bedroom home at $39.95
A mileage fee of $0.99 will be charged to you after this first rate per day. The gas tank must also be filled at least halfway before you return the moving truck.
Other costs included in moving truck rentals are:
Rental tax
Insurance
Moving equipment such as dollies, straps, and hand trucks are used in moving furniture and home appliances which is available with the moving truck rental agency.
Environmental fee
The Average Cost of a Local Move
Getting an average cost estimate for a move is possible even though the cost is different from one to another due to many factors. To get the most reliable estimate, contact the American Moving and Storage Association. It will cost around $2,300 to move your household locally according to AMSA data. A fee of $25 is being charged per hour divided into quarter hours by local moving companies generally. The size of the home, amount of belongings, and the type of services (packing, loading, unloading, and unpacking) will also determine the moving cost, as it varies. 
Typical Costs:
It will take two movers an average of two-four hours to load, transport, and unload for a price of $100 – $200 at $25 each hourly.
It will take three movers an average of four-six hours to provide the same service for a two-bedroom apartment of 900-sq-ft at $300 to $450.
It will take four movers an average of six-nine hours to provide the same service for a three-bedroom apartment of 1,750-sq-ft at $600 to $900.
It will take 6 or more movers an average of eight-twelve hours to provide the same service for a larger home of above 5,000-sq-ft at $1,200 to $1,800.
What should be added?
Loading, transporting, and unloading of household belongings should be added; except there are heavy or delicate items such as big-screen TVs which require professional packing.
Additional Costs
Packing and unpacking services are charged at $25 – $35/hour with the cost of packing materials.
Plasma TV, if in their original package may be shipped locally at no additional cost. If the original packing box is not available, you can rent one for $50. If you are moving older-style TV, it may require additional help to load, and this would increase the cost by $25/hour.
The price goes up by 20% high in summer and weekends.
Higher prices are slapped on stairs, long and difficult distances to the moving truck.
For example, you will have to pay for help in packing if you request it. Only a few moving companies are qualified to move a piano. For instance, an additional cost will be charged by movers that handle piano moving. 
You can tip movers at $3 to $5/ hour or 7 to 15% of the entire relocation cost.
Moving insurance starts at about $.30/pound
Now, to have further knowledge about how much it will cost to move locally, you should request a moving quote.
General Cost of Moving Locally in some Specific Locations
We took our time to contact some professional moving companies all over the country and got actual prices for a single bedroom with 390-cubic-ft of belongings, which is our model moving plan. You can find them below based on the city:
New York, NY – $272
Denver, CO – $280
Phoenix, AZ – $328
Atlanta, GA – $348
Miami, FL – $368
Washington DC – $388
Los Angeles, CA – $395
Houston, TX – $415
Dallas, TX – $420
Chicago, IL – $42
Boston, MA – $555
San Francisco, CA – $576
How to Reduce Costs of Local Move?
Get free supplies: You can take your time to find free moving supplies instead of buying those expensive moving boxes. You can check for sturdy cardboard boxes from a local book, liquor, and grocery store, wrap and protect possessions with blank newspaper, create cushions inside moving boxes, use towels, and use linen and old blankets to wrap furniture. Be very careful when packing glassware and any breakables, make sure you pad the bottom with enough tape to avoid collapse during the move. 
Downsize your belongings: Reducing your belongings is a sure way of reducing your moving cost. The movers will be able to load the truck quickly, you won't need to buy any packing supplies, and the size of a rental moving truck you will rent will be smaller when you have fewer items to move. You can donate some of your unwanted belongings while you organize a garage sale for the rest to add some money to your moving budget.
Compare quotes: To determine the most affordable mover on your list, start comparing their moving quotes immediately, so you can save on that. Kindly note that when a price seems too low to others, it could be potential moving fraud; do not fall for it. To choose the most affordable and quality service for your move, get at least four moving quotes from top different local moving companies, and compare. 
Move during the Off-Season: Make sure your move is made out of season between October and April. Because moving products and services are in great demand during peak seasons like late summer and spring, and early fall, moving companies inflate the price to a certain level. However, once these seasons are passed, the prices are then reduced because demand will also fall. 
Consider a DIY relocation when moving locally: There are various factors to consider when leaning towards a DIY move, even though it will lead to a reduction in moving costs. To decide whether you will be hiring experienced movers or performing a DIY move, the key factor to consider is the distance.
You are free and safe to perform a self-move when you are only moving locally. You need to rent a moving truck of a size that will contain your belongings and enlist the help of about two or three close friends who will help you with packing, carrying, and loading your belongings into the moving truck.
Take Note of Moving Scams
Be very careful about moving companies with no good reputation and moving scam strategies. Activities of local moving companies are not monitored by the Federal Motor Carrier Safety Administration (FMCSA), as it is done with interstate movers.
However, their affairs are being checkmated by their respective states, which provide them with certain licensing and certification requirements before being authorized. It is advisable to know about the moving regulations of your state before hiring a mover.
To have an idea if any complaints were filed against a particular moving company, you can check with the Better Business Bureau. I also recommend that you check if your moving company is a member of any highly recognized association in the country, such as the American Moving & Storage Association. 
To Sum Up
Kindly note that you will be paying for reliability, competence, and experience when it's time to relocate with a professional moving company. To ensure you have a smooth and stress-free moving experience, ensure you read verified customers' feedback to identify a reliable mover. Happy moving!