Smart Moving & Packing Tips to Make Moving Easy
Moving is always fun, hectic at the same time. It is always fun because you get excited and emotional over moving from a place you've spent a considerable number of years, and had memories with. Most people only realize they are moving on the day they are meant to move; the feeling always seems surreal.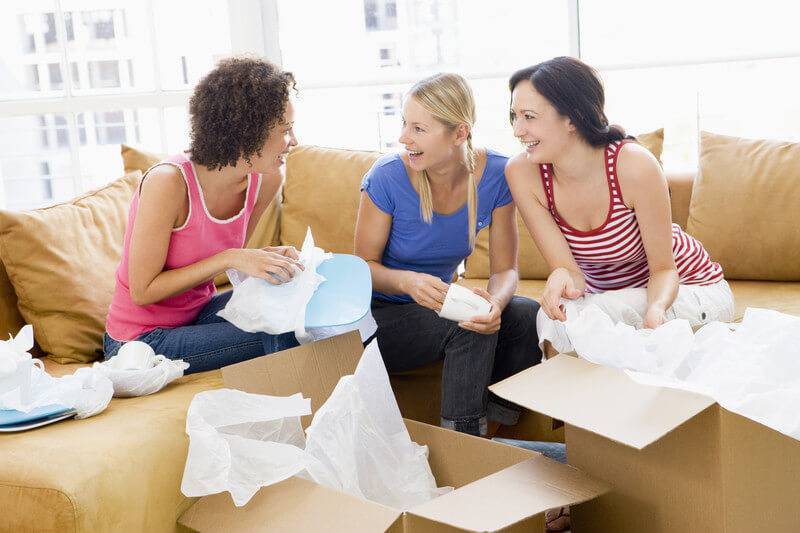 Moving is always fun, hectic at the same time. It is always fun because you get excited and emotional over moving from a place you've spent a considerable number of years, and had memories with. Most people only realize they are moving on the day they are meant to move; the feeling always seems surreal. On the other hand, it is always hectic because of the mental stress you have to go through in organizing all of your things in a manner that you can easily rearrange and access them. What causes the stress most times is not moving, it's just trying to sort things out in your head, and of course, the stress eventually wears you out.
Moving is not as hard as you think; it all depends on the approach you use for it. In a bid to help you with the best methods, we have a few tips that would cut down on the stress you'd face. We know moving can be very daunting, but the right approach would make it a lot less stressful.
Below are some of the smart moving and packing tips that would make moving easy even if you are using cross-country movers or local movers.
REMOVE UNNECESSARY ITEMS
The first thing you should do in your home is to make sure you take a good survey at all the items you have and see which of them you can declutter. You should do well for yourself by creating a list of some of the items you want to dispose of, items you want to give out, and items you want to retain. So from the day, you have intentions of moving, start getting your list together. What you should do for each of the items listed in the rooms is to sell the ones you don't need again, and dispose of anything you know is broken or not used. If you have things that are still of good value, and you don't give them out, you can sell them to people who know their worth.
PACK THINGS SEPARATELY FOR THE FIRST DAY
This is a very important part of your moving process because it entails you preparing for the moving day. Essentially, most people get confused as to where they placed the items they need on the first day, but you can help yourself by arranging all the everyday items you use into one box. Gather things like your toothpaste, toilet paper, cups, and a lot of other things you know you are going to be needing so you don't have to start searching again. This is a smart way to organize yourself and put things in the right perspective.
ORGANIZE FREE BOXES WHEN YOU NEED TO ORGANIZE
Another life hack you can use when trying to move is to organize free boxes. These free boxes will help you a great deal in organizing all of your stuff that needs to be moved. The best way to get free boxes would be to source for them from everywhere. A few ideas of places you can get free boxes are: at your local liquor store, tell them to organize a few boxes for you so that you can use them to arrange some of your small items, another place you can find free boxes are at your neighbors' get them to help you with the boxes of items they purchased a long time and don't need again. You can equally gather free boxes from a box depot; there you can get as many boxes as you want and in different sizes. Once you have the boxes, you can map out how to rearrange things in the right order.
GET QUALITY BOXES IF YOU CAN'T GET FREE ONES
Just in case you cannot get free moving boxes, or the notice is too short for you to gather a good number of boxes, the best option for you would be to buy good boxes. You can get quality boxes from a list of many different sellers, but then you have to be very sure they are very good and strong. No matter how hard you try, you can never know all of the items in your head, and they all cannot fit a little box, so you would save yourself a great deal of stress by getting as many boxes as your items demand.
As a rule of thumb, you should make sure the heaviest sizes of your boxes should not be more than 50 pounds. The downside to getting free boxes is that most of these free boxes have stayed a long time at wherever you must have found them and molds, eggs and bugs might be hidden in it, so never use such boxes to store your items for a long time, new boxes are your best options when it comes to storing all the items you might not want to open up.
LABEL YOUR BOXES
After you have gotten your boxes and have arranged all of the items in a manner that would be easy to get back; you should make sure you tape them with colored tapes and label all of the items. The best thing to do would be to label the boxes according to sections, for example, you arrange all the appliances in one box and label them, the same thing for the kitchen wares, the same thing for all items so that you can know which items are in which and where to search for.
MAXIMIZE SPACE
The issue when moving is to make sure you make the best use of space as you can. When you are moving, put things inside things, you should be able to place smaller items into bigger items. This way you will make the most of the space you have. If you have a large container for your kitchen wares, you can add all the smaller kitchen wares into the container and put them in a way that you will have more space to work with. This way you will be able to get more things into your boxes.
USE PICTURES TO REMEMBER THE PLACEMENT OF THINGS
There are certain things in your home that were carefully placed, and you might forget them, things such as the way your cords are arranged on your appliances and other settings. When you take pictures of how certain appliances were placed, and other items, you will be able to place them correctly when you move to your new apartment. This trick and tips work all the time, and not many people are aware of it, use everything you have around you to make sure you make your moving process a lot easier.
USE GARBAGE BAGS FOR YOUR HANGING CLOTHES
You most certainly will have clothes you placed in your cupboard and hanger; you can arrange them neatly in a large garbage bag so that they are protected from dust and they are also left to stretch out in their proper form. You can do this for the entire member of your family but only be sure to make sure you properly label the garbage nylons or the boxes you will eventually place them when you finally move to your new home and unbox the items.
SEPARATE THE THINGS FOR DIFFERENT ROOMS
This is another very important reason why you have to label or use colored tapes for all of the things you are going to be arranged in the boxes. You must make sure you pack and keep the things of everyone in your room in separate boxes, so you have no issues. If you are moving things out of your children's rooms, then you have to be sure you label them separately to avoid fights over lost items. You also know that you will have personal items that belong to you and your wife, you should keep them away from the general items you have arranged.
NEVER FORGET TO GET ALL YOUR ESSENTIALS IN ONE PLACE
We can never overemphasize the need to put your essentials in one place. Make sure you put them all together so that you never have to run about. The essentials are the things you will need in the first few days or weeks after you must have moved to your new home. The larger the family, the more the items that will be included in your essentials pack. One other thing you should know is that the box where you place all of the essentials should be the last set of boxes you are to place inside the moving truck for easy retrieval.
TAKE EXTRA CAUTION WHEN BOXING BREAKABLE THINGS
Most people lose some of their best glassware and dishes to packing, not packing but the whole fidgeting and anxiety from moving. This should not be the case when you are moving; you should be able to carefully pack your fragile items such as your glass cups, wine cups, dishes, Tupperware, bakeware, and other items. To pack your glass wines, make sure you get a good box that was made for glass cups, to separate them and keep them safe from breaking. In the same manner, you should pack all these items separately. You can use newspaper, cardboard and other types of paper to act as a cushion when you pack all these special wares and dishes. The most important thing for fragile items is to make sure they are well padded. Get thicker boxes that are specially built for these wares.
PROTECT YOUR LARGER ITEMS
When we speak about your larger items, we are simply referring to the items you know you can never place inside a box, and particularly your home furniture. Most of the furniture we purchase is quite qualitative and expensive, and it would make no sense to damage them, only for you to replace them again by buying a new one. Large items like furniture, drawer, tables, chairs, doors, and other things should be protected against any form of damage. It would be very smart for you to get some of your friends to help move things around, or if you can't get friends and neighbors to help you, you can hire professionals to help you finalize the entire process.
SPECIAL ITEMS SHOULD BE PACKED SEPARATELY
As much as we have deliberated on the list of items that we feel should be packed together, there are also items that you should never pack together because of their composition. Packing the wrong set of items together can damage the others placed in the box. Ideally, by common sense, it is not proper to pack chemicals and sharp objects together in the same bag, the result of this carelessness can be very detrimental to both your health and life. In the same manner, you should also pack medications and drugs in the same place but not together with other household items. If you know some chemicals might spill or leak, get them better containers before packing them. To give you a rough idea of some of the items that should not be packed together, please take a look at the examples below so that you can know what other items in that category to keep away from other items.
Chemicals, such as ammonia, hydrogen peroxide, chlorine
Extinguishers
Auto batteries
Paint and painting equipment
Cooking gel or gas
FIND AN EASY METHOD TO OPEN YOUR BOXES
All the tips provided are beautiful, but the moment of frustration comes when you are trying to unpack and unload the boxes, you might have a hard time trying to open the box but finding a quick-open method will cut down on the stress of unboxing when you move to your new place. One of the methods you can use to open your box faster and easily is by using a wool string. This method allows you to place a string of wool in between the middle of the box you want to seal with tape. After you tape over the string and leave some extra string to be pulled, you can easily open up the boxes when you finally want to unbox your items. This tip would make you feel happy about unboxing your items.