Moving Labor Vs. Traditional Movers
A traditional company is a super convenient option; however, they are so costly. On average, you can be ready to save from forty to sixty percent on your moving cost by adding moving labor with a rented moving truck, van, trailer, or container.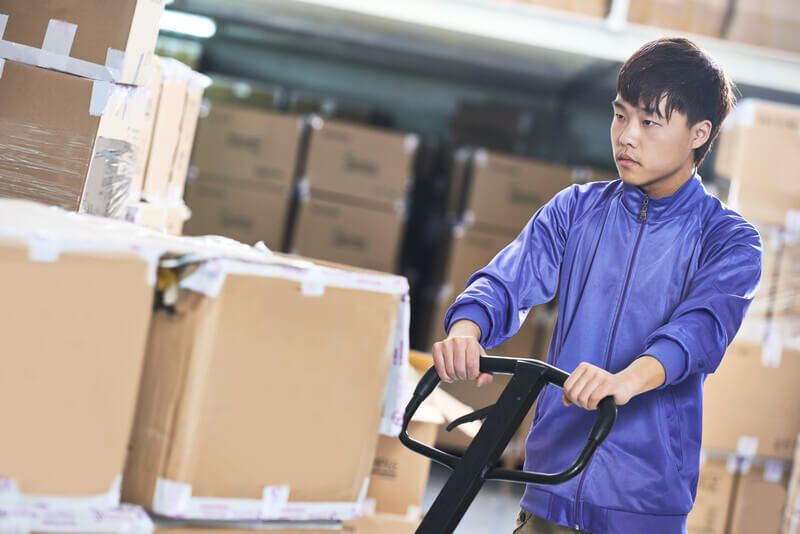 Moving labor is a better option to go for if you need some helping hands for carrying, lifting, and loading heavy items, but you choose to handle every other thing personally. If you want a cheap move, then the best fit might be to pay for some hours of assistance.
On the contrary, traditional movers are a smart choice when you want the ultimate convenience. That is where you can relax knowing that professionals will take care of every part of your relocation. If you aren't worried about budget, or you have to move fast, traditional movers can haul your home in a matter of days.
We will assist you to pick out the best solution for you between moving labor or traditional moving companies. While there is no perfect answer here, only movers that suit your needs are all that matters.
Various Types of Moving Services at a Glance
There are different services you can hire for moving, but in general, the moving industry can be divided into two: moving labor and full-service mover.   
Moving labor: Moving labor companies render services including loading and unloading of goods into the moving van, truck, or another moving vehicle. They don't offer rental services, but rather the labor needed to finish your move. Moving labor is a strong choice when you want to DIY and you rent a moving truck, but you have no free help or you don't want to handle heavy boxes.
Traditional movers: Unlike moving labor, traditional movers provide manpower and a moving vehicle. They load and unload your belongings and haul them to the destination. This type of move is a strong choice if your budget can accommodate more on your move and you want movers to handle the whole moving process.
Moving Labor vs. Traditional Movers Services: What to expect
A traditional full-service local moving company will always endeavor to sell you their moving or storage service, whether it is perfect for you or not. We all have unique situations and various needs. Are you storing your belongings for half of the year? If yes, a full-service moving company will load your belongings, unload them into any of their storage facilities, load your belongings when you are ready for delivery and then unload them at your new address.
If you count the services, that's four times they help you protect your belongings from loss, damage, or theft. It is also four opportunities for the full-service movers to bull you. Moving labor companies will often work towards your best interest. This is because they don't offer moving or storage, so they only give advice based on the customer's best interest, not the amount of money they can make.
If you are moving and require long-term storage, the best decision is to rent a portable storage container that offers reasonable rates (unlike full-service movers) and only involves two touches: you load and unload your belongings. You have the only key to your storage unit and there is no need for several loading and unloading. To assist you to choose between moving labor and traditional movers, let's see their services and the benefits of hiring them.
What to expect from Traditional Movers
When you choose traditional movers, you can pick just one of these services, or you can go for all of them and purchase full-service. Convenience is certainly one of the most essential things when hiring professional assistance.
Let's discuss the advantages of traditional movers.   
Packing and unpacking: Traditional movers can pack your belongings, so you don't have to do it. They will pack your goods with the right packing materials, and they will bring those materials, too. You don't need to stress about fragile items because they have the right equipment and important experience for the right packing. They will also unpack all your possessions immediately after your items get to the new space.
Loading and unloading: After packing, your goods still need to be loaded into the moving truck and this task will be handled properly by traditional movers. This is perfect if you don't have the strength to lift and carry heavy moving boxes to the rental truck. Even if you can do so, it is still much easier to avoid lifting and prevent injuries. They also will unload moving boxes from the moving truck to the new address.
Transport: Traditional movers also perform transportation, and they will have their relocation vehicles. Before the day of your move, they will confirm the size of the home and determine the right size of moving truck needed. This is so convenient if you don't want or know how to operate a rental truck. Also, you don't have to worry about troubles along the way since movers will also handle that.  
Storage: Traditional movers also provide storage services in case you need them. This comes helpful when you are downsizing and you want to use your possessions in the future, or in case your new home is yet to be completed for moving in. They will deliver your possessions immediately after the new space is ready.
What to expect from Moving Labor Service
Even with the whole convenience of traditional movers, hiring them is just sometimes not possible, especially if you don't have enough budget. Or maybe you opt for a DIY move. In that case, you can still take advantage of moving services without spending a fortune.
Let's discuss the advantages of hiring moving labor.   
Price: The number one advantage of hiring moving labor is a cheap price. Unlike full-service moving companies, moving labor providers charge per hour. That implies that you can do almost everything by yourself, and hire their assistance for just a few hours to assist with specific moving tasks. It is a great option to go with if you have the time and strength to DIY, but you are just missing a few additional muscles.
Flexibility: As earlier mentioned, you can hire moving labor services for some hours, and that provides lots of flexibility. It implies that you can pack your belongings yourself, and hire them to just take care of extremely heavy belongings. Or you can pack your goods and hire them to perform lifting and carrying boxes in Brooklyn.
Control: If you choose to oversee your move, then moving labor is a perfect option. Compared to full-service movers who will do everything for you, moving labor will only assist where you ask for it.
FAQ about Moving Labor vs. Traditional Movers
What is the cost of having movers move your possessions?
Movers charge between $25 – $50 on average and per mover, for each hour of a local move. So a two-man team working for 4 hours will set you back with at least $200 – $400 for labor only. But don't forget that other costs like materials, transportation fees, and gas will be incurred.
What do movers do?
Movers assist people in transport or carrying things from one location to another through their physical strength. They manually work to assist customers in their businesses or homes. Among the factors, they often add the preparation, loading as well as unloading of belongings. They are also known as material movers and hand laborers.
Will movers move items not in moving boxes?
A general rule of thumb is that if you are moving to a far distance or another country, your moving company will possibly ask that all items be in labeled boxes.
How heavy can moving boxes be for movers?
The general rule is that each moving box weight should not exceed 50 pounds. Even if you've brought in movers, don't forget that the need may arise that you have to move the boxes yourself, from one room to another, so ensure that you can lift them. There are boxes, like electronic boxes or wardrobe moving boxes that may come heavier by default.
What Option do you go for? Moving Labor or Traditional Mover?
We have discussed the major differences and similarities between traditional movers and moving labor. We hope that you can easily decide for yourself now. Are you planning on hiring moving labor for your next move? Your first step is to ask for a quote or learn more about the best moving labor companies in our network.