Moving To Chicago: 10 Best Neighborhoods To Move
There are many options available to you on where to move to Chicago. Every tribe has a place to call their own as there are over 70 neighborhoods in Chicago, with each having its own unique identity.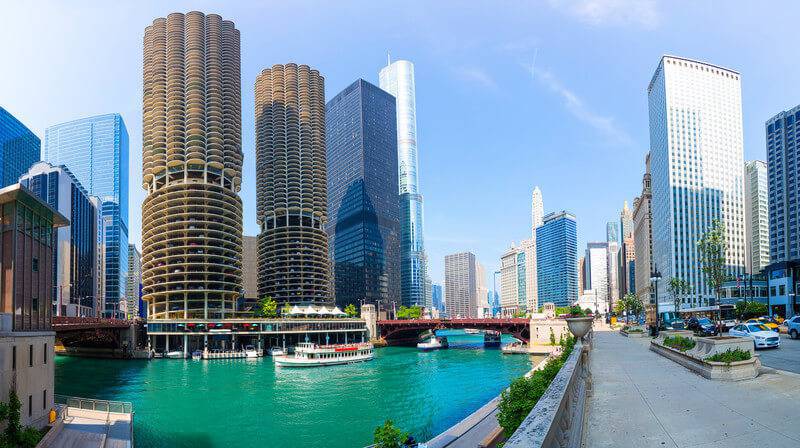 There are many options available to you on where to move to Chicago. Every tribe has a place to call their own as there are over 70 neighborhoods in Chicago, with each having its own unique identity. But if you are new to the Chicago neighborhoods, you may not know which neighborhood to live in.
We understand that when people are looking into the neighborhood, they are hoping to get results that include great parks, homes, and friendly neighbors. All these, as well as many more, are available in these best neighborhoods in Chicago. 
Finding a Chicago neighborhood that has everything you need can be difficult. It is not easy to find affordable, family-sized housing, especially if you need great transit options. However, we performed a rigorous screening and came up with the top ten Chicago neighborhoods to move to. 
Need a place to move to in Chicago? This guide is all you need. Finding the ideal home that matches your personality and desires among the numerous neighborhoods in Chicago can be difficult. However, if you've identified your needs and planned your budget, you can customize the search. Start the search by first asking yourself what exactly you like most in a neighborhood. It may be: 
Being able to walk downtown
Good schools (public and private)
Distance to public transportation
Closeness to a bicycle or running path, particularly towards the Lakefront
Affordability
Calm and tree-lined streets
Other family-friendly attributes 
You can start searching with your defined criteria. You stand the best chance to find what you need in the following ten neighborhoods, and you may even find out the best new place to choose.
1. North Center
Even though you don't have to be a Cubs fan to qualify to live in the number 1 best Neighborhood in Chicago, it would be a plus since it can be found in East of Wrigley Field. You may be wondering why the North Center is a great neighborhood. The answer is simple; it combines a big neighborhood feel together with small neighborhood beauty.
There are many things to do in the North Center as well. There are three parks, a library, bowling alleys, an indoor ice arena, as well as a movie theatre. The neighborhood is one of the richest neighborhoods in Chicago, so be sure you are earning $100,000 annually before making this neighborhood your next home.
2. Lakeview
This is situated exactly where you guessed, beside the lake. There are various housing here and is reasonably priced even though it is also common among young professionals. CTA trains are easily accessible from all of these places, but entering into the city for work from Lakeview is very great because Brown, Red, and Purple lines, all run through Lakeview.
Generally, parking in Lakeview is only street parking, but it is considered a neighborhood where finding a spot is exceptionally hard. There are two nice sub-areas to visit within Lakeview. Wrigleyville is the first and is home to the popular Wrigley Field. There are many great food and bars in this neighborhood.
The second one is Boystown and is often recognized as the neighborhood with the most LGBTQ in the city, with Pilsen containing the lowest concentration.
3. Hyde Park
The south side of Hyde Park is home to the University of Chicago, Robie House that belongs to Architect Frank Lloyd Wright, and the Museum of Science and Industry. You can get beautiful mansions along perfectly tree-lined streets and condominiums and apartment buildings on any desired block. Hyde Park has one of the most diverse in the city and is closer to Jackson Park, which measures about 500 acres.
There are many dining in the Hyde Park neighborhood, which include the Promontory, which contains hearth to table cuisine which also offers a great outdoor patio alongside a common music venue on the top level. This is in addition to Valois Restaurant, which is known as one of the favorite breakfast venues of President Barrack Obama.
4. Bridgeport
This neighborhood is residential, walkable, and is located on the Southwest Side, which has beautiful workers cottages, simple brick two-flats, and landscaped row houses. It is perfect for those in need of a historic place.
Many of the houses here were built before 1940. Renters and buyers in Bridge should be happy as the neighborhood is evenly divided between the two. The average rent of the 2-bedroom was $1,200, and the average sale price in 2019 was $312,900, according to Zillow.
Bridgeport is not far from Pilsen and Chinatown, which implies that you are always closer to restaurants, and there are many classes and events at Bridgeport Arts Center. The neighborhood tends to also develop more. Talking about the proposed Paseo Trail, which will run through the north of the neighborhood to the 606, the neighborhood is already everything you'd ever want.
5. Lincoln Park
Lincoln Park, in the writer's opinion, is the best Chicago neighborhood to live in. It is among the oldest places in Chicago, and its great history can be found embedded in the architecture of its bars, restaurants, and shops. Many people demand to live here, especially singles waiting to meet a partner before they can afford to rent their dream but expensive homes.
Lincoln Park is majorly served by the Fullerton CTA stop, which sees the regular running of Red and Brown lines. There is also express service of the Purple Line at Fullerton to assist people quickly move into the city during rush hour.
6. West Loop
This is an industrial area which now becomes home for foodies towards Chicago's business district. Although it became a popular area over the past 10 years, Chicago residents go out in mass to this neighborhood to enjoy its modern, top-notch bars and restaurants. West Loop is home to the popular Girl and the Goat, where those in need of a table must book months in advance, and the French Market, an indoor food market with great varieties of vendors. You can also check out Bar Siena, Parlor Pizza, Duck Duck Goat, and the Publican.
7. Beverly
Do you desire a home with much space and a backyard? You can get this in South Side Beverly. Beverly begins as a suburban development with wide lots, unlike other neighborhoods not far from the city center. Its historic district of Longwood Drive offers different stunning Queen Anne, Prairie School houses, Italianate, and Carpenter Gothic, which were mostly built between 1890 and 1930.
One of the largest homeownership rates in Chicago can be found on Beverly as 70% of people are homeowners, so buyers looking to start a new community will be with good company.
The huge yards, historic houses, and beautiful scenes make the neighborhood also seem attractive. A 133-year-old Irish castle can be found in Beverly. The current average listing price in this neighborhood is $339,450.
There are affordability and space for parents with kids here. Over 70% of residents in Beverly are families. You will feel safe in your investment as people were still buying in this neighborhood despite sales last year.
8. Pilsen
This neighborhood is the most transitional in Chicago. It is being revitalized by investors building apartments while others open restaurants and bars in the area. Pilsen was, by tradition, not the safest place to live, but it is today seen as a reasonable neighborhood to live in. Just endeavor to look out while walking home from the station late at night.
You can usually get better housing deals in Pilsen since it is not yet revitalized to the same level as Logan Square. Its accommodation for the great arts scene attracts many LGBTQ and EDM events to the neighborhood. However, there are not many attractive drag queens at those events as the scene is highly understated.
9. South Shore
The South Shore Cultural Center, a Mediterranean Revival building, as well as many Obamas' wedding reception, which was once a country club until it was claimed by the Park District, is the biggest feature here. A resident of South Shore is predominantly black, and it also has Theaster Gates' lively community space, and the Stony Island Arts Bank.
The architectural history glass slides in the University of Chicago, the vinyl collection of Frankie Knuckles, and the archive of Johnson Publishing Company are all perused by pop culture and history nerds. 
South Shore residents enjoy the benefits of a lakefront neighborhood situated south of sprawling Jackson Park, which will become the Obama Presidential Center soon(though it was supposed to have started in 2020).
However, it is satisfactorily far from the University of Chicago and the heart of the Obama Center, so home prices are still at affordable rates; the current listing on the average is $100,000 while the average rent is $1,100.
10. Logan Square
There is a stop known as Logan Square along with O-Hare airport on the blue line. This is a developing area that various artists and fresh graduates are moving into. Logan Square is popular for its art scene, arcade-bars, breweries, pop-up bars, and restaurants. It is a very great neighborhood to live in since several businesses are now changing their offerings, giving new things a try. 
A detailed list of 2020 best Chicago neighborhoods to Live


| | | | | |
| --- | --- | --- | --- | --- |
| S/N | Neighborhood | Population | Home Value | Average Income |
| 1 | North Center | 34,931 | $545,871 | $99,384 |
| 2 | Lake View | 97,804 | $373,419 | $88,165 |
| 3 | Hyde Park | 24,100 | $272,248 | $56,899 |
| 4 | Bridgeport | 32,495 | $270,989 | $46,467 |
| 5 | Lincoln Park | 64,965 | $508,008 | $99,720 |
| 6 | West Loop | 32,384 | $331,150 | $98,220 |
| 7 | Beverly | 20,831 | $289,660 | $99,102 |
| 8 | Pilsen | 41,305 | $381,276 | $72,563 |
| 9 | South Shore | 47,197 | $167,563 | $26,786 |
| 10 | Logan Square | 73,470 | $338,254 | $67,769 |
Frequently Asked Questions
Which area is the bad neighborhood in Chicago?
The West and South sides of Chicago experience most of the violent crimes and gang activities. Generally, going further in these regions exposes you to further dangerous neighborhoods. That implies that some neighborhoods in the West and South of Chicago have enjoyed gentrification. 
What neighborhood is the safest in Chicago? 
Fuller Park, Washington Park, West Garfield Park, and others experience more annual average crimes per 1,000 populations. However, some of the safest areas in Chicago include Norwood Park, Forest Glen, and Edison Park. 
Where is the ghetto located in Chicago?
Chicago's West Side is the Ghetto. Its problems stem from the difficult times experienced by the poor parts, even when the economic conditions are friendly. 
Is it a good idea to relocate to Chicago?
Chicago is one of the best places you can ever live in, especially for those who want to enjoy an urban life without the cost or stress of a larger urban area. Chicago is cleaner than New York, nicer than Los Angeles, and is the largest city located in the Midwest. This makes relocating to Chicago a great and beautiful idea for those planning to move. 
Is rent costly in Chicago?
Rent in Chicago is the 16thhighest in the country, so rent costs for a 1-or-2-bedroom apartment are fairly reasonable as compared to other urban cities based on the data from Zumper as of March 2019.    
Finding a Neighborhood to live in Chicago
There are various neighborhoods to live in in Chicago and everyone should be able to pick their choice of home. The major factors you need to consider is what neighborhood you need to live in to get to work on time, the number of times you plan to go out for drinks, dinner, or shows, and the amount of interaction you expect with your neighbors as you are shopping for neighborhood and home.
You need to also get prepared for your move. Click here for our great ultimate moving checklist, weekly guide to stick to the plan, also to these packing tips to pack like a professional. 
You can also search for your interstate moving companies for your move to Chicago Neighborhoods.