Moving To Cincinnati: 12 Things to Know before Your Move
Are you planning a move to Cincinnati? A move to Cincinnati means you are moving to two cities at once. Cincy is situated between two states Ohio and Kentucky, and it offers great neighborhoods and housing options, with great architectural style as well as price diversity.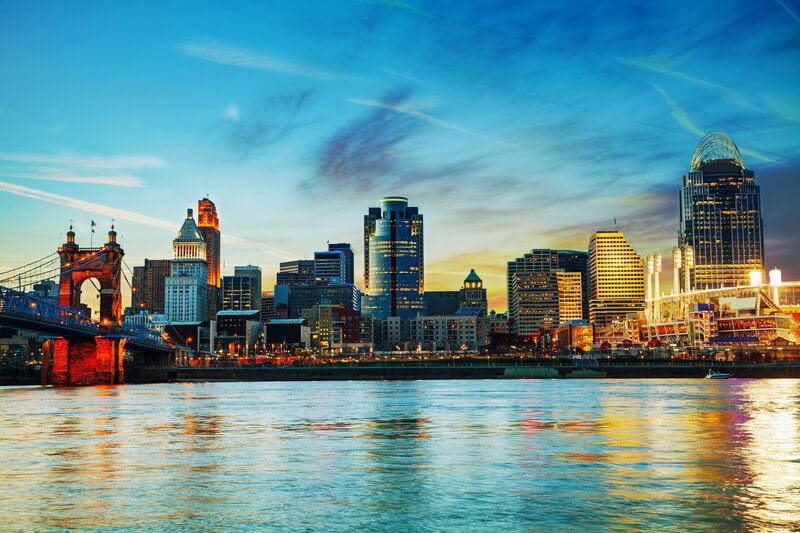 Are you planning a move to Cincinnati? A move to Cincinnati means you are moving to two cities at once. Cincy is situated between two states Ohio and Kentucky, and it offers great neighborhoods and housing options, with great architectural style as well as price diversity.
Cincinnati keeps most of its Old World Flavor while greeting new cultural development and industry with both arms. The reasonable cost of living, expansive suburban region, and centralized location make this state more than just flyover land.
While the population of the residents in the city is 302,600 and more than 2,290,000 in the metro area, Cincinnati offers a strong economy as well as affordable cost of living.
Historic Queen City's great food and crafty brew scene, together with great year-round festivals, arts, and recreation, provides great lifestyle opportunities.
If you are relocating to Cincinnati, below is a useful guide giving you more information on what to expect from this city.
1. The Cost of Living Here is Affordable
The affordable cost of living in Cincinnati is one of the multiple benefits of living here. The general cost of living index is 84.6 unlike the national average of 100. Lesser than median housing prices, are the major contributor to the low cost of living in Cincinnati. We will discuss more on this in our next point in this article.
Other living costs as calculated by bestplaces.net are lesser than the average, such as grocery which is at 98, utilities at 98, health at 85, transportation at 94, and miscellaneous (which includes child care, clothing, repairs, eating out, insurances, and so on) at 97.
The epi.org Gamily Budget Calculator estimates around $75,414 per annum or $6,284 for a family of four to live moderately comfortably in the metro areas of Cincinnati.
2. The Housing Market is Affordable as Well
As mentioned above, housing prices in Cincinnati are also affordable but increasing with the demand.
The average home value as of January 2020 was $161,383 compared to $226,800, which is the average home value in the country.
The average price of homes sold in 2019 in Cincinnati was $156,500 and the average price for homes posted for sale was much higher at $213,000. The difference between listed homes and sold homes is because of the competitive housing market.
Home values increase 6.7% in 2019 and are projected to increase by 2.6% in 2020, which was closed to projection.
However, housing in Cincinnati is relatively old. Of the entire housing inventory, almost 41% of properties have been built before 1940, while about 1.5% was built since 2009.
The average age of housing is 62 years, so if you are searching for a home with character, you have a better chance of finding a uniquely historic home here. The housing market is divided about 50-50 between owners and renters.
The average rent in Cincinnati proper as of January 2020 was $1,500 and was lower at $1,350 in the metro area.
3. Arts and Cultural Experiences All-Around
Cincinnati is home to over 100 arts and cultural organizations, including Cincinnati Ballet and Cincinnati Opera that performs at historic Music Hall in Over-the-Rhine, Cincinnati Symphony Orchestra, Taft Theatre, Contemporary Arts Center, and Cincinnati Art Museum, and so on.
4. A Booming Employment Market
Home to many Fortune 500 companies, the job market in Cincinnati is diverse and great, which is evident by its unemployment rate of just 3.9 percent. With many large hospital systems like TriHealth, and UC Health, financial institutions like Western & Southern Financial Group and Fifth Third Bank, as well as other big companies like Proctor & Gamble, Macy's, and The Kroger Company. There are at least five various companies in Cincinnati, that each employs over 10,000 people in the area.
5. Neighborhoods for Various Lifestyles
Need a beautiful place in Cincinnati to live? There is numerous neighborhood options ideal for every lifestyle. Whether you are a young single in need of a vibrant nightlife and an affordable lifestyle or have a family raising kids, several communities will accommodate your needs.
Below are some of the neighborhoods to consider:
Hyde Park: This upscale neighborhood is located in the eastern part of the town and is very safe because of its lower crime rates. There are many bars, cafes, and restaurants in the area, providing you better options to hang out with family and friends. Hyde Park is also one of the highly walkable neighborhoods in Cincinnati, so, getting around on the floor or by bike is easy.
East Walnut hills: Located few minutes far from downtown Cincinnati, East Walnut Hills is perfect for young professionals who enjoy a bustling urban feel. There are numerous upscale breweries and restaurants, providing you more options when you decide to eat out and hang out with friends on a cool evening. Although the neighborhood is not far from downtown, it is still calm and peaceful, providing you the best taste of both worlds.
Mount Adams: This neighborhood is popular for its amazing location, which provides a beautiful view of the downtown skyline and the great Ohio River. A luxurious and charming community, Mount Adams is calm and peaceful, bordered by Eden Park. Perfect for retirees and young families, Mount Adams is a trendy neighborhood in Cincinnati.
6. There are Festivals Every Summer
You can attend a church festival even if you are not Catholic, because almost every parish in the city organizes one in the summer, and everyone is welcomed. Another summer favorite festival includes the amazing Taste of Cincinnati, which shuts down many blocks downtown over Memorial Day, Juneteenth festival, Panegyric Greek Festival, and so on.
7. Weather is a Free-For-All
In any season, the weather in Cincinnati will take you for a complete loop. Summers in Cincinnati are hot and humid, winters here are cold and gray and sometimes snowy, and spring and fall don't have any rules. Snow is experienced in April, and 900 in October. Generally, always follow the weather forecast.
8. Go out to a Game
Three professional sports teams call Cincinnati home and they represent the MLB, MLS, and NFL. Enjoy sport at the Great American Ballpark with a baseball game of Cincinnati Reds. For the greatest football experience, watch the Cincinnati Bengals at Paul Brown Stadium in the WHO DEY Deck. If you are in for another type of football, check out a game of FC Cincinnati and they will soon be playing at their stadium, West End Stadium (which opens this year 2021).
9. Gather your eat on
While chili is common in Cincinnati, cuisine variety is also not an issue. Get the best brunch in Cincinnati at the Sleepy Bee Café. Established in 2013, this restaurant is popular for putting expensive twists on mainstream menu items. Whether you go for the Apple Cakes Stack pancakes, together with hemp seed granola, or the Bee Keeper Sandwich that is a dip in nectar sauce, you will surely enjoy a sweet treat.
To get something a bit heartier, head to Sotto, one of the trendy Italian spots where the past sets paved the way for inventive but classic favorites. Will you rather go for grub? Get on the Cincinnati Dinner Train, a 1940s-style adventure in vintage train cars that serves a 4-course dinner on the road. Or check out Senate for a fan favorite without visiting the ballpark, as it serves gourmet hot dogs with an unlimited list of toppings as well as great cocktails.
10. Education is Great Here
Quality education is one other reason for relocating into Cincinnati, with various local schools making the list of top 100 schools in the United States. For advanced education, some various stellar universities and colleges enable young students to build a better future for themselves. The Miami University, the University of Cincinnati, and Xavier University are some of the leading universities in Ohio.
11. Great Public Transportation and Walkability
The number of public transportation is wide and varied; a lot of neighborhoods are simply walkable. You can reside in Cincinnati without a car because of the amazing public transportation options. The Metro bus service takes care of about 20% of the workforce commute of the city; there are 18 stops for Cincinnati Bell Connector streetcar coming from the Central Business District; a shuttle service in the metro area is operated by Transit Authority of Northern Kentucky (TANK),
The Airporter, run by TANK services between the airport and downtown; Cincinnati Red Bike cycle sharing serves more than 50 stations across the city; vRide is also a transit sharing program, and Megabus operates direct service to Chicago and Indianapolis.
It is understandable why Cincinnati scored 83 for enviable transit. Popular thoroughfares include the east-west I-74, which extends west to Indianapolis. North-South I-75 stretches north to Toledo or Lexington, Kentucky on the south. I-71 runs from east to Columbus. However, some of the bottlenecks in the country are the I-71 and I-75 interchanges as well as the Brent Spence Bridge.
However, Cincinnati has been famous for its poor traffic since the turn of the 20th century and has lately been crowned the 5th worst traffic congestion in the United States. You can check the traffic alerts page of the City of Cincinnati for updates on closures or events that may affect transit in the city.
Cincinnati is rated as a paradise for walkers by walkscore.com. Only a few cities score a walk score of 98. The bike score of Cincinnati is also high at 65 and will possibly increase as bike infrastructure is improved.
12. Enjoy a Zoo Day
Need some of the highly fun things to do in Cincinnati? Hit the Cincinnati Zoo & Botanical Garden. This Cincinnati attraction doesn't only offer 74 acres of animal displays, but the zoo also has many great events for different ages every month, like holiday-themed celebrations, Cocktails for Conservation, Breakfast with the animals, and so on.
A Yearly springtime must-attend is Zoo Blooms, a short timeframe when the Botanical Garden takes form. Ensure you check out Tulip Mania, one of the largest tulip displays in the Midwest. Or if you love to see an evening event, don't miss Tunes and Blooms, and they are free concerts every Thursday night in April.
Cincinnati Relocation Tips
Visit Cincinnati: Find out the reason behind the hype by visiting Cincinnati. The center of entertainment can provide fun for any family. While in the city, visit local businesses and schools to find out if they are perfect for you and your children.
Use the internet: If you don't have much time or money to visit Cincinnati, hit the internet and research the region. With a lot of information available by just clicking a mouse, you can easily conclude whether the district is perfect for you.
Volunteer: The best way to know more about the community you choose to settle in is to volunteer in the area. With lots of non-profit agencies in the area, you will surely find a way to help out, which will provide you opportunities to meet new friends.
Conclusion
Whether you are moving to another country for the first time or has moved several times before, the process brings more questions. Our ultimate guide to moving will erase your doubts in the process, from the first preparations to how to bargain a moving package, we assist you with all. If you are moving within Cincinnati, obtain free moving quotes from local movers now, and you will have a successful, smooth and stress-free move to Cincinnati.
If you are moving from another state to Cincinnati, our cross-country moving companies.