Moving To Idaho: 5 Key Things To Know Before Moving
Need reputable long-distance movers for your Idaho move? You are at the right place. The nickname of the state of Idaho is the Gem State, and immediately you see Idaho, you will understand how apt the name is.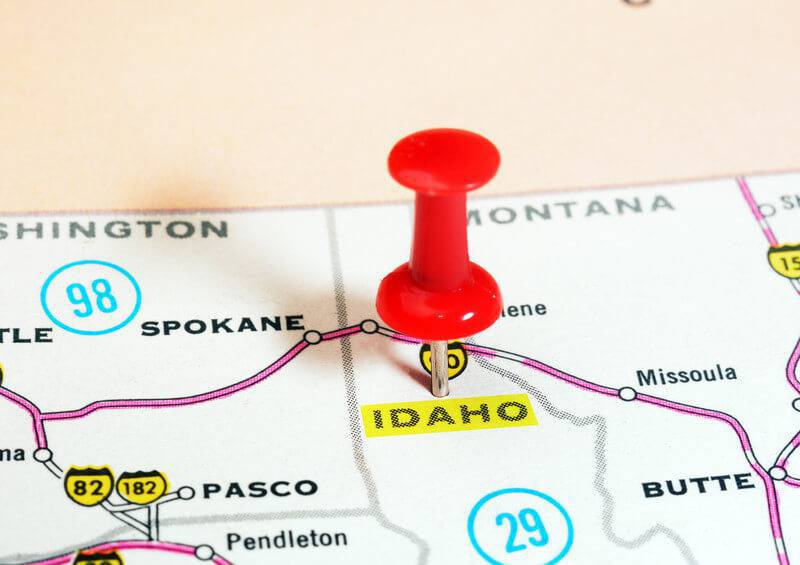 Need reputable long-distance movers for your Idaho move? You are at the right place. The nickname of the state of Idaho is the Gem State, and immediately you see Idaho, you will understand how apt the name is. Sure, there are gemstones as well as other natural resources, but many residents of Idaho would say that the landscape is Idaho's real gem. Being paradise to nature lovers, there is much to Idaho than potatoes and prairies.
The name of the state is derived from a Native American word that interprets 'the land of many glasses of water,' and they say the state would equal the size of Texas if flattened.
Planning a move to Idaho? If yes, there are more to learn about your destination. iMoving has compiled this helpful guide on one of the rapidly growing states in America. Read on!
1. Cost of Living is Affordable
Idaho sits on the 19th position in the country for its cost of living at an index of 92.3 (as provided by the 2019 MERIC Data Series). This index is less than the national index of 100. Using the EPI Family Budget Calculator, we can break the median monthly expenses of a family of 4 (two adults and two kids) down in two different Idaho cities.
Boise is our first example. A family of four will spend $1,206 for transportation, $866 for housing, $1,170 for childcare, $744 for food, $1,035 for healthcare, $843 for taxes, and $662 for other necessities, for an overall amount of $6,555 every month or $78,660 every year.
Our next example is Idaho Falls. The family would spend $1,221 for transportation, $739 for housing, $1,068 for childcare, $736 for food, $1,104 for healthcare, $758 for taxes, and $595 for other necessities, for an overall amount of $6,221 every month or $74,647 every year.
2. Housing Market is Booming
Real estate market in Idaho is currently referred to as a seller market with higher demand for housing as the influx of newcomers to the state has been increasing. The median home value, as given by Zillow, has increased by about 17% within the last year, and they projected it to increase by about 9.8% gain. Similar to the fast population growth in Idaho, the housing market is expected to continue increasing in line with its increased population.
This is good news for people that act fast, making gains in real estate while the going is still good. However, it also implies that you may face higher for homes. We suggest hiring a good realtor who can assist you browse the local market and get you unique opportunities that match your needs.
Idaho statewide averages
Average Home Value: $288,029
Average Listing Price: $334,115
Average List Price Per Sq Ft: $173/sq ft
Average Rent Cost: $1400 per month
Average Days On Market: 61 Days
Airbnb Occupancy Rate: 52%
3. Weather and Natural Disasters
Climate in Idaho is a bit diverse because of its size as well as the influence on it by the Pacific Ocean. The southern region of the state experiences less rainfall compared to its northern part. For instance, Boise sees around 12 inches of rain and 21 inches of snowfall, while Coeur d'Alene sees around 26 inches of rain and 52 inches of snowfall. Southern Idaho also experiences warmer summers than its northern counterpart.
For example, Boise sees a high temperature of 90 degrees Fahrenheit in July while Coeur d'Alene experiences temperatures that up to 85 degrees Fahrenheit in July. Idaho Falls sees a low temperature in winter at 100F in January while the low temperature around the same month in Lewiston is around 280F.
4. Employment Market of Idaho
Idaho, for so many years was a rural state and some of the agricultural sector services that did well in the past are still highly important to the state's economy. Aside from dependence on the agricultural sector, Idaho has massively developed to have its urban clusters. Currently, the large industries supporting the state's economy are connected to the science and technology sector.
To provide you a rough insight, here is a consideration that these high-tech sectors out 25% of the state's revenue and more than 70% of the state's exports. If we now consider some of the other largest employers of Idaho, it also indicates that there are many other multinational companies in the state. All these are also concentrating efforts towards raising the economy and providing great job opportunities for residents.
A few of the top companies that have their headquarters in the state of Idaho are: 
Albertsons (a grocery chain)
Micron Technology (the only company that manufactures dynamic random-access memory (DRAM) chips in the United States
Blue Cross of Idaho (health insurer)
Hewlett-Packard also referred to as HP Inc (has a plant in Idaho for the production of LaserJet printers and more)
IDACORP Inc (hydropower provider)
Costco (retail)
Walmart (retail and grocery)
Saint Alphonsus Health System (healthcare network)
Now, that you know the many successful businesses that have their headquarters in Idaho, you understand that the city is ready with employment opportunities in different sectors. Based on your preferred job role, you should have many reasons to be attracted by the thought of securing employment in Idaho.
5. Transportation in Idaho is Fun
The fact is that there is no viable non-car mode of getting around in the state of Idaho. To some extent, residents have to rely on private cars to find their way around the state. Not every part of the state is linked together with transportation systems. However, there are just a few cities that have some kind of public transportation. For instance, cities like Pocatello, Idaho Falls, Nampa, Moscow, Meridian, and Boise have local bus services operated by Valley Ride.
But even together with this bus system, residents truly feel they need a car since there are not many choices in routes for them in such modes of getting around. Here are a few of the main modes of transportation. Transportation systems in Idaho are made up of 12,200 miles of roads, 1,630 miles of rail lines, 1,800 bridges126 airports, and the Port of Lewiston which is the farthest inland port located east of the West Coast.
Major interstate highways in Idaho:
Interstate 15
Interstate 15W
Interstate 80N
Interstate 84
Interstate 86
Interstate 90
Interstate 180N
Interstate 184
Top Idaho Cities to Move to
You can consider any of these cities if you have not chosen any city for your Idaho move:
1. Boise:
When you mention Idaho, Boise is the first place that comes to mind. This city has gathered so much positive reputation for itself over the years. Friendly people, high-quality school systems, clean streets, significantly low crime rate, and attractive views are a few of the things the city has to offer. Boise also provides newcomers with great job opportunities, since it is where the largest employers in the stage are found. Micron, Walmart, HP, Wells Fargo & Company are the top employers but there are also many locally-owned top businesses too.
The average price of a home sold: $230,800
Average rent: $910
2. Moscow:
This city shares its borders with Washington and is where the University of Idaho is located, being the largest employer in the city. Moscow is on the calm side of things and is famously known as a college town. It is believed that small communities and students to live in the city is also perfect for cycling, walking, camping, hiking, and a lot more. You will see very few chains of restaurants or stores in this small great town. However, it offers many things, such as a central location, amazing recreational options, closed communities, family-oriented neighborhoods, and many open spaces.
The manage price of a home sold: $224,400
Average rent: $695
3. Eagle:
The majority of newcomers decide to move to Eagle because it offers them the enjoyment of living closer to Boise. Residents here also have the chance to go back to the calm neighborhoods of Eagle. This town is located 20-min away from downtown Boise and has been ranked as one of the perfect places to raise a family. The city prides itself on parks, good school systems, and new modern homes. When compared to the other cities listed here, real estate in Eagle is the most expensive.
Average price of home sold: $383,700
Average rent: $1,091
4. Lewiston:
One of the amazing and pleasing factors of residing in this city is the cheaper housing. Together with that, the city is also closer to some beautiful water bodies, such as the Snake and Clearwater rivers. So, if you are attracted to fishing, camping, or boating by a lake, you can do it here in Lewiston. There is so much of nature in this part of the state and you will love the views of the beautiful mountains. Lewiston is also a much safe place to live with little to no traffic and many old retirees making it their home.
The average price of a home sold: $178,500
Average rent: $720
5. Meridian:
This is the fastest-growing city in the state and it has a lot of restaurants, stores, local businesses, and trendy properly-planned communities. Since the town has been gaining much attention lately, you can easily find new buildings, many construction, and upcoming corporations slowly selecting the place to establish their headquarters. This means that the city of Meridian is growing and together with the increasing population, things like crowd and traffic are a few of the limitations. But on the better side, the living qualities here are still not interrupted.
Average price of home sold: $242,000
Average rent: $1,045
Some of the Numerous Things to do in the State of Idaho
We have not mentioned a lot about the classic potatoes in Idaho. Seriously, the potato farms are great, but there is much to explore in the state than just seeing its spuds. Here, we've compiled just a few of the most significant and better things to do and see in Idaho.
Idaho Potato Museum: Blackfoot, Idaho: There is naturally a museum of potatoes. But ts museum takes you back in history to the state's classic potatoes, including its popular giant potato sculpture and the world's largest potato chip.
Custer Ghost Town: Stanley, Idaho: Have you ever wondered what it was like living in the 19th century? Take a stroll across a real-life version of a boring textbook, and find out for yourself. We promise it is not even close to boring. It is known as a ghost town for a reason.
Dog Bark Park Inn: Cottonwood, Idaho: Go catch a glimpse of this culture of the largest beagle in the world known as Sweet Willy and is 30-ft tall. It is more than a sculpture though. It is a bed and breakfast finished with artsy wooden carvings and nice dog photos. And, indeed, Dogs are allowed. They even have a park for dogs.
Yellowstone's Stone of Death, Island Park, Idaho: Have you ever looked for a way out with murder? Well, you can technically do that in this loophole of a place. This location is no man's land area literally as its lack of legislation, as contained in the 6th amendment, makes it legal to get away with murder or crime legally. We are not encouraged to do that, though.
Lionhencouraged Water Slides, Coolin, Idaho: This is likely one of the coolest places to visit in Idaho. A naturally formed rock water slides that are located in a forest. A nicely isolated, nature-made water slide run through the slippery mountain rocksrunsd, it is safe.
Conclusion
In general, Idaho is a land of opportunity that is yet to get to its point of saturation. And that is possibly a good thing because it covers the essence of what Idaho is made of. It has progressive cities, amazing natural landscapes, a diverse economy, hot springs, and many other yet-to-discover gems.
Idaho is certainly one of the most underrated in the country. It can surely surprise people who wish to relocate here in a good way. Request your free quotes now if you need cheap Idaho movers and tips you can rely on.