Moving To Washington, D. C: Complete Guide
Everyone knows that Washington, D.C. is the country's political capital. Diplomats, consultants, government agencies, senators, representatives, government workers, activists, and lobbyists call the District of Columbia and its neighborhoods home.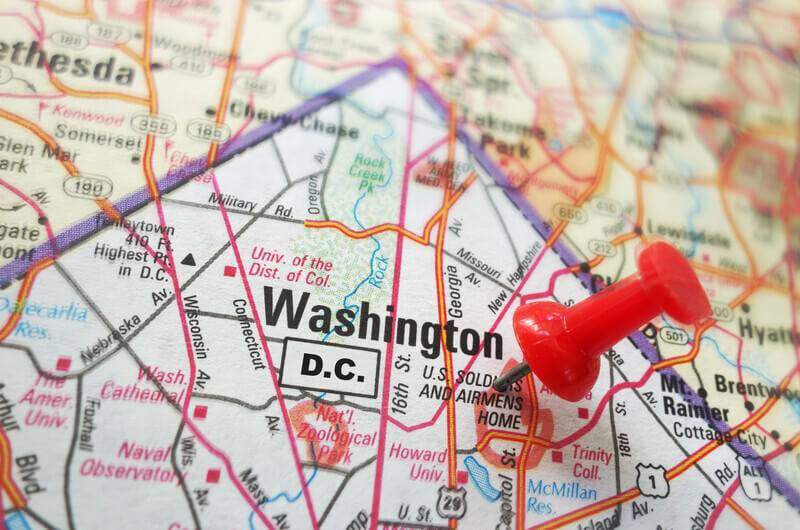 Everyone knows that Washington, D.C. is the country's political capital. Diplomats, consultants, government agencies, senators, representatives, government workers, activists, and lobbyists call the District of Columbia and its neighborhoods home.
Unlimited opportunities, historic neighborhoods, international flavor, and an abundance of culture make Washington D.C. a nice place to settle down.
If you are considering a move to D.C., think well. Job opportunities are plentiful, but the costs of living are high. The weather can be extremely hot in the summer (not to talk of the mosquitoes), and the majority of the culture is all about what you do for work.
Yet, there is no other city in the United States that can refer to itself as the country's capital or, as referred to by some locals, the District.
Fortunately, you don't have to stress yourself further to know more about moving to Washington, D.C. This helpful guide will help you customize your move to the area and begin to live like a local Washingtonian immediately you arrive.
All You Should Know Before Moving To Washington, D.C.
Similarly, there is enough to love about the District, from the lively civic groups, monuments, and museums, to passionate people. So, what are the important things to know before you begin to move? Beyond your expectations, here are some vital things to look into if you might move to D.C. very soon.
Higher Cost of Living and Average Wages
Everything in D.C. is more expensive; from groceries to parking, housing, and so on, it becomes costly the closer you are to the downtown area. Work on your expectations about costs before you relocate, but also consider what you are getting in return for the expensive price. It is a home and a life in one of the popular historic locations in the country and one of the most influential locations in the universe.
Similar to any city or state, the higher cost of living matches the higher wages. For instance, the highest minimum wage in the country is found in D.C.
Getting around on Feet is Easy, and Better than Many Other Cities in the Country
Thanks to the development history and patterns of the city, which brought about a mostly direct street grid, the Districts is one of the topmost walkable urban areas. It was discovered by a 2019 report from George Washington University that the city area ranked 4th for walkable urbanism (places where most needs of people can be met within walking distance of their homes) just behind NYC, Denver, and Boston.
Washington, D.C. is a blueprint for walkable urban growth, especially because of its balanced development of the central city and urbanizing suburbs, according to the report. That is not only friendly for your health, it is also perfect for your ability to be on schedule with friends and attend social gatherings like happy hour and brunch – both part of the lifestyle in the District.
It is also the best for the environment. More people walking implies fewer people driving or riding in vehicles, which then means lesser emissions and reduced gas consumption.
Also note that Washington, D.C. leads the world in sustainable design.
There are Beautiful Neighborhoods to pick from
The first major thing you will need to decide is where you will settle down your roots. The D.C. area offers varieties of neighborhoods with different rental costs. However, when it is about relocating to D.C. and choosing a place to reside, you will need to focus more on the neighborhoods, as some are better (and affordable) than others.
Below is a brief look into some of the leading neighborhoods and areas in D.C. to consider:
Pleasant: This is one of the least affordable neighborhoods in the Northwest quadrant of the city. It is a low-key, safe neighborhood that offers a perfect mix of daytime activities and nightlife, such as many common eateries. Renters in this neighborhood discover that they get enough space for their money than is possible in many other neighborhoods in D.C.
Capitol Hill: Seeing this neighborhood on this list might seem surprising, but the neighborhood has some best-priced 1-bedroom apartments. Also, at the same time, Capitol Hill is home to costly condos, so you will do well to perform your research before you sign a lease. The neighborhood is the ideal place to live if you decide to work for the government.
Takoma: This neighborhood is so much attainable and unlike its costly neighbor, Takoma Park. The feel of this neighborhood is young and liberal (also vegan-friendly). This neighborhood has one limitation, as there is not much nightlife scene. Fortunately, you can make use of public transportation to locate nightlife in other parts of D.C.
Brookland: This neighborhood was formerly known for The Catholic University of America located there, but it is popular for a lot beyond that now. You can locate standalone cafes and dining spots, including a developing art scene, which provides the neighborhood a highly liberal and artsy feel. Together with that, this neighborhood is known to be the best for renters.
Shaw: This is a hipster neighborhood in all possible ways, popularly known for its beer gardens, unique clothing boutiques, cocktail bars, and trendy restaurants. The 1910 Howard Theatre was performed here, and Shaw attracts music and culture in different forms. You can figure out great living spaces like co-living apartments that have a strong community feel.
Taxes in D.C. are Interesting, but that's also a Perk
Certain items are exempted, which implies that you don't pay sales tax when buying or using them, but other purchases have huge sales tax amounts:
Car rental tax: 10%
Clothing: 5.75%
Groceries tax: 0%
Hotel tax: 14.8%
Liquor and alcohol tax: 9%
Parking tax: 19%
Prescription and non-prescription drugs: 0%
Restaurant meal/prepared food tax: 10%
Sales tax: 5.75%
Understanding these taxes makes a significant difference in how people buy or budget. There is one 'tax holiday' every winter in D.C., though, it is a time when there will be no collection of sales taxes. That is a perfect time to stock up, so plan towards the tax holiday.
Politics is not the Only Job Here
Although Washington, D.C. is popularly known for its politics, there are other industries in the city as well as the metro area too. Hilton Worldwide headquarters are located outside the District in Virginia. Many technologies and healthcare companies are established inside and out of D.C. too. If you decide to live here, but you are not into politics, you just have to do a little research. Some jobs don't mix with politics.
Sports Fans have what they Want in the District
The Washington Nationals (baseball), the Washington Capitals (men's hockey), the Washington Wizards (men's basketball), D.C. United (men's soccer), the Washington Mystics (women's basketball) are all professional sports teams of D.C. that have home stadiums located inside the city boundaries.
Our NFL team plays in Landover, Maryland at the moment, but they may be planning their return to the city. There is even a professional tennis franchise located in Washington Kastles. Stadiums like Capital One Arena, National park, and Audi Field have also improved investment all over the city. The Ballpark area, for instance, is now a thriving waterfront district, with several developments ongoing (and together with some discussion about whether it was worthwhile for the city to subsidize National Park).
There has been rare glory: The Capitals in 2018 won the Stanley Cup, and this year, the World Series trophy was won by the Nationals.
Real Estate Costs are Steep, whether you are a Buyer or Renter
The booming economy and population growth in D.C. have given rise to increasing use in demand for homes. But because of the Zoning restrictions, expensive land prices, and other factors, supply has reduced.
The average sales price for a home in D.C. in July 2019 was over $592,000, and currently $672,910, a figure unattainable for many permanent residents and new homebuyers. The highest was recorded in July price in the past 10 years and up 4% over 2018.
As reported by Urban Turf, the average home price in Washington, D.C. has moved up about 20%, or almost $100,000, since 2013.
Rents for 1-bedroom apartments can easily be over $2,000 per month, especially closer to public transit. The rent is just too expensive.
Consider Keeping Your Car
When moving to a larger, busier city from a calm, rural area, a lot of people wonder if they should move with their car or sell them. Even though traffic is heavy in Washington, it is nothing compared to jams in NYC, so there is no need to dispose of your car altogether.
It comes helpful when you have it with you, and there are a lot of beautiful places to visit outside the city limits and the Metro's extension. Yet, parking prices can get you worried, especially if you are not using your vehicle daily anyway. Instead, you might want to just store your car.
There is a Great New Food Scene
Understand, Washington, D.C. has always had some of the best food, but it has normally been focused on meat and potatoes, or stuffy French Food. In the past 10 years, the D.C. area has experienced revitalization, drawing in young chefs who are using local ingredients to come up with new things.
Union Market is the ideal place to taste many different bites. We also love how D.C. finally got their coffee right and you can also get a nice brew outside the confine of Starbucks.
Easy Access to Parks All Across D. C.
Around 98% of the residents of D.C. right from Northwest to Southeast live in a 10-min walk of a park as shown in a previous study from the Trust for Public Land that named the city 1st among urban park systems in the country. About a fifth of the neighborhoods in the district is dedicated park space. The average park size is 1.4 acres.
Many of these parks are controlled by the National Park Service, even though there is a separate parks department in D.C. Rock Creek Park is a special gem and it is over double the size of NYC's Central Park and is also the country's oldest urban park (also a beautiful place to hike).
Parks in Washington DC are year-round assets, whether you are out for picnic and concert locations in spring, or oases in the unpopular summer. Get a blanket and probably a book, and take in the grass and trees.
Relocate to DC if you enjoy Festivals
There are numerous lovely events to enjoy each year, from the yearly Cherry Blossom Festival to holiday markets and more. Just little of the numerous people celebrating music, food trucks, ethnic groups, service people, food, and drinks, as well as historical events and living.
There is surely a bit of something for everyone. And with the number of events, culture, and celebrations, you can see an increase if you are ready to travel in and around the proper DMV area to be a part of them.
The nearest Maryland and Virginia areas are so much great to experience. And with the help of the metro system, you will easily access it all.
Conclusion
When you relocate to Washington, D.C., you will be given a front seat to history: which has been written already, and the ones that are yet a mystery. You will also gain easy access to some of the best educational, dining, and world arts experiences in the country. Move into your new Washington home and be prepared to make some great memories in the country's capital, your new hometown.
To make the move much easier for you, we researched and recommended top-notch local moving companies with our network of movers in Washington, D.C.