Best 12 Small Towns to Live in And Stayed on Budget
Many people just don't prefer the big city. The noise, hustling, and population of a major metro area turn some of us off and in search of more land, calm evenings, and unpopulated streets.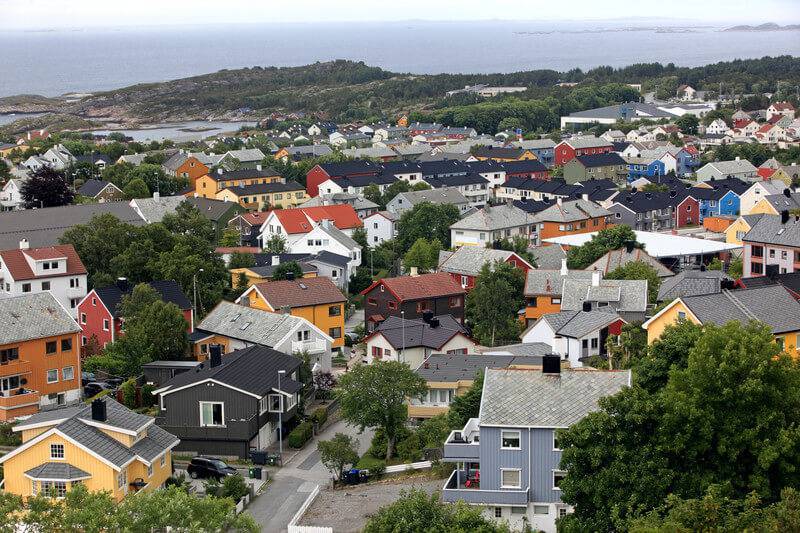 Many people just don't prefer the big city. The noise, hustling, and population of a major metro area turn some of us off and in search of more land, calm evenings, and unpopulated streets.
But how do you get a small town that has all together employment opportunities and an inviting community?
Urban residents usually find themselves suddenly looking for the best small towns to live in America.
Fortunately, there are thousands of nicely charming towns in the United States that are perfect places for settling down or for weekend escapes.
We've looked all over the country to come up with some of the beautiful towns in the country. Regardless of what you are looking for, whether a town with great history or one that is closer to a major city, you will find everything on this list.
Below is a peep into the rapidly-developing small cities in the country that have around 1000 to 50,000 residents according to the United States.
1. Beverly Shores, Indiana
Population – 605
Average home listing price – $540,500
Average monthly rent – $948 for a two-bedroom 
Even though our favorite small town in Indiana is Pawnee, sadly, it doesn't exist. But there is Beverly Shores, and it is a perfect location for people who need some peace and calmness.
Beverly Shores is located directly on the corner of Lake Michigan and is highly calm; yet with Chicago just driving distance away if you crave for some bustling.
Make sure you check Wieboldt-Rostone House and the Beverly Shores History Museum and Art Gallery for some history and culture
2. Matlacha, Florida
Population – 677
Average home listing price – $239,000
Average monthly rent – $1,066 for a two-bedroom 
Do you desire to feel like a private island owner? Matlacha is your perfect destination.
It is one of the 5 neighborhoods inside Pine Island and is home to a very old-school Florida vibe (strong buildings, many beach activities, such as paddle boarding and kayaking, and seafood dining).
Matlacha is also popular for its art scene. Be sure to visit Griffen American Center for Haitian Art or Lovegrove Gallery and Gardens. Also, check Old Fish House Marina Restaurant to try alligator. You will surely find real Key lime pie anywhere you turn to.
3. Ferndale, California
Population – 1,373
Average home listing price – $367,700
Average monthly rent – $998 for a two-bedroom 
Ferndale is one of the cheapest coastal towns in California and is located in Humboldt County in Northern California.
The town is just 12 miles away from Eureka and north of the Lost Coast area. If you have been to this town before, then you are likely to have seen that there is not much change to Ferndale's architecture since it was founded in the 1800s.
Locals and tourists both like to take a walk down the Victorian Village, where there are tons of nicely preserved structures like shops, houses, and restaurants.
The weather here is often a bit cooler, that is due to the town's coastal location. Drive to the Lost Coast beautiful drive or check the Centerville Beach Park. Hang out with your family and friends for dinner at the Eel River Brewing Company, which serves great clam chowder and other types of beers. The town may be quiet, but not boring.  
4. Blue Ridge, Georgia
Population – 1,407
Average home listing price – $390,000
Average monthly rent – $720 for a two-bedroom 
You will get small town feels, such as a drive-in movie theatre, one of its in north Georgia. There is a large art community, where you will discover a lot of art galleries and studios.
Blue Ridge also offers a small downtown district, where you can locate restaurants, breweries, and shops (check Grumpy Old Men Brewery). You can go to the Mercier Orchards during fall and go pick an apple, and also make sure you check in to the iconic Blue Ridge Scenic Railway.
5. Monroeville, Alabama
Population – 5,927
Average home listing price – $124,500
Average monthly rent – $628 for a two-bedroom 
Monroeville is a calm, idyllic town located in the South that literature lovers may see as the inspiration behind Maycomb, a small town in Alabama that was used in Harper lee's To Kill a Mockingbird setting.
Apart from going to the physical courtroom depicted in the Monroe County Heritage Museum, the town is home to many historical museums, lush parks, scenic trails, and so on.
Whitey Lee Park contains a five-acre lake, a community house, as well as walking trails and was erected by the Vanity Fair Foundation in the 40s. You can find Mexican food, barbecue, and seafood in Monroeville as well.
6. Sitka, Alaska
Population – 8,689
Average home listing price – $399,000
Average monthly rent – $1,253 for a two-bedroom 
If you are determined to escape from the craziness of the metro area, Sitka, Alaska may be your perfect destination. You will need a boat or plane to get to this town.
Sitka is found on Baranof Island, nearest to the most southern part of Alaska.
Although Sitka is not easy to move to, there is still a lot of things to do; you can visit great bars, galleries, and restaurants in the downtown area.
If you love the outdoor life, you can spend more time by the lake, check out the beautiful Sitka National Historical Park or go kayaking.
To get some nice beer, people, and delicious food, visit Baranof Island Brewing Company.
Sitka is often known for its wildlife: the Fortress of the Bear is on a 3 ¾ acre home for bears, and the Alaska Raptor Center which is a rehabilitation and home for bald eagles, as well as other endangered birds, is the location for bird lovers.
One other place worthy of visiting is the Russian Bishop's House which used to be an admin center for Russian leaders, as well as a segment of the Russian Orthodox Church), one of the residual small buildings from Russia's colonial era.
7. Mountain Home, Arkansas
Population – 12,332
Average home listing price – $159,900
Average monthly rent – $715 for a two-bedroom 
Mountain Home is located in Baxter County and is located away in the Southern Ozark Mountains. It is closer to many rivers, such as the White River, Buffalo National River, and North Fork River.
Even though it is reasonably remote, there are still many things to do. There are tons of family-friendly parks such as Cooper Park, which provides walking trails, playgrounds, a youth center, and so on.
Check-in at Donald W. Reynolds Library at a weekend, and hang out with your family and friends in a dinner at Jojo's catfish Wharf or Tommy's Famous A Pizzeria, the reputable pizza joint.  
8. Telluride, Colorado
Population – 2,426
Average home listing price – $913,800
Average monthly rent – $1,461 for a two-bedroom 
Even though the popular small-town destinations are usually Crested butte and Vail when moving to Colorado, those can easily be filled by tourists.
Telluride is a calm small resort town that has a lot of history. Many of the structures from the mining bomb era are still standing strong, and it will make you feel like you are in one of those Western films.
Telluride has many restaurants and shops in its downtown, with fine dining (such as Alpino Vino, and wine bar) and casual local restaurants like Cornerhouse Grille.
You will also have access to many of its hiking trails, such as Jud Wiebe Trail with great views.
Ski lovers can go to Telluride Ski Resort to have some fun in the snow.
If reading a good book and drinking a hot coffee are included in your diary for a perfect day, you can visit Between the Covers bookstore and coffee shop to actualize your perfect day.  
9. Pa'ia, Hawaii 
Population – 2,668
Average home listing price – $786,400
Average monthly rent – $2,000 for a two-bedroom 
If you were to relocate or just have a visit to Hawaii, you need to choose the perfect location as the city is very beautiful and feels like a dream, like an endless vacation.
But Pa'ia is a small historic town with many special features. It is seen as the headquarters of North Shore in Maui.
If you and your family are beach lovers, it is seen as one of the best beaches both in the town and the world at large.
Locals enjoy the Pa'ia Fishmarket because of its fresh choice of seafood.
The weather interactions here are great. The weather is warm all through the year (even though rain is sometimes experienced). 
10. Galena, Illinois 
Population – 3,225
Average home listing price – $199,900
Average monthly rent – $697 for a two-bedroom 
This is a small town located in Northwest Illinois and is known for its old stores and highly preserved structures from the 19th century.
If you are a history lover, Galena has many museums and historical locations, such as Ulysses S. Grant's home, as well as the Galena/Jo Daviess Country Historical Society and Museum.
Nature surrounds Galena, so make sure you have a picnic at Thunderbay Falls and check out the waterfall as well as the peaceful scene.
11. York, South Carolina
Population – 7,888
Average home listing price – $282,400
Average monthly rent – $920 for a two-bedroom 
York is a great place for history lovers, as well as a perfect town to live for family. During the season of peaches, a lot of people visit The Peach Tree Orchards.
Locals love to visit Windy Hill Orchard & Cider Mill during fall. Go hiking on Nanny's Mountain Trail, or visit The Sylvia Theatre during the evening for live comedy or music shows.
To have dinner, submit a booking at the unassuming Italian Garden Restaurant, or visit Rosita's Café for some Mexican food. 
Conclusion
So, you have all the information on some of the best small United States towns to live in. Possibly we could have missed some great places as it was almost not possible to combine this list because there is just something to love in almost all the small towns in the United States.
Even if parting ways with your apartment in a big city and relocating to a faraway small town located beside the ocean or lake or in the mountains is difficult, you can still look it up on the internet.
Find a good local moving company to move to your preferred small town for a smooth moving experience.