10 Things to do When Moving with Babies
Moving on its own can be an incredibly tasking process for you, and you can bear witness to this, or you must have heard news from people close to you. There are different conditions for moving, and there are also different situations that are tied around moving, some are short distance moving, some are long distance moving, some are moving within the same area with some very precious materials.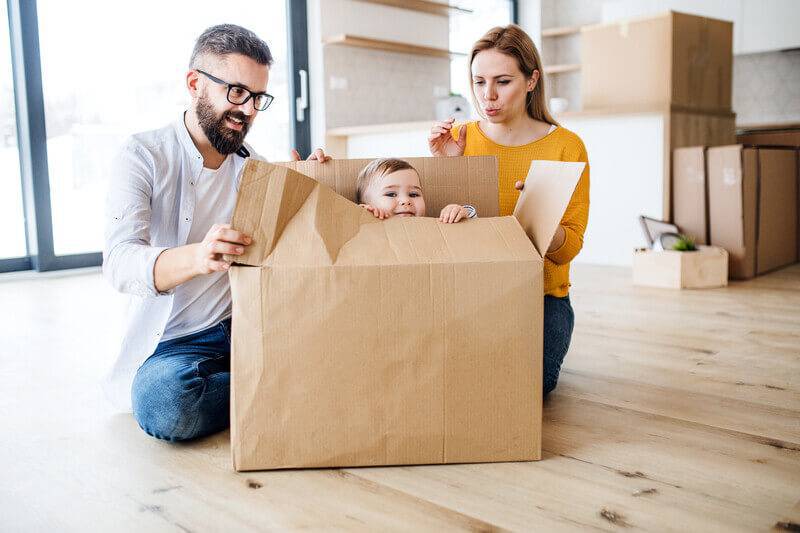 Moving on its own can be an incredibly tasking process for you, and you can bear witness to this, or you must have heard the news from people close to you. There are different conditions for moving, and there are also different situations that are tied to moving, some are short-distance moving, some are long-distance moving, and some are moving within the same area with some very precious materials. The case is always peculiar with each moving, among the hundreds of moving situations that may exist, and the odds, one of it is having a baby. That sounds like a spoiler right?
We know the process of having to arrange your things for a move has gotten the best of you already, but much worse is having a baby beside you that keeps pestering you while you try to get boxes and try to move things around. The noise the crying, the attention, and everything mixed together can just bring a pause to your sanity and make you feel frustrated.
We are very aware of this situation, and if you happen to fall within this category of baby-odd, then we have gotten some tips we can help you with to make sure you do not lose your sanity during the whole demanding process. We want to assume that the reason why you are reading this blog right now is that you need help in that regard for the best practices to keep, and we have gathered a few effective tips you can use and also recommend to your friends who have a baby while trying to move.
REASON IT OUT AS A BIG HAPPY FAMILY
The first thing is to make sure each member of the family is fully aware of the moving process. It might come to you as a joke to speak to a baby about it, but the truth is that it is a psychological thing to speak to a baby about your moving. Older babies are actually smarter than you can imagine and they process every information they hear, so save yourself a lot of stress by explaining to the baby or babies your intentions of moving and see how things would work out.
Never think they are too little to be left out of the equation, try to inform them before the moving day. A smart move would be to either make up a bedtime story about moving or read them a real one that involves moving, try to see how they loved the story and then chip it in that they would be moving too. However, they are reacting to your story determine what you should expect on the actual moving day and afterward.
TRY TO GET HELP
This is very important for you to keep your sanity because what makes the moving process s little less stressful is how well you can keep your sanity, and having your baby around might not aid your sanity. Knowing your actual moving day, you should be able to get helping hands, either from a neighbor, a daycare service or even your family members, so that they are away from the whole mess and drama of moving. The mixture of the babies and the process of boxing your items is not pleasant in any way, and in a bid to still be normal during and after the entire moving process, you should get help.
Never take the risk of saying you can handle things on your own because you might regret it. In the middle of a serious move, you can take your eyes off your babies for a while, and the possible terrible outcomes that might befall the babies are a thousand and one, so "it's better safe than sorry." Strategizing in this way will make your plans turn out successful, it will give you a better concentration knowing your child is safe.
SET OUT A STRATEGY TO PACK YOUR BABY ITEMS
There is two way to go about packing your baby's items; one way is that you can pack all of the essential things they need in a box, and label them, while the other way is to pack all of their non-essential items together in another box. In our opinion, it is always best to get the non-essential pack filled first because things that count as non-essentials are the toys, blankets, clothes, and every other thing you might not need immediately on the day you are going to move.
The essentials should be packed right after you have set your priorities straight with the non-essentials. Please note that items that count as essentials are the ones you would need when you are moving, or during the process, or immediately you get to your new place. This is a smarter way to have the things you use every day for your baby within a close range. The packing process would be a lot easier when you make a list of things that are needed, create a moving checklist, and tick them off immediately you pack them into the boxes. Some of the essentials you should be needing are:
Extra bags for dirty diapers and messy clothes
Diapers
Blanket
Snacks
Wipes
Clothing and pajamas
Bath items
First aid kit and thermometer
Bottles
A security blanket or favorite stuffed animal
Formula, juice and food
The rest of the list should be based on what you use for your baby frequently and cannot do without in one day.
GET A PORTABLE PLAYHOUSE FOR YOUR BABY
You should be familiar with the innovative pack and play little cribs made specifically for babies. It is confinement where you can place your baby in when you are moving things around, or when you are unpacking your boxes. They are particularly useful in helping restrict the movement of children within a particular space, so while you get distracted by the entire moving process, you can be sure they safe and sound in the corner you have placed them. You can pack some toys and place them in the portable crib so that your baby can have time to play while you move your things around.
Babies will always want to crawl around and explore, if you are careless, you can step on them, drop things on them, they could hurt themselves too, all accidentally, and it takes less than a minute for these mishaps to happen. Be conscious of every step you take, not only for your child but even for yourself, so you don't end up hurting yourself.
IF YOU ARE DOING IT YOURSELF
DIY trucks are the trucks that you hire yourself to do the whole moving process yourself. For most of the trucks that are available for rental, there is no backseat, and you know what that means when you have a baby with you. Your baby would have to sit close to you, at the front seat, and you must be extra careful about how your baby handles the things beside them. Be smart enough not to add any sharp object that the baby can injure himself/herself with. You don't want to have a terrible record attached to your moving date.
Similarly, if you are going through a plan, you will be given the TSA guidelines that expressly states the items that can be carried on a plane, especially when there is a child on board. Make sure you consider these things. If you eventually find a truck that has a backseat, let your baby stay there, still with no object, and with the guidance of someone you trust.
RENTAL TRUCKS SHOULD NOT HAVE YOUR BABY IN THEM
We have stated this earlier, but we must reiterate to show the severity of this point. If you are a single parent and want to move your baby along with the rental truck, you should never consider it. The trucks are designed in a way to have airbags made for adults, not children, the impact of the airbag can hurt your child too, that's why you are advised to go in your car while you follow the truck. A piece of advice, we understand you might hire from a list of truck rental companies, never put your baby in any of these trucks to ride along, if you love your children, you will do what is right.
YOUR BABY IS A PRIORITY UPON MOVING
When you have no baby, your priority will be to set up a few places around the home, but when you have a baby all that changes. The first place you should set up upon moving in is your baby's room because they need the comfort they can get. Inspect the baby's room first, set everything necessary for the baby to have a safe playing space as well as a very clean and sanitized environment, so your baby doesn't get any form of infection.
When you do this, the entire process of getting to know the new environment sets in faster. As your baby crawls around, trying to play, they get to have a feel of the new space better and this, in turn, can make them sleep well, while you can go ahead and handle other tasks in the home. Once the babies' room is set, you can help yourself with other important things.
YOU NEED HELP
For those of you with babies, it would make perfect sense to hire and get help in as many places as you can because you have a baby, and better yet babies. From the time you start moving, if you are someone very aware and concerned about your baby, then you have to employ extra hands, like professional local movers to help you to move and make the process faster. You can equally call your family and friends to help you with the process; it's all up to you. Even if you try not try to take your mind off the fact that you have a baby during the process, you might still get going to check the baby, and that would slow you down, why don't you hire professionals to help you.
Even after the move, you might still need to hire a babysitter to stay with your child while you and your spouse can face other important issues and get the new apartment in order. This is a very smart move if you want to work faster, the choice is yours to make, but if you feel it's unnecessary, then you can skip this tip.
MAKE SURE YOU SAFEGUARD YOUR NEW HOME
This is another very important point because you have to make sure your new apartment doesn't harm your baby. After setting up your baby's room, the next thing you must do first is to baby-proof the entire house to avoid sad stories later. Everything that is considered potentially dangerous should be removed from the environment. Remember that as a rule of thumb, you should always do a deep clean of the new home even before moving in, during this process you will discover the faults in the home and things you need to correct to keep your baby safe. To help with a few safety measures that can be regarded as baby-proofing your home, we have gathered some points below.
Use security doors to square stairways and unsafe territories.
Keep little items like marbles, magnets, inflatables, and balls from babies and children because they can swallow them.
Introduce smoke identifiers and carbon-monoxide alerts – make a point to change the batteries once every year.
Know about lines on blinds and window medicines, and try to ward off lodgings from these stifling risks.
protect electrical outlets with outlet covers to avoid electric shock for your babies
Secure furniture to stay away from tip-overs.
Use kid-safe bolts on drawers containing matches, lighters, blades, and cleaning items.
Ensure all medication and medicine cupboards are secured with tyke confirmation locks.
Use window guards to secure your windows.
These safety tips and many more should be considered very carefully; you should also know by your discretion what things to put in place if your baby is a little hyper and all over the place. We are glad to help you with all these tips.