Things to Know Before Moving to Florida from California
Coast-to-coast moves from California to Florida require advance planning and organization to be successful. By understanding the information in iMoving's guide, you can complete your move easily and without stress.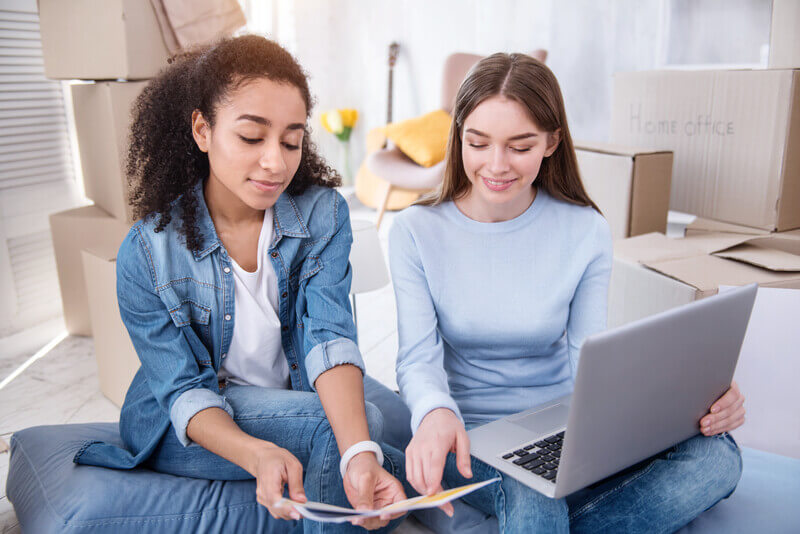 Before moving from California to Florida, it's crucial to be prepared for key factors that will help make your move successful. In addition to essential moving tasks such as packing, you'll also need to perform other duties related to the move to ensure that the process goes as smoothly as possible.
Using California movers to complete a cross-country move often requires more than getting a few quotes and picking a moving date. For a move to be successful, there are several important tasks you should have on your moving checklist so you aren't delayed before, during, or after the moving process.
Create a moving checklist
A moving checklist will be beneficial in keeping your move organized and on schedule. Moving checklists should contain essential moving tasks such as finding packing materials, getting rid of unwanted items that could increase the cost of the move, and of course, reserving a moving company.
But, your moving checklist should also contain other essential tasks that need to be completed to avoid any problems during or after the move, such as:
Cancel/Set up Utilities
In California and Florida, utility companies will need advanced notice of your intent to move so that they can schedule a shutoff and/or activation date for your service. For both states, it is recommended to notify your utility company at least two weeks in advance to ensure a smooth transition of service.
Change your address
To take advantage of Florida residency and its related tax breaks, you'll need to change your address officially at the Post Office. Change of address is free, and you can do it online, in person, or by mail.
Get necessary permits
In Florida, commercial vehicles that are considered oversized will require special parking permits for residential zones. It is imperative to get these permits before the movers arrive in the state to ensure they can park close by. The California local movers you hire should be able to inform you in advance is specialty permits will be required for your relocation.
Plan for the weather
Both Florida and California have favorable weather conditions during most of the year. With that in mind, you should still consider scheduling your cross-country move during a period where winter weather on the route to the Florida destination won't affect travel time.
Don' forget specialty packing supplies
The move from California to Florida is lengthy – more than 2700 miles depending on where exactly you're more from and to. During this lengthy transit, it may be necessary to source specialty moving boxes and packing supplies that help keep your belongings safe during transit. Supplies such as wardrobe boxes, dish packs and furniture pads can help keep your belongings from sustaining any damage during the move.
Have a plan for pets and kids
The logistics of a cross-country move require extra planning when you have pets and/or children. Pets need to be transported in a way that is safe and comfortable for them, and kids need to be prepared for the long car ride by having games, snacks, and activities planned out for the trip.
What to Look for in a Reputable California Moving Company
In addition to the preparations and considerations mentioned above, there are a few other important details to know before moving from California to Florida. These factors can help ensure a successful relocation and are especially important when choosing a moving company to complete the cross-country move.
When selecting a California moving company, it is important to consider the following:
The company's licensing and insurance status
How long the company has been in business
The company's references and customer reviews
When searching for reliable moving companies in California to help with a Florida relocation, be sure to get at least three quotes from different movers to ensure you are getting a fair price for the moving services you require.
Moving companies will charge by distance traveled ($0.50-$0.85 per mile) and by the overall weight of your items ($0.50-$1.00+ per pound), so be sure to give detailed addresses for the starting and destination point as well as a complete inventory list for the most accurate pricing.
Frequently Asked Questions
Is hiring full-service movers cheaper than performing a DIY move?
While a DIY move may save on some costs, overall, the time, energy, and stress of organizing the logistics of packing, loading, transport, and unloading can often be more of a hassle than it's worth. With full-service movers, you can rest assured knowing that essential moving day tasks will be handled for you so you can focus on other important parts of your move.
When is the best day of the week to move?
The best day of the week to move with little interference from traffic and with lower overall costs will be during the week. Weekend moves can offer more convenience for your schedule but usually come with higher costs and less parking availability - especially if moving to a tourist or entertainment zone in Florida.
Should I pay for packing supplies?
Packing supplies can be purchased from a number of major retailers or through your moving company (if offered). If you are looking to cut costs on your move, consider second hand-or free packing supplies that can be found through a number of online community forums and websites.
How long does it take to move from California to Florida?
A move from California to Florida can take anywhere from 5-10 days, depending on the distance traveled, the intensity of the moving process, and the weather.
How much should I budget for tipping movers?
Tipping can be done as a percentage of the overall costs of the move based on the quality of services. Generally, 10-20 percent of the total is considered customary. Additionally, you can choose to tip per service received from the movers, with 20-40 dollars per person being acceptable based on the number of hours worked, the quality of their service, and the intensity of their labor.
Planning and Preparation is the Key to a Successful Move
Understanding the fundamental aspects of completing a long-distance move from California to Florida can ensure a hassle-free moving process. Remember to keep things organized with a moving checklist and verify that your moving company has the proper licensing in order to operate across state lines.