What Time Of The Year Is The Best To Move?
We can sometimes be in control of when we want to move, and other times, it is just beyond our control. For instance, if you are moving and want to move to be around family members or for a job, then you likely can select the best time to relocate for your family based on your children's school calendar or your workload.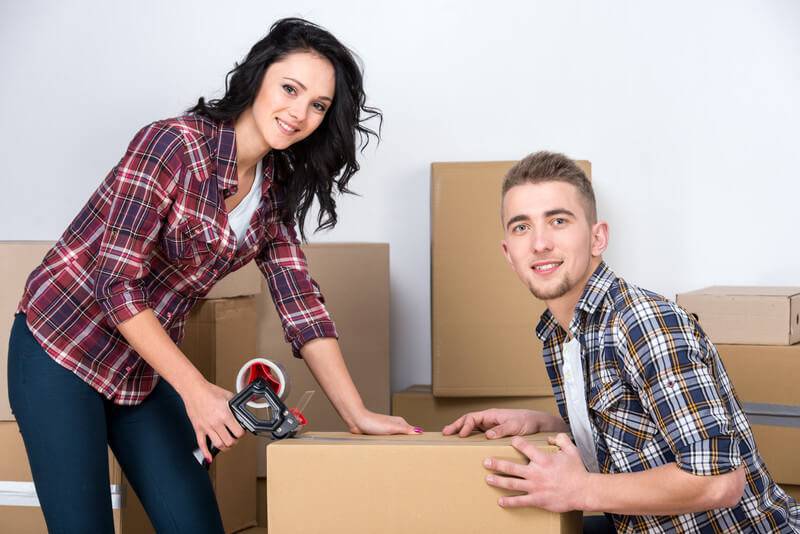 We can sometimes be in control of when we want to move, and other times, it is just beyond our control. For instance, if you are moving and want to move to be around family members or for a job, then you likely can select the best time to relocate for your family based on your children's school calendar or your workload. But, in some cases, life happens and you have no other choice than to move as soon as possible.
Maybe the rental property you are in is listed for sale by your landlord, or maybe you are moving due to your job's transfer to another state. Irrespective of the situation, there are benefits and drawbacks to moving during the different seasons of the year.
But if you can decide, what time of the year is the best to move? Selecting a date and time with less demand might not make the move so easy, but it can save you a lot of money.
Apart from creating a good moving budget to save cost, choosing the right of the year to move can also save a lot.
Below are some of our best recommendations for the best days and times to move.
What are the Best Months to Move?
To fight this effect and likely even save some cash on your move, planning to move "off-season" might be the best.
Which months are the off-season moving time?
April: This is a nice choice, since it is the start of the spring but falls right before the peak moving season. If you have children, take advantage of their spring break to perform the move.
December and January: These can also be perfect times to move, especially if you reside in a warmer climate that hardly experiences harsh winter weather. These months can give you the chance of finding a mover at a cheaper rate. Even though the holidays can be tough, planning your move just before or after the holidays can prove highly beneficial.
When moving during a time when demand is low, the moving company will place more concentration on your move and there will be enough availability of moving supplies.
What is the Best Week of the Month to Move?
Mid-month is the best week of the month to relocate.
At the start or end of every month, a lot of people are moving to allow the start and end of leases. Everyone certainly wants to move at the start or end of the month, but moving companies have something different to say about that. Similar to weekdays, demand in the middle of the month is very low, so moving during a mid-week, mid-month will be your cheapest alternative.
Tip: Anytime possible, avoid performing a move during the first of the month, because then, the majority of leases start that time and demand is on the higher side. Peak moving days include the start and an end of the month since it is when leases ends. Movers will reduce their rates between these high times.
What are the Best Days of the Week to Move?
The best days to move during the week are the mid-week days; starting from Monday to Thursday since the people plan to leave their current home on the weekend. This is so true with DIY movers who rent U-Haul and Ryder moving trucks.
Monday and Thursday are perfect days to move. A lot of people are working, and bookings are few, which implies that moving companies reduce their price to get people to move on the days that business doesn't experience the rush.
If you can perform your move on one of these days and not the weekend, you will save a lot of money.
Tuesday and Wednesday are the best days to relocate. Moving in the middle of the week is the best because most people's bookings are during these days. This also implies that you will have many opportunities to get bookings and at the cheapest price. While it is not entirely a convenient day for you, it surely is the best day.
Weekends (Fridays, Saturdays, and Sundays) are the worst days of the week to relocate and this is because most people commonly perform weekend moves when they are not at work. That implies that moving companies already have excessive bookings on those days so it will be hard for you to book a moving truck and supplies. Even if you book in advance of your move, you will still be paying higher than you would on other days.
The 1st of the month is the worst day of the month to relocate. That is normally when most people are moving. Many people choose to live out their lease until the final day. However, if you move one week before, you will save huge money with the better deal you will receive on your moving truck and supplies. If you possibly can, avoid moving during the summer months or towards the end of the month. Most moving companies charge expensive rates for moves performed during these times. Consider a mid-month move.
Mid-month (around 15th) is the best day of the month to move. There are normally no big holidays around that time. Those moving during that time are few, which means better prices and a lot of services and supplies you can access. End of the month remains the busiest time for moving companies. Also, the start and end of every month are normally busier than mid-month, irrespective of the season.
What is the Best Time of the Day to Move?
Early morning is the best time of the day to move.
When it comes to the day of your move, the early bird indeed gets the worm. Early start to your moving day will make sure you finish sooner and have enough time to unpack and relax. You will have enough strength and motivation after you wake up unlike when stress is all over you in the afternoon. This tip is a lot helpful if you are hiring professional movers because your movers will possibly be able to work efficiently when the weather conditions are perfect (not too hot or cold, which is often experienced on a mid-day move).
What is the Best Season to Move?
Around 46 million Americans relocate every year, and almost 62 percent of those moves are performed from May to September. This is when movers are super busy because people, most especially families with kids in school, take advantage of the summer months to move to avoid disruptions.
If you are getting set to move in advance, be sure to stay away from these months, because it is also the costliest time of year to relocate. After all, packing and moving services are being demanded at a higher rate. Instead, move during the fall, winter, or at the start of spring months, such as October through March.
Is Moving in Winter a Good or Bad Timing?
Winter is a nice time to move due to reduced costs and easier scheduling during this period. Demand is lower for movers in cold months. You can pick highly convenient days and times for your move during winter, unlike moving in other seasons. But winter is usually not the best time to perform a move.
This is true when there is typically a cold or wet winter in some part of the country. This part of the country sometimes experiences ice, rainstorms, and snow that can make moving a bit difficult. You also can experience some difficult driving conditions in extreme weather. Slipping and falling often occur in more frozen temperatures, but you can get ready for these barriers by bundling up and salting your walkways.
Is Moving in Spring Good?
The moving industry is not busy from March to early May as you might expect. You likely can still enjoy some convenience in scheduling during this season for your move to other parts of the country. The weather is amazing in the state all through these months, even though you can suddenly experience wetness at times.
There is also the possibility that you overheat during a move in spring temperatures. Spring is not the ideal time to move if you have school-age kids.
Their exams and end-of-year activities for their classes should not be disrupted because of a move. Moving to another school district during this time can make the kids feel disoriented and lonely. Even though convenience scheduling with busy movers is all their schedules turn out to be highly cramped as May matches. If you are moving by the end of May, get ready to encounter the challenges of their busy season.
Moving in Summer, is it Good?
Yes, it is the best time. Summer is the ideal time to list your property on the market for sale. You may likely get a higher sale price in June, July, or August. Since school-age kids are not in class during the summer, they don't experience much disruption when relocating during these months. A lot of kids even feel great about enrolling in a new school in the fall. However, summer is not the best moving time if you need convenience scheduling or cheaper moving rates.
With summer being the peak season for movers, it can be tough to locate an available local moving company. Due to their tight work schedules, your move can take a lot of time. After all, movers conduct 70% of their yearly business from Memorial Day to Labor Day. Also, summer may not be the ideal time to relocate if you dread high temperatures. During summer, some areas, such as the Triangle Area of North Carolina is amazingly warm and sunny. But you can feel the sun on your skin if you are sensitive to the temperature.
Conclusion
No matter when you choose to move, you have great options when choosing your perfect movers. Our network of long distance moving companies has been trusted for delivering top-notch moving services at both convenient and inconvenient times. You can rely on us, whether you arrange your move for summer, winter, spring, or fall. Contact us now at (19) 362-8355 to talk about your moving needs and schedule your unique best time to move.