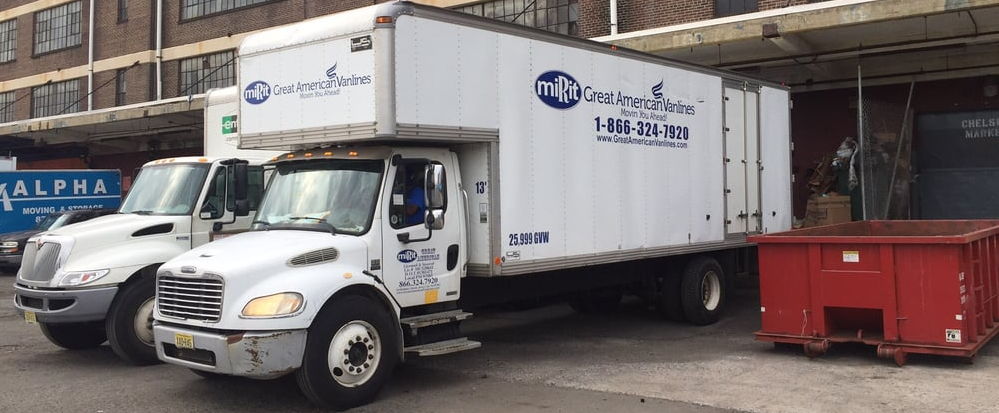 Great American Van Lines
12

Years in Business

5

Trucks

20

Workers
Detailed Rating

Kindness

Precision Time

Problem Solving

Pricing

professionalism

Great American Van Lines has provided professional residential and commercial moving solutions for over 10 years. Our trusted crews and fleet of trucks move over 10,000 homes a year. As industry leaders, Great American continues to set the standard in high quality moving.

Services and Handling

Packing

Unpacking

Local Moving

Long Distance Moving

Storage Services

Piano

Appliance

Commercial Moving

Wood Crate - Art & Antique

Special Handling

Compliance

General Liability

Policy: PK201600008633
Coverage: $2,000,000.00

Cargo

Policy: IHYA191408
Coverage: $50,000.00

Automobile

Policy: AU201600010980
Coverage: $1,000,000.00

Licenses

0

Policy: 1381471
type:DOT

| Branch Name | Address |
| --- | --- |
| Great American Van Lines | Great American Van Lines, Jersey City, NJ, United States |
Reviews

sagi a.

These guys are awesome. Moved from Hoboken NJ to Santa Barbara CA and they arrived as scheduled (even in the snow storm). Upon their arrival they had a...

fred HOGAN

I'm very satisfied with Great American Van Lines. Their customer service is one of the best. I knew exactly what to expect even before I booked them. This was a last minute move, and they were able to accommodate me. The move was hassle-free and they exceeded my expectations. This was my first time moving out of state, and I must say that they did an awesome job. Highly recommended.

RYAN BICCHON

Yes! I used Great American van lines for my long distance move about a week ago. My destination was from NJ to CT. It was a great start and awesome ending. I really liked their performance, third time I used this mover. Overall best coordination. They were much better than other good movers! Packing and wrapping quality was highly professional. Didn't find any unwrapped fragile things. I paid my bill and it was totally affordable. I have used them three times therefore I gained a voucher from the company and It was a surprise for me! Thanks Great American Van Lines for everything.

lisbeth Guerrero

I had to move from one apartment to another but I had to do it quickly and on a budget. I looked online and called a few different places to rent a van, but they were all out of my price range. Some friends had told me about Great American Van Lines, so I thought I would give them a try. Not only were they within my price range, but they there kind and very accommodating. There were some issues I had during the move with my locations, but they were willing to work with me. I would definitely recommend them if you're in the market.them if you're in the market.

dan epstein

Free of damage, and affordable! I moved from PA to NC a couple weeks ago, these guys really made my move very easy everything was explained to me they never raised the price. They were very punctual and polite. I have many antiques and valuables and they all arrived in the same condition as they were when packed. I would really recommend this company to anyone with antiques or valuables because all my items arrived completely free of damage.

Aaron Brown

Scam... these reviews are probably them... 1st the movers came and said they don't work for them they're are a separate company...! Then they say $405 fir fir hours... I have everything ready so they don't have anything to pack ... soon as they get the truck full they hit us with a $975 bill....!!!??? So they bubble wrap 3 tv's fir $500....???? Then all of a sudden we can negotiate....??? I'm at work wishing I had the day off and I girl alone being scared now cause they threatening to take our things because they're now in the truck my girlfriend pays $700 ... oh yea they negotiated it down to $700... did I tell you it had to be cash???? 🤔🤔🤔... scam!!! Definitely Better Business Bureau and Consumer Affairs will be contacted fir my money back!!! Fraudulent Scam!!! Fake Business

Bill Mason

DO NOT USE THIS COMPANY!!!! On a recent move from NJ to SC, I decided to use Great American. HUGE MISTAKE. They informed me belongings would be picked up on a Friday and delivered on a Saturday. When I called to confirm this the day before, they laughed at me and said there was no way my belongings would be in SC by Saturday. it took 9 nine days, with me calling every other day to see when delivery would be made, each time my call was met with a "We don't know yet." This was enough to anger me but why you really should never use this company is because of the way my family was treated during the pickup of my things. The man who picked up my belongings in NJ entered my family's house and said point blank, "You Will Tip My Men." Of course that was the plan all along, what kind of jackass talks to people that way. He also demanded toll money which he said was $31-when handed $40 he proceeded into his truck and took off! When I called to complain about the gentleman, they said they would talk to the man. That was all! At this point they had my things, they essentially stole money from my family, and I was worried they would never deliver my things because it was always me tracking them down. When my things finally did arrive, multiple items were damaged; my desk had a leg broken, a nightstand had drawers ruined to the point that I had to throw it out....I understand this company may be cheaper, but I assure you, it is not worth it! I have never written a review like this but after my experience I feel forced to warn other people and I will also be contacting the BBB. I would post 0 stars if I could.

Kathy Choi

Worst moving experience I have ever had. I moved cross country from Boston to LA and there were issues along every step of the way. Incorrect pickup times on pickup and delivery They lost my mattress and it took 5 weeks to get it back, and it came back damaged and dirty. I must have called over 20 times and they never once called back as promised. At one point, I called and the agent told me, "I'm in New Jersey, what do you want me to do about it." They were prompt before the move with communication, but as soon as I paid the bill it was like I didn't exist. If you value your money, BOOK YOUR MOVE ELSEWHERE. I have moved over 7 times and never had a move this bad. I will be following up with a formal BBB complaint. Customer beware.

Ravi Santhanam

Horrible experience and don't trust the moving person. Pl discuss before they touch your household items. Mover demands money for packing and they are rude too. I never recommend this company to anyone.

Moieen Khatri

Wish I could give less than 0 star to this moving company!! They charged me 1.5 times to what they had originally promised and customer service was horrible after the initial payment was made. Found some small items missing like tv remote for which I had to incurred. Recommend to avoid this moving company as they provide false info at every stage to the customer!!!

Mason Fiascone

The worst possible moving experience we could have asked for. They arrived a month after the day we were "first available to move in". The driver called the day before and said he'd be there at 1pm, he arrived at 8:30pm. Then when they finally arrived, they had lost a box in the move. A few days later it turns out it was on the original driver's truck but it was packed and organized so poorly that he couldn't find it. Then it took another 2 weeks for them to finally deliver the lost box! 95% of the time we called customer service, no one was available to answer. When we left a voicemail, we never heard back. Throughout the whole process we never heard from anyone at the company unless we called them, and then their customer service was rude, interrupted frequently, and was never sympathetic to the terrible situation they put us in. I recommend that you NEVER move with Great Van Lines and find a different company.

JOHN MASQUES

Excellent service, dependable, reliable, caring and diligent in their move. Kevin is wonderful he is extremely organized, reasonable and targeted on getting the job done right! His workers did a fantastic job! Highly recommend this crew to move anyone anywhere anytime any day! Fantastic, excellent, dependable, affordable, honest, & reliable!