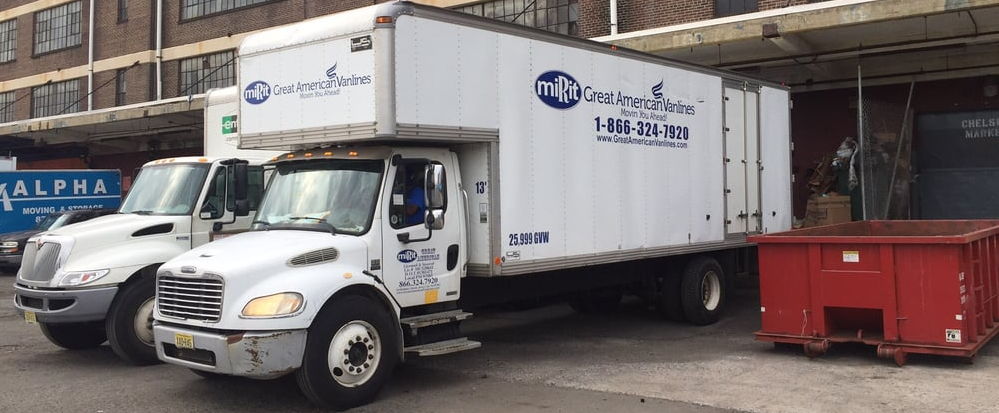 Great American Van Lines
12

Years in Business

5

Trucks

20

Workers
Detailed Rating

Kindness

Precision Time

Problem Solving

Pricing

professionalism

Great American Van Lines has provided professional residential and commercial moving solutions for over 10 years. Our trusted crews and fleet of trucks move over 10,000 homes a year. As industry leaders, Great American continues to set the standard in high quality moving.

Services and Handling

Packing

Unpacking

Local Moving

Long Distance Moving

Storage Services

Piano

Appliance

Commercial Moving

Wood Crate - Art & Antique

Special Handling

Compliance

General Liability

Policy: PK201600008633
Coverage: $2,000,000.00

Cargo

Policy: IHYA191408
Coverage: $50,000.00

Automobile

Policy: AU201600010980
Coverage: $1,000,000.00

Licenses

0

Policy: 1381471
type:DOT

| Branch Name | Address |
| --- | --- |
| Great American Van Lines | Great American Van Lines, Jersey City, NJ, United States |
Reviews

sagi a.

These guys are awesome. Moved from Hoboken NJ to Santa Barbara CA and they arrived as scheduled (even in the snow storm). Upon their arrival they had a...

fred HOGAN

I'm very satisfied with Great American Van Lines. Their customer service is one of the best. I knew exactly what to expect even before I booked them. This was a last minute move, and they were able to accommodate me. The move was hassle-free and they exceeded my expectations. This was my first time moving out of state, and I must say that they did an awesome job. Highly recommended.

RYAN BICCHON

Yes! I used Great American van lines for my long distance move about a week ago. My destination was from NJ to CT. It was a great start and awesome ending. I really liked their performance, third time I used this mover. Overall best coordination. They were much better than other good movers! Packing and wrapping quality was highly professional. Didn't find any unwrapped fragile things. I paid my bill and it was totally affordable. I have used them three times therefore I gained a voucher from the company and It was a surprise for me! Thanks Great American Van Lines for everything.

lisbeth Guerrero

I had to move from one apartment to another but I had to do it quickly and on a budget. I looked online and called a few different places to rent a van, but they were all out of my price range. Some friends had told me about Great American Van Lines, so I thought I would give them a try. Not only were they within my price range, but they there kind and very accommodating. There were some issues I had during the move with my locations, but they were willing to work with me. I would definitely recommend them if you're in the market.them if you're in the market.

dan epstein

Free of damage, and affordable! I moved from PA to NC a couple weeks ago, these guys really made my move very easy everything was explained to me they never raised the price. They were very punctual and polite. I have many antiques and valuables and they all arrived in the same condition as they were when packed. I would really recommend this company to anyone with antiques or valuables because all my items arrived completely free of damage.

Aaron Brown

Scam... these reviews are probably them... 1st the movers came and said they don't work for them they're are a separate company...! Then they say $405 fir fir hours... I have everything ready so they don't have anything to pack ... soon as they get the truck full they hit us with a $975 bill....!!!??? So they bubble wrap 3 tv's fir $500....???? Then all of a sudden we can negotiate....??? I'm at work wishing I had the day off and I girl alone being scared now cause they threatening to take our things because they're now in the truck my girlfriend pays $700 ... oh yea they negotiated it down to $700... did I tell you it had to be cash???? 🤔🤔🤔... scam!!! Definitely Better Business Bureau and Consumer Affairs will be contacted fir my money back!!! Fraudulent Scam!!! Fake Business

Bill Mason

DO NOT USE THIS COMPANY!!!! On a recent move from NJ to SC, I decided to use Great American. HUGE MISTAKE. They informed me belongings would be picked up on a Friday and delivered on a Saturday. When I called to confirm this the day before, they laughed at me and said there was no way my belongings would be in SC by Saturday. it took 9 nine days, with me calling every other day to see when delivery would be made, each time my call was met with a "We don't know yet." This was enough to anger me but why you really should never use this company is because of the way my family was treated during the pickup of my things. The man who picked up my belongings in NJ entered my family's house and said point blank, "You Will Tip My Men." Of course that was the plan all along, what kind of jackass talks to people that way. He also demanded toll money which he said was $31-when handed $40 he proceeded into his truck and took off! When I called to complain about the gentleman, they said they would talk to the man. That was all! At this point they had my things, they essentially stole money from my family, and I was worried they would never deliver my things because it was always me tracking them down. When my things finally did arrive, multiple items were damaged; my desk had a leg broken, a nightstand had drawers ruined to the point that I had to throw it out....I understand this company may be cheaper, but I assure you, it is not worth it! I have never written a review like this but after my experience I feel forced to warn other people and I will also be contacting the BBB. I would post 0 stars if I could.

Kathy Choi

Worst moving experience I have ever had. I moved cross country from Boston to LA and there were issues along every step of the way. Incorrect pickup times on pickup and delivery They lost my mattress and it took 5 weeks to get it back, and it came back damaged and dirty. I must have called over 20 times and they never once called back as promised. At one point, I called and the agent told me, "I'm in New Jersey, what do you want me to do about it." They were prompt before the move with communication, but as soon as I paid the bill it was like I didn't exist. If you value your money, BOOK YOUR MOVE ELSEWHERE. I have moved over 7 times and never had a move this bad. I will be following up with a formal BBB complaint. Customer beware.

Ravi Santhanam

Horrible experience and don't trust the moving person. Pl discuss before they touch your household items. Mover demands money for packing and they are rude too. I never recommend this company to anyone.

Moieen Khatri

Wish I could give less than 0 star to this moving company!! They charged me 1.5 times to what they had originally promised and customer service was horrible after the initial payment was made. Found some small items missing like tv remote for which I had to incurred. Recommend to avoid this moving company as they provide false info at every stage to the customer!!!

Mason Fiascone

The worst possible moving experience we could have asked for. They arrived a month after the day we were "first available to move in". The driver called the day before and said he'd be there at 1pm, he arrived at 8:30pm. Then when they finally arrived, they had lost a box in the move. A few days later it turns out it was on the original driver's truck but it was packed and organized so poorly that he couldn't find it. Then it took another 2 weeks for them to finally deliver the lost box! 95% of the time we called customer service, no one was available to answer. When we left a voicemail, we never heard back. Throughout the whole process we never heard from anyone at the company unless we called them, and then their customer service was rude, interrupted frequently, and was never sympathetic to the terrible situation they put us in. I recommend that you NEVER move with Great Van Lines and find a different company.

JOHN MASQUES

Excellent service, dependable, reliable, caring and diligent in their move. Kevin is wonderful he is extremely organized, reasonable and targeted on getting the job done right! His workers did a fantastic job! Highly recommend this crew to move anyone anywhere anytime any day! Fantastic, excellent, dependable, affordable, honest, & reliable!

Sudheer Mora

all five star reviews are FAKE once you pay the 50% amount they wont wont respond to your call/email they will change the estimate by adding at-least 500$ more on the day they come for pickup. your stuff will be stored in their facility for a week at-least. on the date they bring you your stuff it will be loaded&unloaded few times out of their truck and storage. on the date they deliver your stuff be ready to pay few hundreds more, they will say their truck cannot get into the street 300 + walking distance to apartment is more than 75 feet so 200 more. etc etc..

john keller

I needed to find a moving company for a move from New Jersey to Montana. I checked with six different moving companies and found Great American Van Lines. From the start, I was impressed with Nathan and felt confident that her company was the right choice. Nathan put my mind at ease and explained everything thoroughly. Nathan was polite and patient with me as I had many, many questions. He kept in touch with us from the beginning of the move to the end!!! On the day of the move, I was worried that things might not work out. However, I was pleasantly surprised. The movers were on time and exceptionally polite. We had a lot to move and the men were hard working and fast moving. We were amazed at how fast the move went. We can't say enough positive things about how professional and kind they were. This was not an easy move as they had two flights of winding stairs. They were incredible!!! After the truck was loaded, the men told us the time they would arrive at our destination. They arrived on time and within the delivery schedule. They moved quickly and efficiently. We did have a few times that we spoke to the movers and they were congenial and we enjoyed talking with them.We were extremely happy with Great American Van Lines. We would recommend then to anyone who is moving. We can't thank them enough!! They made a difficult situation so easy. They are the best!!

Mateo Solano

My experience was nothing short of perfect. I can't begin to express how great of a company this was. They were hassle free and they really worked to help me out. The dispatch and customer service department was so friendly and made sure my move was executed correctly. I am not very familiar with moving companies since this is my first time moving but what I can say is that Great American Van Lines will make sure you are a happy customer!

james rodrigez

we recently move with great American van lines from NJ to CA so its start with David who gave us the estimate he was very helpful he explain all the moving process it was our first move for a long distance move so we didn't know how dos it work so he was very patient and explain the all process Sam the driver show up a the day of the move he packed for us all the china and the kitchen item the crow was great they finish after 6 hours to load our goods did a great job after 1 week we got a call from Kevin the driver he told us that they start loading the truck and they will start drive in 2 days he say when I get to CA I give you a call a day before and will bring your items so kevin call after 4-5 days and say I will be there tomorrow 9-11 am they came around 10 am they start offloading the truck and assemble our bad our table and place all the boxes where ever we asked so they really did a great job we will recommend them to all our friend and family ty great American van lines it was a pleasure working with you guys

Gretchen murphy

We had a very good experience with Great American Van Lines for a April 2018 household move from New York to California. The agents on both ends were professional and careful, and the arrangements generally went very smoothly. The trucks were packed very carefully, so that we had almost no damage at all. The agents all showed up exactly when they said they would. We would definitely recommend Great American Van Lines to anyone contemplating a cross country move.

isamel khan

I recently moved from Illinois to Conneticut, so i decided to use Great American Van Lines. Their process was so convenient and easy. They also had the best prices around and was affordably within my budget. Nothing was damaged during the move, which was something I was worried about. They definitely have the best service around and would recommend them to anyone looking for a moving company!

frank fonseca

Great American Van Lines gave us a very devoted crew that was so nice to work with. The movers were true professionals and showcased their skills as they moved our things down the round staircase. Even when it came to our heavy equipment, these guys did not complain and instead used their experience and the various professional moving tools they had to make the day a success. Their charges were reasonable and they are not like other movers who leave you feeling overcharged.

RUSSELL LANGZIK

We hired Great American Van Lines to move our home from Connecticut to our new home in North Carolina. We had Nathan gave us a estimate of the list of items we were relocating and he gave us the reasonable price for our move. Nathan emailed us all the info and total cost the next day. We needed a few days to pack, to move, and some minor unpacking of mostly the art and pictures. The movers were very professional and the girls at the office were extremely helpful. Overall we had a great experience and we highly recommend them to everyone.

JADEN ALFADA

I've worked with a few long distance movers, and this was the best experience I've had by far. Everyone was very professional and polite, and most importantly, my things arrived on time, in the condition I left them, and for the price I was promised. They did a great job communicating every step of the way, so I never had to worry about where my things were and when it would meet me on the other end. Anyone who has ever experienced a *bad* long-distance move knows how important that is! I will definitely be using this company again.

paulina bridgelit

I could go on and on about Great American Van Lines. Great moving company with fair, affordable rates! From the very first phone contact with Nathan, to the in-home estimate with David and all the way through the completion of our move, this company was the epitome of professionalism. Even in pouring down rain, they moved our household goods and storage space items without an issue. In fact, they went above and beyond to accommodate our specific needs. It was a great overall experience and I definitely recommend this company!