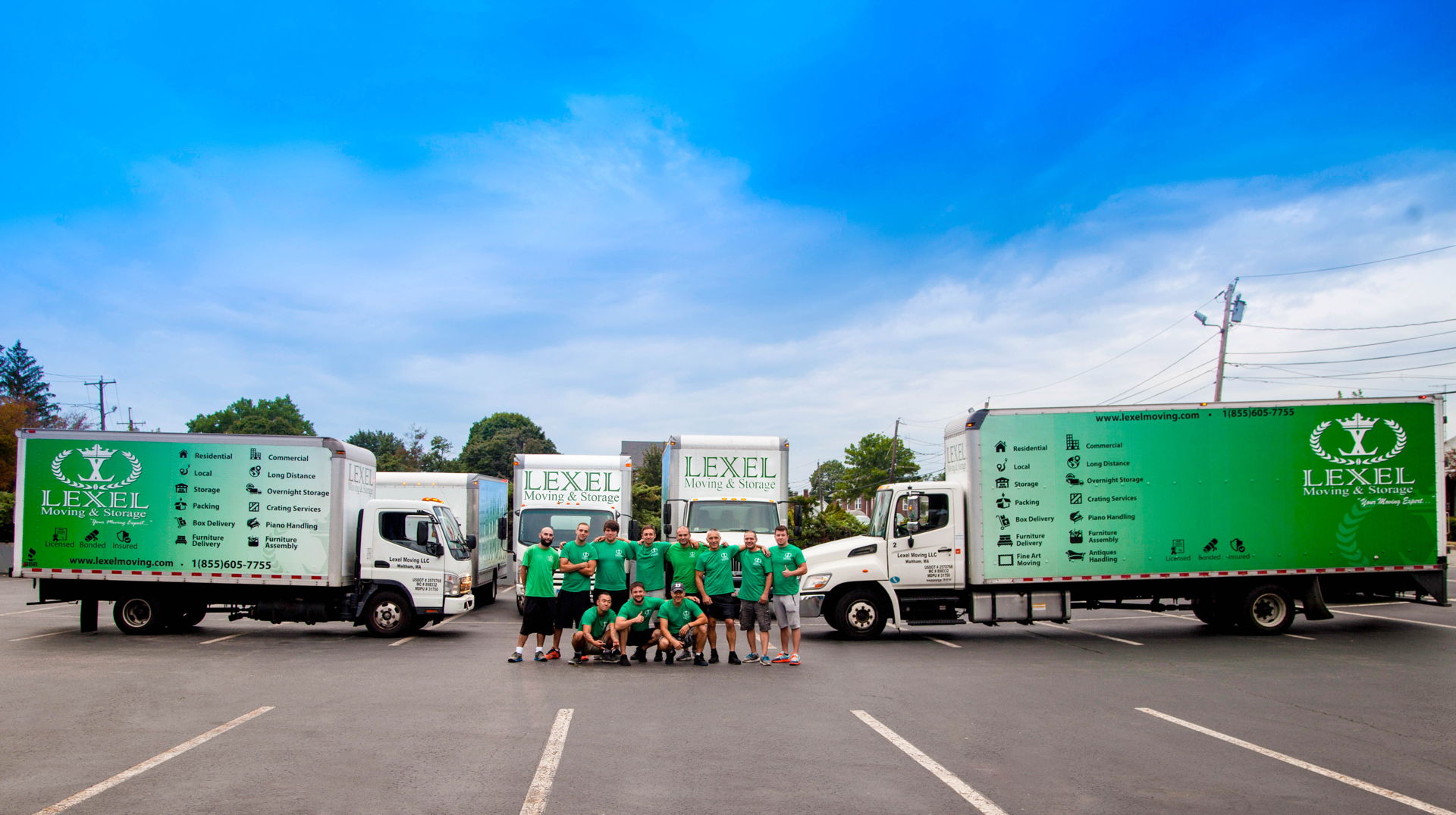 Lexel Moving & Storage
4

Years in Business

5

Trucks

20

Workers
Detailed Rating

Kindness

Precision Time

Problem Solving

Pricing

professionalism

Lexel Moving & Storage combines knowledge, experience, and technology to be the best company when it comes to planning and execution of your move. We are a team of professionals who will help guide your family beginning to end, whether moving local or long distance.

Services and Handling

Packing

Unpacking

Local Moving

Long Distance Moving

Storage Services

Piano

Box Delivery

Wood Crate - Art & Antique

Special Handling

Disposal Services

Compliance

General Liability

Policy: QB557870
Coverage: $2,000,000.00

Workers Compansation

Policy: AWC40070317452016A
Coverage: $100,000.00

Cargo

Policy: TBD
Coverage: $25,000.00

Licenses

| Branch Name | Address |
| --- | --- |
| Lexel Moving & Storage | LEXEL Moving & Storage | Boston Movers | Waltham Movers, Main Street, Waltham, MA, United States |
Reviews

Janette C.

We had a great move with Lexel moving, I can highly recommend them. They moved the contents of our apartment from the Boston area to New York, the quote was...

Elena Martha

Lexel Movers were great! We have used them to move our 1 bedroom plus office apartment from Boston to New York City in February 2017. We had a full truck which I believe was 16 feet long. Two friendly movers arrived on time, worked hard and protected all the furniture (I'm sorry I don't remember the names), but I did take a picture of one of the guys with my stuff. Couple of my friends moved to NYC this year and I had a great recommendation for Boston to NYC movers for each and every one of them! 1 day service is perfect for this type of move. 5 Stars without questions!

Benavides Shelbie

My move was a long-distance move of a large 1 bedroom move from Brighton MA to Philadelphia PA. I have called the office 3 weeks before the actual move date to get a quote and reserve my moving truck. Office gentleman Alex was really helpful and attentive to details, he helped me determine the amount of boxes needed and weather I should do all the packing myself. On the actual day of the move 3 men showed up on time and picked all my stuff in less than 3 hours. 2 of the 3 men delivered my stuff the next day in Philly. They were really friendly and super careful with my belongings. I'm happy I chose Lexel movers based on their great reviews and outstanding customer service, I will always recommend them to my friends!

Natalie Hale

I have moved with Lexel Movers 2 times over the past 2 years and can't say enough good things about the crew! I had the same crew - Andrew and Harry both times and they were just the best movers ever! Last year I moved from New York to Boston and this October I moved back from Boston to NYC for a new job. Lexel movers are always on time and extremely professional. Movers were well trained but more importantly, they were pleasant and treated my belongings with respect. Nothing was damaged during the move. They even found a very creative way to tie down a sleep sofa so it didn't expand while moving it

Marcella Russell

Lexel Movers are fantastic! We hired them to move our furniture and boxes to a new house on November 1st. They let us know when they were on their way, showed up right on time, and had wrapped up everything and had it in the truck within 2 hours. Their speed and efficiency was amazing, especially considering how well they wrapped and protected everything with blankets and plastic wrap. Once at our new house, they were as quick and efficient in unloading and placing the furniture and boxes in each room, even though they had to go around through our back gate and in the sliding door with everything because the front entrance and the hallway were super narrow. They were very careful not to damage any of the furniture or anything already within the new home. I hope we will never move again because I like our new house, but I would definitely hire Lexel Movers again if I were going to move, and will definitely be recommending them to friends looking for movers in Boston.

Ernestine Jan

These guys are top-notch! Thank you Gabe and John for all the help and your patience! Special thanks to Nick for setting up my reservation on a really short notice. I have moved from Boston to Quincy in less than 4 hours.

Steve P.

Add us to Lexel's long list of happy customers. I've personally experienced (long ago) a moving company damage my furniture. I've also actually read the...

Justin Leatherwood

All very nice guys. Wicked fast, knew exactly what they were doing at every turn. Moving across town, from start at the old place to finishing at the new, only took them 2 hours. Included disassembling and reassembling a bed. Would use Lexel again in a heartbeat.

George Claassen

Lexel came highly recommended by a friend who used them. I asked for an estimate, and they came right over and gave me a fixed price for my move, which was a single family home. My wife went online, applied for quotes from other movers, incl. ones she found on Craigslist. These guys all gave prices for about half the rate Lexel gave us. But, this was over the phone or by email, without them even seeing our house. I did some research, and found that this is a common trap in this industry. Give a lowball estimate, but charge for the actual work time etc. You also have to wonder how fast or slow does someone work when they are getting paid by the hour instead of by the job. Lexel showed up on time, 4 guys, very friendly and they worked very hard. They didn't take a break or stand around. They were all moving along and got all our stuff loaded into their big truck. There wasn't room for another chair by the time they were done. They drove to the new house, where we met them, and they went out of their way to make sure everything went to the right room and was put in the right place. When it was all said and done, it took them just about the exact amount of time as we were quoted. Efficiency for you. Also, it was written in the contract, that if they took any more time to complete the job, we would not be paying more. It was a fixed price. The other quotes we got was for a lot less time. There is no way anyone else could have done the same work in less time. Hence, if we went with one of those low quotes, it would have cost us a lot more anyway. My advice, get a fixed price quote. Moving takes up a lot of hours. Make sure they will be bringing enough movers. 2 guys will take forever to move a medium size home's contents. Ask if they will assist with assembly and disassembly with furniture etc. This can be key as pros can do this in no time, where someone like you or me could take forever and break a nail. Also read their reviews online. There are a lot of shameless contractors out there. Otherwise you could be kissing your ******* goodbye. All in all, a very good experience for something that is very stressful. These guys made it seem easy. Highly recommend them.

Wen Bass

These guys are awesome!!! Shootout to Alex's team - Alex, Daniel and Tim were super fast and efficient. They moved our 1 bedroom apartment in literally no time. It took them 2 hours to load everything on the truck and 1!!! hour to unload into our new apartment. All the movers were friendly and professional. We had all our boxes packed and ready to go for them - which definitely made it quicker and saved us some $$$. Will use Lexel movers again next year for our move to New York!!!

Yuk Clarke

Our movers arrived on time, work hard and didn't take any breaks. They protected all the furniture (including expensive leather living room set). We were impressed by the speed these folks were moving things to the truck. We have been hiring movers every 2 years for the past decades and Lexel Movers has been the best experience so far. We will be moving from Boston to New York in the next couple years to be with our children and we will definitely contact Nick to help us move! Thank you Nick and our moving crew for making our move as easy as it can be

Alease Ramirez

Updated review: manager Ross called me and apologized for my experience and made the situation right. I really appreciated the customer service and work with Ross next time you want to move with Lexel Movers. We agreed on miscommunication that happened via email and I was able to understand that I should have informed about the tight access and couple over-sized items when I was asked to. Movers were professional and courteous with my items - I highly appreciate it!

Emily B.

We had the most amazing moving experience the other day thanks to Nick and his team from Lexel. We haven't had the best moving experiences in the past, and...

Gabriel Alex

The absolute best moving company in Boston! I highly recommend Lexel Movers if you want someone professional, careful and attentive to handle your move. These movers are top notch!

Brandon Simas

Move to day with Lexcel I was pleasantly supported they came early and finished early! They treated all my iteams with care and where very professional! I would nightly recommend Lexcel moving!

Ricka G

Same-day service. Awesome!! They were extremely efficient and extremely down to earth. The rep we spoke to on the phone was wonderful and explained everything in detail. Quick and easy booking. Got the job done very quickly and took excellent care of our things. Would DEFINITELY use again if/when we move!! 100% recommend!! Very satisfied customer :) !

Srikkanth Govindaraajan

Had to relocate from Boston to Chicago. Alex from Lexel made it very easy for us to get a free estimate immediately. Once we made the booking, 5 guys came on the day of the move on the agreed time. It took them 2 hours to wrap up our 2 bedroom townhome. Everything was wrapped and handled very carefully and the people were very professional. We had opted for storage for a week. Upon reaching Chicago and finding an apartment we called them for delivering and they promised to deliver in 2 business days and delivered on time. This time it was 2 men and took around 2 hours to unload and assemble furniture as well. Very minor wear and tear but Overall I'm very happy and satisfied with the service. I would definitely recommend lexel for in state or out of state moving.