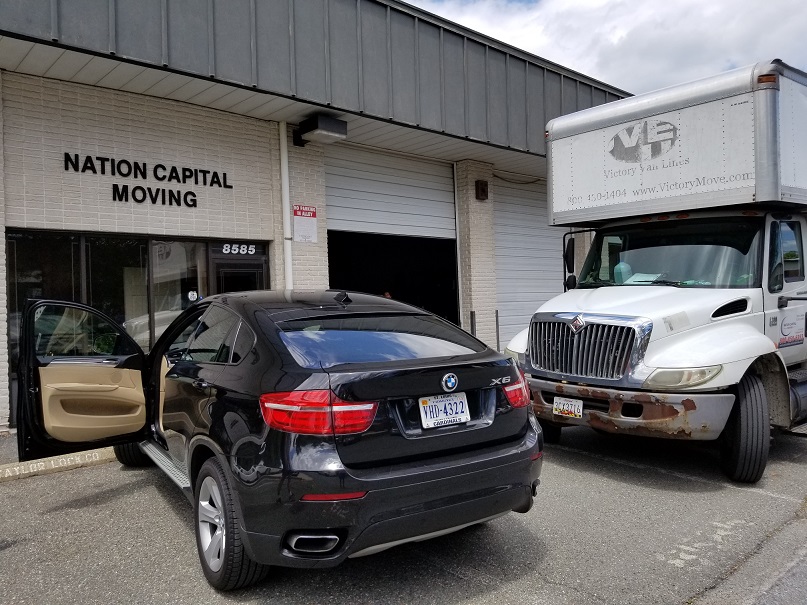 Nation Capital Moving, LLC
1

Years in Business

4

Trucks

19

Workers
Detailed Rating

Kindness

Precision Time

Problem Solving

Pricing

professionalism

We are dedicated to complete client satisfaction, whatever it takes to make our clients happy we are working above and beyond to achieve this goal. We love helping our clients move to a better home. We understand it can be difficult to transition to new homes in new places, we want to act as a tool for our clients, someone to lean on for peace of mind during a time that can be very chaotic, emotional, and exhausting.​

Services and Handling

Packing

Unpacking

Local Moving

Long Distance Moving

Storage Services

Piano

Appliance

Auto Transportation

Commercial Moving

Moving Labor

Box Delivery

Wood Crate - Art & Antique

Special Handling

Disposal Services

Hoisting Services

Compliance

General Liability

Policy: TCP0001003-00
Coverage: $2,000,000.00

Automobile

Policy: TCP0001003-00
Coverage: $1,000,000.00

Cargo

Policy: TCP0001003-00
Coverage: $100,000.00

Licenses

| Branch Name | Address |
| --- | --- |
| Nation Capital Moving, LLC | Nation Capital Movers, Atlas Drive, Gaithersburg, MD, United States |
Reviews

Katie James

Great moving experience! Very nice and explained everything with pricing. Efficient and hard working. Took great care of all our items. They worked nonstop for 7 hours straight. I would book them again. Peter will make your move so less stressful. Worth it! Thanks guys!

Linda Robinson

These guys were great. They showed up right on time and were very professional. They worked hard and made sure all my belongings were safe. I would use Nation Capital Movers again if I need and would recommend them to anyone. Thank you for your hard work and getting the job done in a timely manner.

Vera Solomon

Moving with these guys was a breeze. They took care not to damage any of my property and made everything feel simple. Which is exactly what you want because moving is stressful enough all ready. They have reasonable and affordable prices and were easy to work with. Would definitely recommend them and use them again! THANK YOU

Amy Melvin

These guys rock! Really appreciate the business and professionalism. These guys have the best prices and will handle any moving need that you have. Clean uniforms and a crew of happy employees that were friendly and treated all of my stuff with care. Highly recommended!!

Bianca Skinner

The crew that was sent to me demonstrated great skills and keenness to details; they knew exactly what to do at the right time and in the right way. They are aware of the regulations governing the moving industry, which was helpful because they adapted well to remain on the safe side of the heavy truck loading regulations. They are very dependable and always do a commendable job. There is no other moving company that I will call for any of my colleagues, friends or family.

Dana Lang

They made me feel at ease from the moment they got there. It's scary to have people you do not know come in and pack all of your belongings, they made me feel comfortable from the get go. My driver and his helpers worked hard and wrapped my furniture in blankets inside my house. My things arrived in the date range gave to me and in one piece. Select Nation Capital Movers made a stressful time for my family a lot less stressful!!

Elmer Steel

Greatest moving experience ever! We had three gentlemen assist us with moving. They all were amazing. Got everything moved fast and efficiently and were pleasant throughout the entire process. I will definitely call them when it's time to move into our house! Thank you Guys!!!!!

Sarah Wingfield

They were extremely professional. The came right on time, and moved us as efficiently as possible. In fact, they were so fast that we had no idea where they packed anything - haha! No up charging whatsoever! We will definitely use them again.

Gilbert Patterson

They were amazing! They went above and beyond to help me move everything to my new apartment. Would recommend to anyone looking for great movers at affordable prices.

ashley S.

Moving across the country is stressful. Great Nation made things so much better. I read horror story after horror story about every moving company on Yelp,...

Mary Richardson

The most incredible moving company EVER! They were amazing. They both handled my life in boxes with genuine care and were very helpful. Who work in the office were also wonderful as well. Nation Capital Movers really helped to eliminate the stress of moving and I HIGHLY recommend this company.

Stacey Chattsworth

So thankful for Nation Capital! They were professional and prompt from start to finish. I was very impressed with the quality of the packing. It was very cold when I moved and I'm not sure how I would have managed. The workers did a great job despite the weather. Everything was in good condition when it arrived. I'll recommend these guys to anyone!

Phil Lambert

Recently moved to Gaithersburg through Nation Capital Moving and the process was very easy. Their workers were very friendly. They worked very quickly and everything was packaged professionally. The crew was a group of four guys and they were on time, polite, and organized. The cost was a little higher than our budget, but its worth it when you don't have to pack a single thing and you've lived somewhere for 5 years. Thanks Again!!

Derek Hughes

LOVE these guys! They made my move SO easy. I would highly recommend them to anyone needing movers. They were fast and efficient. Plus they are SUPER affordable no BS! Thanks guys!

Sam Pharr

This was the best moving company I have ever used. Not only did they move me on a Sunday but they were nice, quick, and careful! They communicated with me they say they came and throughout the process. I would recommend them to anyone anytime! Seriously. So amazing. Thank you!!!!! So easy to work with and great crew they sent! Thanks guys.

Darlene Pacheco

These guys are hands down the best moving experience I have had. I found them on Google and would refer them to others. The communication from him was great and even was able to reschedule are move date because of us not being ready. His crew was professional and even called us by name. I have worked in the trucking business and can say their equipment is top notch with plenty of blankets. We litterly had zero items scratched or damaged. We had zero parts of the house get damaged. They moved super heavy items including working a heavy double recliner couch down a tight basement stairwell. They didn't even stop to take one break in order to keep moving and the time spent to a minimum. I would suggest getting a min crew of 3 if not 4 or all 5. They were even able to use tools to break down furniture that was too large to take out of rooms and when we go to our new place they put it back together. Top notch!!!

Robin Baskin

Best movers ever! They were very courteous & friendly, on time, fast & efficient, very careful with our possessions, disassembled & reassembled beds & tables quickly & correctly. Price was fair, matched their quote, & way less than anyone else. If you want quality movers that will exceed your expectations at the best price, then hire Nation Capital Movers!

Kellie Burrowes

Nation Capital Movers came in with a very affordable bid and did an excellent job too. They showed up on time, got right to work, and did everything quickly and without any issues. Good company all around! Definitely give them a look if you're in need of moving or assembly services in the MD area.

Antionette Dudley

These guys moved us in some nasty weather but did a tremendous job!! The move went smoothly and took less time than estimated. We had 4 guys move us. They were all professional and STRONG! Thanks for a fantastic move, we will use your services again.

Mary Garcia

Nation Capital Movers is a great moving company. Both times that I moved they were 2 hours on the dot. The movers don't take their time and hustle throughout the move. Both of my movers were actually running up and down the stairs. Even items that were difficult to move were moved in an efficient manner into a 3 story town home.

Corey Reed

I highly recommend these guys and highly recommend hiring movers if you're on the fence about it!They had availability for my last minute decision making and were super flexible. This was the best money I invested in moving. The guys were professional, friendly, quick and careful.

Gena Kruse

These guys even worked while they were eating their lunch. They couldn't have been nicer, and really cared about how items were packed and loaded. The whole experience was a breath of fresh air and certainly appreciated. I will definitely use them from here on out with all of my clients. I should also mention that my initial contact was with him, who showed up with the crew for introduction and then he left to let them take care of the move. Very happy customer.

Candice Perron

Moving is incredibly stressful and all you want is a reliable mover you can trust to show up when they say they will and no surprises in the bill. Nation Capital Movers didn't provide me with the cheapest cost estimate, but once I looked up reviews of the movers that offered lower prices, I figured it was best to pay more for an org with mostly positive reviews. When I moved from VA to NY, Nation Capital Movers did all of these things: communication was easy and prompt, the movers did a great job, and everything went exactly as planned.

Roy Torres

I would like to thank Nation Capital Movers for making it as easy as possible to provide us with their excellent service and kind, caring, and helpful movers. Thanks to office staff for arranging our move. They made it very easy for us and we didn't have to worry about anything. On moving day the three men who moved our belongings were very professional, respectful, kind and caring individuals. They were hard working, efficient and neat workers. Thanks to all of you. We highly recommend you to anyone who wants a great moving Company. Thank You,

Anna Escalante

This company's service is excellent. They were very careful with all my furniture. They treated me like they were concerned about my needs all the time. They sent me status of my stuff every day and delivered my belongings on promised date and I really appreciated this. I would like to recommend them, they are reliable movers.