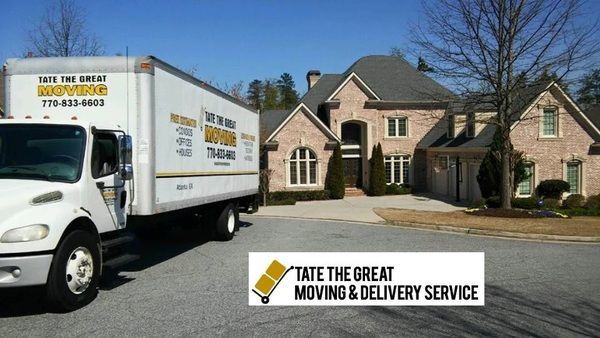 Tate The Great Moving Company, LLC
10

Years in Business

0

Trucks

20

Workers
Detailed Rating

Kindness

Precision Time

Problem Solving

Pricing

professionalism

Services and Handling

Packing

Unpacking

Local Moving

Storage Services

Piano

Commercial Moving

Moving Labor

Box Delivery

Wood Crate - Art & Antique

Compliance

Licenses

| Branch Name | Address |
| --- | --- |
| Tate The Great Moving Company, LLC | TATE THE GREAT MOVING COMPANY LLC., Georgia 85, Fayetteville, GA, United States |
Reviews

Shelly R.

Great experience. I hired a three man team and had two stops, an apartment and a storage unit. Once they arrived, they moved very quickly and worked closely...

C B

Friendly, prompt, and fast! I highly recommend Tate The Great. I had a small moving task moving a piano and some exercise equipment. The movers were very nice and did a great job. I would definitely use them again!

Steve B

Dexter and his team did a great job. The six of them worked very well together. My wife and I thought the move was a big one as we moved out of an apartment and two storage units into a 4 BR house. It took 11 hours, and none of the guys ever complained. I wouldn't hesitate using them again.

Callie Lensing

Tate the Great provided the poorest moving service that I have ever experienced. They were not timely, had no sense of urgency, and did not seem to have the knowledge professional movers should have. I highly discourage others from using this company. Quality: Tate the Great assures that they will move your things "as fast and as carefully as possible." This was absolutely not true. 1 of the 3 men provided embodied this attitude. The foreman of the team seemed like this was his first move ever and took no initiative. He was extremely slow and did not seem to know what he was doing; he also could barely lift heavy items. As an example of his ineptitude, he was unable to disassemble a bed. A professional mover so know how to take a bed apart very quickly. He also spoke later about how he'd been in the truck eating (while I was paying him by the hour). Customer service: Very poor. The movers were not professional and spent a great deal of time talking about their personal lives, such as their 1099s, their lunch, etc. I realize people like to visit, but when someone is paying you by the hour, be respectful of time. Timeliness: The movers were 45 minutes late due to a paperwork error. I would have been willing to look past the tardiness had the movers provided high-quality work. They did not. When the foreman arrived, he predicted 3 hours to complete the move. It took 6.5 hours to move a 2 bedroom apartment less than 1 mile down the road. There was some walking involved, but I feel certain at least 2 hours could have been shaved off the time had the workers not been checking their cell phones on their walks to and from the moving truck. Unacceptable and unprofessional. By the end, I and two other adults were working harder than the moving company. It should not take 6 adults 6.5 hours to move a 2 bedroom apartment. It is egregious that it took so long for my move to occur. This is a terrible company and I will be discouraging online users from using Tate the Great Moving. People pay $105/hour to get professional movers who know what they are doing and will take charge. Tate the Great did neither of these things.

Kizzie Crawford

This company is one of the best companies in town. If you are looking for a reputable, professional moving company that won't break the bank this is the company. The owner is wonderful.

Coach Armando Powerhouse Torres

The owners run this company with HEART!

Mallory K.

These are the NICEST guys, and this company provides AMAZING CUSTOMER SERVICE! The moving company I had hired cancelled the day of, and I'm glad they did,...

Katie DuPree

Can't say enough great things about this company and its staff. I've used them for two recent moves and have been very impressed. Professionalism - 5 stars Communication - 5 stars Efficiency/Quality - 5 stars Moving is never a fun process, but at least these guys make it easy!