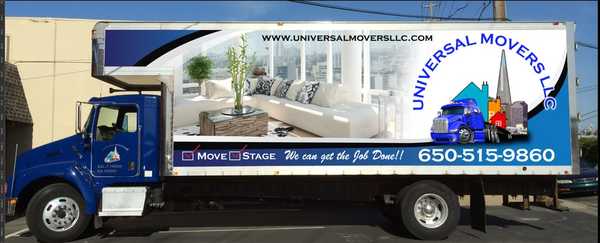 Universal Movers, LLC
10

Years in Business

4

Trucks

6

Workers
Detailed Rating

Kindness

Precision Time

Problem Solving

Pricing

professionalism

Universal Movers has been in the business of professional moving services for over 10 years. We have many great references and have the highest experience to satisfy any of you moving needs big or small. Universal Movers moving services diligently follows and compies with the regulations by the Department of Transportation, we add extra value to your moving experience. We carry all licenses to serve you safer and quicker. Universal Movers offers same day moving services for entire Bay Area. We are here to accomodate your tight schedule with our ever ready moving team. We also offer CA licensed and insured staff for any unexpected incidents!

Services and Handling

Packing

Unpacking

Local Moving

Long Distance Moving

Storage Services

Piano

Appliance

Commercial Moving

Box Delivery

Special Handling

Disposal Services

Compliance

Licenses

| Branch Name | Address |
| --- | --- |
| Universal Movers, LLC | Universal Movers LLC, Railroad Avenue, South San Francisco, CA, United States |
Reviews

Madeleine F.

Love the team at Universal Movers, I recommend them to my clients. They do a professional job and do it right. They moved one of my clients from a high...

Dave Lessing

I run operations at an independent school in San Francisco, and I asked this company to do two moves for us in August 2017. They did an amazing job -- fast, efficient, professional, and very friendly. The guys are great!! I also appreciate the fact that their pricing is reasonable for a mover that is fully insured. I highly recommend this company to anyone who wants a dependable moving company at the right price.

Grace Ko

These guys are awesome -- fast, efficient and price competitive (for a mover that is fully insured).

Linda P.

I highly recommend this moving company I contacted this company for an advance move date. They sent me confirmation & followed up with confirmation text up...

Marco S.

The team of Universal Movers LLC are complete professionals. Antonio and his boys treated my furniture as if they were their own. In a very friendly manner,...

Jerome C.

We had a great experience with Universal Movers, and I recommend them to anyone who want some quality service! We contacted them for an estimate (which was...

A Y.

I really had a wonderfully positive experience with Rudy & Francisco. They were both fast, efficient, and careful when moving items as well as keeping track...

Jillian B.

Discount 5 reviews yelp = 100 $ Sale Reviews Yelp googl facebook We write reviews, promote your companies We will also help get rid of competitors Replace...