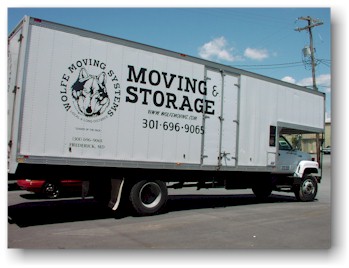 Wolfe Moving Systems
17

Years in Business

4

Trucks

12

Workers
Detailed Rating

Kindness

Precision Time

Problem Solving

Pricing

professionalism

After planning and completing thousands of moves across Frederick, Wolfe Moving Systems Inc understands that we are not just transporting things, but moving people's lives from the old, to the new. Whatever your move requires, our experienced crew knows that no two projects are alike and that each client has particular needs. We offer expertise for planning your move and can handle any moving challenge with practical solutions and professionalism

Services and Handling

Packing

Unpacking

Local Moving

Storage Services

Piano

Appliance

Commercial Moving

Moving Labor

Box Delivery

Wood Crate - Art & Antique

Special Handling

Compliance

Cargo

Policy: Q460830177M
Coverage: $20,000.00

General Liability

Policy: Q471551223
Coverage: $1,000,000.00

Automobile

Policy: Q031930064
Coverage: $1,000,000.00

Workers Compansation

Policy: Q911600599
Coverage: $1,000,000.00

Licenses

| Branch Name | Address |
| --- | --- |
| Wolfe Moving Systems | Wolfe Moving Systems Inc Frederick, MD, East Patrick Street, Frederick, MD, United States |
Reviews

Kathy S.

Wolfe's are fantastic! Such great personal service at a very reasonable price. They moved my daughter to Washington DC this morning and we were extremely...

Annie C. Enriquez

I have used wolfe moving for 3 moves now, 6 years apart. Great movers, great price, efficient, friendly guys, really pleased. They just do great work.

Carolyn

On 23 June 2017, Wolfe Moving System completed my local move. Approximately one week prior to completion of the move, Chris (the owner), conducted a walk-thru of my home and provided an estimate. The estimate provided was reasonable and competitive with the other quotes that I had received. The day of my move, the team arrived on time and worked quickly, but efficiently to complete my move. Any issues or concerns that I had were immediately addressed by the team leader (Jermaine). Overall, my experience with Wolfe was positive. I would definitely use their services again, and I have already recommended them to a co-worker.

Steve Rondeau

Very pleased from start to finish. Got a reasonable quote including options on the number of crew. Made the appointment for a week out and was surprised there were no conflicts with day & time I needed. Opted for a 2 man crew since the primary purpose was to move heavy furniture only. I choose to move the small stuff myself over the 2 days before. No appliances needed to be moved since we were moving from one rental unit to another. Not certain when the crew left Frederick but they were about 30 minutes later than expected - not a big deal. The guys who came were very good about organizing and doing the work without delay. Hot, humid day but they did not take a break until close to two hours into the move. They also had to deal with the unexpected task of taking a desk apart to move it (I had put it together in the room & did not realize it would not go through the door). They put it back together when they moved it to the new apartment. The unloading went well as they moved everything where we asked them. They also were understanding about my requests to use the rug sliders/protectors for the heavy pieces. They also took care with my request to watch out for a few pieces which could be classified as antique. No damage to report on anything. The only thing I would change (or suggest to anyone else) is confirm the size of truck they were bringing. The brought a full size moving van which was actually more than what was needed. If I had realized that, I might have changed my mind about how much of the "little" stuff I would move myself. The job did run over from the estimate but most of that was due to the time to dismantle/reassemble the big desk. Very understandable and no problem for me to accept the extra charge. Thanks for a job well done!

Derrick Woolfson

If you need to move then you need to give these guys a call! We have used them twice, and will use them again. They are incredibly professional, easy to work with, which allowed us to not stress and worry when it came to moving day. I will gladly recommend these guys to anyone!

Mike Procuk Jr.

Do not use Wolfe Moving Systems. My 'simple' move which was just furniture and appliances turned into a nightmare. One of the three movers that showed up was sick and inexperienced (according to the owner) and not only caused extensive damage to appliances and furniture, but also damaged hardwood floors. The sick employee also caused the move to take about 1 1/2 times longer than the estimate, the owner made no reparations to make things right regarding this with me financially but admitted fault. I was given a minimal settlement based on the weight of the items damaged, but was not nearly enough to cover the damages done. Especially frustrating was the damage to a refrigerator which would obviously not fit through the door, but was tried to be forced through anyways. I had to intervene and remove the doors for them. Point here is that you get what you pay for and you should look elsewhere for your moving needs.

cecelia dalzin

Professional, courteous, on time, very easy move. Reasonably priced. Thank you !

Teresa D.

Very pleasant experience. Movers worked in a timely manner and all of my stuff arrived in great condition! Would definitely recommend to my friends

Mary W.

Chris and his team are the best! I should know -- because I've used Wolfe Moving at least six times in the last few years. Their rates are very comparable...