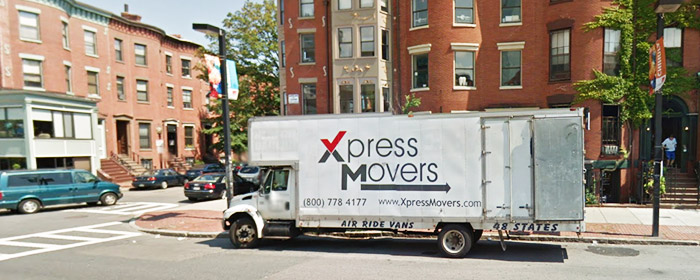 Xpress Movers
11

Years in Business

3

Trucks

12

Workers
Detailed Rating

Kindness

Precision Time

Problem Solving

Pricing

professionalism

Xpress Movers is a Full Service Licensed and Insured Bonded Moving Company committed to provide you with excellent service and handle your belongings with care. We understand that relocating takes enormous amount of time, energy and stress, that is why it is very important that all parties involved in the move understand who is responsible for what. Every move is strongly individual; It has it's own specifics. We will listen to your needs, offer suggestions and provide you with helpful moving information. Xpress Movers are licensed and registered with US Department of Transportation as a nationwide moving provider. We are also a member of the American Moving and Storage Association.

Services and Handling

Packing

Unpacking

Local Moving

Long Distance Moving

Storage Services

Appliance

Commercial Moving

Moving Labor

Box Delivery

Compliance

General Liability

Policy: NPP8183933
Coverage: $2,000,000.00

Automobile

Policy: 5003804
Coverage: $1,000,000.00

Cargo

Policy: IMP 672-40-45
Coverage: $20,000.00

Licenses

| Branch Name | Address |
| --- | --- |
| Xpress Movers | Xpress Movers, Waltham Street, Wilmington, MA, United States |
Reviews

Kimberly T.

These movers are great. They came back to me with a reasonable quote for a small move from NYC to Chicago. They were very communicative about dates and...

Richard Davis

What a terrific experience. The movers treated my furniture like it was their own. Each pieces was protected and taped. They were extremely polite and worked very efficiently. Their performance was amazing. I would totally use this company again.

Gary Savage

I only didn't give you 5 stars because of the early morning scare that there was a good chance that there would be a delay of my move the morning of my move and would have to be postponed for a day or couple of days. That was a tremendous amount of stress. I had to stay by my phone for hours and stress the importance of the move as I started my job the very next day. Move was suppose to be in morning, and did not arrive til mid evening....but at least you were able to find people after I was nearly in tears waiting all day to find out... The movers were amazing, were fast and efficient. I have no complaints as to the service I received other than the stress of the potential delay and feel had I not pushed and pushed the person on the phone how important this was, that it would have not happened. I will use you again and hopefully can give you the 5 stars!

Ramanujan Venkatadri

One of the worst company to choose for your move. They never come on time and also good are damaged with with careless handling. Never ever go with this for moving. They had told me they will come on Monday morning 8 to move my items from Michigan to Massachusetts, they end up coming at midnight 8.45 and my entire day was a waste waiting for them. And also while delivering the items initially it was discussed to get this on Saturday and last minute they told its not possible should be on Tuesday afternoon. The delivery guys where here by 10 instead of 12 to 2 window they mentioned started blackmailing that if am not in house in 20 mins they will charge extra money for waiting and also they told if I don't come they would go back and dont know when they would deliver. One hell horrible service and also one of the support lady was very rude when i tried to explain my concerns. Only guy to trust is Mr Mark in their Waltham office he is very nice and supportive.

Courtney Selfridge

They were on- time, courteous and fast. Who could ask for more?

Luba Ethan

Website says you move cross county, customer service says you don't. One is not matching up with the other and thank you for wasting my time.

Traci Wilhelm

BEWARE! I never write negative reviews but this is simply the worst company I've ever worked with. Almost everything they moved was damaged. I had them pack for me and all of my clothes that were hanging were dumped in wardrobe boxes, not hung up. On top of that, they told me my stuff would be delivered to NYC from Boston on July 5 and they showed up with someone else's things. After explaining that I had taken a day off from my brand new job, they said the soonest they could come back wasn't until the 11th! Then, they promised me I would be first in the morning and they would leave Boston at 4am on the 11th. Guess what? I got a call at 9:15 (I took the morning off...again) saying they'd be there at 2pm. Seriously?? It honestly took me longer to move from Boston to NYC than from Dallas to Boston. I paid rent on an apartment for 7 days that I didn't live it (in NYC that's a lot of money). To top it all off Annie, the owner of the company, acted like I didn't have a right to be upset. She said sarcastically that "she was sorry her movers packed the wrong items and she was sorry that her driver left late". This is a horrible business and I urge you to avoid this service.

Mark G.

its all good, There was no review done

JP Farrell

RUN AWAY!!!! They booked the job, changed the agreed date of the move, then sent me a contract, that read absurd terms and conditions (IE They get a parking ticket we pay!) When we couldn't coordinate the date they choose we decided to cancel. They refuse to refund our deposit!!!!!!!!!!!!!!!!!! BAD NEWS!!!!!!!!!!!!!!!!