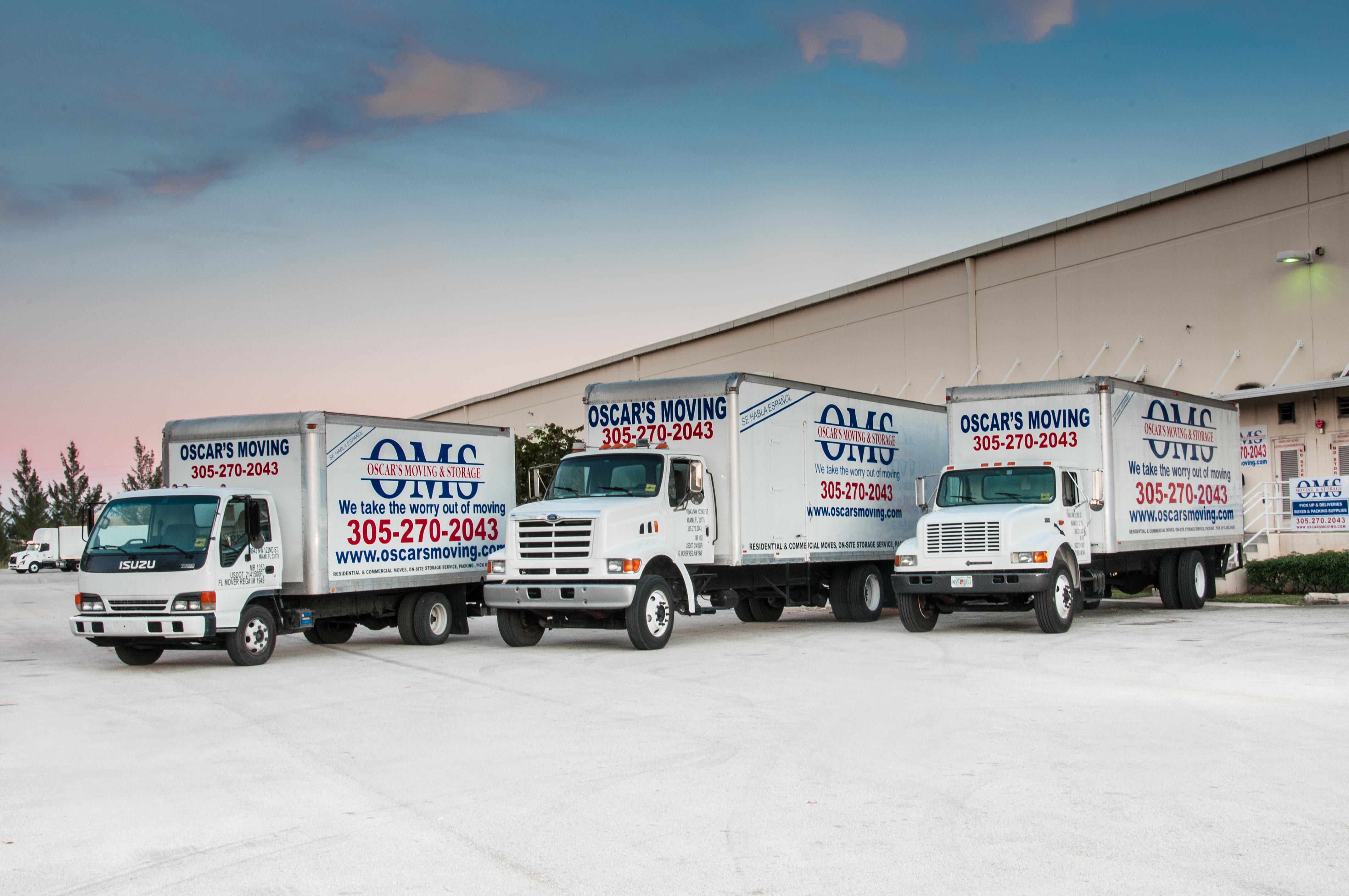 Oscar's Moving & Storage
30

Years in Business

1

Trucks

14

Workers
Detailed Rating

Kindness

Precision Time

Problem Solving

Pricing

professionalism

We invite you to join our growing number of repeat and referral customers, and see why Oscar's Moving Miami is one of the top-rated Moving and Storage companies in South Florida. (A+) Rated with Better Business Bureau, fully licensed and insured. Whether you're moving your house or office, our professional movers are ready to help you. No job is too small or too big for us, and as we are a family owned and operated company, we guarantee you a close supervision of all moving aspects to ensure your satisfaction. We know that you have more options, but you won't regret to trust in a company like ours, with very reasonable prices. Let the hard and heavy work to us. We take the worry out of moving!

Services and Handling

Packing

Unpacking

Local Moving

Storage Services

Piano

Appliance

Commercial Moving

Wood Crate - Art & Antique

Special Handling

Compliance

Licenses

0

Policy: 2141500
type:DOT

| Branch Name | Address |
| --- | --- |
| Oscar's Moving & Storage | Oscar's Moving and Storage, Miami, FL, United States |
Reviews

Lesley K.

Both of the movers were so helpful and friendly! I would definitely use them again and recommend them! It was such a stress-free moving day! Thank you!

Diana Hernandez

Wonderful attitude and care with our move. They were extremely patient despite being out for almost 12 hours non-stop working! They organized the boxes and furniture to maximize storage space and make everything fit. Would absolutely recommend and return for their help! Juan, Jonathan, and Roman made a great team! THANK YOU!

LAURA BECERRA

I don't like to do reviews, but this time I have to share the great experience I had with my moving, the staff very friendly, they took good care of all my stuff, for the first time in my life my new house was done and complete in the same day. I extremely satisfy with the service provided, moving was NOT a headache thanks to this company.

Maria Martinez

I contacted them at the last moment since I was not sure of the moving date, and spoke with Mary, who promised to call me back with information. And she did! Not like another company who said they would call and never did. Mary was pleasant and efficient. It was a small apartment and I had packed the little items so they worked on the furniture. The two service persons were cordial but respectful. They worked fast and tried to accommodate me as much as possible. We finished in record time and everything arrived safely! I hope I DON"T have to move in a long time (it's always exhausting especially with the hot weather in Miami) but if I have to move, it's definitely going to be with Oscar Moving. Ah! I gave them plenty of cold Perrier--poor guys were melting--but never complained. They made my moving experience a relaxing one. Thanks to all at Oscar Moving!

Ariana Alliegro

I highly recommend Oscar's Moving and Storage. This is my second time moving with this company and they have been very professional. All my furniture was wrap and protected before leaving my house, movers were careful uploading everything in the truck and unloading at the new home. Everything was delivered in the exact same conditions they were so I am very happy as a customer. I also have some furniture on hold on their storage and I have been there myself to check it out and honestly this place is very organized, big and most importantly clean. Thank you Oscar's Moving team for such a great work I look foward working with you again in the future.

Ale Diaz

Very bad service. They dont care about their clients, they just wanted tl make more money thats why they took too long doing my moving. They were charging me per hour. And I didnt have appt which means that there werent elevators.

Cari Molina

Great moving experience. The gentlemen were professional, hard working individuals ready for the task at hand. I will not hesitate to use this company in the future for moving needs. Very reasonable pricing compared to others we contacted. Great Job!!!!

Dosita R.

This company has been the best experience I have ever had in my life. I called on a friday and reserved last minute for them to come move me on a saturday....

Dosita Rodriguez

This company has been the best experience I have ever had in my life. I called on a friday and reserved last minute for them to come move me on a saturday. They came on time, were very careful with all my furniture, were dedicated and committed to finished on time and the price was more than okay for me. I would definitely recommend Oscar's Moving and I am very satisfied to do because it was impecable job. They also have storage in case you need to hold your furniture for some time. Staff over the phone is friendly and responsable.

Olga Wyatt

Horrific from start to finish. They broke lots of my furniture and they tried to fool me by making a fake frame to my bed. They did not tell me they broke the frame of my bed and fraudulently made fake pieces .. Luckily i caught them in the act. They stole many items from me and took a BOSE system. They then deny all the wrong doing giving me stupid excuses that are incridible. They ripped me off 2000.00 for a local move that was only 10 miles away from my new home. They told me they would provide me with a key and put all my belonings inside a crate to ensure i was the only one who had access to the cage but their excuse was that they did not know what size truck they had to bring to load up my belongings.. Really ?? Whatva great excuse. How are you in the moving buisness and not know what size truck you need for a particular moving when the owner himself came to my home and saw everything that needed to be moved.. So, no key meant they stole property of mines and destroyed my Ethan Allen bed in which im currently sleeping on the floor. Beware all the positive reviews are from people they know !!!!!! They are a nightmare and lie constantly ..... I will be posting pictures of all the damaged furniture and you can see the bed i own and the 4 plank of wood they made plus the 4 wooden legs to the foundation of my bed .. I have much proof.

Joseph Enriquez

Great Service and Fast. Showed up on time and made sure everything was wrapped carefully. Couldn't be happier with the service.

Edos Designs

Oscar's Moving and Storage did all the moving for my clients and I have to say it went perfect. I have an interior design company and I needed responsable movers to take care all these brand new and fragile furniture, to assemble, to place in the right spot and to finish on the dateline that we had. I have to take the time to recommend them because their effort and work is what we (clients) look for when we need specialist that we can trust. Movers were on time, responsable, careful and fast. They also had a supervisor going to both of my jobs keeping order and helping the movers. Thank you and will definitely keep working with this company.

Kaitlyn Szuba

Last weekend we hired Oscar moving company. The movers were extremely quick and efficient while packing and unloading our furniture as well as very careful not to damage our items. Their staff was also extremely polite and conscience of our limited time. We were able to finish the job in a little over 2 hours. We will definitely be using them again next time we move.

Alejandra Herrera

Excellent service, on time, fast and super responsible. Second time I use OMS and would do it again!

Katy Sol

Oscar's Moving and Storage was great. I posted a request for a quote to move and they got back to me within just a few minutes. The staff answering the phone was friendly and informative. I called at the beginning of the week to move that weekend and they were able to accommodate me. They sent me a quote through email right after our conversation. All you have to do to approve is hit accept. They showed up on time. All movers were courteous and for the most part cautious. One piece of furniture did get scratched. However, it was pouring down rain and they complied to our request to continue moving despite the terrible weather.

Richard Romer

Well organized. Excelent job. Gentle and kind. Reasonably priced

Leandro Bego

I've moved 4 times in 6 yrs so I had some experience with moving stress and these guys, by far, are the best! They help you out with every detail and work with you to get the best value possible for the price. Super professional and friendly service.

Aloma Conte

Professional Service. I really recommend. Everything on time, careful and really fast.

valentina544bbg ramsbott

We really loved the service! Super friendly and fast! This guys are a hit! 🎉🎉🎉🎉

catherine malvicino

OMS will forever be my storage and moving company. I had a great experience with all my furniture, everything was wrapped professionally, team was very friendly and fast. Manager took the time to take care of my most valuable furniture and I am so grateful for having such a great people around me helping me all day. Thanks a lot 100% recommended

Igor Pidkova

Pickup was quick, large industrial plaza was easy to get around but finding this place was a little difficult. Picked up one Zippy Crate in 30 minutes. No Overnight Parking on the premises.

India Prather

Highly recommended! This is my second time using OMS. The first time was for a local move in 2016. They were awesome, which prompted me to use them again for a long-distance move most recently (Aug. 2018). They offered me a flat rate price that was better than surrounding moving companies in Miami. Some of my items I left in crates because I did not want to transport those items to boxes and I left over 20 pairs of shoes in their shoeboxes. I was afraid OMS was going to tell me I would have to move those items myself; however, they quickly repackaged those items for me. They also handled my delicates with care. They were very careful with un-mounting my large TV. When we arrived to the new place, they worked very quickly to unload the truck; it only took them 1 hour to completely unload the truck and re-set up my large furniture.

Eduardo M.

They take care of everything, very good customer service and very careful with all my personal belongings, i hope i don't need to move again LOL but if i...

Maro P.

I needed storage and Sandy helped to set it up for me. She was great with giving me my quote and timeframe. Very informative about storing and using them...