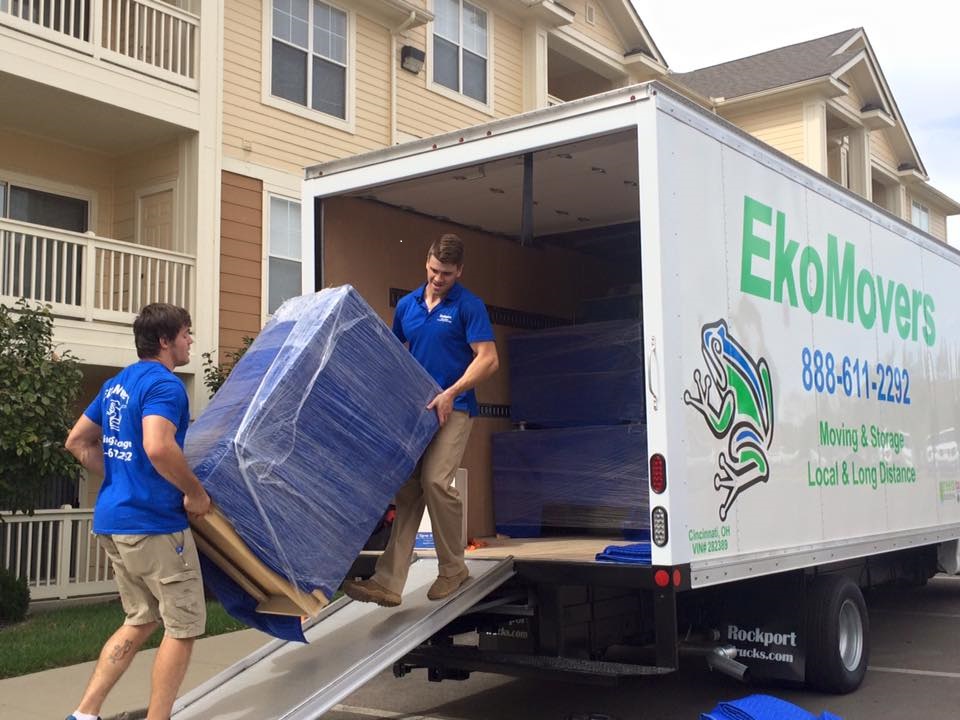 EkoMovers
9

Years in Business

1

Trucks

60

Workers
Detailed Rating

Kindness

Precision Time

Problem Solving

Pricing

professionalism

Our team of employees is made up of individuals who you can trust and here's why... Each employee we hire comes to us in the form of a referral. That person passes a background check and a very extensive interview process. Then, we take them around on a few moves and ask customers how they feel around the individual. We pride ourselves on the fact that nearly 100% of our team is COLLEGE EDUCATED. Not a must by any means, however, we have found, these individuals are great when it comes to conversation, and ensuring your belongings and family is safe! There are a few big differences in our quote and other moving companies. 1-We almost always use dedicated trucks. Nothing is on the box truck except your items. This gets your belongings to you as fast as legally possible. Our competitors use semis, the big 18-wheelers. They will have between 5-8 different moves on the semi at the same time. This is why they can't guarantee a specific delivery date. With a competitor, your belongings could take 7-14 days for delivery. 2-Our rate is a flat rate quote. The price doesn't change. We do not go by weight. We charge by the size of the truck. Our competitors all charge by weight. They give you one price and then demand more money after they load their truck and weigh it. They can quote $1,800. Then after they weigh the truck, it could be $2900. I highly recommend reading as many online reviews on anyone that you are considering. 3-The third reason is truly our service! Our customers have voted us the Super Service Award Winner on Angie's List where we are "A" rated. Only 5% of movers win this award...Oh yeah, we have won it NINETEEN times! 4-We plant a tree for every move! 5-We are Accredited and A+ rated by the Better Business Bureau!

Services and Handling

Packing

Unpacking

Local Moving

Long Distance Moving

Storage Services

Piano

Appliance

Auto Transportation

Commercial Moving

Moving Labor

Wood Crate - Art & Antique

Special Handling

Disposal Services

Compliance

General Liability

Policy: 05276791
Coverage: $2,000,000.00

Automobile

Policy: 5060835900
Coverage: $1,000,000.00

Workers Compansation

Policy: 05276791
Coverage: $1,000,000.00

Cargo

Policy: 05276791
Coverage: $100,000.00

Licenses

0

Policy: 2460035
type:DOT

| Branch Name | Address |
| --- | --- |
| EkoMovers | EkoMovers, Northland Boulevard, Cincinnati, OH, United States |
Reviews

Joel C.

I have used EkoMovers for three moves in 18 months: CA to DC, DC to TX and the final one recently inside Dallas. There's are numerous reasons they have...

Unique Wright

I could go on and on about this awesome service! I will definitely recommend them to EVERYONE! They were bright and early, busy tailed and wide eyed at the EXACT time they said they would be. They were very professional at all times. They were done in exactly 2 hours, despite me being less organized than I would've liked. And there were NO hidden fees! Best customer service I've received in quite some time quite frankly. I'll definitely use their services in the future.

Dale Cain

First off, they were supposed to arrive between 9:00-10:00 and they arrived at 10:45. As a result of being late, instead of getting loaded before the rain started, they had to load during the rain. According to our contract, we were supposed to have 3 men and a 26 foot truck. The 3 men were very courteous and worked hard. However, the problem was they sent a smaller truck (22-24 ft.) which resulted in the movers leaving items that they couldn't get into the truck. I had left the site before they were finished loading so imagine my surprise when I had to make 3 trips (35 miles each way) to get the items they left. Even though the bid for the job was fair when I had to include 210 miles for the 3 trips and the better part of a day of my time on top of the price it really wasn't that good of a deal at all. If they would have brought a 26 foot truck everything would have easily fit.

William Herring

Thank you for making my move smooth and easy. I called Ekomovers to get a quote for my move and from there the process was just as described on the phone to move my family. They arrived within the window that they said and got us moved to our new place. Thank you Ekomovers! I highly recommend using this moving company!

Bailey Wilson

At first we thought we had a positive experience with EkoMovers. However, the movers dropped our washing machine trying to get it on the truck (we watched them do this) and did not admit there was any damage (or even that they dropped it for that matter). Instead they put it facing forward in our garage against a wall so we couldn't see the damage. It wasn't until we tired to use the washer that all the water was pouring out the bottom through a massive hole from it being dropped. Because I didn't file a claim within the 30 day period (because we hadn't hooked up the washer yet), they refused to do anything about it. The washer was only one year old. Very frustrating and poor customer service if you ask me.

Janice Ebert

Words alone cannot convey how much I appreciate these fine people. At a really bad time in my life I turned to them for help and they never let me down. After my husband's death they immediately came and took enough furniture etc to get me okay in a home we already owned in Ohio. then they came back and packed up a large home completely - brought eberything to Ohio. Part of the move was put into storage - the rest into a new home not really ready for occupancy. I really dont remember how many times they came back but finally all that is left is part of a storage locker. They were very careful - they moved our organ - my husbands grandfather clock he had built andI cherished - my good china I brought home f rom England on my lap in the airplane over numerous trips - and every time I have needed help they appear and do every thing needed well and within my budget . Ir ia now 11 month since the initial move. Sometime in September I will have them come and finally clean out the storage locker and get everything under one roof again. I can never ever thank them enough. I could never have afforded to have any other company do what they did. I feel as though they are now part of my family and I am eternally grateful to them. During the hardest part of my life they made it happen and by myself I could never have accomplished this move. From Randy to Cornelius each and every one of the people I have come into contact with has helped me and treated me well and I will be eternally grateful to them during one of the most difficult times in my long life. Thank you all.

Brian K.

It finally happened - I had that moving experience you read about in angry reviews and never think is actually real. tl;dr - Extremely careless movers I...

Scott Quenette

Slow, broke stuff, my wife had to help them because they weren't strong enough to lift some stuff. Pretty much the worst moving experience we've had. Paid hourly and took twice as long, costing me nearly double what I expected and I still had to rent a Uhaul and get another truckload because they couldn't fit it all. Supposed to call Monday to resolve broken items at which time we were going to discuss the lack of experience of the movers and still haven't heard back. Literally could have gone on Craigslist and found better movers.

Jackie Bush

I just had the EkoMovers team move me cross country, and I have to say this company did a great job packing, unpacking and placing my furniture where I wanted in my new home. With my husbands job we move every 2 years, so I will definitely use your company for our next move. Thank you, and please tell the guys thanks for all their hard work moving us.

Amanda Perkins

These guys were great! Punctual, professional, and very knowledgeable. If you can request a mover, I suggest Josh 100%...the guy is a beast! I highly recommend using EkoMovers...and they plant a tree for every move they do!!

Sarah Gonthier

Used eko movers to help me move into a new house. Spoke with a lady named Sarah and she was great at helping me set up the process. The movers were nice and awesome with moving my things. Would use them again in the future.

Amelia Place

I used EkoMovers for a local move about a week ago and they did an AWESOME job. I spoke with Sarah in the office and she was very kind and helpful, answering any questions I had. It was such a fast and painless experience for such low rates! I would definitely reccomend EkoMovers to all of my friends and family. The guys were fast and efficient, the staff was friendly. I wish I was able to give more stars. Thanks for such an easy move, EKO!!

Jessica G.

We closed on our house unexpectedly and scrambled to find movers within a week. Ekomovers came to the rescue. Our 3 movers James, Cliff and Michael were the...

Thomas R.

Worst movers ever!!!! These stupid people arrived 4 hours late, then they proceeded to move everything by hand with NO dolly. They had to move boxes one by...

orrrich

I read all the reviews before booking and I assume you will do the same and weigh the risks. My advice is to cover yourself and take all the insurance you can. You are a transaction and your personal belongings mean nothing to them or the insurance company. I have never hired anyone for a long distance move so I would say I had a great experience until the actual moving day. The truck showed up several hours late so everything was rushed. The truck size was underestimated so based on the weight of my items, so late on a Sunday afternoon and ¾ loaded I'm told that I need a second truck (at an additional cost) and they would have to wait because only one crew member was licensed to drive. It was agreed that they would load everything and balance everything out when the second truck arrived. Because I had pets to contend with and several hours of driving ahead of me I locked up and left them with a handful of small items to go on the truck including an antique chair. They obviously closed the doors and left the remaining items in the yard as soon as I left because my neighbors held the items (including the antique chair) for me (I had to fly back and rent a one-way car). The delivery seemed to go well and I didn't detect anything until I began to unpack. Boxes of antique china had been dropped and contents broken. Antique mirror broken. Hardware to furniture taken apart all lost. Scratches in furniture. An antique cabinet leg had been broken, wrapped in packing tape and a board shoved under to hold it up – didn't notice until weeks later when the painters tried to move it. So after I tallied all the damage and got repair estimates EkoMovers wash their hands of it and defer to the insurance company who denied my appeal three times. They only offered me $60 because the insurance was solely based on weight (I was asking under $2k in compensation). The one china piece alone will be over $300 to replace. Realistically, I expected there to be some damage. What bothers me the most is the lack of care the movers showed to my possessions. Leaving items and not telling me. Damaging items and not telling me. Loosing hardware that I might need to reassemble the furniture they took apart. Hope your move goes better.

Danae Ellis

Their performance is unstoppable! And their quality of work is of someone treating your possessions as if it were their own. #MovingCompanyOfTheYear!

Jeff B

These guys are legit. Incredibly nice and courteous, prompt and efficient with their time. Price is extremely fair and they really take care of your belongings as if they were their own things. We have used them twice and they were awesome both times. Tim and his staff are friendly and clearly here to serve you in your time of need. If you go anywhere else for movers you are missing out.

Lynnette Leffall

My roommate and I had to move from Athens to Columbus and the movers were phenomenal!!! Two guys were able to move two apartments worth of furniture and boxes and not damage one thing! I will be using them whenever I need a move. You won't regret them! I promise.

Kyra Stepney

I moved from Athens to Columbus with this company and absolutely loved them! They were so friendly, professional and extremely efficient in getting the job done! I would recommend them to any and every one because they were truly a God's sent! Thank you EkoMovers! You guys were awesome!