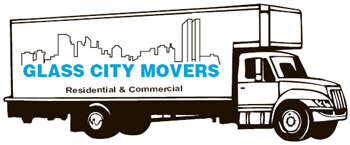 Glass City Movers
16

Years in Business

7

Trucks

15

Workers
Detailed Rating

Kindness

Precision Time

Problem Solving

Pricing

professionalism

Ensure the safety of your valuables when you rely on the professionals from Glass City Movers for your moving, packing, and delivery needs. Our family-owned-and-operated team is proud to be from the Toledo area. Let us put 17 years of industry experience, the lowest rates in town

Services and Handling

Packing

Unpacking

Local Moving

Storage Services

Piano

Appliance

Commercial Moving

Moving Labor

Box Delivery

Wood Crate - Art & Antique

Special Handling

Disposal Services

Compliance

Licenses

Policy: 152401-H6
type:State Authority

| Branch Name | Address |
| --- | --- |
| Glass City Movers | glass city movers, Tremainsville Road, Toledo, OH, United States |
| Glass City Movers | Livonia, MI 48150, USA |
Reviews

Christie B.

Glass City delivered a mattress and foundation for us from Saatva Mattress Co. I could not have been more pleased. The gentlemen were professional and...

Tamara Bilson

Our company hired Glass City Movers to help us move from a larger office to a smaller office because of our downsizing. Our papers and files had to be packed and moved to a secure location for archiving and furniture had to be moved to the office location. We spoke to Terry who was our POC for all matters related to the move. The moving crew, Nick, and Fred sent for the move were very professional. They ensured proper coordination with our staff so that the correct boxes reached the archival location and the rest to the office. We're grateful for the high quality of services provided. We highly recommend them.

Stacy Graves

I will use Glass City from now on. The crew was quick, efficient, and friendly. The quote I received over the phone was within the expected range and there were no surprises. They treated my things and the houses with respect. Nothing was damaged, and they were done on time. No complaints, just praise.

dorothy shaun

I recommend Glass City Movers for a residential pack and move. They did my pack and move and were professional and thorough. The movers, Nick and Brian packed everything carefully the day before the move. They were on time on the day of the move and did an excellent job with the unloading. My vote for reliable movers goes to Glass City Movers. I will definitely work with them again.

Sara White

We have used Glass City Movers for multiple large moves and some small moves. I am very sad to say that our last move from the Midwest to New England was less than acceptable. Cliff was awesome, Nick, not so much. He was extremely rude on several occasions. After the move was finished, we found that our vintage stereo console had been chipped. After calling Glass City to ask if they could search the truck just to give us the original piece, we received no responses and once we called them, they told us they had already told us there was nothing they could do, "accidents happen." Someone moving from New York also lost a piece that was supposed to go with them, we ended up with it and were told "not our problem, it's yours now." We didn't even bring up the broken veneer on our entertainment center. This move was hard emotionally, and this company did not make anything better. Save yourself some time, pay some extra money, and make sure you have a satisfying move.

Patricia James

Glass City Movers did a superb job with my move. I was very impressed with their services. Nick and Fred were the helpful crew who went ahead of their duties to help me with the furniture. I had a lot of furniture, and some of it was very old. Thanks to Glass City Movers, it was all transported safely.

Kelley Richmond

When I wanted to move and was looking at movers I could choose, Glass City Movers popped out as one with a lot of positive testimonials. I wanted to have a word with their office staff about their moving procedures and called up. I spoke to John and I was convinced I was making the right choice. Their positivity and commitment to making sure your move is done well stand out. Thank you, Glass City Movers. You did a very professional job with my move.

Jennifer Carroll

While planning our move, we had our own transport but we needed someone to load the vehicle. We tried calling vendors for only loading but we found it difficult to get people. It was really godsend that Glass City Movers responded positively. They agreed to help us load our stuff into the vehicle. John, from their office, was very positive while talking to us and his confidence convinced us that this was a good vendor. The crew came right on time and within a couple of hours, our furniture and everything was safely loaded in. Thank you so much for coming and bailing us out. We really enjoyed this experience and we can't recommend you highly enough!

Donald Hernandez

We hired Glass City Movers to help my parent's move. The movers, Derrik and Stratos were friendly and courteous. They packed everything very carefully and unloaded everything. They went out of their way to ensure my parents would not have any problem. I am very grateful to them.

Dorothea Colon

We used the services of Glass City Movers to help us move from our apartment to a bigger one outside Toledo. We wanted movers who would also provide packing services and Glass City Movers provided a very competitive quote. Talking to John assured me that the move would be smooth. Our moving crew, Kevin and Nick, ensured that the packing was well done and the move was smooth. Thank you so much for your help and excellent services.

Eureeka Phoenix

I used Glass City Movers to help me deliver my furniture from the showroom to my new apartment. The crew came right on time and delivery was very smooth. For the service provided, the rate was very reasonable. Thank you!

Brandon S.

Glass City Movers we're absolutely amazing and got our move done done very quick. I highly recommend Glass City Movers.

Hester Collins

Great experience! The moving crew was pleasant, efficient, reliable, and respectful of our stuff. I enjoyed working with them, and they cared a lot about my satisfaction with their work and comfort. I highly recommend this moving company!

Mary Hicks

This was my first time moving and I decided to go with Glass City Movers. The overall experience dealing with them was a breeze. They were on time and very efficient through the move. They packed all the stuff very professionally and loaded/unloaded all the stuff very carefully making sure everything was moved safely, so no damages, not even a minor scratch on any stuff. My husband and I were very pleased with the move and would hire them again in future.

Gary Olsen

Everything went really well, right from the initial call requesting a quote to the actual move. They charged a very fair and competitive price for the service. I thought the crew really love and take pride in what they do. They were all very friendly and went out of their way to make sure we had a good experience which is very rare when you are moving. Highly recommend Glass City Movers!

Stephen Irvin

Terry did a great job in setting our move about 10 miles away. The final price we paid was exactly what was quoted, no hidden charges. The moving crew was great, efficient and accommodating. Great overall experience. They kept us updated at all times and stuck to the schedule. We had almost a truck full of stuff, loads of books and furniture. The move couldn't have gone better.

Alexandra Stair

Glass City Movers made moving my dad from his home to an assisted living facility very comfortable and smooth. The crew was very friendly, courteous and efficient - and the price they charged was very reasonable. I would absolutely hire them again. They were punctual, gave a good price, and worked efficiently; they made sure all items were cared for. Recommended!

Vernon Kirk

We couldn't be happier with the move. The team was very friendly and accommodating, they were quick and extremely respectful of our belongings. They managed to complete the entire move in an absolutely hassle-free manner. I would definitely use them again!

Christina Moultry

We have used Glass City Movers for the second time. The service was simply the best, they movers were fast and professional. They were very respectful of our belongings, especially my antique grandfather clock. Pleasing experience, will use them again in the future.

Melissa Heckel

Glass City Movers did a thorough job with my move. I worked with them for packing and moving. Their crew came one day before the move and completely packed my house. They were very careful while packing which was the best part. All my crockery and delicate items were double wrapped before being packed. My move was also hassle free. I highly recommend this motivated crew for moving jobs.

Julianne Zapata

Glass City Movers managed my move. They ensured that everything in my house was properly packed. But most of all, my wardrobe was packed well. I was so happy that my expensive designer clothes would be getting transported without there being any problem. Thank you so much Glass City Movers!

Ronald Kirk

We highly recommend working with Glass City Movers for a moving job. They did our move and were very professional. They were very focused on what they had to do and this helped them finish faster. We had a wonderful experience.

Alfred Hughes

My experience with Glass City was awesome! The team was very reliable and hardworking. They handled my valuable furniture with a lot of care. They packed everything up fast and were on road faster than I expected. If you are looking for a reliable mover, local or long distance, I highly recommend you go with Glass City!

Kelly Lee

The move was executed in a very well planned manner by Glass City Movers. They showed up on time early in the morning and got going right away. The team was very polite and friendly. They moved very quickly and efficiently. Couldn't be more pleased.

Brandon and KC Specht

Let me just tell you that my overall moving experience could have been a complete train wreck due to the fact I used a Moving Broker instead of directly with a moving company such as Glass City Movers. However, my two movers (Nick and Tom) from Glass City Movers were absolutely exceptional. They were kind, professional, flexible and extremely hard working. They were able to move my entire house that was way above weight estimate and still remain pleasant and professional. They also were able to move my 850lbs gun safe when they should have be given at least 1-2 other guys of additional help. These guys didn't complain and were willing to work long hours to get things done on time. Nick and Tom as a pair, clearly worked very well together. Their familiarity with each other definitely helped with making my moving experience better. I highly recommend them to do anyone else's move and should be requested. These guys deserve a raise, because they make Glass City look awesome and represented them well. Thanks again Nick and Tom and see you in 3 years!

Kimberley Victors

The moving crew was absolutely wonderful on the day. They arrived on time, were efficient and polite. The move couldn't have been executed in a better way. Glass City Movers did a great job in making it a hassle free and effortless move for me. Good job!

Carl Kennedy

Glass City Movers is by far the best moving company I have ever worked with. They were very quick, clean and professional. They wrapped all the items with utmost care and delivered safely on time. I recommend Glass City Movers to anyone!

Bobby Montgomery

I have a few times in the past 10 years with different moving companies, I can safely say the moving with Glass City Movers was by far the best experience I have ever had. Absolutely hassle free experience from getting to quote to final sign up. The most professional and efficient moving crew I have ever worked with. Great work!

Angry Customer

These people don't know how to do their job. Stay away if you don't want your furniture destroyed. The guy who came couldn't answer a simple question, and then threatened to quit. The other guy swore a lot and left trash at my place. They don't use labels on items and delivered 5 boxes short. They don't have anything to hold the door open. They don't know how to wrap the furniture. They tried to wrap 4 table legs in one blanked without the blanket separating them till I stopped them. Still, they destroyed 3 pieces of my furniture, and then never returned my phone calls again. I have moved many times before , these are complete amateurs, and liars.

Raymond Montgomery

The moving crew was great. They were very quick and well organized. The packing boxes they provided were a great help. The move was completed within the time quoted, all stuff delivered safe, no hidden charges. Thank you!

Marianne Mahan

Great service! They were easy to set up, the quote was very reasonable compared to the other 3 companies that I called. They turned up on time on the day of the move and did a great job completing the move on time and budget. Would recommend to anyone and would use again!

John Lewis

Great service! The crew was fast and efficient. They were on time and on budget. Josh, Brian & Greg were all great, friendly and courteous. This was by far the best moving experience I have ever had, and trust me I have moved quite a few times due to the nature of my job. Best service, thank you!

Samantha Crance

We worked with Jake and Kane for our move. We had a wonderful experience with these guys. They went above and beyond and really improved our opinion of the moving industry (which previously, we had been screwed by a different moving company). Would recommend these guys to anyone. Thanks again guys!

Oliver Larsson

David, Greg, and Fred have done a wonderful job moving me into my new home about 20 miles away. They completed the move in less than 6 hours. They were quick, efficient, and accommodated all my ad-hoc requests without any complaints. I would not hesitate to recommend Glass City Movers to anyone!

Krista Morton

I will recommend Glass City Movers for their packing services. They do an excellent job with the packing. They used superior quality packing materials in my pack which would not get damaged during transit. And my stuff reached my new apartment without any problems. Thank you Glass City Movers!

Kerri Jenkins

Hire them and you will thank me later. The three-man crew of Dee, Manny and Josh did a great job with the move. I have worked with other movers in the past, this was by far my best moving experience and I owe it to Glass City Movers!