Best Local Moving Companies Partner With iMoving
Before iMoving came onto the scene, moving was a convoluted and stressful process, regardless if moving locally or long distance. But now, rather than spending hours researching the best local movers, iMoving makes it effortless for anyone to hire the best local moving company for the job.
Our platform vets and lists the best local moving companies, explains the different services they offer,
and provides transparent information about their rates.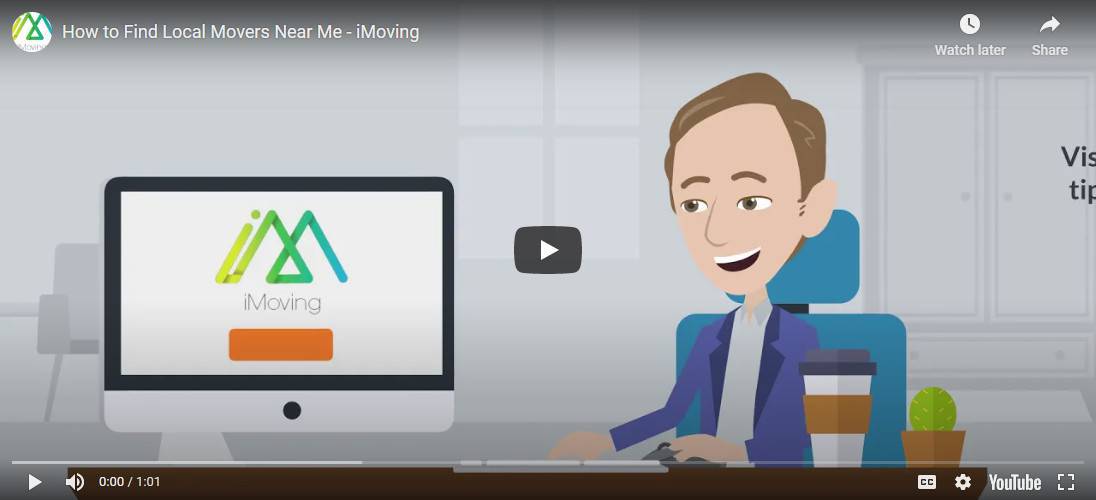 Top 10 Local Moving Companies of 2022
Instead of contacting ten different movers, it is effortless to communicate with movers through the safe
and easily understood iMoving platform.
Secure a top-rated, affordable mover for your local move today right here on iMoving.
How We Pick Best Local Movers in Your City
Moving to a new home is an exciting time, especially when iMoving takes away the headache of having to sift through complex offers and varying advice on who to hire for a local move.
Our platform includes a wide selection of certified movers in your area that are vetted by our professionals and recommended by other users.
Every mover listed on our platform is certified and personally interviewed by our team. The iMoving wizard makes it easy to see the differences in each mover's services, and you have transparent access to rate information as well.
All movers that iMoving works with must at least have:
Authentication from the Department of Transportation
Certificate of Insurance
At least two years of experience
How a Local Moving Companies Determines Moving Costs?
iMoving is not only dedicated to partnering you with top-rated local moving companies but to ensure your move is affordable. We know that everyone wants to save money, which is one reason why our platform is such a good option.
Local movers within the iMoving network use a range of factors to determine the total cost of a move.
Hourly Rate: The majority of local movers have a fixed hourly rate for their moving services. Most local moves can be done in a few hours for apartments and a day for larger houses. Be aware that local moving companies may have a minimum hour requirement.
Double Drive Time: Many states in the U.S. have a Double Drive Time law with regards to local moves. These laws can be confusing but are intended to protect the consumer and ensure that mileage from or to a warehouse, for example, is not charged.
Parking and Transit Fees: You are responsible for costs incurred by the mover of parking outside your home or apartment building, bridge or road tolls, and other similar expenses.
Added Costs: It often costs extra to move special and heavy items, such as pianos, pool tables, antiques, etc. Movers may also charge you for using certain materials while packing and loading your possessions, including boxes, tape, and bubble wrap.
How Local Moving Companies Charge for Local Moves?
Local movers do not typically ask for payment upfront. Some movers may ask for a deposit, but it is usually a modest sum compared to the total cost of the move.
The total cost of a move is calculated when the move is complete, but you can get an estimate through the iMoving platform and movers will provide final firm estimates.
As local movers charge per hour, your final moving cost is based on how many hours it takes the movers to complete the job, along with additional expenses.
When your belongings are unloaded and unpacked at your destination, the mover presents you with an itemized bill for the relocation. It is important to read through the bill to ensure everything is in order, and all the rates correspond with the figures you were given by the movers beforehand.
A typical pricing system is shown below:
| | |
| --- | --- |
| Home Size | The average price for the move |
| Studio | $176 |
| One Bedroom, Small | $270 |
| One Bedroom, Large | $346 |
| Two Bedroom | $578 |
| Three Bedroom | $774 |
| Four Bedroom | $1,148 |
Process of Choosing Local Movers With iMoving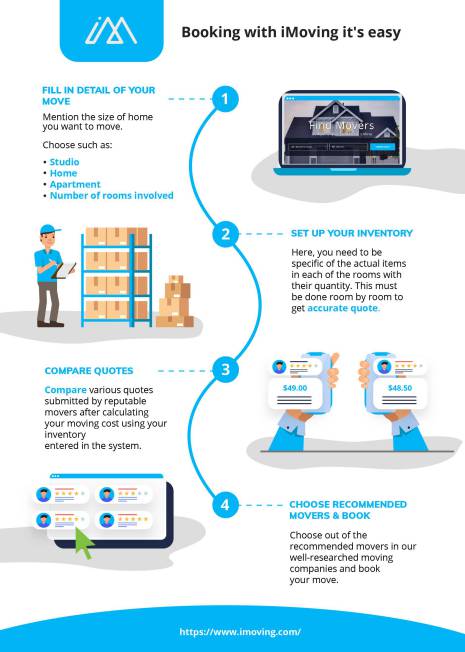 What Services Do Local Movers Offer?
1. Packing and Unpacking
Depending on the amount of time you have available as well as your mobility, packing services can be a lifesaver. Professional movers arrive to carefully pack and box up your belongings before loading them onto the moving van. They can also unpack everything at the destination, per your instructions.
2. Storage
Most of the local moving companies in the iMoving network have storage facilities that customers can take advantage of. Secure storage can be really useful to hold extra items when staging a home to sell or if the new place isn't quite ready for all your belongings.
3. Special Item Handling
Items that are extremely heavy, oddly shaped, fragile or valuable require extra care during packing and loading. If, for example, you have artwork that would fare best by being crated, or an old, heavy antique dining room table, talk with the moving company ahead of time to get a sense of what they can do to safely transport those possessions and how much extra it might cost.
4. Assembly and Disassembly
Appliances, book cases, large furniture and other items may require disassembly before they can be safely packed and loaded onto the moving van. Professional movers within the iMoving network can handle this process, along with reassembling those items at your new home or apartment.
5. Move Safely with iMoving
The iMoving platform was built with the intention of making the moving process seamless and efficient. For choosing a mover, communicating with the professionals, securing your payment, and having disputes resolved by our professionals, it is the safest way to hire local movers.
7 Things you need to do before Hiring Local Moving Companies
Hiring local moving companies can be tricky and overwhelming. Amidst millions of local movers out there, coupled with some good and bad experiences, one needs to take some steps before hiring a mover for his or her move.
While iMoving have made the task easier for you by researching and handpicking the moving companies on the platform, there are still a number of factors you should put into consideration when you receive quotes from various reputable moving companies.
You should learn about your potential local mover before signing on the dotted line. There is no doubt; hiring a professional moving company is a great way to streamline and make thing easier for you. If you approach it in the right way, good experience is guaranteed.
Everyone knows the ease of typing "local mover near me" in the Google search box and get a list of millions of moving companies within seconds. However, it takes more than just search to get a reputable local moving company. You still need to dig further to get the right services you need.
Below are the 7 things you need to do before hiring a local mover:
1. License and Insurance
One of the first considerations for hiring a reputable moving company is license and insurance certificate. Don't proceed further if a mover is not licensed and insured. It means the company is not permitted to operate in the country or is illegally operating in the locality.
It happens in many places – some people can come together, buy a moving truck and start calling themselves a professional moving company without a license; hence, the security of your belongings is not guaranteed.
It is only movers who are officially licensed to operate that are legally bound under the regulation to protect your property.
If you don't want your move to turn into a nightmare, ensure you opt for a moving company allowed under the law to operate. For a local move, moving companies are mandatory to register with the United States Department of Transportation. 
The agency issues a unique USDOT number to the company to permit them to operate. Now, everyone may claim to be a licensed company and give you just a number as their DOT number when you ask for it.
To make sure the number is a valid DOT number, go straight to the US Department of Transportation Federal Motor Carrier Safety Administration database and enter the number. You can also follow the same process for checking the validity of the company's insurance claim. If the company is truly licensed and insured, you will see it there.
2. Track Records of the Company
After confirming that the company is licensed and insured, you can proceed to know more about the mover. While each company starts from somewhere, experience matters in every business, especially when it comes to moving services. A mover that has been moving people for some years should have track records to reckon with.
Starting from the ones you got online during your search, you should be able to figure out some facts about the company as regards timely arrival, good handling of consumers' belongings, keeping to promise, the rate of handling issues, keeping rates fair, and much more.
Knowing these pieces of information beforehand goes a long way in your quest to hire a reliable moving company. Unless you get recommendations from trusted friends or relatives about a moving service, trying a new mover without track records online may subject you to moving risks.
3. Recommendations from people you trust
We don't dispute it; you can also get a reliable moving company from people's recommendations apart from searching Google. You can look for people such as your neighbors, friends or loved ones who have previously used the services of a company to recommend one mover for you.
Getting direct information about a service from people can confirm the reliability of the moving company. Ask around your neighborhood or workplace to see if you can get recommendations about any company to handle your move.
Definitely, no one will want to recommend a service that has previously failed him or her to a friend or relative. If a company delivers on its promise, and move your items without any issue, customers will be delighted to recommend such mover.
But if a consumer has been hit with ugly experiences such as a sudden increase in moving cost, loss, or damage to his or her valuable items during moving or even disappear with the entire luggage, such a person cannot recommend the company to anyone.
So, even if a mover does not have a robust web presence but delivers good services, the company can be recommended for consideration for another job. In a nutshell, asking for a reference is another excellent way to get a reliable moving company.
4. Transparent Fees
Every consumer wants transparent rates that commemorate the mover's service delivery per hour. When you request a quote from a moving company and state out your needs, an estimate is prepared based on the number of movers and hours that may be involved in your move.
It is worthy of note that most quotes do not include some additional services such as moving and packing supplies, moving of special items (such as piano, antiques, or disassembly and reassembly of unique furniture), insurance, and much more when choosing a moving company.
Ensure you opt for the one that comes out straight in its quote as against those that submit low quotes to win the job and turn out to charge more at the eleventh hour of the move. Always make sure you confirm from the company each aspect of your moving costs and if you discover the mover is not coming straight regarding his or her rates, look other way for a better moving company.
5. Good Ratings and Reviews
Another way to hire a reputable local moving company is to search for reviews about the company online. What are past customers saying about the company? Do they rate the mover well? You only need the name of the moving companies to research reviews about them. Make use of the online review sites to learn more about companies you are considering to hire.
Consumers do go to such sites to drop their feedbacks on the moving companies they recently used. Reading people's experiences with a mover can guide you to choose the best moving company for your move.
Consumers love to write a review about a company either a good or bad experience; hence, you are sure of getting accurate and first-hand information about a moving company on the sites.
6. Custom Service for Your Individual Needs
Each move comes with its special needs. You should ensure that the company understands your move and has the capacity to accommodate all your needs. Does the company have the required moving truck size that fits your move? Does the company provide all the services such as moving of special item, furniture disassembly and reassembly or you want to sub-contract them out? Does the company offer additional packing and moving supplies? Does the company available for your move at your preferred time? These and many other factors can help you decide whether the mover is right for the job or not.
7. Avoid Rogue Movers
If you don't want to fall a victim of moving scam, you have to beware of rogue movers in the industry. They have turned the joys of millions of people moving to a new home into a nightmare due to their dubious attitudes.
Is that something you want? No! It is essential to verify if a mover is legitimate.
Just as it was mentioned above, ensure you check the legitimacy of a moving company's license, their records, and as well as their valid physical office address.
If a mover is requesting for payment upfront, especially, if it is more than 20% of the contract, beware! Make every effort to research your prospective moving company before you finally consider them.
Frequently Asked Questions
Conclusion
Moving is complicated but having first-hand information about how it works is a step to a successful move. One thing is to plan for your move earlier enough; another thing is to hire a moving company from your local area.
If you are looking for local moving companies in your area, you are at the right place to choose from a variety of handpicked qualified local movers from different categories of moving services. It takes a few minutes to receive quotes from various local moving companies that are trusted and tested for the job. Happy moving!