Moving Cost Calculator - Get Quick Moving Quote
You know for sure you have to move. You may not know the exact date, but you do know it's happening and you want it to go as smoothly as possible.
One of the first things many people need to know is: How much is this move going to cost me?
iMoving knows and understands the feeling of wanting action well before the move starts – that's why we offer you the chance to get a quick moving estimate to get you started - take a look :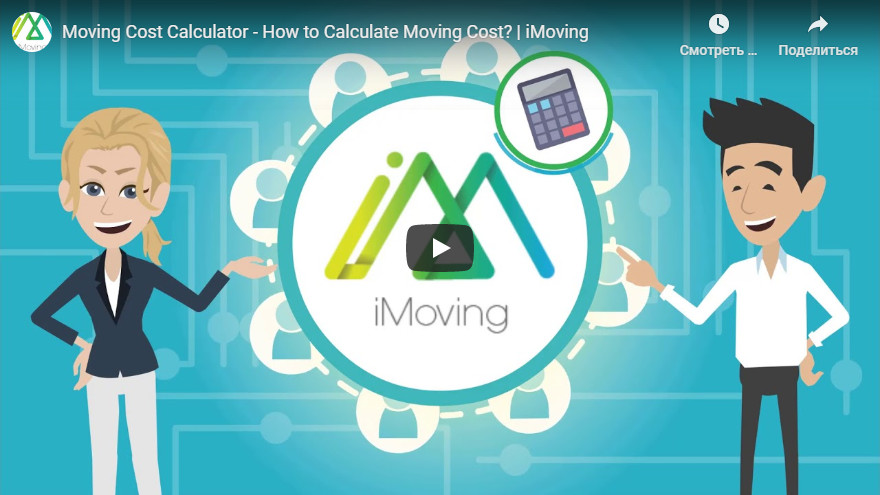 Compare Moving Companies and Pricing Quotes
Types of Quotes Offered by iMoving
We know every move is a unique situation and demands attention to detail. For this reason, we give you the choice of two different moving quotes:
Precise Quote
As you can probably tell from the name, you get a very accurate quote when using this moving cost calculator. By using in-depth analysis, we walk you through the process of choosing the type of room and furniture you are moving.
You're even able to add family members to the quote, letting them choose the items being moved, which allows even more accuracy in your final cost. Best for someone who has already set a move date and is ready to hire a moving company to get the ball rolling.
Quick Quote
This moving cost calculator asks you far fewer questions and is only meant to give you a ballpark estimate of how much your move is going to cost before any prices are locked in and before you ever sign a contract.
You'll be asked to answer several questions, including:
- number of rooms you are planning to move
- type of rooms being moved (kitchen, den, bedroom, etc.)
- origin location address or zip code
- final destination address or zip code
Once you've entered this information you'll receive the number of movers in your area that can accommodate such a move and the price range you can expect your move to fall into.
This kind of move is perfect for households that aren't quite sure of all the details of their move such as their address and move date.
Everyone knows and loves our comprehensive Precise Quote, but if you've found yourself in a moving situation that is vague (to say the least), think about using our moving cost calculator to get a quick quote. It is a useful, yet undervalued tool.
How We Estimate Moving Costs?
Yes, it's true that every moving company has different rates as well as different criteria they use for providing you with a moving quote, with some of these including availability, service quality and a few other factors.
While this may be true, there's still a pretty simple set of rules long-distance movers and local moving companies alike use to calculate moving quotes for long, cross-country moves or local ones.
The more items you are moving and the further the distance you are moving, the more expensive your moving quote is going to be.
This is the golden rule of moving, but digging a little deeper will shed some much-needed light, and insight, on the process of calculating moving quotes.
Local Moves
Moves that take place within the same state and are no more than 50 miles (100 miles for some companies) are considered local moves. When you're given a quote for this kind of move, it is typically based on the number of hours and people needed to complete the job and is at a fixed hourly rate per crew member.
Additional costs can include the fuel and time it for the moving truck to get to the origin and destination locations.
Long Distance & Interstate Moves
Once you travel over a certain number of miles (usually 50), no matter if it's within the state or across the country, it is considered a long distance move. Generally, movers will base their quotes on the weight of your shipment and the number of miles traveled. Some movers, however, will charge based on the volume of space your belongings take up in the moving truck.
Transportation charges – origin and destination service charges – are measured by the shipment's weight, origin and destination. You are also charged for labor costs, but they vary based on the area and won't be the same in each location.
The important thing to do when moving long distances is to get at least three quotes. You'll be able to gauge what estimates are too good to be true and which ones are actually a good deal. Our moving cost calculator can also do the same, but much faster.
 Don't keep wondering how much your upcoming move will cost, use our cost moving calculator and get a quick quote today.
Why Get a Quick Moving Quote Using iMoving's Cost Calculator?
There are plenty of cost calculators to choose from online. They will offer you a certain amount of accuracy, but we provide some of the most accurate price ranges online.
We offer more than a range of prices though. Getting a quick cost quote from iMoving comes with a wide range of benefits:
1. Start planning your move immediately
Often people who don't have all the details feel as if they cannot get started on their move until move-out/move-in dates have been confirmed and the new address has been signed and paid for. Fortunately, when you get a quick quote from us, you can get a clear idea of the price range you'll be expected to pay, even if you're fuzzy on some of your moving details.
Our cost calculator factors in any additional services you may need and flexible move dates for an accurate range of pricing you can use to create a budget and start packing.
2. Choose from a large network of moving companies
You don't have to waste time separating the interstate moving companies from those that only do local moves because our quick quote takes care of that for you. Our network is comprised of companies that can move you down the block or across state lines. No matter where you're headed, we have companies that can get you there, and you can find them at a click of a button.
3. Waste time doing something you love, not researching moving companies
Once you start wading through the fraudulent and unethical moving companies, you appreciate just how exhausting finding a trustworthy company can be. Instead of spending your time on the BBB site looking up complaints and reviews, iMoving's moving cost calculator is a quick and easy way to get in contact with high-quality movers because they are the only kind of movers we work with. Simple right?
4. No sweat, no-commitment price comparisons
When our moving cost calculator gives you the price range for your move, the included number of movers indicates there are people willing to, at times, bid very differently on your specific move.
The best part? Any final quote you receive from us is binding, risk-free, and doesn't cost you any money. You can choose to lock in the quote you're given so you can continue later or you can try your hand for a lower quote later.
5. Set realistic expectations from the start
Avoid low-ball estimates from untrustworthy moving companies that have every intention of raising their price as soon as your things are locked away on their truck. Once you answer our shortlist of questions, our moving cost calculator analyzes the history of moving companies in your area, creating an accurate and quick estimate.
Though no one can guarantee an all-out bidding war will happen, we have enough experience to know that the bidding process usually goes a long way in reducing movers' fees for the customer.
Average Cost of Hiring a Moving Company
Local moves cost about $1,200
Interstate moves cost around $5,000, on average
Both figures are based on 2-3 room moves with a final shipment weighing about 7,500 pounds.
How Does Do-It-Yourself Moving Costs Compare?
There are a number of methods to get your move done without the help of a moving company but costs are often still associated with the number of things you're moving, distance traveled, and how long the move takes. 
Portable on Demand Storage (PODS)
Though you have to load your own things into the containers, you still get a break when it comes to actually drive. Only you will know if the savings are worth the effort you have to put into getting everything.
PODS can cost between $100 and $1,150 for local moves and $1,550 and $5,500 for long-distance moves.
Moving Truck Rental
This is often the default method of moving when people decided to tackle a DIY move. Moving trucks are easy to reserve, comparatively cheap, and widely available. Though the thing to watch out for when it comes to truck rentals is extra fees, it's worth noting that if you don't have a lot of time this option doesn't pay off. Renting a truck, by far, demands the most time and is the most labor-intensive for movers. If reducing costs is your top priority, however, this is definitely a way to keep costs at the lower end.
For local moves, you get off pretty cheap – expect to spend between $200 and $600. When it comes to long-distance moves, the price tends to spread across an even wider spectrum with prices varying greatly between the sizes of the truck; on the low end of $1,050 all the way to $2,650.
How to Get the Best Price?
The most important thing you can do to get the most affordable, but quality, moving company is to compare quotes from at least three competing companies.
1. Use iMoving cost calculator
When you get a quote using our moving cost calculator, the bidding system we use is flexible and makes contractors more competitive for your business. If one of our nearby contractors has the time to take on your move, why would they sit around and earn no money instead of doing a small job even if it's for a cheap price? The transparent competition puts you in the best position to benefit.
Taking advantage of independent entrepreneurs breaking into the moving industry. They often get business by offering very low fees since they don't have much of a reputation to stand on.
If they deliver the quality services you need, why not give your move to a growing business? If your move doesn't contain highly valuable items, this is a great way to lower your moving costs.
Don't forget that you don't need to worry about researching the company's credibility; the iMoving team has done that research before the company is ever sent a single job notification. Feel free to do your own research, however. We definitely appreciate a thorough customer.
Our quotes are:
Binding
Risk-free
Competitive
2. Get Quotes the Old Fashioned Way
But what if you want to compare company quotes, calling companies on your own? If you are putting together quotes the old fashioned way, there are a few things you can do to make sure you're getting the best price for your move.
3. Schedule an in-home estimate for accuracy
If you receive a quote over the phone, you risk underestimating the number of items you move and this will give you an inaccurate quote. By requesting an in-home estimate, a professional will be able to walk through your home and remember to look in all the places you don't, like cupboards, under the beds and couches, basements, and crawl spaces.
They will also be able to see your home's layout and can predict any problems the movers may have carrying items out of your home. This is the best way to get the most precise estimate of how much your move cost.
4. Get the right kind of estimate
There are three kinds of estimates a moving company can give.
Non-binding: an approximation of what a moving company thinks your bill will be, this estimate does not guarantee a fixed price, but you won't know until the actual move day how much your final cost will be. The good news is they can only charge you an additional 10% for products and services. You'll have 30 days to pay the additional charges.
Binding: with this estimate, you are required to pay the estimate made by the moving company regardless of if the shipment weight is lower or higher than your original estimate. It locks you into a price and doesn't cover last-minute expenses like packing supplies or shipping extra items.
This type of estimate is good for those who have multilevel homes and accurate estimates are hard to obtain. The bad news is that moving companies always overestimate as they don't want to pay if they underestimate your shipment's weight.
Not-to-exceed: a moving company will give you an estimate but even if the weight of your shipment ends up being more than the estimate, you won't be held responsible for paying the extra. If the shipment is less than the original estimate, however, you get to pay the lower cost.
Out of the three types of estimates, this is the most popular and preferred estimate for customers and is often referred to as price protection.
5. A written estimate is a must
Ask that each mover provide a written estimate and it should be very clear what type of estimate they have sent.
The estimate should be attached to a Bill of Lading and include:
Name and address of moving company
Tariff cost
Miles traveled
Estimated weight
Minimum weight
Discounts applied
Packing and unpacking fees, storage charges and transportation charges
Remember that you shouldn't feel pressured to sign anything. Sign the contract once you understand every cost and are comfortable doing so.
What Factors Affect the Cost of Your Move?
It can be frustrating to go over the budget you've set for your move when you've been so careful. In order to help you understand why the cost may change, we put a list of services, fees, and lesser-known causes that can eat away at your moving budget.
Common moving services that increase your costs include:
Storage
Needing a storage unit is one of the main reasons for moving costs increase. Moves can get complicated and if you need your moving company to hold your belongings at any point before, during or after your move, be prepared to pay for the extra service. It's a good idea to ask about storage rates and fees ahead of time.
Packing materials and services
You will be charged an additional fee if you choose to have your items packed professionally by the moving company. This includes full packing and unpacking your entire shipment or partial packing/unpacking.
The packing materials needed to secure your items are typically not included in the estimate. Companies commonly charge extra for shrink wrap, tape, boxes, and furniture blankets.
Insurance
While moving companies offer basic value protection coverage, most of them offer multiple levels of liability and insurance coverage. If your shipment is particularly valuable, you may want to consider paying or Full Value Protection or buy insurance from a third-party provider.
Less common fees and services are:
Blanket wrapping for extra security
Those who want to take extra care of delicate furniture may need special blankets that are durable enough to protect their items from chips, scratches and dents during the moving process. Movers are happy to provide the extra coverage, but it will come at a price.
Moving large and/or specialty items
Delicate artwork and furniture are the kinds of items that are simply too delicate to put in a moving truck. Companies are trained to handle large and bulky things like pianos and pool tables – movers safely prep and transport these kinds of items, but it will cost more. If the moving company you are working with is unable to accommodate your needs, you'll have to find a specialist or third party company that can safely transport fragile items without damaging them.
Couches and tables that are very heavy also may need special attention if they must be disassembled in order to fit through a doorway or hallway. This will be added to your final price. If you want your furniture reassembled, this will also cost extra.
Shuttle Service
If a moving company has trouble getting the moving truck to your house for any reason, they will need to use a smaller truck in order to remove items from your home and take them to the moving truck. You will incur a fee for this.
Oftentimes, people are aware that their residential area does not permit large trucks within a certain distance. Let the moving company know these kinds of details immediately. Ask about the size of their pickup and delivery trucks in advance; this will save you money and both you and the movers a headache on the day of your move.
Issues that slow movers down
If your apartment building or home has too many flights of stairs and no elevator, expect the charge of having to go up and down those stairs to be added to the final move cost. If you have elevators that are too slow, hallways that are too narrow or doorways that make carrying items out more difficult, this will also increase your cost.
Movers will also charge extra fees if they must carry your things further than anticipated to get to the truck. It's important to get the distance movers will carry your items specified before signing any contract.
In general, you are being charged for the labor the movers are providing, and anything that increases the time it takes to get the job done will ultimately be tacked on to your final cost.
These not-so-obvious factors aren't at the top of most people's minds during the moving process, but they can, and will, affect the cost of your move as much as anything else.
Time of year
Your move date is just as important as the way you go about moving. The summer, weekends and national holidays are some of the most popular times to move. If you move during this time, expect the cost of your move to be much more than off-season moves.
Travel Fees
When you're making a long-distance move, people often forget that they must get themselves to their new location. If you are driving, you have to pay for the cost of fuel and you'll most likely need to stop and rest in a hotel before getting back on the road. If you're flying, this cost would be plane tickets, the taxis you pay to get to and from the airport, and any other costs associated with air travel.
Gratuity
Rarely do people factor in the amount they want to tip their movers for a job well done. Tipping each mover anywhere from $20-$40 is normal, but please feel free to give more for a job well done (they do a lot!) or to give less if their quality of service was not up to par.
When you are given an estimate, movers may not mention the various types of extra fees that may happen on the day of the move. When you use our moving cost calculator, it takes into account many of the extra services and charges you could possibly incur.
When you choose a company through us, you can rest easy because iMoving only works with companies that are transparent, honest and will help you understand any fees you're uncertain of. You should ask detailed questions about extra fees you don't understand before agreeing to any contract.
Why Hiring a Moving Company Doesn't Cost as Much as You Think
It's pretty normal for people to immediately dismiss the idea of using a moving company because they believe hiring an interstate moving company, or even a local moving company, costs too much money.
In reality, comparing a few quotes will quickly show just how reasonable moving company rates are.
Hiring a moving company isn't as expensive as you think. Here are a couple of reasons why:
1. They save you time
If you have decided to pack up all of your things, load them into your car or rental truck (making as many trips as necessary), drive to your new address, unload your items and move them into your home, you can be sure you are going to miss work, at least.
Is the money you're losing by taking days off worth the amount you could pay a moving company to be at work and get your move handled within a set timeframe?
2. Professional movers have skills that you don't.
A move may seem as simple as packing and moving boxes, but much more is happening than you may know.
A lot of organization is required to get a move done efficiently, but also safe packing, lifting, (un)loading, driving, and navigation skills ensure your move runs smoothly with minimal problems.
Ultimately, movers are guaranteed to have skills you may not have. You are paying for more than peace of mind, you are also paying for experienced professionals that offer every service you need in order to move successfully. You may end up paying more trying to acquire the very skills they already have.
3. Put your effort toward more urgent priorities
Moving with or without help takes up a lot of mental capacity, not to mention energy and time. Doing it alone can require so much effort that it's easy to fall behind or altogether neglect other responsibilities that demand your attention.
By taking on the moving responsibilities for you, moving companies allow you to continue to concentrate on the people and tasks that are important.
4. Avoid costly delays
What happens when you're stuck in traffic or your car breaks down? These kinds of incidents can be devastating if you are stuck for hours – setting your move back even more.
When a moving company is handling your move, they usually have multiple trucks or vans at their disposal and can handle breakdowns, flat tires, and any other delay.
They have the experience of being in situations that would stress out the average person doing it all alone.
5. Insurance
This is one of the most singular reasons to consider using a moving company. You just can't eliminate the possibility of a mishap, regardless of how careful you are.
If you get in an accident (we hope not!) and your items are lost or damaged or your belongings are stolen while (un)loading, you are not protected in those situations. Insurance can be purchased to cover any potential damage that happens to your things so you don't have to worry about accidents.
The key is to check out multiple companies' rates and choose the one that gives you the best deal and that you are comfortable with. Moving alone would most likely cost you much more than how much a moving company would actually charge.
Moving Company Red Flags
When you request estimates from a moving company, the hope is that you are given a quote that can be used to accurately create a budget for your move.
Unfortunately, some moving companies will try to lure you in by offering very low estimates that drastically increase once they start working with you. Often they will tell you that you have no choice to continue at a higher price, and you are trapped.
iMoving wants to protect you from this predatory behavior, so to help you avoid this kind of situation, here are a few red flags to be on the lookout for during your search for the right moving company.
1. Receiving estimates over the phone
Phone estimates are enticing because they are convenient and less intrusive than letting someone walk through your home but they come at a price – if there's no record of them, they don't exist. The moving company is the one that is writing the invoice, so keep in mind that it's going to be their word against yours.
2. No-Questions-Asked price quote
There is definitely something wrong if a moving company isn't asking you for thorough details about your move.
Some details a reputable company will request include:
- Items to be moved
- Stairs/elevators
- Distance between origin and destination locations
If these details are not being asked by the moving company, you should be asking why a moving company wouldn't want to do a more comprehensive survey of the things they are moving to.
Chances are they aren't too concerned about letting you know what the actual price is going to be. They're happy to overcharge you at the end.
3. Prices so low that they are eyebrow-raising
If your jaw drops and your heart skips a beat at the low estimate you've received, it's probably not realistic. Don't take the bait!
Sometimes these kinds of quotes conveniently leave out labor fees, gas, and other additional services you may assume are included. Reading the fine print is the best way to see what this too-good-to-be-true estimate actually covers. Once those extras fees are added in, the price that you thought was a steal suddenly feels like highway robbery.
4. Trying to persuade you to sign incomplete documents
If a company has refused to give you a written estimate and they try to get you to sign documents without answering all your questions or filling in an estimate, you can be sure that increased fees and extra costs are soon to follow.
In some of the worst cases, insurance hasn't been included in your move and any items that were lost or damaged during transportation, a company can claim they have no responsibility for.
5. A company gives you the option to wait until moving day for an estimate
If the company in charge of managing your move tells you they can only determine the cost of your move after loading all of your things onto their truck (to weight it, they'll say), do not allow this in any way.
Once they give you the price, are you going to tell them to unload everything if you are unhappy with the estimate they've provided? Probably not. You're most likely going to feel trapped and pressured into signing the papers to get your move on and done with. That's pretty much what they want to happen.
6. Asking you to pay for a quote
This is more than a red flag, it's illegal. A moving estimate should be provided for free. This company has already shown its true colors. Find another company that cares about your move.
7. Save Money on Your Upcoming Move
Get friends and family to pitch in: Unless you're prepared to pay for packing and labor services, try asking your loved ones for help. They are typically happy to pitch in, can help to lift heavy boxes and it can be one last bonding experience before you head off!
Move during the off-peak times: You can save money by moving on the unpopular days or the colder seasons. Don't underestimate just how much you can save by moving on a Wednesday instead of the weekend.
Reduce the number of things you're moving: It's the perfect time to get rid of unnecessary items you've been holding on to
Find free moving boxes: Check out local restaurants, delis, and liquor stores for boxes. They usually have a ton they are ready to get rid of.
8. Get Started on Your Upcoming Move
Your upcoming move should be handled by people who care about your things as much as you do. A moving company proves that by being detailed, providing you with any information you need to verify their credentials, and providing accurate, honest quotes.
By staying informed of the best kind of quote for you, comparing multiple quotes, and asking questions, you are sure to hire a company that safely and efficiently gets you to your new location.
iMoving aims to take the guesswork out of moving prices and eliminate the surprise of sudden moving day upcharges that you don't understand. By vetting moving companies for you, you never have to worry about unethical practices.
Our transparent policies and bidding system also ensure that you get the best price. Check out our moving cost calculator to get a quick quote and start comparing prices.
However you decide to move, getting a quote is the first thing you need to start.
Faq - Moving Cost Calculator
Conclusion 
Using an accurate cost calculator can go a long way, and it can help you to sort out the details in a manner that makes sense for you. Compare the different costs that may be associated with your move and you'll find that it's a lot easier to choose who makes the most sense for your moving day needs.