Best Moving Labor Companies
Are you about to go for a rental truck? Hire professionals to give you a hand with loading and unloading to save your back from breaking.
Want to get Moving Labor?
Moving Labor at a Glance: The Best Companies to Help You Move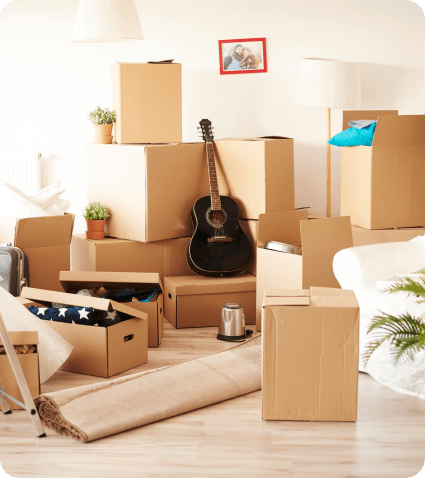 Let's face it: Moving is stressful. Whether you're moving a few blocks away, or a few states, all the time and hassle in going through the accumulation of stuff in your home, packing it all up, getting it loaded into a truck, transporting your belongings, and then performing the entire process in reverse at your new place, is bound to cause some strain.
This is especially true if you're trying to do it alone.
Fortunately, there is help available to take some of the stress out of your move. You probably know about full-service movers, but did you know there's another category of moving service that doesn't cost as much but still relieves a lot of the burden of moving?
Read on to find out everything you need to know about moving labor companies, including our recommendations for the best companies to work with.
Top 5 Moving Labor Companies of 2021's
We chose these five companies for inclusion on our best-of list by researching customer reviews and comparing costs, size of their labor force, transparency, and availability. If you're looking for a way to save money on your upcoming move while still enjoying help with the heavy lifting, consider working with the best moving labor companies listed below.
1
Hire A Helper

Are you hiring a rental truck for your next move? Save yourself the back-breaking labor of loading and unloading when you find and book moving labor professionals with HireAHelper, one of the most reliable online marketplaces for moving help.
When you work with HireAHelper, the movers assigned to you may be from labor-only companies that deal mainly with loading and unloading services, or full-service moving company employees who can be hired for labor-only jobs. Either way, the job will be performed by people who do this for a living, so you know your items are in good hands.
The benefits of working with Hire A Helper include:
3,500 franchise locations across 50 states
Professional contractors
Easy quote process
Excellent customer reviews
Potential drawbacks to this company include:
Can be costlier than competitors
Minimum 2-hour jobs
Background checks are not required on employees
2
Moving Help
Just like HireAHelper, Moving Help provides an online platform where you can search for local moving services closest to you. Available services include packing, unpacking, loading, unloading, cleaning, and driving help.
Moving helpers are ranked by the website based on star ratings provided by the company that employs them. You'll have access to real customer comments and be able to evaluate ratings on each individual moving helper before choosing. This helps you easily locate the most trusted and well-reviewed labor services with just a few clicks.
To use Moving Help, you'll need to supply your moving date and the zip codes or city/states you are moving from and to. You can also specify the time you plan to move and the size of your move. Then, click on 'find' to see the list of available moving helpers in your area.
The benefits of working with Moving Help include:
Low prices
Fast online quotes
Packing services available
Numerous locations to choose from
User-friendly mobile app
Potential drawbacks to this company include:
Limited service options
Low online presence
Non-optimized website
Customers have reported poor customer service
3
Dolly
Dolly is an online marketplace that matches you with standalone contractors for hourly moving labor. This company has the fewest physical locations of all the companies on our list.
Still, its prices are some of the most affordable, and it provides some unique services such as same-day retail delivery, that can be useful even if you are not moving.
Based on your location, Dolly can be one of your cheapest options for hourly labor. For instance, we obtained quotes for Dolly services in Chicago, IL, and Denver, CO. The cheapest overall option for Denver, CO, was Dolly, while the company came in second-lowest for Chicago, IL.
Their focus on retail delivery makes Dolly one of the most recognized companies in the moving labor industry. In addition to loading and unloading services for moving, you can get large purchases such as furniture delivered to your house from your purchase location. If desire, Dolly helpers can also assemble furniture for you upon delivery.
The benefits of working with Dolly include:
Competitive pricing
Wide range of services
User-friendly mobile app
Retail partners
Potential drawbacks to this company include:
No packing services
No customer service phone number
Limited locations
No professional credentials required for workers
4
MovingLabor.com

This is another national moving labor company where you can hire reliable, professional, and affordable moving labor helpers for your next move. Established in 2004, MovingLabor.com has been offering moving services to customers for the past 17 years.
Unlike many other online marketplaces for moving labor, MovingLabor.com is focused on providing quality, professional help for services that include packing, loading, and unloading moving trucks and storage units, as well as a furniture moving service that you can hire even if you're not moving.
MovingLabor.com is committed to delivering integrity and reliability in an industry where there are many less-than-professional companies that often fail to deliver quality service.
The benefits of working with MovingLabor.com include:
Price lock policy that ensures you don't pay higher than your quote
Excellent customer reviews
Flexible cancellation policies
Solid insurance coverage
Great customer service
Potential drawbacks to this company include:
5
TaskRabbit

While it does have some advantages and disadvantages, TaskRabbit makes our list of the best moving labor companies for a few different reasons. One of them is the cost. For comparative services, the TaskRabbit online marketplace is one of the most affordable options in the industry – especially considering that there are multiple providers on TaskRabbit vying for moving labor jobs.
In addition, you can find an impressively huge variety of services available on TaskRabbit, including packing and unpacking, loading and unloading, furniture assembly, installation, and more.
The main drawback, however, is the fact that TaskRabbit is only available in 31 states, in select cities. Still, if you live in an area that TaskRabbit services, you probably can't beat the price.
The benefits of working with TaskRabbit include:
Competitive prices
Wide range of services
Affordable packing services
User-friendly mobile app
Easy online quote process
Potential drawbacks to this company include:
No professional credentials are required for workers
No customer service phone number
Fewer locations
Get a quote in Just a few clicks

How Much Does Moving Labor Cost?
Just like local moving companies, moving labor companies typically charge an hourly rate. When hiring a moving labor company, you can expect to pay between $60 and $80 per two movers for each hour of labor.
Other things you need to know about moving labor rates include:
It costs extra for each additional moving helper. For example, if you hire two movers for $60/hour, hiring an additional moving labor helper will cost you another $30 or more per hour, which brings the total to $90/hour for three movers. For four movers, you would spend $120 per hour, and so forth.
Some moving labor companies may charge fees that aren't disclosed in their hourly rates. For instance, you may or not be charged a mileage fee (travel fee), which is the time taken by the moving crew to get to the job site. If there is a mileage fee, it's often equal to one hour of work.
The use of moving equipment such as dollies and hand tools, provided by the moving laborer, should be free and included in the price.
Moving labor companies often charge a minimum of two labor hours, regardless of actual hours worked.
Usually, the billing time begins when the movers arrive.
Average work hours are typically billed in 15-minute increments.
Several additional factors can impact the cost of moving labor:
The moving labor company's standard rates
The exact location of the home
Additional moving labor services requested by the customer
Moving special items, such as hot tubs, pianos, grandfather clocks, and pool tables
Time of year the move takes place
| | | | |
| --- | --- | --- | --- |
| Services | HireAHelper (Cost/hour) | Dolly (Cost/hour) | TaskRabbit(Cost/hour) |
| Loading & unloading | $64.02 | $80.00 | $45.1 |
| Moving (truck included) | $24.02 | $24.02 | $24.02 |
| Pickup & delivery of donations | $664.02 | $664.02 | $664.02 |
| Packing & unpacking | $64.02 | Not offered | $64.02 |
In general, the hourly prices for moving labor stated above are the same for all moving labor services: furniture disassembly and/or reassembly, packing, unpacking, loading, unloading, and so on.
When you have a better understanding of how the moving cost is determined, you will be able to lower the price of your moving expenses.
Types of Moving Labor Services Available to You
Now that you know what moving labor is and the types of moving labor services available, you can determine whether hiring a moving labor company is a good option for your next move. And if you discover that you need the service, you'll need to know how to choose the right moving labor company for your needs.

Packing
Packing
Packing your entire household for a move takes a lot of time. What's more, you need to have your belongings packed ahead of your move, if you don't want to spend

Unpacking
Unpacking
You are not expecting to perform a move any time soon, so you can take your time to unpack your belongings after the move. 

Loading
Loading
Moving truck loading services may be necessarily needed for your move, and that is because you need a lot of physical strength to load a moving truck since

Unloading
Unloading
Just like loading, you may need moving help at your new home when you will need to safely unload all the heavy belongings from the moving truck

Furniture assembly
Furniture assembly
You will need to re-assemble all the furniture items that have been disassembled when loading into the moving truck. 

Furniture disassembly
Furniture disassembly
You need to properly disassemble extra-large furniture items before you pack and load them. If this task doesn't seem clear enough to you

Truck driving
Truck driving
Many consumers are not aware that this service is available. Truck driving is an extra service offered by the best labor moving companies in the U.S.
Tips on Hiring Moving Labors
Now that you know what moving labor is and the types of moving labor services available, you can determine whether hiring a moving labor company is a good option for your next move. And if you discover that you need the service, you'll need to know how to choose the right moving labor company for your needs.
The following simple steps will guide you in locating reputable and reasonably priced local moving labor help for your move:
Checking credentials:

You can begin identifying trustworthy local businesses to consider by reading online reviews. Once you have a list of potential moving laborers, make sure you check license numbers, business names, and the number of years the companies have been in business. Then, check the website of the Federal Motor Carrier Safety Administration (FMCSA) or your state's Department of Transportation (DoT) to verify the license and other credentials.

 
Getting estimates:

Obtain estimates from several moving labor companies. Some experts suggest obtaining and comparing quotes from five or more separate companies. You should get moving labor estimates from a minimum of four companies to make sure the prices are the most competitive, and to locate movers that serve your particular needs.

Ask questions:

Gather all possible information you can about factors like payment terms, additional fees, rate structure, company history, hidden costs, and whether the company uses subcontractors. Other useful things to know about our packing services, storage services, insurance, and things you should prepare for on moving day.

 
Obtaining references: 

Request references from the company's previous customers so you can obtain honest feedback. Past customers can share the first-hand experience of what they enjoyed or didn't enjoy about the company.
The Benefits of Hiring Moving Labor

Affordability
While hiring a moving labor company will cost more than handling the whole move yourself, it's a considerably cheaper option than a full-service move. Moving labor can be surprisingly affordable, especially if you factor in the time and stress you'll save by not having to do all the packing, loading, unloading, and unpacking yourself.

Convenience
If you're not in a position where you can recruit friends and family to help you with your move – or if you're exhausted just by the idea of packing and moving an entire house full of stuff – hiring a moving labor company gives you a convenient, time-saving option regardless of how far you're moving.

Flexibility
Compared to full-service moving, there is a lot more flexibility available when working with a moving labor company. You can choose which services you'd like to handle yourself, and which ones you'd like to pay someone else to take care of. For example, you may want to pack up your household so you know exactly which items went into what boxes – but then have your moving laborers load all those boxes and furniture onto the truck.
Conversely, you can get close to a full-service moving experience at a significantly lower cost by choosing a moving labor company that offers packing, loading, unloading, and unpacking services. Then, you only have to worry about the moving truck.

Safety
The process of moving is not without risk. If you do it yourself, there's a potential for damage to your possessions, or even injury if you're working with friends or family who aren't trained, professionals. Working with a moving labor company helps you avoid this type of risk, as you'll have experienced pros handling all the heavy lifting.
In addition, professional moving laborers are insured by the companies they work for, so if there is any unexpected damage, you will be compensated for it.
Frequently Asked Questions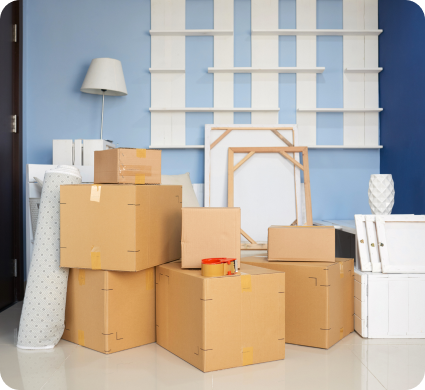 Get More from Your Move with iMoving
We hope you've found our guide to moving labor companies useful in planning your next move. If you're looking to rent a moving truck, check out iMoving's truck rental center to find information and discounts for various moving truck rental companies.
Still want to choose a full-service mover for your next move? Visit our network of reliable and reputable movers, where you're sure to find a company that meets your needs. Our lists of the top local moving companies and interstate moving companies contain fully licensed and insured, highly-reviewed companies that are sure to provide you with a smooth move – no matter where you're headed.
Learn more from iMoving blog
Want to read more? Ask questions? Read our FAQ's?
Find everything you need to know about preparing your upcoming move.