5 Things to Know Before Moving to Texas
Moving to Texas is a big deal. Make sure you arrive with a smile on your face. Our informative moving guide provides essential information for a smooth transition.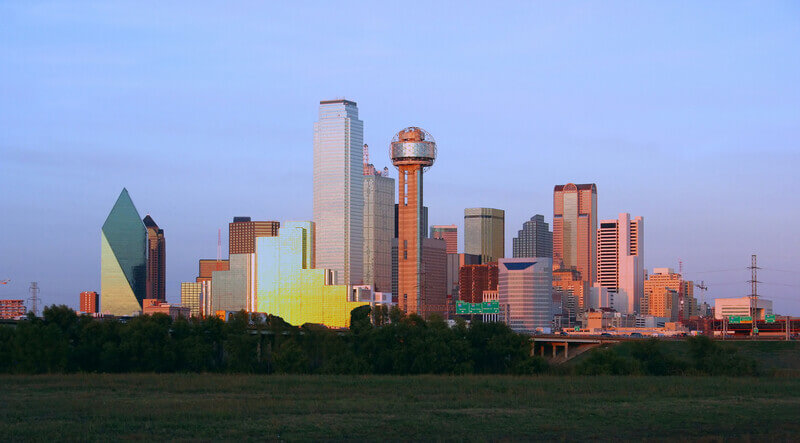 Moving an entire household is no easy task. From cleaning the old house and packing boxes to transferring household services, it feels like the tiring work involved in the moving process never ends. The best way to ease some of the stress of moving is by learning as much as you can about the entire process, including the importance of hiring a reliable moving company.
Texas is the #1 relocation destination in the world. More than 28.26 million people call the state home already and the number continually increases. Every year since 2012, more than 500,000 fresh faces have found their new home in Texas. Most newcomers arrange help from Texas movers to ease moving headaches. What else should you know to make your transition smoother?
1. Hire Movers who Know Texas
The best way to ensure a smooth transition to Texas is with help from knowledgeable movers familiar with the state, the roadways, and the laws and who focus on the customer experience and their overall satisfaction. There is less risk of damage or trouble during the move when you go with knowledgeable moving pros trusted by the community.
If you have questions, moving pros can give you the answers that you need to ease some of the worry you may feel as a newcomer to the state. Don't hesitate to ask them questions about the move and your new state, especially if you are concerned with driving or other safety issues.
2. Low Cost of Living
Amarillo, located across the Texas Panhandle, is the most affordable place to live in Texas with rates across the board lower than national average. Affordable cost-of-living is a perk everyone in the state enjoys, not just Amarillo residents, though. Texas has an average cost of living at 90.4%, which is 9.60% lower than the national average.
There is no state income tax but property rates are slightly higher at a rate of 1.94%. Compared to other U.S. states, the cost to buy a home is significantly less. The average price of a home in Texas is $184,900. Lower than average rates make owning a home just as affordable as renting. Cost of living rates are well-below average in most Texas cities and towns.
3. You Can Save Money on Moving Costs
Moving is very exciting but it can be stressful and expensive. The secret to keeping moving costs affordable is advanced planning and organization. First create a moving checklist to get organized. Start planning your move well in advance rather than wait until the last minute. The early bird always gets the worm and in this case, the best rates on all of their moving needs.
Book moving pros at least two months in advance to save as much as 20% on moving costs and get the best selection of companies. Consider an off-season move (November - May) to lower moving costs. Compare rates with a few moving companies even if you plan an off-season move. There is still money to be saved when you compare the moving company options. Move during the week rather than weekend to pocket additional cost savings.
4. Restricted Items Moving Companies Cannot Transport
Moving companies want your move to be smooth and simple and pack up and move most everything you need to relocate. Restrictions do prevent moving pros from loading everything into the truck though. Speak with the moving company you plan to hire if you have questionable items such as firearms, paint or fireworks. You'll need to make other arrangements to move these items, such as moving them yourself.
Clear out the fridge and pantry, donating items that you cannot take in your own vehicle. Moving companies cannot move food of any type. They cannot move dangerous items, such as fireworks or grills and BBQ supplies. Other restricted items include scuba gear, pets, plants, and lawn and outdoor equipment, such as swimming pools and lawn mowers.
5. Get Ready for Extreme Heat
Texas has two different kinds of hot: the hot, humid, and sticky weather found on the east side of the state and the hot, not so humid, dry heat everywhere else in the state. Yes, Texas has extreme heat. Temperatures generally start cooling down by mid-September but heat waves often come out of nowhere. Temperatures soaring above 100 degrees F during the day is not uncommon.
A Wall Street study determined that Del Rio is the hottest place in the state, followed closely by Brownsville, San Antonio, and Austin. The Monahans Sandhills State Park and Seymour areas have both reached temperatures of 120 degrees during the summer.
Frequently Asked Questions
How do I update my driver's license?
You have 90 days to update your driver's license and 30 days to transfer your vehicle registration. To update the registration, schedule a vehicle inspection, then bring the car title, proof of vehicle inspection, and proof of insurance to a local DMV office to complete the transfer. The cost to transfer registration is $50 or more. A new driver's license costs $25.
Do I need a permit to carry a gun?
Texas is known as a Second Amendment-friendly state that takes its right to bear arms very seriously. HB1927, passed in September 2021, allows Texans 21+ to open or conceal carry a handgun anywhere in the state with some restrictions. Felons cannot own a firearm for five years after their conviction and folks who've been deemed mentally incompetent by a court cannot carry.
What is the best time of year to move to Texas?
Taking into account temperatures, weather conditions, and moving company rates, summertime is the best time to relocate to the state. It's more affordable to move during the winter than during other times of the year, though. It rarely snows in Texas and when it does, the Panhandle area usually sees the snow. Average daily winter temperature reaches a high of 65 F throughout the year.
How much does a move to Texas cost?
Typically, it costs less money to hire local movers than long-distance movers. Local moves cost an average rate of a little over $1,000 to $2,300 or more, depending on the size of the move. Expect long-distance moving costs that average in the range of $2,200 to $4,500. The distance of the move and number of rooms you're moving affect the costs. Clear out your belongings of any unwanted/unusable items before the move to save more money.
What policies are in place to protect my belongings in the event of damage?
Moving professionals take protective measures during the move to minimize damages, although accidents can still happen. A satisfactory resolution always favors customers in the event their belongings are damaged during the move. Texas moving companies are required by law to carry a minimum of $0.60/lb. insurance on every item they transport.
Learn More About Texas Relocation to Make Your Move Easy
Low cost-of-living and great barbecue are among the many highlights Texans enjoy everyday living in The Lone Star State. Learn more about the moving process, compare moving companies, and prepare for a low-cost, satisfactory moving experience.