Finding The Best Neighborhoods In San Francisco
Moving to San Francisco for the first time is tricky. With no proper planning, things can quickly get strange. Fortunately, anyone in San Francisco can find a new neighborhood to call home as long as they know the right place to look.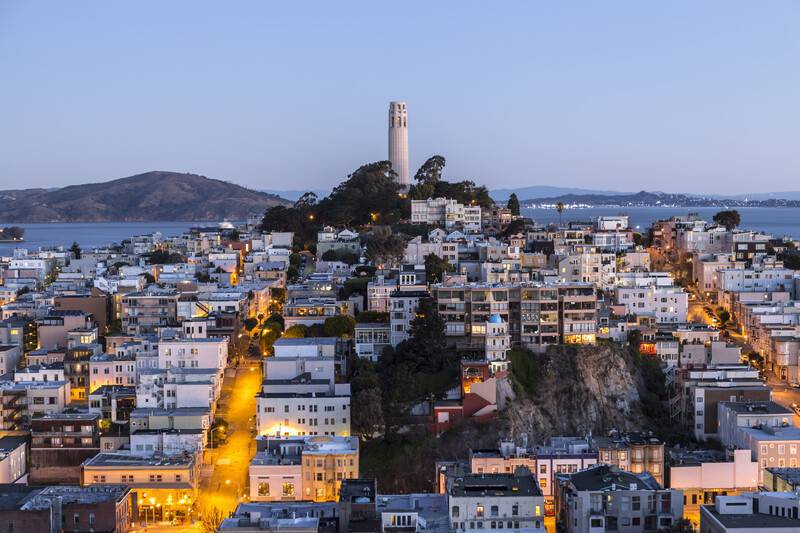 Moving to San Francisco for the first time is tricky. With no proper planning, things can quickly get strange. Fortunately, anyone in San Francisco can find a new neighborhood to call home as long as they know the right place to look.
San Francisco is just 49 square miles and is divided into an arguable number of areas – between 35 and 60. Each neighborhood has its unique personality, so, each resident can find at least one neighborhood to call home.
When you move to San Francisco and interact with others, you will usually fit into the personality of your neighborhood hilariously; similar to how dog and their owners start to look alike.
This is why after ten years of moving people to San Francisco, we took time to compile a list of the best San Francisco neighborhoods you can call home.  
Things to Note before Selecting a San Francisco Neighborhood
Selecting the best neighborhood to live in San Francisco is mostly a personal decision. Consider whether you'd prefer a calm tree-lined street or a bustling location. So you want to be closer to the best burritos in San Francisco, or closer to the highly iconic row houses?
How bothered are you by fog, sweetly referred to as Karl the Fog by San Franciscans? How much money are you prepared to spend?
There is much to note when you are relocating to San Francisco, and we hope that the following questions screen down your choice of neighborhoods.
Do You Own A Car?
If you are own a car and you are moving with it to San Francisco, you should consider a neighborhood far away from the heart of the city. Parking is costly in some parts of this crowded city, and some car owners end up going round the street continuously to locate a spot. If you are moving your car, consider outer neighborhoods like Richmond, Noe Valley, Sunset, Cole Valley, and Bernal Heights.
Where Are You Traveling to Workplace?
Many people who reside in San Francisco either go to the downtown Financial District or head to Silicon Valley. MUNI is the San Francisco transit system and is alarmingly slow and overcrowded. Consider your highest limit for the number of hours you spend on MUNI and select a San Francisco neighborhood based on that.
If you are moving to start a job in Silicon Valley at a company like Google or Facebook, you'll possibly have your nice commuter bus that features Wi-Fi and certain stops in San Francisco. 
What Is The Type of  Weather You Want?
San Francisco is popular for its microclimates. For instance, warm and sunny weather can be seen in Dolores Park in the Mission District while freezing fog is taking over in the Outer Sunset. Consider the level of fog and cold weather you can take. If you can't handle any, you may want to look into living in an area outside San Francisco, such as South Bay or East Bay.
Do You Need Good Schools In San Francisco?
While more population of singles are attracted to the city than families with kids, in general, public students in San Francisco tend to have more success than those at many other urban school districts all over the country. For instance, students of San Francisco Unified School District scored more proficiency levels than students of California state-wide in English Arts and Math.
However, school rankings are not the same across the district, and parents will be required to do much homework to understand the system and find schools that perfectly match their children's needs and interests.
That is because a controversial lottery system is used to assign children to schools which means there is no assurance that your child can attend the school closest to their neighborhood, or their most preferred choice, even though more priority is given to placing students in schools not far to home.
On the contrary, you are not limited to the schools in your area, so your child has enough chance to be enrolled in a top-rated school that offers other special programs in the languages and arts. Do you find this complicated? Private schools are plentiful in San Francisco, with 116 schools enrolling around 26,000 students, almost half as much as the 53,000 students that public schools.   
Best Neighborhoods in San Francisco
Below are some of the neighborhoods of San Francisco we like:
1. The Tenderloin
Although nothing in San Francisco is highly affordable, a studio apartment in a high-rise building in Tenderloin will be one of the greatest deals you will find. This neighborhood is in the best of it, surrounded by Union Square and Polk Street. You will have walkable access or MUNI to the Financial District, but you will have to face much homelessness on the streets.
Average rent prices
Studio / one-bedroom:$2,450
Two-bedroom:$3,450
Three-bedroom:$4,800
Notable attractions
Glide Memorial Church: This church acted as a counterculture meeting venue and it's popular for its gospel choir.
Piano Fight: This is a bar with dueling pianos, occasional comedy acts, and nightly entertainment
Brenda's French Soul Food: Enjoy New Orleans-style cuisine in a little but cozy restaurant.
2. The Marina
This neighborhood is located north shore of San Francisco and is popular for its latest bars, restaurants, and boutiques towards Chestnut Street. With a flat easy stroll, you will get to Marina Boulevard, a famous location for runners and walkers with beautiful views of the Bay, Alcatraz, and Golden Gate Bridge. You are also close to The Presidio, the palace of Fine Arts, as well as trails that take you to Fort Point.
Average rent prices
Studio / one-bedroom:$3,350
Two-bedroom:$5,000
Three-bedroom:$6,800
Notable attractions
Crissy Field: This is a strip for the retired military that is brought back to life as an extension of land perfect for biking, Frisbee, biking, and volleyball.
Palace of Fine Arts: A gorgeous structure constructed for the 1915 Panama-Pacific Exposition.
Bar None: Beer pong tables, free skee ball, and many people who want to party till morning
3. North Beach
This San Francisco neighborhood is home to beat writers, such as Jack Kerouac and Allen Ginsburg in the 1950s and featured at City Lights Bookstore, where you can still read books written by local authors. North Beach, also referred to as "Little Italy", is filled with tourists as well as Bay area crowds on weekends. You can find numerous hidden gems here, and North Beach's closeness to downtown makes it a common venue for people who want to avoid spending much time traveling on a bus.
Average rent prices
Studio / one-bedroom:$3,200
Two-bedroom:$4,300
Three-bedroom:$7,000
Notable attractions
Homemade Italian Company: Homemade pasta that is cheaper than $15.
Café Trieste: Coffee and pastry shop where there are artists, poets, and odd characters.
Molinari Delicatessen: Old school Italian deli with cheeses, meats, bread, and take bread and wiches.
Tony's: Pizza shop is known as the best in the city, owned by Tony Gemignani, a 13-tome World Pizza Champion
4. Telegraph Hill
This is home to the iconic Coit Tower and the neighborhood boasts of Victorian-style architecture, narrow streets, and wild parrots. You will adapt to the squawking of these beautiful birds, which were brought to the city as one of the luxurious pet trade in the 1980s.
Telegraph Hills is not an affordable place to live, with small-size apartments requesting a huge amount of money. However, its closeness to North Beach as well as steep staircase distance from the Embarcadero which is towards the Bay is worth the cost.
Average rent prices
Studio / one-bedroom:$3,350
Two-bedroom:$4,400
Three-bedroom:$7,100
Notable attractions:
Coit Tower: A paid-entrance tower that has a 3600 view of tent city.
5. Russian Hill
Lombard Street is one of the highly common sights on Russian Hill and is also referred to as the most crooked street in the world. Residents of this luxurious neighborhood also enjoy the tinkle of the popular cable car as it services Hyde Street all day. Take a walk to Polk for bars, restaurants, and clothing stores.
A hidden gem on Russian Hill includes the pedestrian walkways as well as stairs lined with plants that have tropical look, ideal for an afternoon workout or stroll.
Average rent prices
Studio / one-bedroom:$3,450
Two-bedroom:$5,000
Three-bedroom:$8,000
Notable attractions
Lombard Street: Known as the world's most crooked street (but not accurate).
Swensen's Ice Cream: Ice cream spot with numerous flavors, established in 1948.
Bimbo's 365: Nightclub that specializes in livestock and jazz show.
6. Bayview- Hunters Point
This neighborhood has a beautiful history and is now where one of the largest growths in the city's history, The San Francisco Shipyard is found. The neighborhood has parks with trails to walk and piers with fishing possible at the Indian Basin Shoreline Park.
The Bayview-Hunters Point community has diverse based on history. Bayview is home to major Italian residents in the 1930s to 50s and has changed into a frontrunner of the Civil Rights Movement as the base for many famous activists.
In past years, the neighborhood has been called home by many artists, and builders are greatly developing the area. It is one of the highly affordable areas and just a 25-30 minutes ride to downtown. 
Average rent prices
Studio / one-bedroom:$2,800
Two-bedroom:$3,500
Three-bedroom:$4,200
Notable attractions
Heron's Head Park: This Park is bounded by water on three sides with different birds.
Scrap: Non-profit warehouse that contains upcycled art supplies as well as materials for environment-friendly projects.
Flora Grubb Gardens: One of the most huge and affordable gardening centers in San Francisco.
Start of Crosstown Trail: The most southeastern location in San Francisco and the beginning for the increasingly famous 17-mile crosstown San Francisco walk.
7. The Mission
If you enjoy hip with a Latin vibe, you will be so much happiness in the Mishappiness District of San Francisco. With taquerias and pupuserias-lined 16th and 24th streets, this neighborhood is home to the best burritos you can find in San Francisco.
The Mission is traditionally home to the Latinos; however, this area has experienced huge gentrification in past years; thanks to the technology industry. With the taco joints and check cashing counters, there are also trendy bars, music spots, and restaurants. One other addition is Dolores Park, the ideal place to hang out with friends on a sunny afternoon.
Average rent prices
Studio / one-bedroom:$3,100
Two-bedroom:$4,200
Three-bedroom:$6,300
Notable attractions
Dolores Park: Park popular for picnicking, marijuana smoking, sipping on alcohol-filled fresh coconuts, people watching, and a beautiful view of downtown San Francisco.
Bi-rite: A grocery store with a nearby creamery, popular for its ice cream and sandwiches.
Tartine: Recognized as one of the best French-style bakeries by Mark Bittman, a New York Times food columnist. Everything made there, such as cakes, morning buns, cream pies, bread pudding, croissants, and many more.
El Farolito and La Taqueria: Best burritos in the neighborhood.
8. Chinatown
This neighborhood of San Francisco is not only the oldest Chinese community in the entire country but also the largest home of Chinese residents outside the Asian continent. The Chinatown community is one where the culture and customs of Chinese customs maintained while still being one of the greatest tourist centers in the state.
More tourists are drawn here every year than the Golden Gate Bridge. Due to its influx of visitors and the residents that live there, Chinatown gets much crowded, but residents say the populated crowd is worth it for the real cuisine and experiences. If the unlimited supplies of fresh fish and affordable produce are fine by you, then look into Chinatown right away.
Average rent prices
Studio / one-bedroom:$3,400
Two-bedroom:$4,500
Three-bedroom:$6,000
Notable attractions
Golden Gate Fortune Cookie Factory: Free samples of a fortune cookie – find out what the future holds for you.
Dragon Gate: The exact gate and entrance into Chinatown, one of the highly photographed places in the entire city.
Golden Gate Bakery: Chinese bakery focusing on custard tarts.
Final Words
Whether you are relocating locally or long-distance, we hope this San Francisco neighborhood guide helps guide you to make the right choice for you and your household members.
If possible, we strongly recommend you take a stroll in the San Francisco neighborhoods you are considering before renting or buying. Go to the coffee shops, restaurants, and nightlife scene. Test your daily commute by entering a BART or MUNI. Before you know it, you'll discover a great neighborhood to call home in San Francisco.
Ready to move to your choice neighborhood, hire our reputable local movers to get the job done for you.