5 Things You Should Know Before Moving to Colorado
Colorado is one of the healthiest, most beautiful states in the U.S. Our moving guide lists important information that can help you relocate with confidence.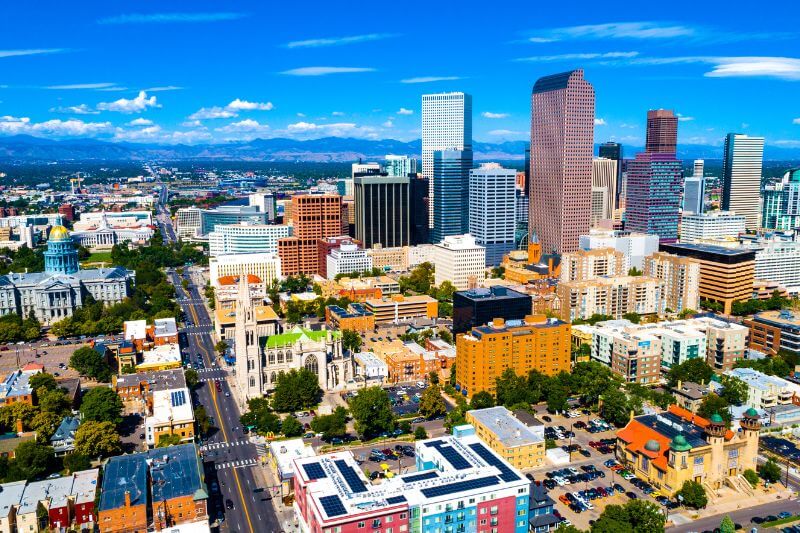 If you love snow, skiing, nature, hiking, and outdoor living, Colorado is the perfect state to call home. From the Front Range to the Western Slope, Colorado delivers a scenic overlay of natural landscapes, including pristine emerald-green forests, rivers, parks, preserves, and mountains. Outdoorsmen never tire of the natural beauty in The Centennial State.
Moving to a new state is hard work. It takes a lot of research to make it to your new stomping grounds without pulling out a few strands of hair. From learning more about your new state like the best hang-out spots to picking the best Colorado movers, there's a lot you need to know before moving to make life easier.
1. Ask questions before you hire a moving company
Moving companies should answer any questions you may have regarding their policies, prices, and moving procedures. Run fast if the moving company hesitates or refuses to answer your questions, or if they seem sketchy in any way. When you ask questions, you get answers that help you find the moving company most suited to your needs and budget.
Ask about license and insurance when sorting through the moving companies. Never hire a company without the proper licenses and insurance. Not only is this illegal, but it is also risky. Do you need additional insurance to protect your valuables? How long will the move take? Are services guaranteed? These questions are a few examples of things to ask before you hire moving pros.
2. Moving companies offer different options
You can rent a truck and do it yourself or choose a full-service moving company. A full-service move is the easiest, most convenient way to move. Moving pros expertly pack your stuff if you want, disassemble furniture and large items, load it onto the truck, and reverse those tasks once they arrive at your new location. All that is left to do is enjoy your new space.
Most moving companies can move specialty items such as pianos or large, heavy pool tables but this increases the cost of the move. Need to take a vehicle with you? Moving companies can usually arrange vehicle transportation services for one vehicle or several.
Moving containers are another option available to DIYers. Pods sit in your driveway to load and unload at your convenience. When it's time, the Pod company will load the container on a truck and transport it to your destination.
3. Coloradans are some of the healthiest people in the U.S.
Colorado has a healthy atmosphere which makes it easy to focus on your health and well-being. The CDC scores Colorado a 61.8 in health and wellness. In fact, Colorado has the lowest obesity rate of all 50 states. Coloradans spend a great deal of their free time outdoors hiking, biking, and enjoying nature. Good health comes naturally to most Coloradans.
The state ranks best in healthcare in the nation. Doctors, hospitals, clinics, surgeons, and health professionals provide superior care to patients throughout the state. Nine hospitals rank on the list of the "Country's Best Hospitals". The Centers for Disease Control (CDC) gave the state an average score of 61.8 in health and wellness.
4. Watch out for moving scammers
Scammers and dishonest people are everywhere, including in the moving industry. Although not the norm, it's necessary to know what to look for in those dishonest companies so you can recognize them. These companies threaten your move and your sanity. If it sounds too good to be true, a dishonest company is likely before you. You can avoid scammers, though.
Hire only licensed, bonded, and accredited moving companies whose online reputation backs their promises to you. Whether you need local or cross-country movers, check out online information to get a better idea of what to expect from the company. The Better Business Bureau (BBB) is a good place to find comprehensive information. Get moving quotes in writing as well.
5. Know the rules of legal marijuana
Marijuana is legal for medicinal and recreational purposes in Colorado but rules and regulations stipulate the quantity you can possess, the places you can consume, and the cities where you can purchase weed. Learn these rules and regulations before or as soon as you arrive in Colorado if you plan to indulge in cannabis to avoid spending time in jail or paying hefty fines.
Colorado has a relaxed, laid-back attitude concerning marijuana but strictly enforces all rules and regulations and will not hesitate to arrest or fine violators. Marijuana is not sold in every county and can only be consumed by adults 21-older. You can legally possess one ounce of marijuana. It is illegal to sell marijuana but perfectly legal to share and enjoy with your adult friends.
Frequently Asked Questions
How much does a moving truck rental cost?
Rent a moving truck and drive to Colorado yourself for $20 - $200 average cost for local moves. Long-distance moves average a cost of around $2,800. Peak season moves may increase long-distance truck rental rates to as much as $5,000. Don't forget fuel costs when tallying rates. The average moving truck gets eight to 15 miles per gallon of gas.
How much does a full-service move cost?
Full-service moves are much more convenient than renting a truck and will save you a lot of time (and time is money). The cost to hire local movers averages $1,200 while long-distance moves of 100 or more miles typically cost an average of $4,890, based on a 1,000-mile move with 7,500 pounds, or two to three bedrooms, of belongings. The average move contains approximately 6,500+ pounds going along for the ride.
How far in advance should I hire movers?
Ideally, hire a moving company two months before your move date. At a minimum, hire moving pros at least four weeks in advance. Never book last-minute if you can avoid it - the earlier that you book, the wider selection of movers available. Booking your move in advance can also save considerable money on the total cost of service.
What are the politics like in Colorado?
Once considered a swing state, the inundation of young, college-educated voters changed the political scene dozens of years ago. Colorado is now considered to be a blue state, heavily leaning toward Democratic nominees. Coloradans overwhelmingly chose Democratic nominees in 2008 (Obama,) 2012 (Obama,) 2016 (Clinton,) and 2020 (Biden.)
Can I feed wildlife in Colorado?
Feeding wildlife puts everyone at risk. It is illegal to distribute food, salt blocks, or other food sources to big-game animals. In Colorado, big-game animals include moose, mountain goats, mule deer, mountain lions, and pronghorns. Bird feeders are also prohibited on lawns from the months of March to the end of November. Expect a $100 fine if you're caught feeding wildlife.
Make Your Move to Colorado
Colorado is an amazing place to call home, even though you can't legally feed the wildlife. Make your move simple by learning important facts, such as the best moving companies to help move your belongings, before heading out.