What Are The Best Furniture Movers Near Me?
Furniture movers help the moving process, offering moving services for one or several pieces of furniture. Get the best furniture movers by understanding what makes a reputable company.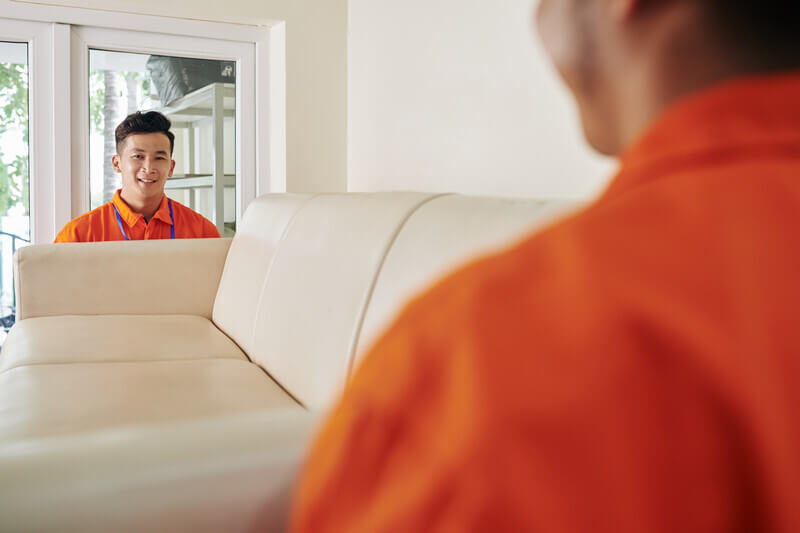 The moving process is always rife with challenges and difficulties, which is why you'll want to find the best furniture movers who can help you out. Whether local or long-distance, the best furniture movers will have the experience and expertise to get your furniture moved quickly, safely, and efficiently.
Often, people use long-distance and local movers to haul the entirety of their belongings to a new commercial or residential property. But in some cases, it may be that you only need to move a few pieces of furniture. For example, perhaps you're redecorating and need to rearrange your living room, or maybe you're moving offices and need to transport some desks, chairs, and filing cabinets.
Whatever the case may be, knowing how to find the best furniture movers will ensure that your belongings are in good hands.
Why Hire Furniture Movers?
Furniture movers can come in handy when you have decided to handle most of the moving tasks in your own personal vehicle or small moving van but still need some help with the big stuff. This way, you can focus on packing up your smaller belongings and leave the heavy lifting to the professionals.
Another reason to consider hiring furniture movers is if you have valuable or antique furniture that needs to be moved with extra care. These items require experience and expertise to properly transport, and the best furniture movers will have no problem getting them from point A to point B without any damage.
Essential Qualities of the Best Furniture Movers
Sometimes, people don't give much thought to who they hire to move their furniture. However, it's always essential to choose a mover with the experience and qualifications necessary to do the job well. Here are some essential qualities that the best furniture movers will have:
1. Experience
One of the most important things to look for when searching 'furniture mover near me' online is whether or not the company has experience. The best furniture movers will have plenty of experience in the industry and will be able to handle all types of furniture with ease.
Look for reviews that mention the company's name and check to see how long they've been in business. The best furniture movers will have plenty of satisfied customers who have left positive reviews.
2. Licensing
Any business you hire should always have the proper licensing to move household goods locally or long-distance. Even if it's just a few pieces of furniture from a condo or small apartment, you'll want to make sure that your mover is licensed.
To check if a mover is licensed, look on the company website or give them a call. The best furniture movers will have no problem providing you with their licensing information so that you can rest assured knowing your belongings are in good hands.
3. Transparent pricing
The best furniture movers will be upfront and transparent about their pricing so that you know exactly how much the move will cost before hiring them. Be wary of any companies who give you a quote over the phone or online without first coming to see your home or office and doing an in-person estimate. These movers may not be as reputable as you'd like and could charge you hidden fees on moving day.
Furniture movers in your area will give you a detailed estimate that includes the cost of labor, gas, and any other potential fees so that there are no surprises when it comes time to pay the bill. When searching for furniture movers, you can also use a moving cost calculator to get an accurate comparison price.
The Cost of Furniture Movers
Estimating furniture movers' costs can be tricky depending on the size of your home or office, how much furniture you have, and how far you're moving it.
Generally speaking, most local furniture movers will charge hourly rates ranging from $50 to $200 per hour. The average cost of an intrastate move (moving within the same state) is $1,000, while the average price of an interstate move (moving to a different state) is $4,000.
To get a more accurate estimate for your specific move, it's best to contact several furniture movers in your area and request a quote. Be sure to mention any special circumstances about your move, such as stairs, elevators, or long-distance transport, so that they can give you an accurate estimate.
Frequently Asked Questions
Can furniture movers just move one or two pieces of furniture?
Yes. You can hire furniture movers to move just a few items if that's all you need. However, most furniture moving companies have a minimum charge, so it's best to check with the company beforehand to see what their policy is.
Do I need to be home when the furniture movers come?
It's not required that you be home when the furniture movers arrive, but it is recommended. This way, you can be there to answer any questions and help direct the movers to where you want your furniture placed. If you can't be home, be sure to provide clear instructions and labeling so the movers know where to put everything.
Do I need to do anything to prepare my furniture for the move?
It's not required, but you may want to clean your furniture and measure doorways and staircases beforehand so the movers know what they're dealing with. This will help them give you an accurate quote and ensure that the move goes smoothly.
What if something gets damaged during the move?
Furniture moving companies are insured in case of damage, but it's always good to check with your specific company beforehand about their policy coverage options. Should your items get damaged, be sure to take photos for the claims process.
How much does it cost to hire furniture movers?
The cost of hiring furniture movers varies depending on several factors, such as the distance of the move, the amount of furniture being moved, and whether or not you need additional services like packing and unpacking. To get an accurate quote, get estimates from multiple companies and compare pricing.
Get Help From Professional Furniture Movers
Hiring furniture moving services can take some of the stress out of your move, whether you're moving down the street or across the country. Keep these tips in mind when searching for furniture movers near you, and you'll be sure to find a reputable company that can get the job done right.