How to Choose the Best Packing Material for Your Move
You've been trying to work out all of the details of your move – planning for movers, finding a house, sorting out work. And now, it's time to start getting your stuff ready to go out the door on moving day.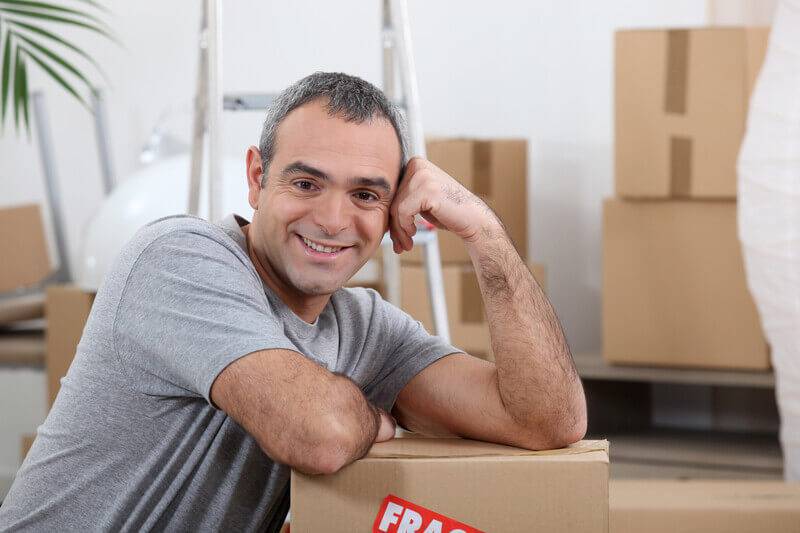 You've been trying to work out all of the details of your move – planning for movers, finding a house, sorting out work. And now, it's time to start getting your stuff ready to go out the door on moving day.
The next thing on the moving checklist is packing up your items. But, to do that, you're going to need some supplies. Let's take a look at the different types of packing material that you can consider when you're sorting out your packing supply needs.
1. Packing Paper
Nowadays, a lot of people are making the choice to go ahead and just use basic paper in order to keep things safe during their move. Packing paper is not very thick, it's often made from recyclable materials, and it's biodegradable, so it's not going to just go and sit in a landfill when it gets thrown away.
You could also use newspaper instead, but there is the risk of the ink coming off and onto the things that you wrap in it. Be aware of that possibility and you can prevent problems. You may want to put another layer of paper between the newspaper and the items that you're concerned about, just to ensure that you don't have that problem.
Either option is fairly reliable and can prevent about the same amount of damage. It won't be able to protect quite as well as some of the other options that we're going to discuss in this article. But, if you're not moving far, you don't have a lot of fragile items, or you just need something that takes up a little bit of space, you'll find that paper is a pretty solid choice.
2. Bubble Wrap
The tried and true bubble wrap is always an option to consider when you're getting ready to pack up your home. It's one of the most versatile options out there and, if you use it correctly, you'll find that it's that much easier to protect everything that is being packed.
Bubble wrap is, probably, the most expensive material listed here. You actually get bubble wrap in a roll, like you would if you were buying wrapping paper or something similar. This allows you to get several yards of it at the same time, and then you can cut the pieces apart so that they fit whatever it is that you're doing.
It comes in various sizes, too. You can get small, medium, and large bubbles, each of which can provide a different level of protection to the items that you have. There are also these options called "air sacks," which are similar to bubble wrap, but it's just a plastic pillow of air instead of having a lot of little bubbles around the outside.
Find Top 10 Places To Buy Moving Boxes and Supplies
3. Styrofoam Peanuts and Corners
Many people don't like Styrofoam peanuts because they are considered to be messy and not that great for the environment. But, if you use them strategically, you'll find that they can be pretty handy for what you need. They can fit into spaces that you may not be able to fit some of the bulkier options that we've listed here.
On top of that, if you're picking up something like a desktop computer or a television, then you need to be sure that you take a little bit of time to see if you can find Styrofoam corners. You can put these around sharp corners so that they don't end up protruding out of the box while you're transporting them. It protects you from the corners, and it protects the corners from becoming damaged, as well.
4. Soft Home Items and Clothing
Don't want to spend a lot of cash on packing material? You may just want to use the items that you're already packing. Clothing, towels, and other soft home items are actually a great option if you want to be certain that things stay safe.
While you may need to do a little bit of adjusting to ensure that you're able to fit the clothing or home item around the fragile items in your boxes, it can definitely work. Socks and washcloths can go into hollow items, for example, to protect their integrity.
One important tip, however – you want to be certain that all of the items that you use in your packing are going to be as clean as possible. All clothing that is used for packing must be washed thoroughly – otherwise, you're likely going to have some problems when you're unpacking those items later on.
Tips to pick the Best Packing Materials
To ensure everything runs smoothly without a problem, you need to make use of the best packing materials you can get. However, since moving supplies are not made the same, understanding the ones to use can be helpful to make sure your move is successful. We mention some packing material above, but the question is – how can you choose the right one for your moving needs? To achieve this, you need to know the use of each of the materials.
Below are some ideas that can assist you in picking the best packing materials for your upcoming move:
1. Understand the Perfect Box for the Job
Picking the ideal box to use is one of the factors of a stress-free move. You need to have a huge stack of moving boxes to hold all your items. Aside from the standard boxes you also need certain specialty boxes to pack your items.
Below is a quick look if the various types of moving boxes that you may need:
Standard moving boxes in various sizes: Small moving boxes are good when packing heavy goods like tools, books, video game consoles, utensils, CDs, and DVDs while medium moving boxes are ideal for packing small appliances, pans, kitchenware, lampshades, and pots. You can make use of large moving boxes to hold lighter and larger belongings like blankets, curtains, pillows, towels, and other unbreakable kitchen belongings
Wardrobe boxes: Moving fine clothes in wardrobe boxes simplifies packing. These boxes come with hanging bars so you can easily hang your clothes and transport them straight to your new closet. You will see them clean and free of wrinkle, the same way they are before the move
Dish boxes: Dishes, fine crystals, Chinaware, and other delicate belongings need the entire protection available to prevent breakage, so buying sturdy, heavyweight moving boxes can be a great idea. Add more layers of protection using the cardboard dividers, foam pouches, packing paper, and/or bubble wrap.
Four corner boxes: Moving large mirrors, pictures, and framed artwork can be confusing. They can easily get damaged, broken, or scratched while moving so it is better to always the best to use the ideal packing materials when moving such belongings. For this case, you need to make use of a heavy-duty 4-corner box to ensure they get to your new place safely.
2. Know the Type of Wrapping Supplies to use
Do not use newsprint since the ink can cause stubborn stains. For the best results, make use of plain wrapping paper for cheap belongings and bubble wrap for your expensive items. 
Tape: Shipping tape will be needed; that variety of plastic tape is famously used to seal boxes. This is an important aspect of your packing supplies since you will make use of it to tape everything shut. As you fill each moving box, you will want to seal it to make sure nothing mistakenly falls out while it is being carried around by the movers. It is also a brilliant idea to have a lot of masking or painter's tape with you, because this may be useful when labeling belongings. It also can be used to add protection or foam to furniture, too, without labeling it.
Bubble wrap: This is available in various sizes of bubbles. The large ones are often used for bigger belongings, like furniture, while smaller bubbles are perfect for cups, dishes, and mugs. If you apply bubble wrap, make sure most of the bubbles are inflated and then wrap it around your delicate items, sealing properly. Make sure you fold over the ends and also apply tape on those, as well, so the item doesn't get out of its protective purse. You can either completely wrap larger items in bubble wrap or tape them, or you just cover particular parts, like corners, before you move the object or furniture piece.
Newspaper or packing paper: If you choose something that doesn't include plastic for your highly delicate items, you can protect them with packing paper or newspaper. Newspaper may get scrunched and stuffed inside glasses or cups, while you wrap other belongings in many layers of paper to protect them. You can also make paper crumpled balls to improve the security inside a box. Lastly, the moving boxes are filled up and sealed.
3. Apply the Right Packing Tools
In picking out and packing your boxes for easy unpacking, the following tools will be important: 
Scissors: Definitely, scissors will be useful when you need to cut packing materials. Each packing station should have a pair of sharp scissors. You never know when there will be a need for it.
Markers: It is so much important to ensure each box is marked. This will help you easily find everything immediately you've moved and are set to unpack. It is indeed awful to spend a night in your new space, sleeping on a naked mattress since you cannot locate your linens. It is your decision on ways to label. Some people write everything on the side of the moving box that is inside it. This can take much time, but you will know what you will find before you open up a box. Alternatively, you can just label using the room name or just a brief idea of the contents, like, 'toiletries' or 'kitchen'.
Labels or Dot stickers: For quick labeling, you can make use of your printed labels that contain room names, or you can go for colored dot stickers. Just assign a color to each room and then make use of the dots on the boxes to mark the room each one goes to. If your movers are taking in everything, you will want to make sure they know of your dot system, so place a dot sticker in the appropriate color on the door of each room so they know where to place the boxes.
With the basics above, you will be able to pack all your goods neatly and safely. The next step is to unpack in your new home, but the marking and color codes can greatly assist with this.
Hiring Packers and Movers: Packing Alternatives
When you are moving home, hiring a local moving company that will pack and moves items can be a nice idea. After all, it is so much work to pack all your goods and if you don't mind other people touching your items, you can let them do their tough job.
Based on the company, you may discover that they offer only basic packing, or they can even perform unpacking most of your belongings before moving into your new home. This can be a genuine plus, because you will be able to move in and begin to cook, with every of your kitchen belongings unpacked. Not all company offers great service, however, it is also costly.
There are a few benefits of having a moving company take care of the packing for you:
They are professionals: The general reason is that these people have been packing and moving for several years at most. 
They are efficient: It can be difficult to pack all that you own yourself since you will have to make stops to check your belongings as you handle the tasks. Moving companies will simply come to your home with the main purpose of packing and relocating you. They handle in the most efficient and quick way.
They can protect furniture items: If you own large furniture pieces, be sure that the moving company packers will wrap it safely and securely and make sure it is covered against traveling hazards. With the experience moving companies have, they can pack your home quickly in moving boxes and tucked inside a moving vehicle to transport it to your new home. It gets rid of the stress for you and usually, you only need to do is pack up the items only you want to handle.
Thinking of the cost involved in hiring full-service movers? Let's take a look at how they charge.
Different Types of Rates when Hiring Full-Service Moving Companies
When you are hiring movers, many options will affect your moving price. A full-service relocation will be an expensive choice as it includes the pick-up of your shipments, the loading, and unloading of moving boxes as well as the drop off of your goods into your new home.
By the Hour
Usually, moving companies will calculate the cost of your relocation (by using a moving cost calculator) based on the per-hour rate. The hourly rate is often about $150 (per three movers) per hour. This type of rate is famous for local relocation businesses, rather than interstate moving.
The hourly rates will give you an estimate of the amount the hob will cost. The hourly rates will calculate the cost depending on the volume of your shipment, the distance as well as the estimated time it will take moving companies to take care of their job.
The hourly rates are helpful if you need moving services to move heavy belongings such as a Piano or bed frame but don't need full moving services. Else, the hourly rates are aimed at helping you understand the cost of a whole day move which should happen between four to eight hours (if everything goes smoothly). Understand that, the job can possibly7 cost more than the estimate you received because of things like traffic, building issues, or other barriers that can bring about delays.
Flat Rate
It is more popular to get a flat rate price when hiring interstate moving companies. If you are moving across the country, a moving company will give you a flat rate for the moving cost. This is just an estimate of the overall price of the job right from packing the moving vehicle at your origin to unloading your items at your new home.
Extra Services
Make sure you find out about extra services that are offered by professional moving companies. These services feature packing and unpacking, and provision of packing supplies for a flat rate. Moving companies can also perform a contact-free move, and move your shipments to your new home without you being on site.
DIY Moving
If you don't have an interest in hiring a professional relocation company, you can perform the entire move yourself. You can get a U-Haul rental (or any other moving vehicle) and load your shipments into the moving vehicle. This can be a huge option for people planning to save back some cash, or for people who don't have that many belongings to move. However, be certain to consider the cost of gasoline, packing supplies, and parking tickets when planning a DIY move.  
Frequently Asked Questions
Why use packing materials?
No matter how careful you and your movers are, your items are going to get jostled around, which makes it easier for them to break. Packing materials are a pretty solid way to ensure that the items you own are not going to be broken when they get to your destination – instead, they'll be protected and ready to go.
How can I save money on packing supplies?
There are a lot of ways to save money on supplies. You can buy a kit, which will often have everything that you need, together, at a discounted price. You can also go to local businesses in order to grab free boxes or ask around to see what people have on hand. Get creative with what you have, as well, and you'll save some cash.
Wait, doesn't my moving company provide packing supplies?
It depends on the company. If you have made the choice to get packing and unpacking services as a part of your move, then they may have the supplies that you need, or may include them as part of that service. Other moving companies will sell packing supplies and/or packing kits, but it's often an additional cost.
Get Packing!
Now that you know what packing materials that you can use, it's time for you to go ahead and start the packing process. Get the items that you need and start planning it out. Soon, you'll be all packed up and ready for moving day before you know it.