How To Choose The Best Movers Near Me?
There are countless numbers of moving companies, but not all of them are best for your move. Learning how to choose the best movers ensures a smooth transition.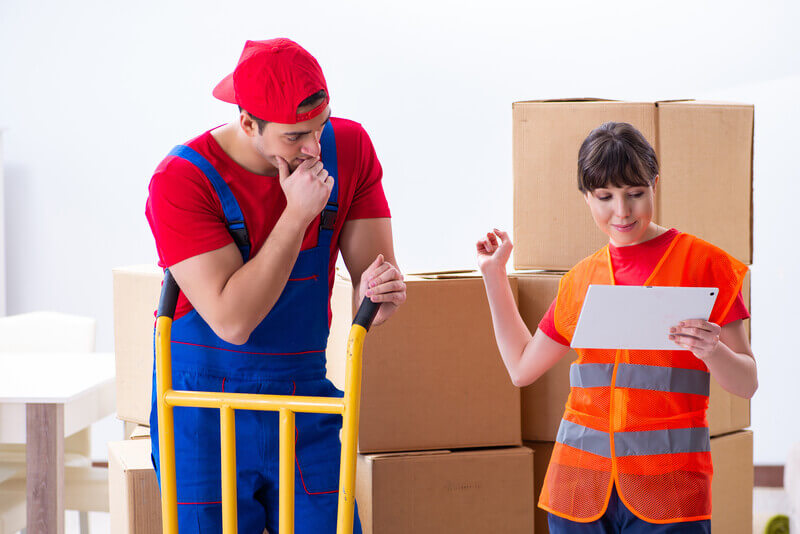 Choosing the best movers in your area involves verifying essential information for each moving company such as licensing, reputation, and moving services provided. By understanding your moving needs, you can narrow down your options and choose the best moving company for your residential or commercial move.
Whether hiring long-haul or local movers, it is always a good idea to research several different moving companies. Doing so will ensure that you get the best price, quality of service, and have a generally positive experience with your move. To ensure you are making the right decisions, check out our detailed guide on sifting through 'best movers near me' search results and choosing the right one for the job.
Step One - Research Movers
The first step is to start researching moving companies in your area. This can be done through a high-quality third-party website, Google searches, or word-of-mouth. Once you have generated a list of potential companies, you will want to verify that a moving company has:
Generally positive and recent reviews
The moving services you require
Proper licensing from the Department of Transportation (DOT)
The appropriate insurance for your move
You should always ensure that the movers you hire are licensed and insured. This protects you in case anything goes wrong during the move. To verify a moving company's licensing information, you can check the FMCSA website. The searchable database contains all of the currently licensed interstate and intrastate moving companies for any state or city.
Step Two - Schedule a Consultation and Get Quotes
Some moving companies have you fill out an online form with your basic information and the details of your move. Others may require that you schedule a consultation in order to give you an accurate quote.
In-person and virtual walkthrough consultations will be the most accurate way to get a moving quote. This will also allow you to ask any questions and get a feel for the company.
When meeting with potential movers, ask about:
The cost of moving locally or long distance
What services are included in that quote
How they will protect your belongings during transport
When they are available to complete the move
How long the move will take
Depending on the answers to the questions above, you will be able to get a good idea of which company is the best fit for you and the moving services you want. If you aren't sure whether the prices you are getting are accurate or a fair estimate, use a moving cost calculator to create a comparison price to help your decision-making process.
Pro Tip: Try to choose movers who offer binding estimates or quotes. These types of quotes protect you from being charged more for moving services than the agreed-upon price, even if your move ends up taking longer or being more complicated than expected.
Step Three - Hire and Prepare for Your Move
Once you have chosen the best moving company for your needs, it is time to hire them and get ready for your move. To do this, you will need to sign a contract with the company that outlines the details of your move.
Always read over the contract carefully before signing it and make sure that you understand all the terms and conditions. This includes checking for hidden fees that may not have been discussed during your consultation, verifying insurance coverages, and checking for access fees charged for completing moving services.
Pro Tip: Movers who try to get you to sign a contract before taking a walkthrough or providing a quote are not reputable, and you should avoid doing business with them.
Frequently Asked Questions
Is it better to hire movers or move myself?
Often, it is easier on your schedule and wallet to hire professional movers. They will have the manpower and equipment to get the job done quickly and efficiently. Completing moves on your own may end up costing more in time, energy, and rental fees than if you had just hired a company to do it for you.
How much do movers cost?
The cost of hiring movers will depend on the services you need and the size/distance of your move. For example, the average cost of hiring two men and a truck for an intrastate move is $1,170, while the average cost for an interstate move is $4,890. Local movers will charge by the hour, and long-distance movers will charge a flat rate per mile traveled and per pound of belongings you need to be moved.
Are movers able to pack my belongings?
Yes, many moving companies offer full-service packing and unpacking services for those without the time or inclination to do it themselves. This will, of course, add to the overall cost of your move but is a great way to take some of the stress out of the process.
How many moving quotes should I get?
Moving companies vary greatly in their definition of local and long-distance moves as well as moving services provided, so it may be necessary to get a few different quotes to find the one that best fits your needs. Moving experts recommend getting quotes from no less than three companies and as many as five to ensure that you are getting the best deal possible.
How can I compare moving companies?
The best way to compare different moving companies is by scheduling consultations and getting written estimates from each one. This will allow you to compare prices while also getting a feel for the company and what services they offer. You can also use third=party moving websites that make side-by-side comparisons of different companies easy.
Choose Professional Movers Every Time
When it comes to sifting through search results of 'best movers near me' choosing the right one doesn't have to be challenging. By taking time to research moving companies, verify credentials and reputation, and get multiple moving quotes, you can be assured you're making the best decision for your needs - and your wallet.