How to Move to A New Home in One Day
As much as we all like to make plans, and have everything organized. There are certain times where life hits us with a lot of surprises, and unexpected outcomes. It might never happen to you, and again if you are not so lucky, you might have a taste of what it means to have a moving situation happen to you. You have nothing to worry about really. It all depends on the posture of your mind.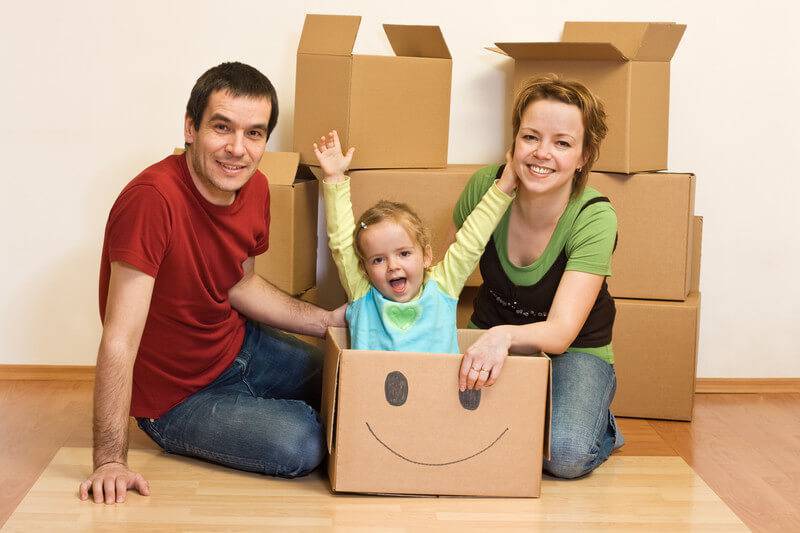 As much as we all like to make plans, and have everything organized. There are certain times where life hits us with a lot of surprises, and unexpected outcomes. It might never happen to you, and again if you are not so lucky, you might have a taste of what it means to have a moving situation happen to you. You have nothing to worry about really. It all depends on the posture of your mind.
The truth is that a successful move can only occur when you have it well planned from weeks or days before the actual moving. But you don't have to worry much. We have gathered useful tips that will help you make the best of your time, and pull out a successful move in just one day.
1. Relax Your Mind
This is the first significant step. You have to first forget about all the unfortunate instances and possible events of failure that might be running through your head. As much as it might seem like a very daunting task to pull off in one day, you need to appear calm and collected but in mind and action. It doesn't mean it is impossible; it can be cleared off gradually. You need to break things down into bits to begin. Trust me, panicking has no perk, it only adds to the stress in your mind.
2. Create a Moving List
The next thing you need to place your mind on after relaxing it is to make a list. You know your house more than anyone else. Pick up your pen and make a list of the entire household items you have or own. The first thing will be to get the items all on paper, the next procedure that follows will be to arrange them in order of importance. The list will come in very handy because it will also serve as a moving checklist where you can tick off items that have been successfully packed.
Having a list is a huge motivation for you to continue moving. Once you have everything on paper, you will be prompted to carry on to the next step. However, you want to make a list is up to you. The division, the sections you want to attend to first, as well as the listing of items individually or collectively is all up to you. So to be encouraged, you have to have to get your list ready.
3. Organize Your List
Immediately you have a comprehensive list of all the things you want to move into your home; you will need to have your items organized. Let everything have a section they would fit into. Let the papers go to the paper section, let the glassware go to the glassware section, let the clothes also be organized in the clothes section. The most important thing is having it all figured out; this way you are motivated to continue packing all your items.
Another crucial reason for organizing your stuff is to make sure you also section them according to use. You should organize your items according to useful items, items to be disposed of, items you want to give out, and items you want to sell. Once you have this list, you can sure of what is going with you when you decide to move, and you also know what is not going with you. The organization helps a great deal in helping you know the items you should pack first and the ones you will not need to pack.
4. Now You Need to Get Some Help
The next thing you need to do is to start the packing process. The process should be done in two ways or both at the same time. The first thing you might want to do is to make sure you get to hire movers. Now one thing you should know is that the cost of hiring movers on just short notice might be a little higher than average. So you might want to get your pocket ready for the task. You can find a couple of moving companies that can very much help you with the emergency moving service and will do a great job.
If you feel the cost of hiring movers is a little above what you can afford, you can try an alternative. The alternative is to have friends and family come over to your place to help you with the move. Friends and family always come in handy in these situations especially if you have reliable friends. If your neighbors are available, then you can call them to lend a hand too, and they will be glad to help you.
Another thing you can try is to get a local moving company, and get quotes. You can beat the price down by having your friends come over to assist too. That way, you get a reduced price for getting some work off the ground. The thing about applying this is that you can get the professional movers only to move the most difficult and challenging items, while you and your friends only attend to the much simpler ones.
5. The Next Thing is to Get Moving Supplies or to Improvise
So, here comes the real deal. If you have got enough cash to spend, you can get moving boxes for the items you have after creating a list and organizing all your household items. There are a couple of websites where you can get boxes and have them delivered to your doorstep. You can also go to the store yourself and buy the boxes. Since you know the items you want to move, you can pretty much buy only the specific boxes that suit your moving needs.
If you can't get the boxes because things are happening very suddenly, you can improvise with garbage bags. The best option will be to source clear garbage bags where you can quickly pour in items to be moved. You can take your list of organized items and put them in the plastic bag while you label them. The labeling is important because it will help you know where to start searching for items in your new home. Make sure you dispose of junks. Don't be tempted to take along the things you have not used in ages.
6. Think Very Fast
Remember we spoke about you being calm and collected at the beginning. This is where your relaxed mind comes to play. By the time you get to this tip, you should have been in the mood where you are encouraged to move. Then you should think very fast about turning ordinary materials into special materials. For example, you can use your blanket to wrap the fragile cups and glassware. And many other things that you can do to make sure the moving process is almost stress-free.
7. Start the Packing Categorically
To make the job a lot easier for you, you need to pack your things room by room. You should start with the children's room if you have children. Their rooms should give you the least problem since they don't have a lot of stuff. If your children are grown enough, you can hand them the bag to put in items themselves while you settle other rooms in the home. Once the rooms are settled, you can face other places together. But if you do not have grown-up children, you will have to do it for them.
For those who have a baby or babies while they are trying to move, you might need to get the baby or babies a babysitter. It is very tasking to have babies crying while you are trying to settle the arrangement and packing of your stuff. If you can't get a babysitter in short notice, you can try taking your baby to your friend's place, or any way they will be safe while you pack with a clear head.
Remember that as a rule of thumb, you should reduce items while you pack. This is the best time to throw away things, so you don't end up packing junks with useful items.
8. Get a first-day bag
A first-day bag is simply the bag that you can use to pack in all the items, clothes and essentials you will be needing on the first day of moving. You should realize that you might be too busy to start searching through the pile of packed items to get a single item. A smart tip is to make sure you get all the items you will need on the first night, or even for the whole day the next day. Things that can be contained in the box are a change of clothes, toothbrush, underwear, plates, toothpaste, and soap. Etc.
9. Make Plans for a Moving Truck if you are to Move With Friends
Now, if you have chosen the option to pack with your friends, you will need a truck. Renting a truck, and moving with the help of your friends, family, and neighbors will cut down a great deal on the cost of hiring movers. So instead of hiring movers, you Do It Yourself (DIY). Part of planning yourself would be to get the persons to help you on time. Please note that some truck rental companies add manpower; it's your choice to accept or refuse them.
Now the trick about hiring a truck, or getting someone with the truck is that you need to do it early. Instead of thinking of it as the last thing to do after packing, you can place a call even before you start packing. Seeing the moving truck waiting early for you will motivate you to work faster. You will get things done faster and can move items in as soon as they are packed. You don't want to sit waiting for the moving truck to arrive hours after you must have finished packing. Waiting in itself can be very tiring.
10. Store Things You Cannot Move in a Day
To make moving achievable in just one day, you need to find where to keep the rest of your items. You can have your items split amongst your friends with a checklist. This way they can help you keep some of the stuff you cannot move on that day. Just give them a date you want to come and pick all the items you must have dropped off with them. This is something many people fail to realize. Once you can do this, you will not worry with regard to your items.
You also have to consider the bulk of what it is that you are going to be storing. If it's very minimal, then you can keep it at your friends or your neighbors. If it is very much, you need to do the needful. Look for companies that are offering excellent warehousing facilities. They will provide you with a very decent warehousing service and give you enough room for the period that you want to leave your items with them. This is a very smart tip that would help you.
In conclusion, we believe moving in just a day might seem impossible in your mind, but it is possible. All you need to do is to apply a systematic approach to how you organize and move your items, and you will be fine. Make sure you have hands that will help you, give them instructions on what to do, and also be thankful as they help you.
Since time is not on your side, you should watch how well you make use of it. Coordination, planning, structuring, and sound thinking are the elements you need to pull through at a time when things are sudden.