The Best Way to Ship Plants Safely
Moving household from one part of the country or cross country is in itself challenging, not to talk of moving plants along with you. It can be challenging but that is not to say it can't be done or that the task of moving your plants can't be simplified. Most houseplants don't survive cross-country relocation as it can be traumatic and some plants don't get to recover from the trauma.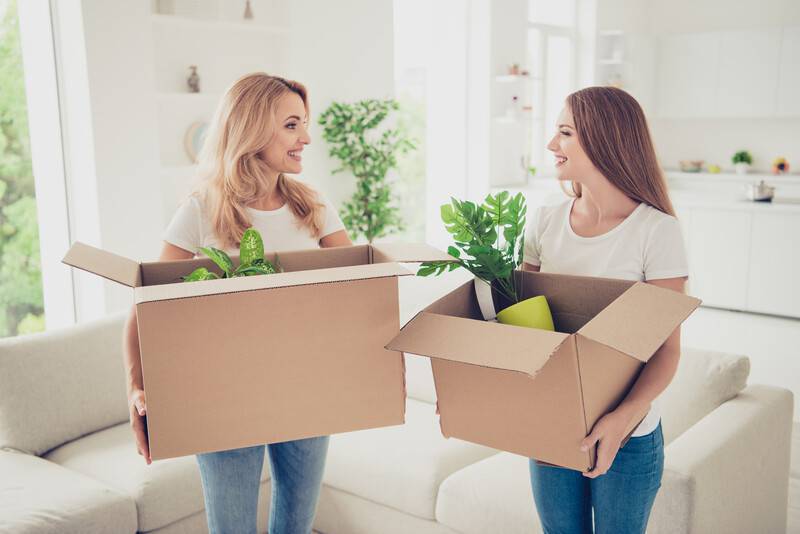 Moving a household from one part of the country or cross country is in itself challenging, not to talk of moving plants along with you. It can be challenging but that is not to say it can't be done or that the task of moving your plants can't be simplified. Most houseplants don't survive cross-country relocation as it can be traumatic and some plants don't get to recover from the trauma.
It is not strange to see that most plants die as a result of the trauma. If humans can be affected by the emotional and physical stress that comes with moving from one part of the country to another, how much more plants? It could even get worse if you are traveling over long distances.
If you are concerned about whether your plants will survive and you don't want to put the effort into transporting them only to find out that they eventually didn't survive, then you might want to consider giving them out as gifts to your friends, family, or neighbors before you move. But if you wish to keep your plants at all cost, maybe for the memories it brings, then there are a couple of ways to raise their chances of surviving the move and getting to your new home safely. However, you have to prepare the plants and do some things ahead of your move day.
Get to know and understand the restrictions
If you know or have read about seed catalogs, you probably would have noticed that companies don't ship plants to some states. For instance, Arizona, Texas, Florida, and California don't allow the shipment of citrus plants from out of state. There other states that have similar restrictions but these are the most notable ones.
Hence, if you are attached to a particular fruit, whether oak, nut, or pine tree in your yard and you wish to bring it with you to your new home, you might have to quarantine it. For example, California restricts the import of plants to those that are free of pests, not to be resold, strictly houseplants, or those that are grown in sterile commercial potting mix.
These restrictions are just for the states to protect their agriculture and natural resources as the introduction of new plants from another state can introduce weeds, plant pests, and disease. Hence, if you are moving to a different state, make sure you call their Department of Agriculture to first make sure they will allow you to bring in the plant you wish to relocate. This will save you a whole lot of trouble so that you don't get trapped in some difficult situations as a result of the restrictions that may be involved in transporting your plant to the state you are relocating to.
However, your mover should be able to give you more information about these restrictions as they are expected to be better informed. If they are even conversant with transporting plants, then you might have little to worry about restrictions or no restrictions.
Hire a mover
The fact is that most long-distance moving companies do not take houseplants. Even when you find those that do, they might not have vehicles that are climate-controlled to give your plant the best conditions that will enable it to survive the trip. This is why the best way to transport your plants is to keep them in your car but you must ensure they are properly packed, and give them the right attention while you transport them in your car.
But you can make inquiries from your cross country movers if they have climate-controlled vans that can help transport your plants to your new home. The best van to transport your plant is a climate-controlled van if they are transported in this kind of van, then their chances of surviving the relocation increase.
If you are hiring a mover to relocate your plants, make sure you find out if they have climate-controlled vans to get the job done. This will help to preserve your treasured plants as they are in transit.
Pack your plants properly
When it is few days before the move, ensure that the plants are properly watered so that on your moving day, the soil can be moist and not soaked with water. Stake tall or leggy plants to add support, and pack sphagnum moss around the plants to keep the soil contained. In case the plant is oversized, you might need to put plastic over the top portion of the pot and secure it with string. This plastic will allow you to lay the pot on its side without the soil spilling out. Proper packing of your plants can go a long way in ensuring that your plants survive the stress and trauma they will go through during the process of relocation. 
Wrap all plants in cones made from butcher paper to protect the plants from the intense cold, heat, and sunlight that can affect them while in transit. Put the plants in boxes, keep the lids on and crumple up the paper, and stuff around the pots to keep the plants from sliding. Carefully set the boxes on the seats where it can get air and sunlight. Do not allow your house plants to get too cold or too cold and do not put them in the trunk of your car even if there is space.
When you get to your new home, carefully unwrap the plants and water them right away. Make sure one of the things you give top priority as you get to your destination is your plant so that you can help them recover easily from the stress they went through in transit. Water them to keep them fresh, this will keep them wet and not starved of water.
Now that you have packed your plants, it is time to transport them to your new home. This is where the bulk of the job lies. You have to be at the top of your game especially if you are doing it on your own. We will be providing you with expert tips on how to transport your plants especially if you are transporting them in your car.
How do you transport small plants?
There is a couple of ways through which you can transport your houseplants from one place to another. You can choose to hire a local mover, or transport them in your car, or mail them.
How to ship your plants
You can make arrangements to have your plants shipped either by air or by land. Although shipping can be quite expensive and it doesn't guarantee that they will survive. However, if you are shipping to a long distance, then you might want to select and ship your favorite plants while you sell the remaining ones and use the money to buy new plants in your new home.
The fewer plants you have to deal with while you relocate, the more attention will be able to give to the plants with you in transit. Selling some of the plants will enable you to focus on the most important ones that you have decided to transport. Your plants need your attention when they are in transit, and if the way they will get the attention is to limit the ones you are taking along to your new home, then that's okay.
When and how to ship plants
You can decide to mail your plants via your postal agency, or you can decide to go with a private shipping company. The deciding factor that should prompt your choice of transportation is which is the safest and fastest.
If you are going through a postal service, it is best to choose priority mail. If you are the type that ships regularly, have a service pick up the plants so that they can help you to keep them cool until the plant is ready to be moved. This will increase the chances of the plants surviving.
Also, you have to put in mind that some shipping services do not deliver on Saturdays and Sundays, so you have to consider this in ensuring that the plant spends the least time possible in the box. Hence, the best time to ship should be early in the week; most likely on Mondays or Tuesdays will be appropriate so that your plant doesn't stay in the box over the weekend.
You also have to put the weather conditions at your end and at the recipient's end into consideration. If either you or the recipients will be experiencing extreme weather conditions, you might want to choose a better time to ship the plants.
Labeling
Properly label the boxes that contain your plants. This is important especially if you are shipping your plants, proper labeling can help your plants survive mal-handling. For example, you can put a label on the outside of the box saying "Live Plant" and "Perishable", this will enable them to be handled with care and tenderness. Although, this might not guarantee that they will be handled with care but it can win over the attention of the handlers to take extra care.
Shipping guidelines require that you should include details of a return address as well as the shipping address on the outside. In case you are using a box that was previously used for shipping, then you must ensure that you remove the old labels so that your package will not be wrongly shipped to the wrong address.
How do you transport plants in a car?
Transporting your car in car over long distances can be very tricky especially if you will be making several overnight stops along the way before you get to your destination. However, if you insist on transporting them in your car, then you have to treat them like you will treat your pets. Do not allow them to get too cold or too hot as stated earlier. If you will leave them for more than an hour in your car ensure that they get enough air by slightly opening the windows of your car, and also ensure they have enough water that will keep them hot before you make the trip.
Whether you wish to ship your plant or transport them in your car, it is important that you should go with the best choice that is most appropriate for your condition. However, the safety and how fast your plants get to your preferred destination should be a top determinant in deciding your means of transportation.
You don't want your plants to get to their destination only for you to find out that they didn't survive or for it to die a few days later. Hence, to avoid this kind of scenario, try as much as possible to take your time in prepping the plants for transportation, pack them well using the techniques explained in the early part of this article, select the most appropriate means of transportation, and make sure you choose the best day of the week to send these plants to your new home or destination. Choosing the best day of the week to transport them can help limit the number of days they will be in transit and this can also increase their chances of surviving after the trip.
When your plants finally arrive at their destination, attend to them immediately, carefully unwrap them from the box, and water them. Give them the right attention at least the first week after they have arrived at your new home. Water them immediately on arrival, so that they can stay fresh and regain some strength. They deserve your attention during this period so that they can recover from the trauma and stress encountered in transporting them from one place to another. If you will not be chanced to take care of them during this period, you can assign someone who will be available to give them the required attention and that way you will help them survive.