How Much Does It Cost To Move Per Mile?
Worried about how much movers charge to travel the distance is to your new home? We'll go over average costs per mile, how to keep moving costs down, and more.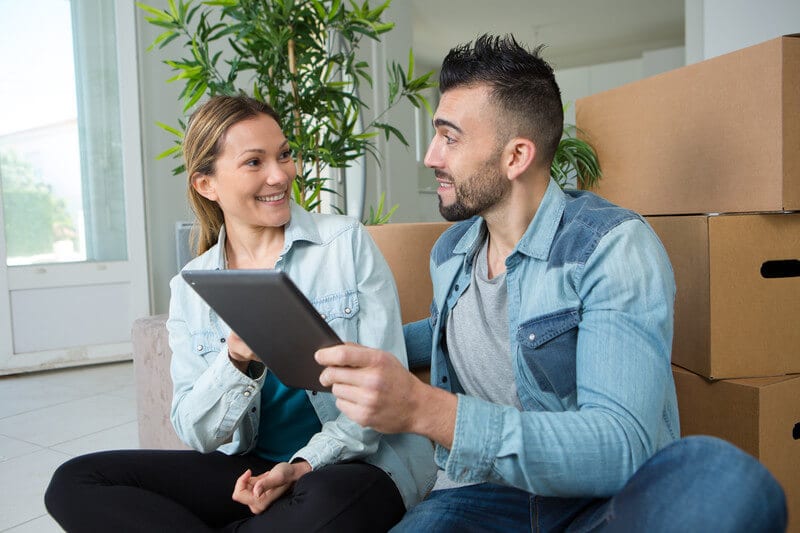 Moving companies will typically charge around 75 cents per mile being traveled for long-distance or cross-country moves. This adds up a lot when you're planning on moving more than 500 miles, so budgeting is crucial in ensuring that your move goes as you've designed it.
The calculated price of your move (by using our moving cost calculator) will vary as there are several contributors, such as volume of items, type of move, services arranged, and the moving company's rates. Knowing what goes into these calculations is especially helpful when you're going to be moving to a new place that's on the other side of the country.
Cross-Country Moves
Moving cross country means working with specialized long-distance or cross-country movers that have the resources and capability to handle your items and transport them to their designated location.
Every company's rates are different, but most often you will be charged both by the weight of your possessions in pounds and by the mile. The average per pound cost is 50 cents and the mileage rate, an average of 75 cents, tends to decrease as the distance that needs to be travelled increases.
Local Moves
Local moving companies typically charge per hour, so prices will depend on the time it takes to complete your move first and foremost. On average, you can expect to pay anywhere from $25 to $50 an hour per mover. It will take at least two movers to complete your move efficiently, so plan for these in your calculations.
Auto Moves
It's also likely that you may have a vehicle you want to transport to your new home, which will require the services of a moving company that offers auto transportation. On average, the price to ship vehicles will be about $1 per mile if it is being shipped less than 500 miles. As distance increases, the mileage rate decreases.
There are additional services that most vehicle shippers offer – for additional fees, of course. These are:
Booking a closed trailer (more protection, more expensive)
Moving during peak season
Storage at a terminal
Door to door expedited service
Transporting a particularly heavy vehicle
Transporting a non-operable vehicle
What Affects Moving Costs?
There are plenty of things that go into moving costs aside from the distance and how much per mile movers charge, including travel fees, move size, and more.
Travel fees: Long-distance moves are often more expensive due to travel fees, which include the cost of fuel, labor, and time traveled.
Move Size: A smaller household will cost less to move than a larger household, as the weight of shipment will be lower.
Packing services: Packing services ensure that items are packed efficiently and safely, but this service adds to your total moving price.
Storage: If any of your items will need to be stored, moving companies offer storage services when required.
Liability coverage: Liability coverage is offered by all reputable movers and there are varying levels so you can choose the amount of coverage you want.
Moving date: If you move during peak season (late spring/summer) or if you move at the beginning or end of the month or week, prices are higher due to lower mover availability.
Extra stops: Did you know that movers can stop by storage facilities or other households to pick up items? This will add to your costs but can be very handy.
Additional services: Movers also offer additional services that may not have been mentioned above, such as specialty item packing, furniture assembly/disassembly and more. Ask your movers if you need help with something other than what we've noted, but be aware that extra costs will most probably be involved.
Tips for Saving Money on Long Distance Moves
Because moving costs add up quickly, it's always good to keep some tricks up your sleeve for saving money. Let's get into some of the tricks you can use for your upcoming long-distance move.
Downsize: Because your moving costs will depend on the size of your move, it's a good idea to downsize by donating, trashing, or selling items.
Change your move date: If you've noticed a high price for your move, check to see if you've moved during a prime period. If so, try to change it so that you move in the off-season or in the middle of the week or month.
Book early: Booking your move early gives movers time to fit you in and you avoid higher prices that are typically reserved for last-minute bookings. Aim to book at least two months ahead.
Frequently Asked Questions
Can I deduct moving costs?
Moving costs can be deducted from your taxes in some cases, so it's a good idea to hold onto any moving receipts and receipts of expenses related to your move. This is especially true if you've donated items or if you are moving because of work requirements. In some cases, your job may also reimburse you for your moving costs.
How do I know I'm choosing the right movers?
Moving companies should be professional and be able to answer any questions you may bring up. The representative you speak with should be polite, knowledgeable, and provide you with everything you need to know before you book your move. The more questions you ask the more insight you'll get into the company, allowing you to make the best choice.
How much is valuation coverage?
All long-distance movers are federally required to provide value protection for households conducting moves. Costs may be different from mover to mover, but most often your items will be protected for 60 cents on the pound with Released Value Coverage. With Full Value Coverage, your items are fully covered for their cash value.
How Much Will It Cost To Move?
You won't be able to figure out how much it costs to move until you speak with moving companies and get a few in-home estimates from professionals. Once this information is handy, you'll know all of the fees associated with your move, including how much you are paying per mile.