Benefits of Moving From New York To Stamford
Stamford, CT is one of the most famous destinations for those vacating New York City, and it offers an urban-suburban scene in fair closeness to the city. The suburbs are up and coming.   With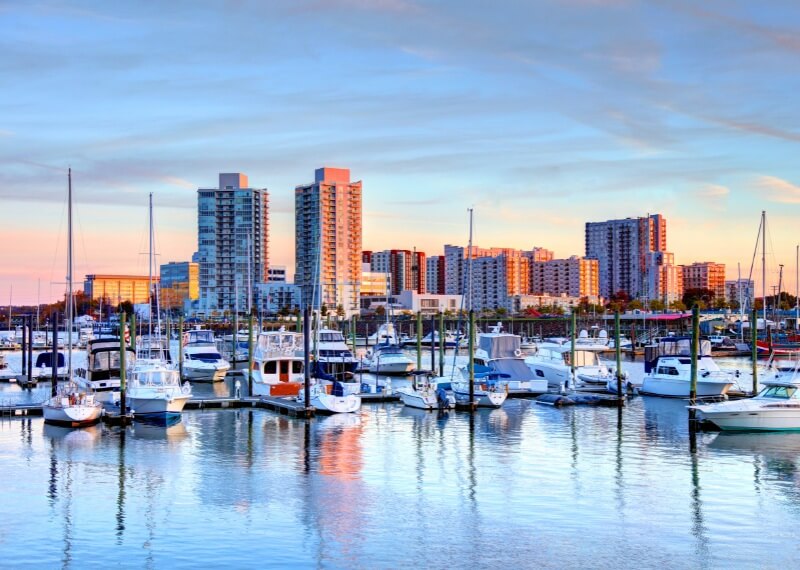 Stamford, CT is one of the most famous destinations for those vacating New York City, and it offers an urban-suburban scene in fair closeness to the city. The suburbs are up and coming.
With COVID-19 related uncertainty affecting some of the biggest cities in the United States, many people are leaving for the suburbs for a share of nature and an improved stable daily life. Connecticut is famous for its historic architecture, quality higher education options, and laid-back way of life, especially when compared to nearby NYC.
Stamford is the largest city in Connecticut with a population of about 129,000. That may sound small compared to New York City; Stamford is right behind the two largest cities in Connecticut (New Haven and Bridgeport) as regards population size.
Considering moving from NYC to Stamford, there are things to expect as benefits for moving there. What are these benefits? What are the best neighborhoods to call home?
We've compiled a guide to help you learn more about your proposed destination and other things to know.
Things to Know Before Moving from New York City to Stamford
1. Cost of Living is more Affordable than NYC
Even though a bit higher than the United States cost of living index of 100, the cost of living index of Stamford, which is at 118.5, is much more below that of the NYC index of 187.2. Real estate at 125.9 and utilities at 121.6 increases the cost of living index. Other costs are healthcare at 102.3, transportation at 116.1, and groceries at 105.6.
To understand the living costs in Stamford, consider using the Family Budget Calculator from the Economic Policy Institute. EPI estimates $9,879 per month or $118,551 per year as the amount that a family of four would need to earn to live comfortably in the Stamford city area. Bestplaces.net mentioned that the family average income in Stamford is $102,164, more than $30,000 above the country's average of $70,850.
2. Traffic and Transportation in Stamford is easy
One of the major attractions of Stamford is its easy location and transportation options. Stamford is perfectly linked to NYC, through the Metro-North and Amtrak train stations. Commuters can hop on the Metro-North Trains to reach New Haven for easy connection to Manhattan, Queens, Brooklyn, and all other areas of the city. Within just 53 minutes, you can get to Grand Central station.
The public transportation services in Stamford are a big gift to people who want to stay away from rush hour congestion or being stuck in gridlocks on the Interchange-95, which runs across the West Side of Stamford and can give you access straight into Miami (and New York City, of course). Metro-North provides easy and multiple transport rail services across the northern NYC metro area. Stamford's station happened to be the busiest on the system, right behind Grand Central in NYC.
Stamford's Amtrak train runs high-speed Acela trains to New Haven, Boston, New York City, Wilmington, Philadelphia, and Washington. CT Transit provides different types of bus services, within the city and in various regions. You can enter the Harbor Point Trolley to travel around Downtown without a car.
3. Housing Market in Stamford
The Stamford average home value was $474,012, and the average price for listed homes at the moment is $549,900. Home prices reduced by 1.2% in 2019, but the market products projected them to increase by 3.7% by the end of 2020. The average housing age is 48 years, so there is a chance you will need to perform some renovating work. About 40% of Stamford residents are renters. The demand for housing, (apartments in particular), is high, and demand holds the prices high.
Developers constructed more than 5,200 apartments in 2019; 10 percent of every new housing inventory must qualify as affordable units. Expect to pay an average rent price of $2,300 in the city, and in the metro area expect an average rent price of $2,600.
4. Life and Economy of Stamford
Stamford is a diverse (also bi-lingual) city with mostly a quarter of people living there speaking Spanish fluently. The average household income of a Stamford family is $89,000. Stamford has a thriving economy with many great-paying jobs. Stamford is home to four Fortune 500 Office Headquarters, two of which include: Charter Communications and Synchrony Financial.
The city is also where some large media firms, such as ITV America, A&E Networks, YES Network, NBC America, and WWE (World Wrestling Entertainment) are found. Before COVID-19, Connecticut prides itself on a low unemployment rate.  
4. Education System of Stamford
Similar to other New York City suburbs, Stamford has nicely-rated public schools, which are perfect for those moving there to raise a family. Together with public schools, there are lots of highly-ranked private schools in Stamford, including Charter Schools, Catholic Schools, and Magnet schools. Private schools, such as The King School offer excellent education up to high school while K-8 is offered by The Mead School.
Living in Stamford and commuting to New York City for school is not unreasonable if you have a child with specific needs that may be unavailable in your Stamford community. Stamford Public Schools (SPS) runs 24 primary and secondary schools that serve about 15,816 students. The topmost-rated schools include:
Stamford Charter School for Excellence,
PK-2 and rated 9 of 10;
Rogers International School,
K-8 and rated 6 of 10;
Scofield Middle School rated 6 of 10,
The Academy of Information Technology, 9-12 and rated 8 of 10, and
Stamford High School rated 6 of 10.
Public schools are rated 5 of 10 or lesser, so a lot of families go for one of the 29 private schools in Stamford. SPS is working on permanent solutions for mold problems in most school buildings. If your child is schooling in a public school in Stamford, make sure you research more on mold remediation progress.   
5. Employment Market
Even though the job market declined 0.3% in 2019, the health economy in Stamford is because of many local businesses investing back into the city and improving their workforces. The unemployment rate, which is 3.8%, is a lot behind the neighboring cities and is dropping consistently. The city's eight Fortune 1000 companies include:
Crane Co,
United Rentals,
Silgan Holdings,
Hexcel,
Pitney Bowes,
Synchrony Financial,
AXA XL,
Bank of America,
Axiom Technology group,
CBS Interactive & CBS Sports Digital,
AON,
Alliance for Cancer Gene Therapy,
Tradition Energy,
Voyager Aviation,
Tronox,
Trafigura,
Aircastle Solvay,
Star Group,
Air Castle Solvay,
A&E Networks, and
Appling
Update your resume if you will be searching for work in Stamford. A nice place to start your search is human resources in the City of Stamford.
7. Weather Condition in Stamford
The climate in Stamford is temperate, which implies that all four seasons are experienced in their truest form, summer in particular. Stamford is so alive in the summer. You can visit Shippan Point to enjoy some amazing coastal sunsets or spend your weekends in the woods camping. Residents of Fairfield County have options to go hiking, enjoy lakes, and walk nature. As regards nightlife, their many music festivals are in them that were part of the city. Another great summer venue is Harbor Point, which can be found on the waterfront.
Make sure you take a walk on the boardwalk or enjoy a ride on the no-cost trolley bus that operates across the city. Stamford is usually fun in winter because of its seasonal climate. Stamford residents can visit the Wonderland Market during the cooler months and they can drink some local brews and spend time with friends and family. The winters can get excessively snowy (at an average of 30 inches per annum) so make sure you get some good sheds. There are many ski resorts in Stamford, such as Thunder Ridge, Victor Constant (located in West Point), and Campgaw Mountain.
Best Neighborhoods to Live in Stamford, CT  
From amazing, unique homes on wooded lots to luxurious high-rise condos, you will have many options to choose from as regards neighborhoods that match your lifestyle and standards.
Let's take a look at some of them:
1. Shippan Point
Population: 1,594
Average home value: $981,500
Average rent price: $2,800
Cost of living: 106% above the US average
Ranked as the number one neighborhood of Stamford by areavibes.com and also the number one neighborhood in the entire state of Connecticut, Shippan Point is the most southern neighborhood in Stamford, just located 5 minutes southeast of Downtown. Bordered by Jefferson St on the north, Outer Reach on the south, Westcott Cove on the east, and Stamford Harbor on the west, this neighborhood is a peninsula with Long Island Sound surrounding it on three sides. Beautiful homes in large spaces are on the wooded streets, and you also can see some condos, townhouses, and apartments, especially closer to the marinas or towards Shippan Avenue.
Around 84 percent of residents are homeowners, and Shippan Points draws families, singles, executives, and young professionals to it. This wealthy neighborhood offers public beach access and private beaches at Halloween Yacht Club, Woodway Beach Club, and Stamford Yacht Club. You will see lots of local amenities, such as restaurants, retail, stores, fitness studios, churches, and parks.
2. Newfield
Population: 3,325
Average home value: $642,300
Average rent price: $896
Cost of living: 65% above the US average
This neighborhood is ranked number two by areavibes.com as the best neighborhood in Stamford and is located just 9-mins north of Downtown. Surrounded by the Merritt Parkway on the north, Woodway Rd and WeedHill Ave on the south, the Noroton River on the east, and High Ridge Rd on the west, Newfield is an easy neighborhood for commuters since it is in proximity to the Meritt parkway. Newfield is an attractive neighborhood with many open spaces, creeks, rivers, and woods.
Homes are popularly 3-5 bedrooms in different styles; from 2-story saltboxes to brick-faced cottages. About 80% of residents of Newfield are homeowners, and this beautiful neighborhood attracts families and executives for its safety and convenient amenities. Many favorite cafes and restaurants include Table 104, Layla's Falafel, and Tabouli Grill.
3. Turn of River
Population: 5,911
Average home value: $621,683
Average rent price: $1,654
Cost of living: 66% above the US average
Turn of River is located just 7-minutes north of Downtown and is surrounded by the Merritt Parkway on the north side, W Broad St on the south, Newfield Ave on the east, and Long Ridge Rd on the west. Homes are uniquely styled and start from 2-story Colonials to Farmhouse, Mid-Century Modern, 1-story ranch, and Cod styles. The majority are built on large tree-filled lands towards beautiful curving streets.
Turn of River offers a solid and established feel and while open and calm. Turn of River has plentiful amenities, but since it is not a small neighborhood, you will need to rely on your car to get around. Nearly 89% of residents are homeowners, and areavibes.com and niche.com rate the neighborhood number three on the list of the best neighborhoods in Stamford. Turn of River attracts professionals and families; however, just 31% of residents are families with kids.
4. Downtown
Population: 19,201
Average home value: $294,859
Average rent price: $2,300
Cost of living: 28% above the US average
This is the heart of the city and it is also its central business district. It is surrounded by Latham Park on the north, the Metro-North railroad on the south, Grove St on the east, and Mill River St and Washington Boulevard on the west. Downtown is one of the historic districts of the city of Stamford and is on the list of the National Register of Historic Places.
There are certain landmark homes, but you will discover housing majorly in beautiful high-rise condominiums or apartments. The average home price is skyrocketed because of some costly properties, but some affordable 1—2-bedroom condos are available for just around the $140,000 - $350,000 range. About 79% of residents of Downtown are renters.
5. Westside
Population: 12,670
Average home value: $257,200
Average rent price: $1,294
Cost of living: 26% above the US average
If you are searching for the cheaper neighborhood of Stamford, West Side is seen as one of the nicely-priced areas of Stamford. Surrounded by W Broad St on the north, the Metro-North railroad tracks on the south, Mill River Street on the east, and Havemeyer Lane on the west, you will enjoy the safety of Stamford and convenient access to Downtown (just 2-mins east) in West Side. Different apartment complexes, condos, townhomes, and beautiful single-family homes filled the housing inventory of this community.
Mostly, 70% of West Side residents are home renters. You can enjoy green space and recreation options like Lione Park, Hatch Fandd, ond Mill River Ponn in West Side. You also have access to many convenient amenities in West Side, starting from coffee houses, restaurants, to many retail options, as well as the comprehensive Stamford Hospital Bennett Medical Center. Some preferred spots to enjoy a meal include The Maya and Pelicci's Italian Restaurant. West Side is attractive to various kinds of people from empty nesters to singles to families.   
Is Stamford a Good Location to Reside?
Stamford is a great and trendy place to live. Its location on Long Island implies that residents of the city are blessed with amazing sea views and great ocean breezes all through the year. Stamford is certainly not a city that doesn't sleep and the pace of life is still manageable. However, living in Stamford is never boring. There are parts of the city, such as shopping, bars, coffee shops, and delicious restaurants, while it also offers a full suburban feel (huge detached houses, 2 car garages, treated front lawns).
Conclusion
For residents of New York planning to escape the city, make sure you ask a local moving company near you and request a free quote. Local moving companies can help you with planning, packing, and unpacking as well as providing storage solutions.