Total of 3 carriers in
Washington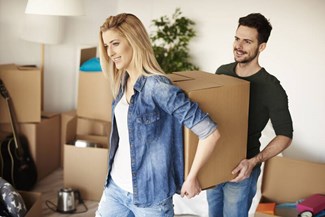 Washington Movers
When your household decides that it's time for a change of environment, moving to a new state or city can seem exciting at first. However, the distress that moving causes often takes over and becomes overwhelming and difficult to handle.
Your move can be delayed if you're frazzled and trying to juggle numerous things at once, which is why iMoving gives you access to a vast database of movers in Washington, D.C. that can make your move easier and stress-free.
If you've been avoiding working with Washington DC movers for fear of moving scams, you can breathe easily knowing that each moving company in our network has been put through an extensive verification process to ensure that they're dependable. We check their experience, licenses, insurance documentation, and even get information from past customers.
Getting a quote on your move is as easy as going to our website and inputting information about your move into the designated fields. Create an inventory that lists the items you want to be transported and you'll be connected with several movers in Washington that can handle your move with professional expertise.
You can browse local moving companies and look at their prices, the services they offer, and more. Using this information, you can choose the best company for your move and make your booking with confidence.
You won't have to worry about moving scams or added fees – iMoving protects your payments and doesn't release them until we know you're satisfied. This is just one more way we strive to make the moving experience phenomenal.
Moving Services in Washington, DC
Safe Storage Facilities: If you have items that need to be stored in a safe place, we provide moving companies in Washington, DC with safe and secure storage facilities you can use to keep your items protected until you have a plan for them.
Move Locally: Our local Washington DC movers are insured, skilled, and licensed to handle moves within the District of Columbia. Your items will get to their new home safe and sound when they're traveling with our dependable movers.
Move Long Distance: The iMoving network is filled with numerous movers that have the qualifications required to move your items across state lines. Our moving companies can move your belongings across the country or to the state right next door.
Move Commercially: Commercial business owners will have no trouble relocating their HQ to a new destination with one of the experienced commercial moving companies in iMoving's network. They're experienced and trained with the knowledge and equipment needed to get your business packed, moved, and unpacked with ease.
Moving Tips
There are a lot of elements involved in moving, so iMoving has provided some expert tips to make moving more efficient.
Use plastic to keep toiletries from spilling
If you have toiletries, such as lotion or liquids, traveling can be a risk. Often, items will end up spilling and making a mess inside their bag and possibly getting onto other items. To avoid this occurrence, use plastic wrap to keep the tops of items secure. You can either place items in plastic bags or place plastic over the opening and place the cap over it to keep it in place.
Organize small items with sandwich bags
Smaller items are easily lost in the shuffle of getting your things together, which can mean losing track of important screws, pieces of furniture, or electrical components. If you want to keep track of everything, use plastic bags to organize items and keep them in one place. Label the bags so that you know exactly what goes where when it's time to get everything put back together.
Get all packing completed before movers arrive
Before you movers get to your home, it's recommended that you have all of your items packed up and ready to go. If you still have packing to do when Washington movers arrive to your home, you could end up delaying your move and wasting time. Give yourself enough time to pack all items securely – or take advantage of full packing services.
Keep an overnight bag with essentials handy
Traveling to your new location without any essentials can be uncomfortable, so moving experts recommend keeping an overnight bag filled with all of the items that you may need during your move. These items can include a toothbrush, deodorant, snacks, medication, cash, identification cards, and more. If your vehicle is being transported, keep a copy of your vehicle's registration and insurance.
Things to Know About Moving to Washington, DC
There's always something to do in Washington. If you're ever looking for an adventure, simply walk outside and take a look around. The area hosts several amenities and events throughout the year, like festivals and concerts. You can also visit the local historic sites and museums to learn more about the history of Washington DC and the United States.
Believe it or not, nature lovers will find a haven in Washington, DC. There are lots of amazingly beautiful gardens and parks in the city that you can visit. There's no lack of green, so you can get away from the stress and fast pace of city life and relax. There's the National Arboretum, the Tidal Basin, and more.
The weather in DC is amazing. If you love seeing a city change in each of the 4 seasons, DC is the place to be. You can see every season, yet the weather doesn't get too extreme in the winter or during the summer. You can enjoy the cool breeze and fall leaves, make snowmen, watch the flowers bloom, and go camping without feeling too uncomfortable at any given moment. The humidity is low, and you won't have to deal with blistering heat like you would in other areas.
If you've ever been worried about how the people in your community will accept you or your family members, there's nothing to worry about in Washington, D.C. The people are friendly, and the culture is diverse and accepting of all. No matter what your interests are, you can form meaningful connections and make friends in this wonderful city.
Making the move to Washington is a great choice, especially when you're working with moving professionals on iMoving. We make it simple to get your move handled and take care of every aspect of moving into your new home.